Research data indicates that 90% of individuals are more likely to buy from a business referred by a friend. As a result, referral rewards can be a powerful motivator for loyal patrons to refer others.
This approach benefits both the satisfied customer, who earns the reward, and the business, which gains new customers. In this blog post, prepare to learn some of the effective ways to reward customers for giving referrals that boost your sales and business growth.
What is a referral rewards program?
Referral rewards are incentives that a business owner gives to loyal customers as appreciation for sharing their offering with friends. Rewards can be anything from gift cards, cashback, discounts, free products, or even exclusive experiences. These rewards are proven techniques to effectively increase the rate of referrals. Most businesses leverage referral programs to offer rewards and incentives.
3 steps to choosing referral incentives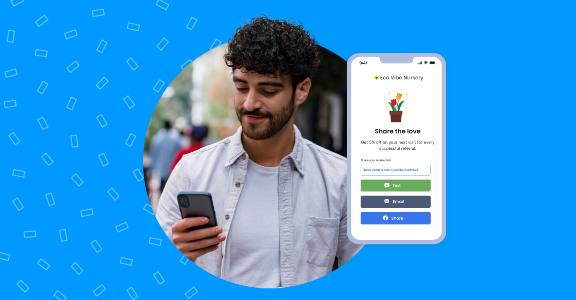 A great referral incentives program should draw in customers without cutting deep into your bottom line. Follow these necessary steps when choosing the right rewards and incentives:
Step 1: Decide who gets the referral reward
To create a successful referral rewards program, it's vital to identify which customers to target first. When you know precisely who you are targeting, it becomes a lot easier to decide the incentive to offer, the program structure to utilize, and how to craft your headline and messaging.
Step 2: Choose the specific type of referral reward to offer
The next campaign-building step is to choose the type of referral reward to offer. Generally, rewards aren't a one size fits all situation. The right reward is determined by the type of company you run and the products and services you offer. In a nutshell, identify the type of reward which would best motivate your customers.
Referral rewards are typically offered via one of the two main incentive types:

One-sided referral incentives – This type of referral incentive typically rewards one customer. This can be an existing customer (the referrer) or the new customer (the referred friend) but not both.
Two-sided referral incentives – With this incentive, both the existing customer (the referrer) and the new customer (the referred friend) received the reward. The rewards can be the same for both parties or it can be different.

Step 3: Create your reward structure
After deciding on the perfect customers to advance your campaign and the type of rewards to offer, crafting a winning reward structure is the next critical step. To create your referral program's reward structure, determine when and how often you intend to give the reward. Check out and get inspired by these common reward structures:
Tiered reward structure: This structure involves giving different rewards for referring a certain number of customers. For example, you might give a reward to the existing customer (the referrer) and/or the new customer (the referred friend) when the referred friend signs up. Then, you can offer an additional reward if they refer more than one person or complete other referral-related activities.
Points system: Instead of giving monetary rewards, you can opt to give customers points for each referral. These points can then be redeemed for incentivized products or services in your store.
Multi-step rewards structure: This involves offering rewards at different stages of a buyer's journey. For example, a business can give the referrer a small reward once the lead is qualified. Once the referred prospect makes their first purchase, the referrer receives a larger reward. This structure is great for businesses with longer sales funnels.
Referral incentive ideas with examples
Get creative with your referral programs to make them exciting, fresh, and bold. Research the best referral reward program that works for you and find creative inspiration from these referral incentive ideas:
Discounts on products or services
Discounts on products or services are hands-down and undeniably one of the most preferred referral rewards program examples. About 85% of consumers in the U.S. look for discount coupons before visiting a store or making online purchases.
Discount coupons could be all you need to boost your campaigns. This reward can be done by either giving a percentage off a specific purchase or by a set dollar amount when the purchase crosses a designated threshold.
For example, Lokai Jewelry company offers a two-sided incentive where both parties receive a 20% off discount for making a purchase.
Cash or cashback
Although it doesn't tie into the brand specifically, quite like other referral incentives, cash tends to be more enticing. Cash rewards also generally have a greater ripple effect. Remember, you don't need huge amounts of cash to motivate your customers, either.
Store credit
Looking for an ideal middle ground between cash and discount coupons? Consider store credits. Like cash, store credit carries a monetary value that serves to incentivize.
For instance, Airbnb gives $20 for every invited friend who books a stay and $40 for the friend to use during their initial trip. In the same light, Postable offers a $5 credit towards the referrer's next order for each referral that ends up placing an order.
Free products
Who doesn't enjoy free stuff? Free products can be a powerful incentive to help accelerate sharing and create more buzz around your referral program. If you are considering free products as your referral incentives reward, choose a product that is cost-effective and make sure the product is worth the efforts of the customer.
Branded swag
Another fun way to reward your referring customers is to give away branded swag. Branded swag can be anything from a mug, water bottle, or sweatshirt to bandanas and t-shirts. And having customers sporting the branded swag helps advertise your business even more.

Gift cards
Choosing to give gift cards, like Visa, Amazon, and iTunes, can be a great way to incentivize referrals. Customers love gift cards to their most-frequented shopping hotspots. They appreciate them for their flexibility and ease of control, as well. And gift cards can be used on anyone, even when the beneficiary isn't a direct customer.
For example, Sam's Club offers members a $10 gift card for every friend who joins. And they reward a $20 eGift card for your friend, too.
Free subscription period
With more and more consumers adopting the subscription model, you might want to consider offering a free trial subscription as your reward. This option offers two major benefits for your company:
It encourages existing customers to stay with your brand.
It also gives prospects the opportunity to have a free taste of your products and services.
For example, Postcron offers a free month of its premium subscription for every referral that signs up for its services.
Charitable donations
This incentive offers customers a chance to turn their referral reward into a charitable donation. It's a win-win for all parties. A charity receives the donation, the customer gets to feel good, and the business gets more referrals.
Referral gifts
Some brands can also choose to offer a referral gift box full of various tangible rewards at once. With this referral reward option, you get a chance to personalize the gift for each referral which can boost the morale of your most loyal advocates.
FAQs about referral rewards
What does referral reward mean?
A referral reward is officially defined as a reward or gift that your customer receives when they refer a friend to your brand.
What is a good referral bonus?
A good referral bonus is a valuable, appealing incentive that benefits both the referrer and the referred, encouraging users to share and promoting customer loyalty. This can take the form of discounts, cashback, or store credit.
Unlock your potential through referral rewards programs
Offering rewards is an effective way to build loyalty and encourage existing customers to spread positive word of mouth about your business. Birdeye Referrals provide built-in templates so you can get your campaigns up and running sooner rather than later. Click the banner below and check out how Birdeye can help you unlock the power of a refer-a-friend strategy.

Originally published