Customers are the lifeblood of any business, which is why one of the basic principles of business growth is to create advocates for your company. A happy army of satisfied customers can do a lot of legwork for you, especially given that consumers value personal recommendations more than any form of advertising. In order to grow your business, retain customers, and reach your revenue goals, it's time to start a referral rewards program.
In fact, in a study on what influences purchasing decisions, word-of-mouth is found to be directly responsible for 19% of all purchases, and influences as much as 90%. However, fewer than 1% of companies have an actual strategy in place for growing their referral business.
In this post, you'll learn how you can effortlessly launch a referral program that will not only make it easy for your customers to recommend your business, but also make it simple for you to manage the entire process.
What are the benefits of a referral program?
Referred customers are more valuable
Customer referrals are highly valuable because they don't cost much to acquire. You're not spending a chunk of your budget on advertising or marketing campaigns to acquire them. Your customers are essentially marketing your business for you. Furthermore, customers acquired through referrals have 2x the lifetime value compared to customers acquired through traditional marketing methods.
A referral program is cost-effective
When it comes to cost-effective marketing strategies businesses can launch email or organic social media campaigns. However, more often than not they don't generate high conversions. In contrast, a referral rewards program is a cost-effective way to get way more customers at low costs. Studies suggest that referral leads have a 30% higher conversion rate, and also account for 65% of companies' new deals.
That means you don't need a massive budget to make this strategy effective. Businesses of any size can easily launch an effective referral program to attract more customers.
An opportunity to boost customer engagement
You can't grow your referral business without good customer engagement. A referral program provides a valuable opportunity to connect with your customers and delight them with a quality experience.
You most likely already send emails, newsletters, and promotional text messages to your customers and share your content on social media. A referral program gives you another reason to engage your customers on these channels making it even easier to ask for referrals.
How to create a referral rewards program in 3 easy steps
Step 1 – Set your goals
You need to begin with clearly defining the goal of your referral program. Your goals depend on your niche and your business. Are your goals mainly about driving growth and increasing revenue? How strongly is customer retention tied to your referral program? Is saving on expenses a key goal for your program?
Answering these questions will lay out how you build your referral program. For example, if reducing expenses is a goal then that will influence how you reward your customers for recommending your business.
Step 2 – Identify your referral sources
Your sources can range from past and existing customers or even businesses you partner with. For example, mortgage loan officers ​can collaborate with financial planners to drum up referrals who may need to refinance or upgrade their homes.
Identify all potential referral sources and list them. It's important to keep this initial list broad, don't limit yourself to only customers with who you have a great relationship. Also consider, leads that may not have closed, industry leaders, your vendors, etc. This will give you a solid footing to start out with. After exploring all possible avenues for referral sources, the next step is to refine that list. Narrow down the list of sources to people who know what value your business has and would refer you without any incentive. Then you have to ask for referrals. Don't worry, there's a way to request referrals without being pushy or awkward.
Step 3 – Adopt referral marketing software
Invest in software to make it easy for you to request referrals and manage the entire program. This way, you can quickly identify referral sources by integrating with your CRM, request referrals at scale, automate the entire process, make it easy for customers to refer your business, and attract new customers on autopilot.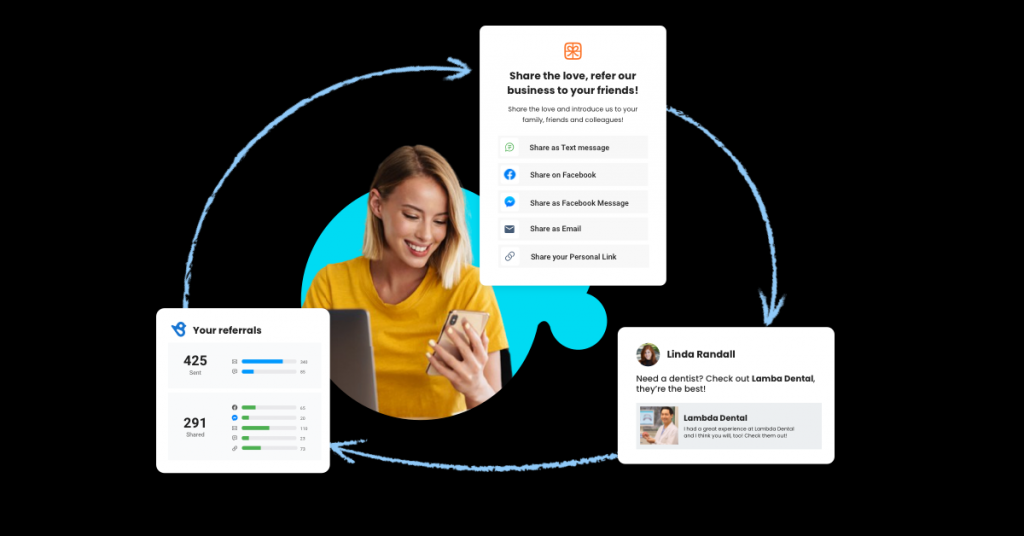 How to get the most out of your referral rewards program
Your referral marketing should be intuitive to yield the best results. While it might be tempting to do everything manually, remember, referral marketing involves many steps – send referral requests, track who referred your business, which new customer came from which referral request, send a thank you note or a promised gift card, etc.
Efficient deployment, tracking, and monitoring progress are key to getting the best returns from your referral program. Referral marketing software can help you streamline the entire process and monitor your results. When searching for referral marketing software, look for the following key features:
Automation – Invest in software that can automate referral requests. This way, you can get new leads without needing to manually request each customer to give your business a referral.
Integration – The right software should let your customers refer your business through multiple platforms like email, SMS text, and social media. It should also integrate with your CRM so you can easily ask for referrals from all of your contacts.
Customizable templates – Does the software have customizable referral request templates? It's important that your requests look and sound like your brand or else customers may think that they are in the wrong place. Make sure that the solution you pick lets you customize your referral requests to deliver personalized messages.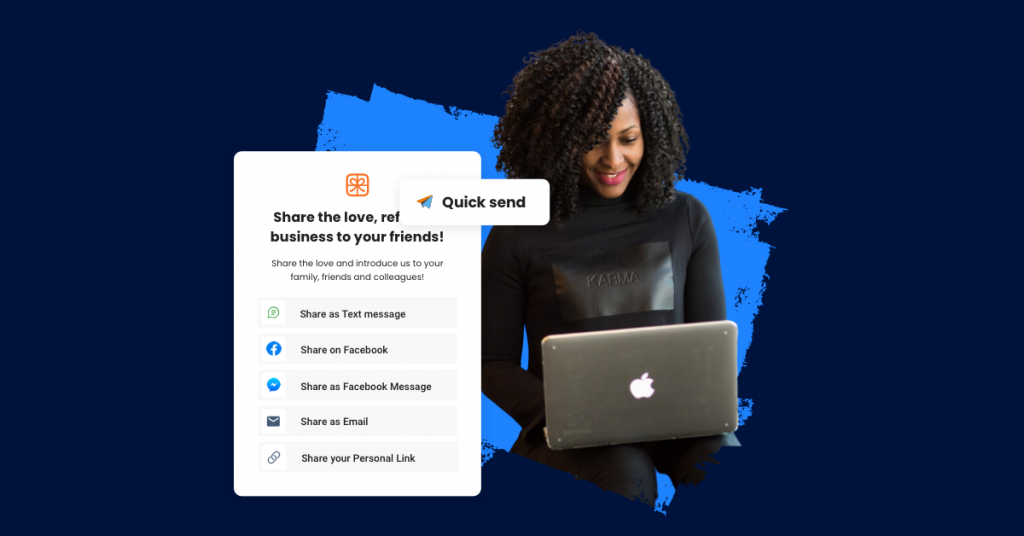 Notifications – The tool you use should send you notifications whenever you get a new referral so that you can engage with the prospect right away.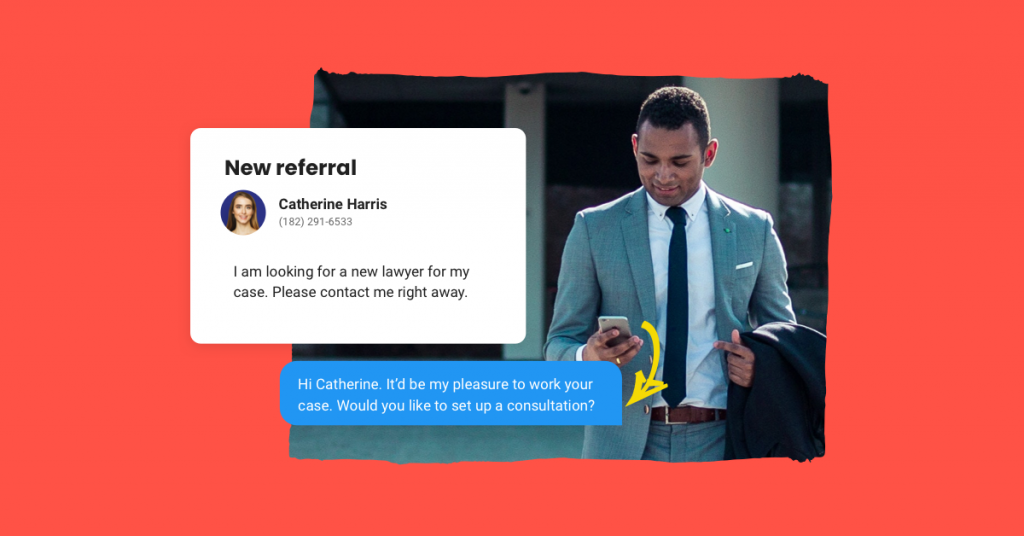 Reporting – Can you see all of your referrals in one place? Find a platform that helps you follow your referral engagement along every step of the process.
The right referral program software will have the above attributes (and more!) to make referral marketing implementable for businesses of all shapes and sizes.
Customer referral reward ideas
1. Offer a discount
Offering your existing and newly referred customers credit, cash, or discounted products is one of the most popular ways to generate referrals. That's simply because it works and has been proven to do so again and again.
2. Donate to a charity
Not all customer referral program ideas have to be based on discounts or cash prizes. Aligning your business with a social cause is a powerful way to boost your referral program. People would love to support a good cause, particularly one that aligns with their values and your brand's. Donating to a local charity after receiving a specified number of referrals can significantly drive up your referral business. 
3. Product or service upgrades
Rewarding customers with product or service upgrades is an incentive with multiple benefits. Not only does it attract new leads, but it also encourages existing customers to continue using your products.
Frequently asked questions about a referral rewards program
What is a referral program?
A referral program is a word-of-mouth marketing strategy in which businesses prime and rewards their customers for recommending their products and services to friends and family. This is done for the main purpose of attracting new customers and increasing customer acquisition by leveraging their customer network.

What is word-of-mouth marketing?
Word-of-mouth marketing is a strategy in which businesses actively influence or encourage their customers to recommend their business, products, and services to their friends and family.  Essentially, it is free advertising triggered by great customer experiences that customers would deem worthy of talking about and endorsing.
Start your referral program today with Birdeye
Amplify the voices of your happy customers and attract new ones with Birdeye. Over 100,000 businesses use Birdeye to grow their business through happy customers. Send automatic referral requests, track your referrals from shares to clicks, to leads, and take advantage of modern-day word-of-mouth marketing.

Looking for more tips on building a digital referral program?
For more tips, tricks, and insights on how to build a high-converting referral marketing program, check out our comprehensive guide on customer referrals. It contains a few bonus tips for collecting referrals that you can't find anywhere else.

Originally published