Search engine optimization — SEO — can mean the difference between your business being found online or getting lost in the shuffle of competitors. If you're not studying and implementing a rigorous SEO strategy, you're simply missing out on hundreds to thousands of potential customers.
In our latest webinar, we sat down with SEO expert Steve Wiideman and asked him for some tips that local businesses can use to get ahead of the competition in 2022. Here are six critical success factors that Wiideman says you should add to your SEO strategy to help you increase your online visibility and get more customers today.
1. Do your SEO research and conduct an SEO audit
According to Wiideman, there are four things to consider in an SEO audit of your business: data accuracy, landing page optimization, citations, and online reputation.
Data accuracy
As a small business, you need to make sure when customers search for terms related to your business, they find the most up-to-date information when they find you online. An easy way to do this is by submitting your information to a platform like Birdeye, which works with significant aggregators and directories including Google, Facebook, Bing, Foursquare, Alexa, and more.
Landing page optimization
Landing page optimization applies to both SEO optimization and user optimization. If you want certain pages to rank on search engines like Google or Bing, you need to optimize those pages using SEO best practices. Some examples of SEO best practices include identifying and using the right keywords, making sure your titles and meta descriptions are optimized and making sure page speeds are fast enough. These things work in tandem to make sure your page ranks on search engines.
Citations
Today, many consumers turn to review sites and online directories to find what they're looking for. The more your business is linked to niche sites and directories in your industry, the more visible you'll be to potential customers. For more information on citations, check out our article on Local Citation Builder: The key to local SEO.
Online reputation
Most customers will not choose a product or service without checking at least a few reviews. In fact, 77% of customers said they regularly read online reviews when browsing for local businesses in 2021 — up 17% from 2020. Getting as many positive reviews as possible is ideal if you want your business to rank and get more customers. Using an online reputation management platform like Birdeye can help you secure more authentic reviews and manage them.
2. Create a comprehensive business profile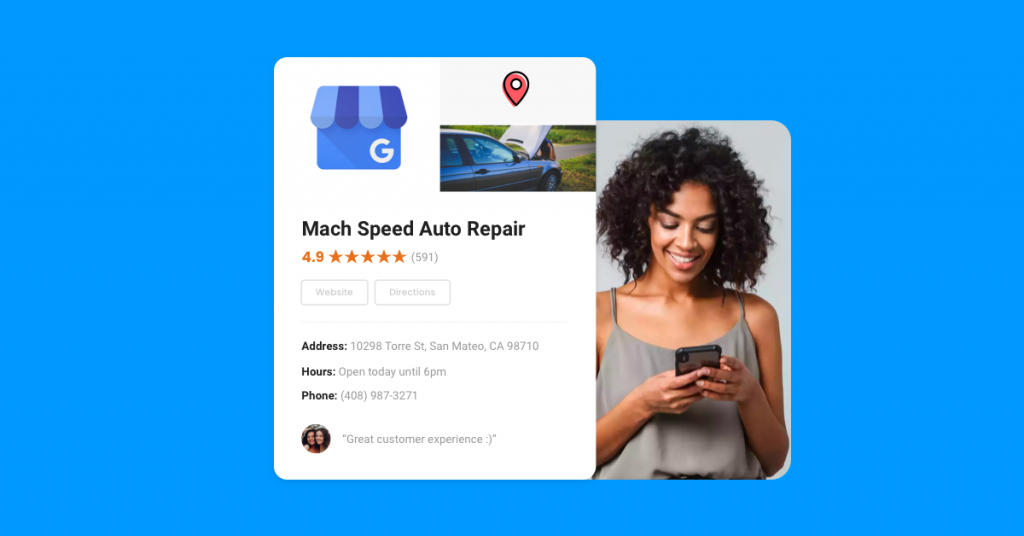 Google provides many fields that can be used within a business profile. A lot of things that can be shared with customers are helpful to those who are searching for the products and services you offer. Here are a few tips you can use to create a detailed Google Business Profile.
Include as much detail as possible. Many categories in Google Business Profile allow you to add a lot of detail. Some categories include names, new product cards, and questions and answers that show up in search results. It's important that you're using all of these to fully take advantage of your Google Business Profile.
Include as many images as possible. You want to include as many images as you can of your products, location, etc. while still being selective about which photos you choose to share. To make sure your customers and search engines recognize the pictures you're posting, use an online testing tool like Immaga that tells you if your image is clear and recognizable by Google and your customers.
Take advantage of Google Posts. Google Posts is a free-to-use feature that tells customers what is happening at your business. You can post events, share the latest offers, provide special discounts, etc. You can also take the opportunity to use focus keywords in these Google Posts.
3. Establish a robust review management system
As a small business, reviews are a critical part of online success. A review management system is a crucial tool in your arsenal that can help you get more reviews and manage the ones you receive.
Review management systems like Birdeye can help you generate more authentic customer reviews, monitor them, and interact with them in one centralized platform. It doesn't matter if you're a small business owner with a single location or a franchise owner with multiple locations — review management systems can automate review requests, track specified reviews and automate responses. Tracking reviews and automating responses are two proven ways to garner even more online reviews and attract new customers to your business.
Responding to reviews
A crucial part of building a review management system is having a thorough review response effort, especially with a multi-location business. When using a review management software like Birdeye, you can choose to get notifications based on specific ratings and keywords that you feel warrant a response.
For example, if you want to address negative reviews directly, you can set up your platform to notify you of all reviews at or below two stars. You can then create a report that tells you how many of those reviews were received over a specified period of time. That way, you can respond to negative reviews quickly, and efficiently.
With Birdeye, all of these reviews can be tied to specific locations so you know which location received reviews and when they were submitted. Birdeye also provides you with the tools you need to respond to reviews quickly. Whether positive or negative, timely responses to reviews give your customers a feeling that you care enough to read and respond to them.
4. Create a well-rounded content strategy
Content creation is a critical part of any SEO strategy, but it should provide value for your customers. Wiideman says local businesses should create content that helps customers find what they're looking for, not just the keywords they're searching for.
For example, Wiideman points to the restaurant industry during the pandemic. When restaurants across the country started closing their doors, business owners panicked until they made the switch to delivery and takeout services. One restaurant that Wiideman's company worked with stayed open for delivery and takeout, but they still weren't receiving many orders. Why is that?
Even though they were open for takeout and delivery, the restaurant didn't have any content on their website telling customers they had to-go options. To address this problem, the restaurant owners were advised to create subpages underneath their locations pages telling customers about those specific services.
With those subpages in place, the restaurant was able to improve its SEO standing during the pandemic and get more customers through its doors. This is a great example of why when it comes to SEO, content is king. Specific, customer-driven content – along with keyword research and implementation – can help your SEO strategy.
5. Pay attention to links, citations, and off-site visibility
The power of local resources and word-of-mouth advertising can't be underestimated for local businesses. One of the best things you can do to gain more traction online is to promote your business offline. By doing this, you can encourage customers, other local businesses, local media, your Chamber of Commerce, etc., to connect to your site and improve your SEO.
For example, Wiideman remembered a client he worked with who put on an event in their community giving away helmets to kids on Helmet Safety Day. The client promoted the event on their website, and they also went in-person to local businesses and asked them to share the event on their social media pages, websites, blogs, etc. Roughly 80 local businesses shared information about their event, including their business name and location, links to their landing pages for the event, and other online content.
Connecting with your local network is an underutilized yet effective way for your business to both gain local exposure and increase SEO standing. Wiideman's client received so much attention for the event that the local news even picked it up, leading to even more promotion and more exposure to their business online.
6. Optimize activity throughout Google
Google is a powerhouse with many features that can help you boost your online visibility. The best thing you can do is utilize every feature at your disposal to boost your SEO. You can also have your customers and employees use those features to optimize your business.
Google looks at your business' profile to see how active it is. The more people search for your business, leave reviews, and search for directions, the more Google considers your business valid and functional. Wiideman has an easy way to optimize your Google activity to make sure your business is seen as reputable.
One way to get more attention on Google is having your employees use Google Maps for directions on their way to work. Google will see this activity and rank your business higher on search results. You can also have your employees post pictures, write reviews, etc. – the more activity, the better.
The same can be said of your customers. By asking your customers to leave reviews, post pictures, and link directions to your business to Google Maps, you can drastically increase your Google activity and improve your SEO ranking.
Watch the full webinar for more excellent SEO content
Watch our entire webinar with Steve Wiideman and get even more valuable SEO information to help your small business online.

Originally published