Content is the most powerful tool that you can use to grow your brand on social media. It can mean the difference between a few followers and an undeniable presence on Facebook, Twitter, and every other major social platform. But posting content now and then just isn't enough. You need a solid social media content strategy to create powerful content that will resonate with your followers.
A social media content strategy will help you create high-quality, engaging content designed to delight your followers and bring them back for more. You'll be able to develop a solid plan with clearly identified goals and post stellar content to meet those goals seamlessly.
In this article, we'll show you how to create a content strategy on multiple social media platforms to drive more traffic to your business. We'll explain how to plan your content strategy, the best ways to reach your followers, and how to reach the results you want to see.
Why you need to build a social media content strategy
Most businesses use social media to post their content and get some extra attention. They might post whenever they feel like it and interact with their followers now and then. But a casual relationship with social media won't increase your follower base or convert followers into customers. If you want to see real, positive results from your socials, you need to take your socials seriously and create a social media content marketing strategy.
A strong social media content strategy will help you create and promote high-quality, organized content that will boost your brand recognition, increase your followers, and drive more traffic to your business.
[Free Guide] The ultimate social media marketing guide for businesses
Download Now
How to build a content strategy for social media
1. Set the right goals for your business
The first step to creating a solid social media content strategy is to first take a look at your business goals and plan your content to align with them. Not all businesses need to reach the same results with their social media presence.
Maybe you already have a relatively large audience, but you just can't seem to reach the level of engagement you need. Or maybe you're just starting your Page, so you want to boost your brand awareness and increase your followers. Establish which goals are worth targeting for your business and stick to them when building your strategy.
Here are some of the common goals marketers target when creating a social media content strategy:
Increase brand awareness
The more great content you create and get in front of people, the more your brand awareness spreads throughout social media. Make it a goal to create inarguably great content to boost your brand awareness.
Increase followers
As your awareness grows, you can also expect your follower count to rise. Each follower could be a potential customer, so the larger your follower base, the more opportunity you have to get more business.
Boosting your engagements
Growing your follower count is great, but that alone likely won't bring you the desired results. You need your followers to like, comment and share your content. The more engagement you have, the more prominent your business will be on social media.
Driving more traffic to your website
Building your followers and presence on socials is great, but your end goal is to get more traffic to your website. Plan to use your socials as a direct funnel to get more leads to visit your website.
Generate leads and sales
The end goal is to drive more revenue to your business. Design your content strategy around converting followers into customers.
Get S.M.A.R.T. with your goals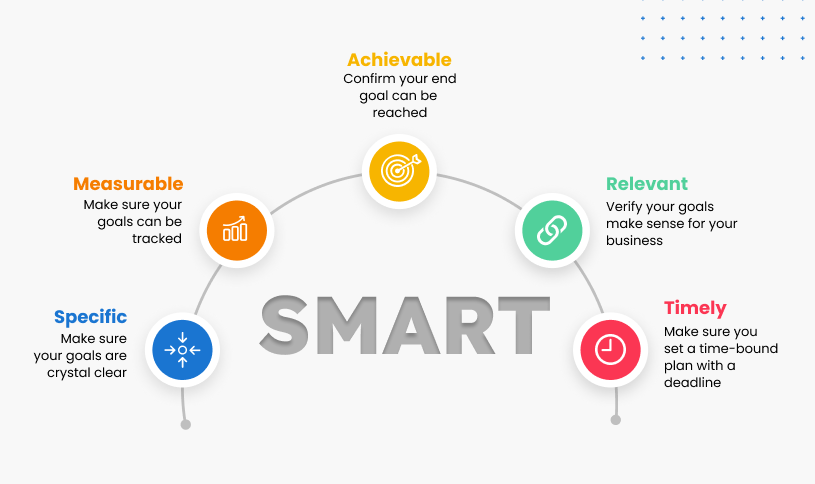 Once you've clearly established your goals, you need to plan for the results you want to see and build your strategy around them. You can do this by setting up key performance indicators (KPIs) similar to any business plan and using efficient S.M.A.R.T. goals. S.M.A.R.T. goals are specific, measurable, attainable, relevant, and time-bound objectives that can help you stay organized and on track:
Specific: Your goals should be crystal clear and precise on what you want to achieve
Measurable: Your goals should be measurable, so you know when you're reaching them
Attainable: Your goals should push you to better your brand, but are still reasonable enough to reach
Relevant: Your goals should make sense for your business and the industry at large
Time-bound: Your goals need to have a set time frame for completion so you stay on track.
Setting your goals and using S.M.A.R.T. guidelines to make them efficient can make sure every piece of content you create and post is compelling and contributes to your success every time.
2. Define your target audience
You can create phenomenal content that is rich and engaging – but not if it's reaching the wrong audience. When you have a solid idea of who you're trying to reach, every piece of content will speak to your audience in a familiar language that is appealing to them, rather than broad-brush content that is generic and only mildly entertaining.
One of the best ways to clearly define your target audience is to build out a buyer's persona or a fictional profile of your ideal follower. Like any business, your ideal buyer persona is unique to you and will have specific demographics that will help you identify what content will best appeal to them. A great place to start is determining if your business is B2B or B2C. This will tell you what information you need to build the right content for your audience.
For example, if your business is in the B2C market, you'll want to define your buyer persona based on demographics like:
Age
Gender
Location
Profession
Average income
General interests
On the other hand, if you're creating content for a B2B audience, you'll need to be more focused on information like:
Industry
Business size
Revenue
Customer base (B2B, B2C, B2G)
Location
Growth
Let's create our own buyer's persona as an example.
Let's say your business is in the B2B market – more specifically for local businesses. Your buyer's persona could be a local business called "Jill's Flower Shop." This shop is a small but rapidly growing business in southern California. They offer everything from floral arrangements and decorative pots to soil and fertilizer.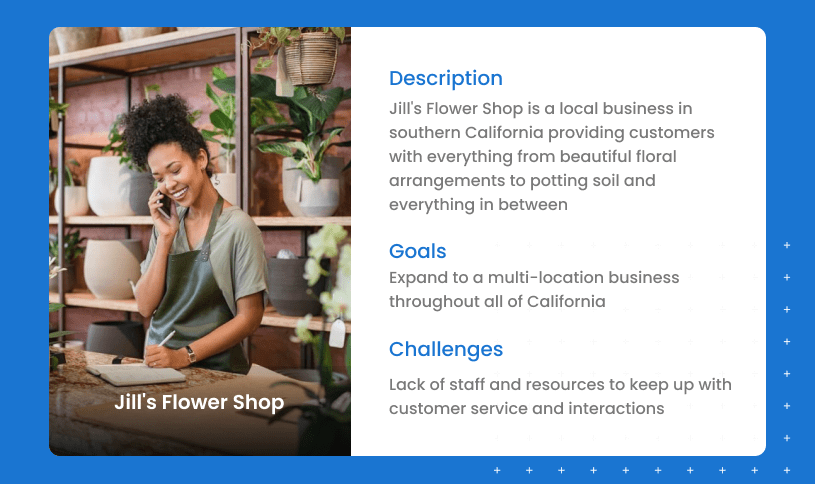 Things are going so well for Jill's Flower Shop that they even plan to expand to three new locations throughout California. But they don't have the staff and resources to keep up with customer service and interactions right now. They're looking for a comprehensive customer messaging service they can use to keep up with their customer interactions as they grow.
Creating a buyer's persona like this can give you a better understanding of your target audience and what content they would be most likely to engage with.
3. Pick the best social media platforms for your goals
If you have the staff, time, and resources to build a strong content strategy for every major social media platform, by all means, go for it. But the reality is that most businesses don't have the bandwidth to do that. The best thing you can do is decide a few primary social media platforms you can target that make the most sense for building your business.
Let's use the same example from earlier. You know your business is in the B2B market. The content you plan to create is targeted to local businesses like Jill's Flower Shop. Therefore, LinkedIn will be your best focus when building your content strategy as it's one of the top three players in B2B reach.
But Jill's Flower Shop is primarily in the B2C market. They're creating content often designed to reach local followers who want to buy flowers for their partners. And given that Gen X and millennials are most likely to buy a flower bouquet, they might benefit most from focusing their attention on Facebook – the social platform where millennials spend most of their time.
Do some research on your particular audience, and you'll find that you don't need to spread yourself thin by creating content on all major social platforms. You can focus your content creation on a few social media platforms that best serve your business.
If you want a good snapshot of the major social media platforms, their demographics and the most common content, take a look at the table below to help you decide which platforms would be right for your business.
4. Plan your content
After defining your target audience and knowing which platforms you plan to focus on, you'll need to plan what content you need to create. A best practice is looking at the content you've already posted and see how it's performed according to your social media content strategy goals.
For example, if you've decided that growing your followers is one of the key priorities in your content strategy, look at what posts resulted in new followers to your accounts. You can do this easily with LinkedIn, Facebook, and Twitter by exporting your analytics right from the platform.
Focus first on the content that's working well, and then re-work the content that's not giving you the results you want to see.
You should also create content that can address what your followers need. Ask yourself:
What are their goals?
What challenges do they have?
What information are they looking for?
What can our content offer them?
You might find that blogs, case studies, and articles will work best with your B2B followers on LinkedIn because you're offering relevant information to help them succeed in their industry. Or you might find out that live streams, videos, and influencer collaborations resonate with your younger followers looking for the latest new product in your industry.
Create content with the goal in mind to solve a problem or offer something of value to your followers and stay true to your brand. If your followers see content that gives them something tangible and know that your content is authentic, they're more likely to resonate with it. Couple that with detailed analytics, and you'll have a content strategy that will boost your follower account and engagements on any social media platform.
5. Customize your posts for individual platforms
One size does not fit all when it comes to social media. With Birdeye's 'Master Post' tool, you can craft your content, whether it's your original creation or generated with our user-friendly AI tool. Once your content is ready, you can easily fine-tune each post by switching between channels. For instance, you can shorten the text to fit Twitter's character limit, add those essential hashtags for Instagram, and perform other customizations. This flexibility lets you enhance every post, ensuring it's optimized for maximum reach and engagement on each platform.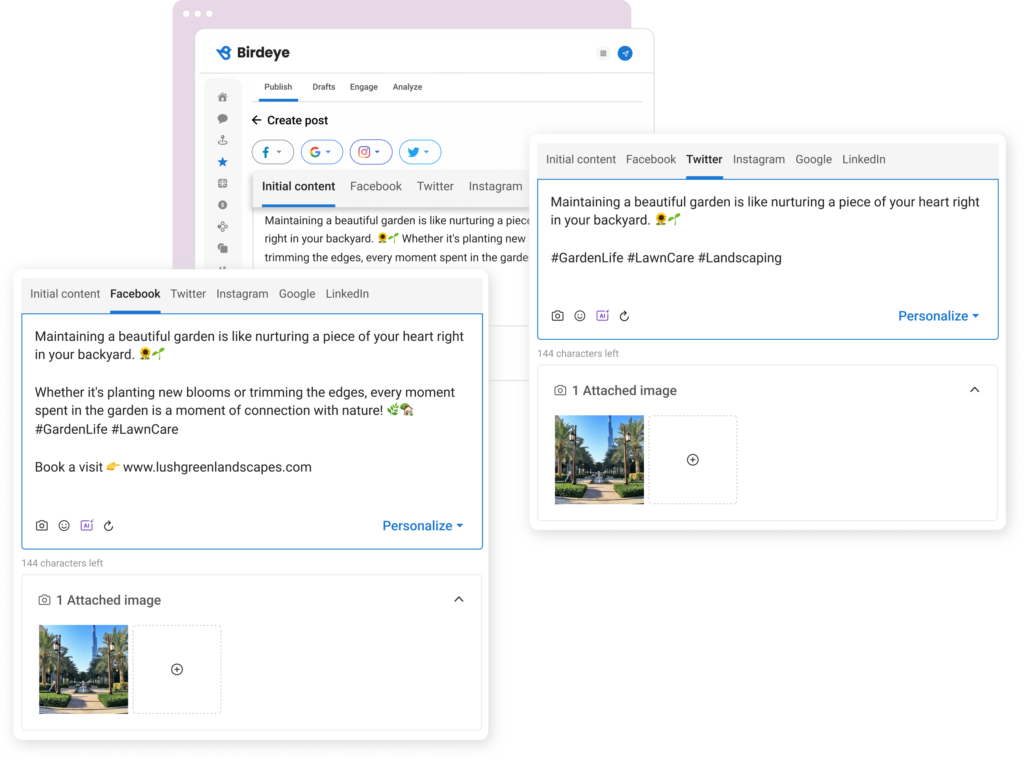 6. Create a social media content calendar
You've set your content strategy goals. You know who you're trying to reach and what kind of content you'll use to reach them. Now it's time to create an organized social media content calendar to stay on track.
Managing social content without a schedule is cumbersome and can be hard to keep up with. But creating a calendar will give you a bird's eye view of your content and help you organize it effectively. You'll be able to see what's coming, plan accordingly, collaborate with your team, and publish your content in a streamlined system that you'll always be able to manage.
Posting frequency is one thing to consider when planning your social media content calendar. Each platform typically benefits from different posting frequencies, so it's best to do research to find out when you should post on each platform you're targeting.
But keep in mind, every situation is different. You'll see varying answers on how often to post on certain platforms, but here is a general guide to posting frequencies on different social media platforms:
Instagram: 1-2 reels per day, and 1 image or carousel post per day
Facebook: 1-2 times per day
Twitter: 1-3 times per day
LinkedIn: At least once per business day
TikTok: 3 times per day
Pinterest: post or pin 4-10 times per day
If you're using more than one of these platforms, an editorial calendar can make sure your posts are scheduled and published on time. You can schedule your content to publish automatically so that even if you forget or can't get to your account, your content will publish for you at the date you set in your calendar. If you can stay on track, you'll easily manage your content strategy across several social platforms.
We created a free social media calendar template you can use to determine a successful publishing schedule for each of your social media profiles. Just open the link and create your copy to get started. And if you want to learn even more about when to post on social media, read our blog on creating a social media posting schedule.
7. Post and promote your content
If you've completed the previous instructions, you should be ready to share content with your followers. Remember to follow what we've already covered with your content:
Post content aligned with your content strategy goals
Make sure your content is relevant to your target audience
Post your content on the best social media platforms for your goals
Plan to provide value and address your followers' issues with your content
Post according to your content calendar to stay on track
Once you've created and posted your content, you can't stop there. You need to actively promote your content as much as possible. Encourage your followers to like, comment, and share your content throughout the platform they're using. You can even cross-promote your content from one platform to another by asking your followers to engage with your content wherever they have an account.
And remember, you're not restricted to social media when promoting your content. Whether on your website, in your emails, or even in person, you can encourage anyone who visits your business to engage with your latest content. You can leave a link from your website to your social media accounts, use comprehensive social media software, or ask customers visiting your business to check out your content and share it.
Wherever possible, make sure you promote your social media content for everyone to see. You've put this much time and effort into creating your content strategy – you might as well shout it from the rooftops.
8. Measure and analyze your results
After you've planned, strategized, and posted your content, you need to know how it's performing to make sure your social media content strategy is successful. You can do this by knowing which content performed well by following your social media analytics. with your followers can provide valuable insight into where your content strategy works and where it needs improvement. It can also help you develop stronger strategies as you move forward with your content production.
When measuring your content's performance, there are a few metrics you need to pay close attention to:
Reach: This measures the number of people that see a piece of published content within a certain amount of time.
Engagement rate: This measures the total number of interactions you get on your social page or on the content you post. That includes likes, follows, comments, shares, etc.
Click-through rate (CTR): This is the number of followers who click on your ads, content, links, and social media profile.
Performance of hashtags: On most social platforms, you can use hashtags to track the reach and engagement of your social media posts.
Impressions: This measures how often your content was viewed on a social platform. This includes if a single person views the content more than once, so you can try to find out why the content was compelling enough for someone to return to it.
Follower growth rate: This measures how many new followers your business gets on a social media platform within a specific time period.
The more you keep track of your results, the more you can improve and expand your content strategy in the future. Revisit your initial content strategy goals to see how your strategy measured up, and keep following your analytics to see where you're excelling and what you can do to adjust your strategy to reach your next set of goals.
In case you're worried about remembering all the steps to create a great social media content strategy, don't worry. We have a free social media marketing strategy template that covers the details you need to make your strategy solid. We cover the major social media platforms like Facebook, Twitter, LinkedIn, Instagram, TikTok, Snapchat, and Pinterest and walk you through the process of building your strategy step-by-step on the platforms where you want to succeed.
Frequently asked questions about social media content strategy
What is a content strategy in social media? 
A content strategy is a plan to use written, video, or audio content to market your business to followers successfully.
What are the four common types of social media content?
The most commonly used types of social media content are images, videos, text, and audio.
What kind of social media content gets the most attention?
The three media types that get the most attention on social media are educational content, interactive content, and inspirational content.
What makes content successful?
Content is successful when your followers find it relevant and engaging on your social media Pages.
What is the most popular type of content?
Videos have become the most popular form of content on social media.
Birdeye Social: the all-in-one tool to convert followers into customers
Birdeye Social helps businesses build a stellar social media presence across platforms. With Birdeye Social, you have everything you need to manage your social reputation, engage customers, deliver exceptional customer experiences, and grow revenue from a single dashboard. To learn more, get a free demo. Plus, click on the banner below to download our easy-to-use templates to get you started on building a social media strategy today.


        

This blog post is part of our Social Media Management Guide 


      

           



Originally published