As a modern hotelier or tour operator, you probably know how critical online hotel reviews on popular review sites are to your business's online reputation. But, if you're not monitoring your hotel reviews and where they come from, you are leaving yourself at a disadvantage in building your online reputation.
In this article, we'll talk about why positive hotel reviews are essential to your business, how to monitor and manage them, and list some of the best hotel review sites for you to pay attention to.
Why are hotel rating companies important?
Hotel rating companies can help you prove your trustworthiness and convince potential guests to choose your hotel over the competition. Some of the other benefits of maintaining a presence on hotel review sites are:
Reviews drive revenue.
Various surveys show about 75-80% of all travelers read reviews before booking. You should ask yourself what sites they use to leave reviews on your business, how you can monitor them, and how your team can respond when guests review your property.
Online reviews can help you maximize revenue, balance internal and online travel agency (OTA) reservations, and minimize management discounts.

Presents an accurate picture of the hotel
Of course, you will be focused on getting good reviews and distraught at each negative review you get, but this isn't the end of the world. Both good and bad hotel reviews have a purpose.
Positive hotel reviews are the reviews you want your potential customers to read. They are the ones that can improve your standing on Google and other hotel review sites, ultimately driving revenue through the door.
But, negative reviews can also be helpful. Most potential customers find that a couple of negative reviews make a hotel more credible than only five-star reviews. Negative reviews are also a valuable source of feedback for you to improve your business.
Build online reputation
You will likely pay attention to reviews that you receive on Google. Still, there are several reputable review sites that you should monitor to enhance your online reputation management and build a stellar online image for your business.
By building a presence on all the best sites for hotel reviews, you can maximize your online presence, gather reviews, and make sure your guests can find you easily. But just a presence isn't enough. Make sure you use a review management system to monitor and manage the reviews you get from all sources to act on them appropriately.
7 steps to boost revenue from hotel rating companies
Once you have set up your account on all the best sites for hotel reviews, it is important to devise a plan to monitor them. Knowing what is being said about your business can help you identify opportunities for marketing and threats to improve and help maximize the revenue potential of your business.
Work with an online review management tool like Birdeye that monitors, responds, and acts on reviews from a single, easy-to-use dashboard. This makes sure that you never miss any review from any hotel review site.
Encourage guests to leave reviews for your business on these review sites. Build a process that sends an automated review request to all guests as soon as they complete a transaction. You can do these by integrating your customer management systems with Birdeye.
Monitor all mentions of your business on social media and encourage happy guests to write reviews on the hotel review sites.
Make sure that your contact information, photographs, location, and other related information across all listings.
5 best sites for hotel reviews in 2023
The key to building a strong online reputation for your hotel is to have a presence on all the best sites for hotel reviews. Here is a list of all the top hotel review sites to watch out for in 2023.
1. Google
Whenever anyone is looking for any information online, Google is the place to be. Whether it's searching for a hotel in Dallas or a tour of Washington D.C., the easiest thing to do is to Google it.
Most travelers are Googling their trip before they make it. Because of that, Google offers valuable information like airline pricing directly on their results page and a hotel search tool to compare hotel reviews, locations, and prices.
By claiming your Google Business Profile (earlier called GMB) and adding your business to Google Maps (with Google Reviews), you can keep tabs on every review of your hotel coming through Google.
2. Booking.com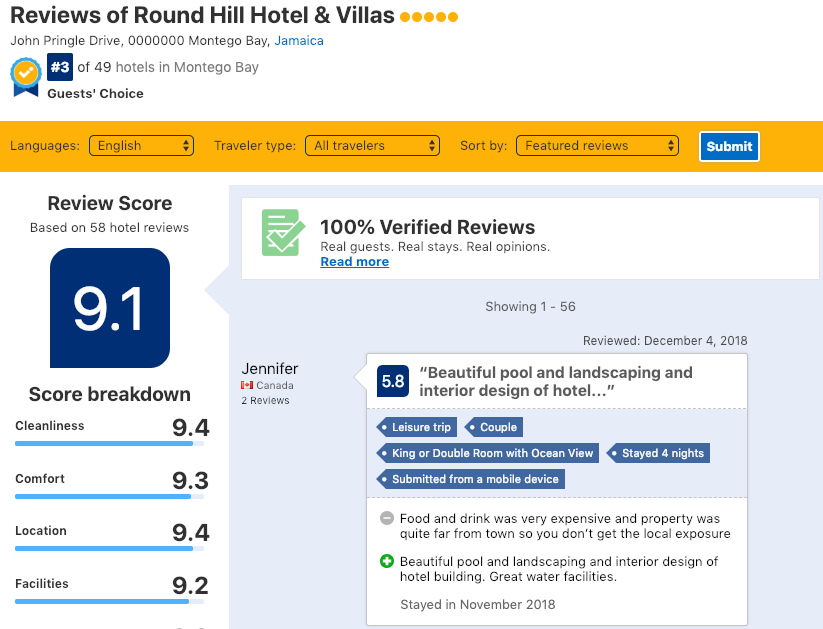 Booking.com is a hotel review site that only accepts reviews from users who have verified bookings at that property. These verified reviews add extra merit to the reviews on that site. Not only is booking.com a critical site to monitor, but it's also a great place to ask your guests to review after their recent stay.
This website has been around for more than 25 years and is trusted for many travelers to find their favorite property. If you want your hotel to be on the same footing as some of the most popular names in the industry, having a presence on Booking.com is important.
3. Expedia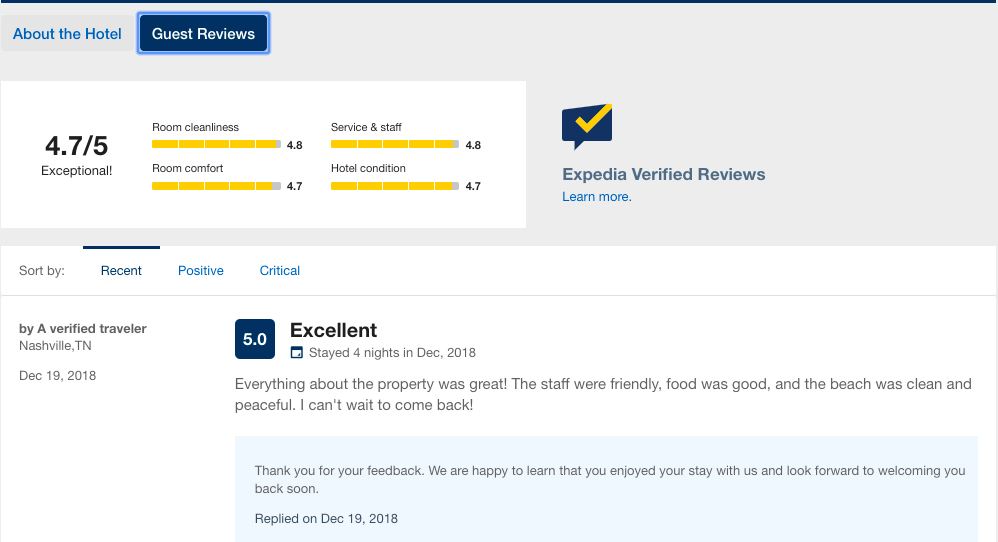 Expedia is one of the oldest and largest Online Travel Agencies (OTA). After guests stay at a property booked on Expedia, they automatically receive an email invitation to submit a review. That covers any service or transportation booked through Expedia. Tour operators should note that this includes their "Things To Do" tool, which highlights tours and activities by destination.
By establishing a presence on Expedia, you can make sure that your hotel has a steady stream of online reviews from your guests, boosting your online reputation. And because of its trustworthiness with travelers, Expedia is one of the best sites for hotel reviews worldwide.
4. Hipmunk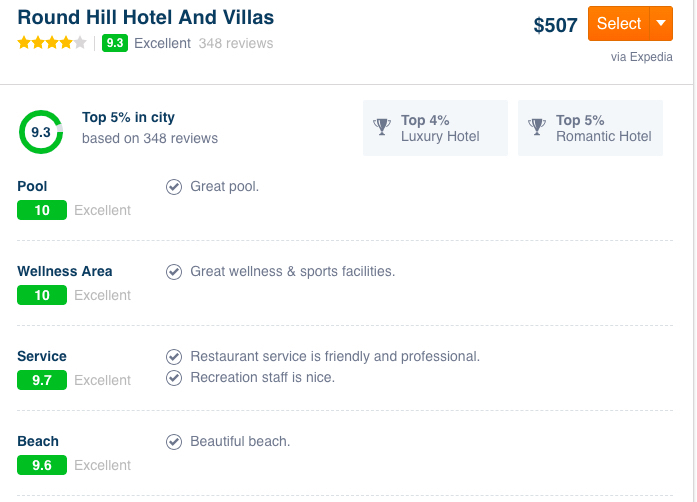 Hipmunk is a travel booking site that incorporates consumer reviews and reviews from TripExpert. TripExpert uses "experts to provide meaningful ratings for hotels and attractions." Hipmunk balances between consumer and expert reviews. Therefore, you should ensure that TripExpert isn't echoing bad reviews from your customers.
Work with a tool like Birdeye that automatically sends review requests to all guests.
5. Hotels.com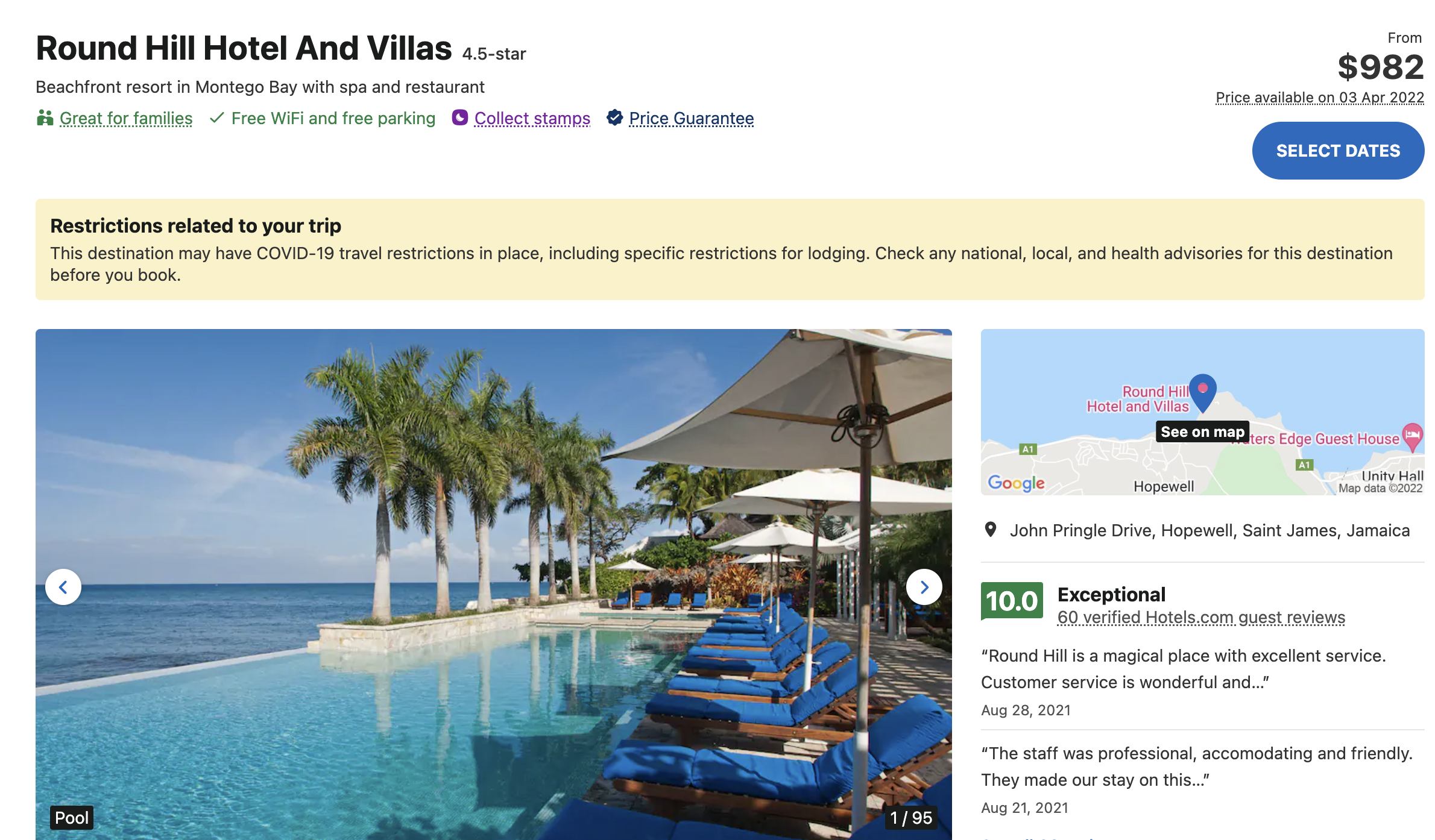 Hotels.com is a massive destination for vacationers and travelers looking to book hotels and resorts for their trip. This is another site run by Expedia. Their reviews come through two of the largest audiences in the travel industry, so focusing on both sites can garner more reviews instead of focusing on one or the other.
Also, explore the top travel review sites that your business can't afford to ignore.
Use Birdeye to monitor the best sites for hotel reviews
Reviews are becoming more important in the hotel and tour industry. To dominate the local competition and earn prospective guest's trust, you need a review management strategy in place to help you gain more reviews and interact with the ones you get anywhere online.
Automating the process with online review management software like Birdeye is the most effective way to increase reviews.

Birdeye is an automated review management solution that lets you ask every client for feedback after their appointment and alerts you whenever you receive a new review automatically. Adding Birdeye to your review management strategy can help you solidify your place in the industry as a business that your guest's trust.
Originally published