As a modern hotelier or tour operator, you probably know how critical online hotel reviews on popular review sites are to your business's online reputation. But, if you're not monitoring your hotel reviews and where they come from, you are leaving yourself at a disadvantage in building your online reputation.
In this article, we'll talk about why positive hotel reviews are essential to your business, how to monitor and manage them, and list some of the best hotel review sites for you to pay attention to.
Reviews drive revenue.
Online reviews can help you maximize RevPAR, balance internal and online travel agency (OTA) reservations, and minimize yield management discounts. This works best when you're keeping a close eye on each one of your property's reviews online.
Good reviews and bad reviews are both important.
Of course, you will be focused on getting good reviews and distraught at each negative review you get, but this isn't the end of the world. Both good and bad hotel reviews have a purpose.
Positive hotel reviews are the reviews you want your potential customers to read. They are the ones that can improve your standing on Google and other hotel review sites, ultimately driving revenue through the door.
But, negative reviews can also be helpful. Most potential customers find that a couple of negative reviews make a hotel more credible than only five-star reviews. Negative reviews are also a valuable source of feedback for you to improve your business.
Reviews: Everyone's reading them, are you monitoring them?
You will likely pay attention to reviews that you receive on Google. Still, there are several reputable review sites that you need to be monitoring. By using a hotel review management system, you can monitor and manage the reviews you get from all sources to act on them appropriately.
Various surveys show about 75-80% of all travelers read reviews before booking. You should ask yourself what sites they are using to leave reviews on your business, how you can monitor them, and how your team can respond when customers review your property.
7 Steps to Proactive, Efficient Online Review Monitoring
First set up a business account on each of the top hospitality reviews sites that we outline below, and follow these key practices to maximize your revenue in 2022 and beyond:
Online review monitoring and management is a continuous process that has to be supported all day, every day.
Why? With global travel, it's always "today" somewhere.
Use tools like Google Alerts and Social Mention. It can be hard to keep track of every review your business gets online.
Why? Using tools like this can alert you to reviews you might have missed otherwise.
Encourage your staff and managers to monitor, read, and respond to your customers within minutes or hours. Do this by property, city, or region.
Why? Speed matters and 89% of folks reading reviews also read responses.
Develop a customer care game plan that includes a variety of messaging and service recovery responses.
Why? Because we know you probably use a very similar script when you are face-to-face with your customers. But, it's better to change things up and keep it fresh due to the ubiquity of online reviews.
Develop excellence in online customer care, including empathic responses and using online optimized service recovery best practices.
Why? Service recovery tends to be effective on all customer interaction mediums, including messaging systems and reviews.
Make sure your business information is up to date. This includes your various locations, hours of operation, etc.
Why? As a result of unclear info, your customers may get confused if they see different hours/addresses on various sites. Consequently, this will help search engines correctly identify your business as well.
Ask your customers for reviews on a regular basis.
Why? Because only 40% of consumers trust reviews written in the last three months. And most people value recent reviews over old ones. Finally, a higher review volume means both search engines and customers trust you more.
Now that you know the best practices for monitoring review sites, here are the sites you should be monitoring and managing: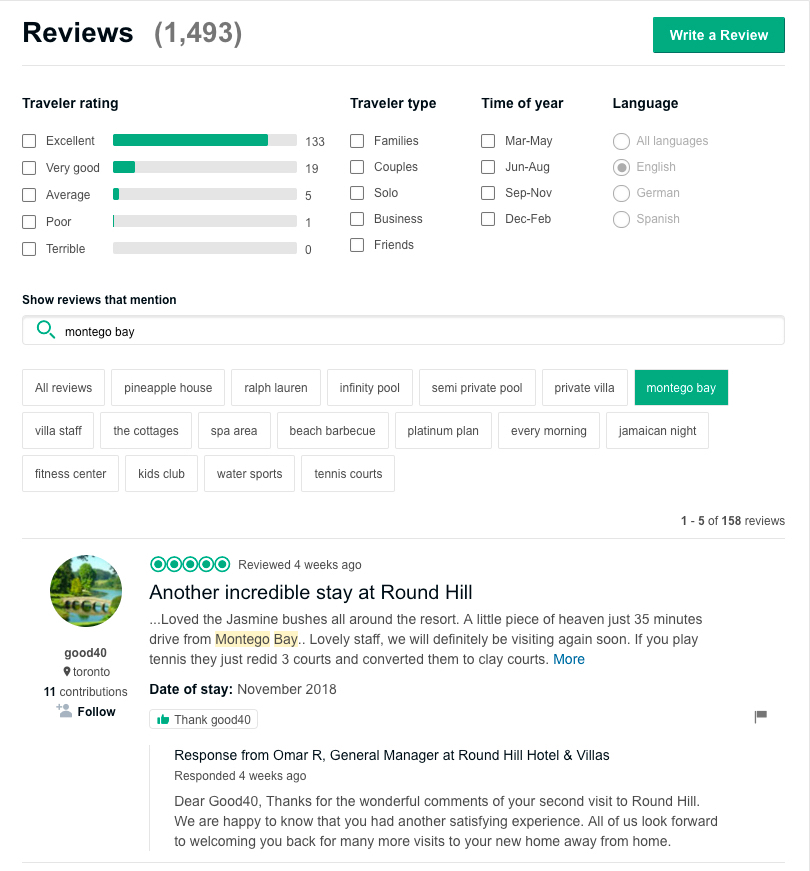 1. Google
Whenever you're looking for any information online, Google is your go-to friend. Whether you're searching for a hotel in Dallas or a tour of Washington D.C., the easiest thing to do is to Google it.
You can be sure that most travelers are Googling their trip before they make it. Because of that, Google offers valuable information like airline pricing directly on their results page and a hotel search tool to compare hotel reviews, locations, and prices. By claiming your Google Business Profile (earlier called GMB) and adding your business to Google Maps (with Google Reviews), you can keep tabs on every review of your hotel coming through Google.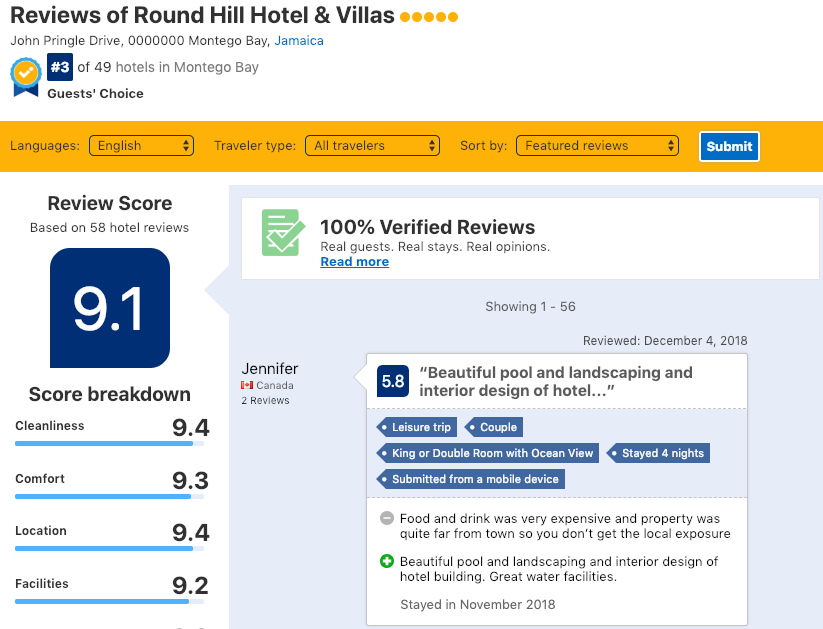 2. Booking.com
Booking.com is a hotel review site that only accepts reviews from users who have verified bookings at that property. These verified reviews add extra merit to the reviews on that site. Not only is booking.com a critical site to monitor, but it's also a great place to ask your guests to review after their recent stay.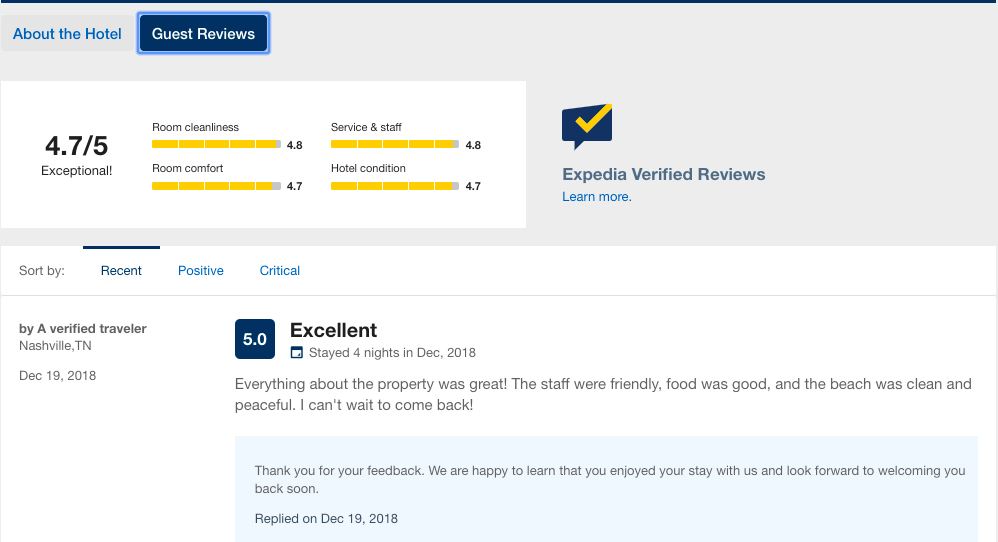 3. Expedia
Expedia is one of the oldest and largest Online Travel Agencies (OTA). After guests stay at a property booked on Expedia, they automatically receive an email invitation to submit a review. That covers any service or transportation booked through Expedia. Tour operators should note that this includes their "Things To Do" tool, which highlights tours and activities by destination.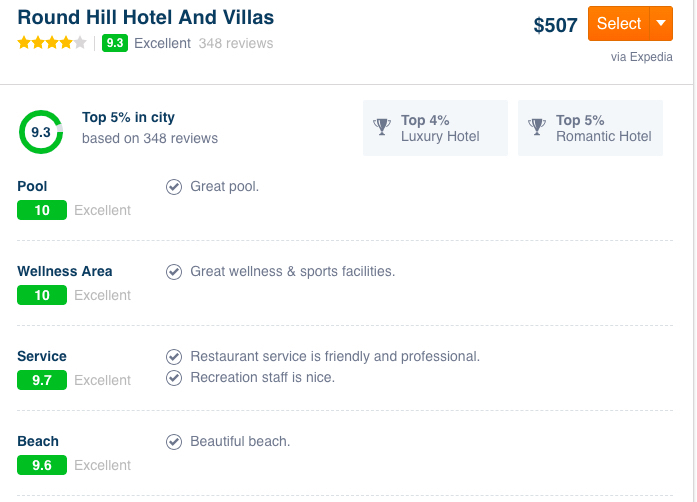 4. Hipmunk
Hipmunk is a travel booking site that incorporates consumer reviews and reviews from TripExpert. TripExpert uses "experts to provide meaningful ratings for hotels and attractions." Hipmunk balances between consumer and expert reviews. Therefore, you should ensure that TripExpert isn't echoing bad reviews from your customers.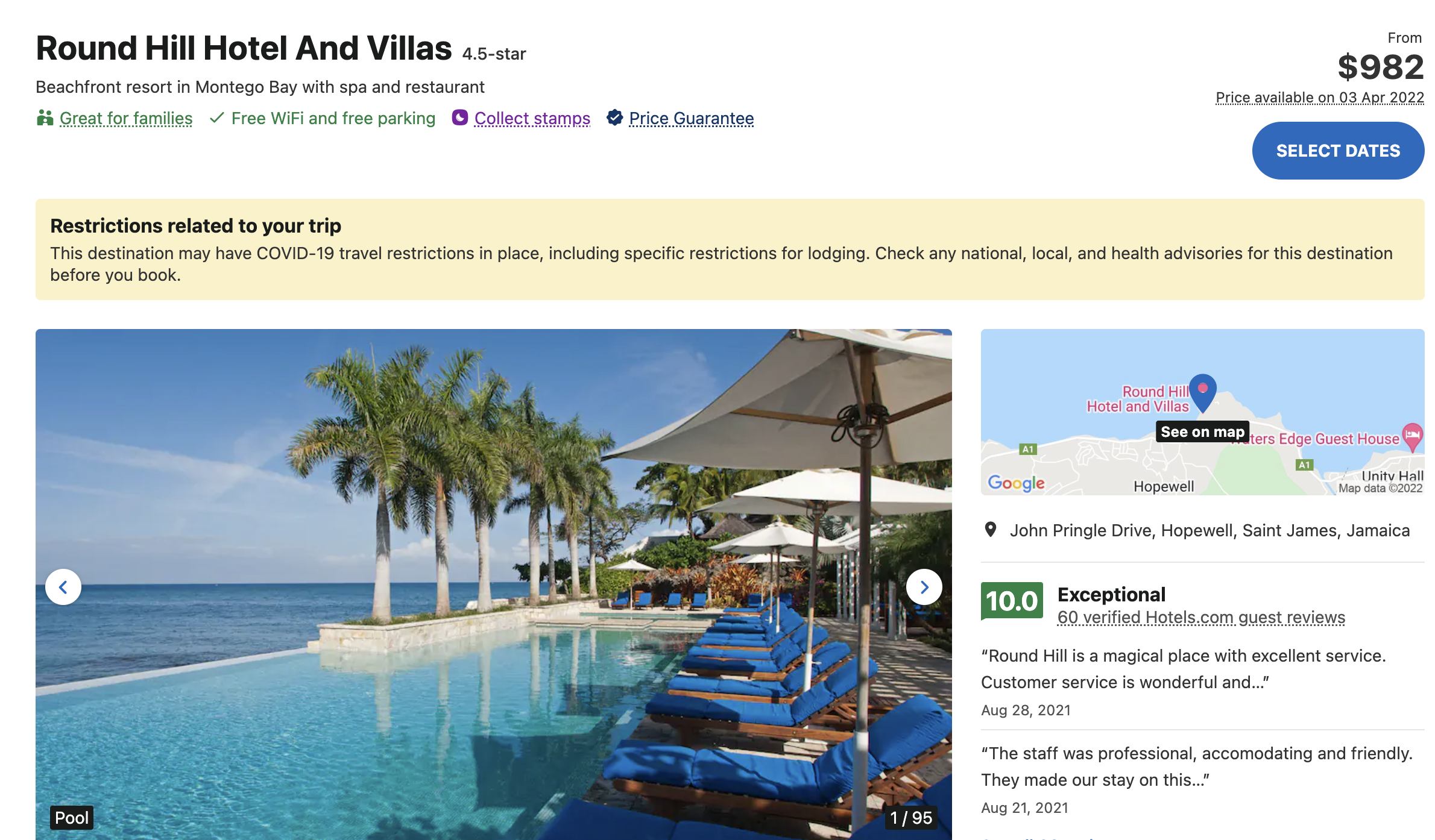 5. Hotels.com
Hotels.com is a massive destination for vacationers and travelers looking to book hotels and resorts for their trip. This is another site run by Expedia. Their reviews come through two of the largest audiences in the travel industry, so focusing on both sites can garner more reviews instead of focusing on one or the other.
The bottom line for online hospitality: Reviews are only becoming more important in the hotel and tour industry. To dominate the local competition and earn prospective customers' trust, you need a review management strategy in place to help you gain more reviews, and interact with the ones you get anywhere online.
This will not only earn you an excellent online reputation against your competition. It will also help you understand your customers on a personal level so you can consistently exceed their expectations and keep your spot at the top.
How can you get new (and fresh reviews) on top travel sites: There are several ways to collect more reviews from your guests, including manually sending follow-up emails, adding links or codes on receipts, or in person. However, the most effective way to increase reviews is by automating the process with review management software like Birdeye. Birdeye is an automated review management solution that lets you ask every client for feedback after their appointment and alerts you whenever you receive a new review automatically. Adding Birdeye to a well thought out review management strategy can help you solidify your place in the industry as a business that your customers trust.

Originally published Jan 10, 2019, updated