Social listening is the process of tracking social media conversations around certain phrases, keywords, and brand mentions important to your business. The intent of social listening should be to leverage these key conversations to pinpoint business opportunities or create relevant content for your target audiences. Strategic social listening tells you so much more than daily notifications about comments and likes.
Social listening lets you:
Measure overall brand performance
Create engaging content tailored to your audience's interests
Gather inspiration for powerful marketing campaigns
Deliver prompt, proactive customer service
Improve customer experience and business operations
Make strategic, data-driven product decisions
We'll cover all of these in more detail later on in this article.
Read also: Getting started with social listening
Social listening vs. social monitoring
Social media monitoring is the process of gathering mentions and knowing in general what customers are saying, while social listening involves analyzing the impact of all those mentions combined.
Social monitoring is a simple, yet crucial component of social media management. Monitoring lets you create a list of social media engagement opportunities that you can then take immediate action on, whether this action is commenting, liking, retweeting, or converting into a support ticket. This sets the stage for social listening, where you can consider the bigger picture behind conversations and optimize your social strategy.
Why is social listening important?
Social media is bursting with customer conversations:
500 million tweets are shared each day (Internet Live Stats)
More than 2.5 billion comments are posted on Facebook pages every month (Forbes)
Facebook accounts for 1 of every 6 minutes spent online, and 1 of every 5 on mobile (Comscore)
90% of customers have used social in some way to communicate with a brand (Zendesk)

Despite common misconception, customers of all demographics are active on social media, not just the youngsters — according to Pew Research Center, 56% of US online users over age 65 are on Facebook.

Monitoring is being aware of what's going on and making quick fixes each time something comes up. Staying active and responding instantly is, of course, important, but businesses must also step back and see if there are underlying themes behind these individual customer complaints. That's where social listening comes into play, giving businesses the insights necessary to implement long-term solutions.
For example, a local pizza restaurant monitoring its social channels might notice frequent complaints about burnt pizzas, and simply reach out to each customer offering a refund or discount for their next visit. This is better than taking no action at all, but if a customer returns and receives yet another burnt pizza, they are unlikely to give you another chance — and will probably tell their friends to steer clear of you as well.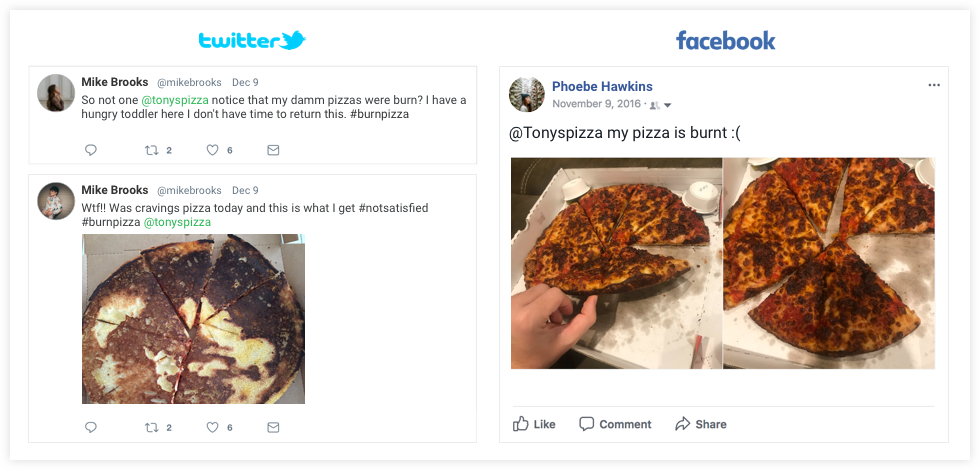 Social listening, on the other hand, could reveal that all of these complaints come from customers who visited a specific branch on a specific day of the week. This tells the restaurant that either certain staff need to be retrained or certain equipment needs to be fixed in order to stop this problem from happening to more customers.
Identifying a trend and adjusting operations to solve it means fewer day-to-day customer complaints, more returning customers, and more new customers. Social listening gives you a 360-degree view of the customer experience so you can detect signs of dissatisfaction early on and take action to prevent problems from occurring.
How can you use social listening to grow your business?
Read also: Tips for social listening success
Here we'll dive deeper into some of the ways you can use social listening to drive growth:
Measure overall brand performance
Social media is a great place to get a general consensus on perception of your brand or a particular marketing campaign. To do this requires both social monitoring and social listening. As a foundation, monitoring lets you gauge the general public reaction — surge of negative or positive activity is obvious indicator of customer sentiment. Social listening lets you see the impact this sentiment has on your brand.

Social media is customers' preferred source of customer care (Forbes). That means if you aren't paying attention to your social channels, you're likely overlooking many customer issues — and other customers and prospects are seeing them instead.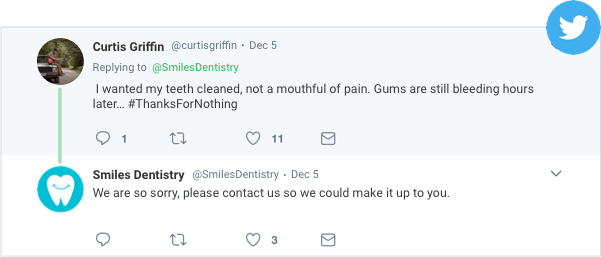 Read also: Social customer care is the new online marketing
Create content your audience wants to talk about
If you're looking to grow your following and expand your audience reach, you can't rely on your customers to do all the work. To turn your customers into a loyal fanbase and get meaningful conversations going, you need to be producing top-quality content that your audience cares about on a regular basis. On the most basic level, you can start by posting a variety of content like blog posts, infographics, videos, and photos, and see what customers interact with most.
To get a more accurate idea, however, you can use social listening to gather data that will drive high converting content. A social listening tool can help you discover popular topics, keywords and hashtags associated with your brand and your industry.
Some questions to keep in mind as you listen to social media conversations:
What do your customers post about most?
What kinds of posts do they tend to share?
How could your brand take a unique angle on these posts that customers would also find interesting?
It's also important to pay attention to how your customers talk so you can write posts in a style and voice your audience is comfortable with. You want your ad campaigns to flow smoothly and be an enjoyable experience. Their tone and feel need to not only be consistent throughout, but also written in a way that resonates with your ideal customer. Observe how your customers talk and use findings to guide copy creation of other content like social media ads and landing pages — while staying consistent with your own brand identity, of course.
Major social networks like Facebook and Twitter have algorithms to determine which posts to display, so you can even SEO optimize your posts by learning the right combinations of keywords and hashtags to use to bring your content to the top of News Feeds. Discover content trends and common customer pain points that you can capitalize on with posts of your own. Then use a Social Publishing tool to schedule posts in advance for automated future publication to make it easy to post on a consistent basis.
Get ideas for new marketing campaigns
The best campaigns are based on opportunities identified within the marketplace. What do customers want to see on their social channels?
Look at your competitors to discover what's working for them and identify gaps that you could fill with your own content.
Discover influencers who could make your next campaign a viral success.
Leverage User-Generated Content (UGC). Categorize posts from customers that promote your brand as User Generated Content using a tool like Birdeye to add tags to posts. Monitor how frequently your audience shares UGC over time, and if there's a high volume, consider designing a marketing campaign that motivates customers to promote your brand.
Keep up with trending topics on an industry, national, and global level.
Improve your customer experience
Spot larger trends to solve problems before they escalate. Social listening and analysis let you keep customers happy even as their expectations rise, so you can continue to surprise and delight them day after day and year after year.
Think you're ready to start using social listening to grow your business? Learn how Birdeye's comprehensive social media management tools can help.

Originally published May 27, 2020 9:56 AM, updated Nov 08, 2022