Using social media to grow your business's presence online is a great start, but keeping up with new platforms can be challenging. There are more than a dozen types of social media, with more popping up every day. If you don't know which platforms are available, you may be throwing away opportunities to make your brand a household name. Not only that, you could be putting your efforts toward a dying platform while the next big thing is passing you by.
In this article, we'll show you 15 different types of social media so you can decide which ones will be best for your business. We'll also help you narrow down your target audience and determine which platforms can help boost your brand and get more followers.
Choosing the right social media types for your business
You unlikely have the time and resources to increase your business's presence on every social media platform. The best thing you can do is to figure out which social media platforms are ideal for your business. Here are three things to consider when deciding which social media platforms are best for your brand.
1. Know your audience
There's no one-size-fits-all approach when it comes to social media. You'll need to research what demographics tend to use certain social media platforms to help you decide the ones worth your time and effort.
For example, studies have found 18-19 year-olds make up about 33% of Instagram users, while only 16% are 50-64 year-olds. If your products and services are geared toward an older audience, Instagram won't be worth your time.
On the other hand, 50-64 year-olds make up 29% of Facebook users, and they're the largest demographic on the platform. With that in mind, you can assume you're more likely to reach your target audience by focusing on Facebook. After doing your research, you can narrow down your social media platform options to those best suited for your target audience and create content relevant to them.
2. Know your goals
Not all businesses use social media to reach the same goals. You need to figure out your own specific business goals and embrace the platforms that can help you achieve them.
Let's say you're a business-to-consumer (B2C) company selling retail products. If you're eager to showcase your products, you could likely benefit from social platforms that focus on photos and videos.
However, if you're a business-to-business (B2B) company selling software to large enterprises, you'll want to focus on platforms like LinkedIn. On LinkedIn, you can host webinars and live streams with industry experts to show your followers your company is a thought leader in their industry.
3. Keep up with the latest trends
As we already mentioned, it's important to know which platforms can benefit your business most. It's also important to pay attention to the latest social media trends.
If you're trying to reach younger followers on TikTok, you're in luck. As of July 2022, TikTok has reached one billion monthly active users. Because of its rapid growth, a TikTok takeover is being predicted by many. It's not going anywhere, and it's certainly worth investing your efforts if it meets your business goals and your target audience.
[Free Guide] The ultimate social media marketing guide for businesses
Download Now
15 types of social media platforms you need to know
1. Social networks
Examples: Facebook, LinkedIn
About: Social networking sites are designed to connect people in a shared online space. People can see what their friends, family, and coworkers are posting online and react to their posts by liking, sharing, and commenting.
Social networking sites also encourage people to engage and communicate with the brands and businesses they know and love. Social networking sites can help your business build an active, positive relationship with your followers and increase your odds of converting them into happy customers. In fact, studies show that customers spend 20%–40% more money on brands that have interacted with them on social media.
How to use them:
Create a business page.
Start groups to boost your community.
Create entertaining content that will resonate with your followers.
Engage with your followers directly through messages, comments, and posts.
2. Image-sharing social media platforms
Examples: Pinterest, Instagram, Snapchat
About: Image-sharing platforms are focused primarily on the creation and sharing of photos, illustrations, and other images. Since its beginning, Instagram's central focus has been around photos, and it has grown to be the fourth largest social media platform, with over 2 billion users. After all, posts that include some form of imagery increase engagement significantly compared to text alone. It's no surprise that social media platforms centered around imagery are so effective.
Let's say your business sells visually appealing products that you're eager to share with your followers. In that case, you may want to focus on sharing high-quality photos on these image-based social media platforms.
How to use them:
Create and post engaging, eye-catching images pointing followers to your business.
Attach shopping links to your images to drive traffic to your website.
Promote content created by your followers with branded hashtags.
3. Video sharing social media platforms
Examples: YouTube, TikTok
About: Video content receives more engagement than any other type of social media content, making video platforms like YouTube and TikTok some of the most widely used forms of social media. That's because viewers can easily take in more information without having to do anything but sit back and watch.
Videos are also packed with information. Without having to scroll down a page or read thousands of words, viewers can find what they're looking for in a quick, helpful, or entertaining video in just a few minutes. And for more information, they can check out the description for links to your website.
How to use them:
Post how-to and tutorial videos of your products and services.
Give followers an inside look at your business with a behind-the-scenes video.
Collaborate with influencers and get real-time video testimonials of your brand.
Share video success stories of happy customers with your followers.
4. Social bookmarking sites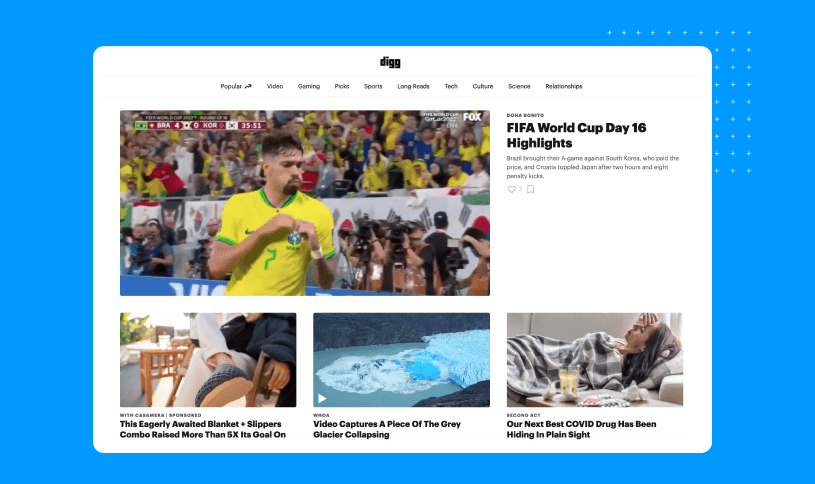 Examples: Digg, Pocket, Mix, Pinterest
About: Social bookmarking sites let users bookmark web pages they find valuable. They're similar to web browsers, but they're publicly accessible. That means users can access their bookmarks on any device. It also means they can share their bookmarks with other users and interact with the pages they've bookmarked.
Your business can use bookmarking sites to share pages you find valuable with your followers, identify trending topics in your industry, and share content within your team for feedback and ideas. Because these sites act like refined search engines and public databases, you can seamlessly find and share relevant content between your team and your followers anytime, anywhere.
How to use them:
Collect information into content buckets to be shared within your team and on your socials.
Build backlinks by sharing articles linked to your content.
Organize important resources that you can use for your marketing efforts.
Build your backlinks by posting content from your website on their platform (e.g. Pinterest).
5. Ephemeral social media platforms
Examples: Snapchat, Instagram Stories, Facebook Stories
About: Ephemeral or disappearing content on social media platforms let followers view a piece of content for a short time before it's gone forever. This trend started with Snapchat, but other major players, like Instagram, have included these features because of their popularity with followers.
Ephemeral social media platforms create a sense of urgency with your followers. You can promote deals, sales, and events and attach links to your content before it disappears forever. This plays into the idea of "fear of missing out" (FOMO), which can be an effective marketing strategy to make your followers jump on your products at the first available moment.
How to use them:
Link to sales and discounts only accessible while the post is available.
Tease sneak peeks at new products and events.
Give followers a feeling of exclusivity with hidden offers only available for a short time.
6. Interactive social apps
Examples: TikTok, Snapchat, Weibo
About: Social media apps that let users interact and collaborate with other creators tend to be much more engaging. These platforms can also increase your brand awareness as you connect with other content creators on the platform. Interactive social media apps usually focus on engagement, encouraging users to communicate through gamification, competitions, or voting.
For example, TikTok's Duets feature is extremely popular with the app's user base. When making a Duet, one content creator will create a video, and another will record their video over the other's video simultaneously. This allows the second creator to do fun challenges like harmonizing with the first video in a singing competition.
How to use them:
Create your own branded filter that followers can use in their content to display your brand.
Encourage followers to duet your video to win a raffle or other exclusive opportunity.
Uses Stitches on TikTok to address topics with video instead of text.
7. Audio sharing social media platforms
Examples: Clubhouse, Facebook Live Audio Rooms, Spotify Greenroom
About: Audio sharing social media fills a niche that video and image sharing can't. Similar to podcasts, audio-sharing socials let followers listen to real-time conversations without watching a video. This frees them up to work, exercise, drive, and other activities while engaging in the platform.
Audio-sharing platforms like Clubhouse are effective because listeners have already opted into the conversation because they've actively chosen to enter it. This means your engagement with your listeners should be very high compared to other forms of social media.
Audio-sharing social media platforms give businesses the opportunity to network, share ideas, monetize content, and connect with new listeners in a digitally immersive way.
How to use them:
Announce product launches and events.
Hold live Q&A sessions for your followers.
Interview industry expert guests for exclusive discussions.
8. Live streaming social media apps
Examples: YouTube Live, Facebook Live, Twitch
About: Live-streaming apps let you share high-quality video content in real time. Many users love live-streaming apps because they're full of raw, unedited content.
While streaming became popular with gaming platforms like Twitch, virtually anything can be live-streamed. Sporting events, virtual tours, and podcasts are ideal for streaming live, but the sky's the limit. Live streaming apps are also great for hosting webinars and encouraging real-time conversations with your followers.
How to use them:
Give live tours of your business.
Showcase new or upcoming products.
Offer exclusive deals only for those who join the live stream.
Interview industry experts.
9. Discussion forums on social media platforms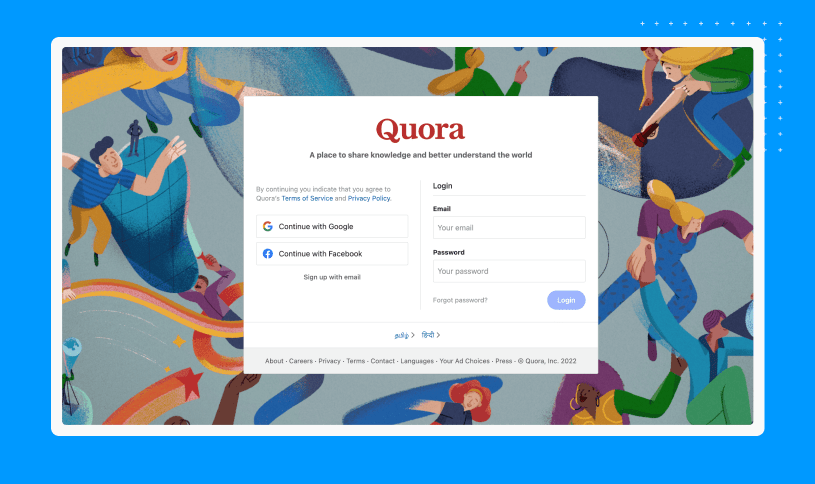 Examples: Reddit, Quora
About: If you've ever wanted a question answered, discussion forums like Reddit can likely help you out. These social media platforms let you ask and answer questions, create spaces for debate, and allow for discussions on nearly any topic.
These platforms can be invaluable for data gathering and social listening. You can view forums specifically about your brand or industry to find out the latest trends and what people are saying about you and give you what you need to get ahead of the curve.
How to use them:
Actively participate in discussions about your industry and answer questions from followers.
Address any feedback from your followers.
Encourage feedback on specific areas of your business that you'd like to improve.
Provide customer support on forums discussing your brand.
10. Social messaging
Examples: WhatsApp, WeChat, Facebook Messenger
About: Social messaging platforms let followers communicate with each other via text message. Although they're not commonly thought of as a social media platform, they've grown dramatically in recent years, with 988 million people using Facebook Messenger and a staggering 200 billion using WhatsApp in 2022 alone.
Messaging apps like these provide an incredible opportunity to interact with your followers and even convert them into new customers. You can use them to address comments and concerns from followers, offer exclusive opportunities for new products and services, or even reach out to users who haven't yet followed your business on social media.
How to use them:
Engage with your target audience quickly and efficiently.
Send messages with exclusive offers to your followers.
Use an automated messaging system to respond to customer messages and keep all your messages in one inbox.
11. Social media shopping apps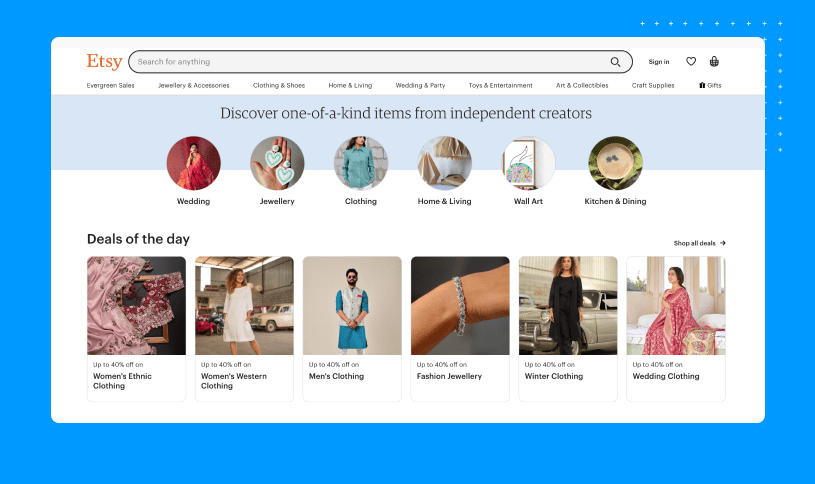 Examples: Etsy, Facebook for Business, Instagram Shop
About: Most social media examples let businesses advertise and create shoppable posts. This makes it easier than ever for followers to purchase products without ever leaving the platform. In fact, 82% of social media users have found a product they wanted and purchased it within that same app.
There are also social media platforms dedicated to buying and selling products, like Etsy. People can sign up as a buyer or a seller to either list their products for sale or shop and purchase products. And like most social media platforms, users can also like, share, and comment on products and pages they visit.
Social media shopping apps make it easy to measure and evaluate business insights. With ready-made metrics for impressions, engagement, and reach, you can keep track of your progress regularly and make changes accordingly.
How to use them:
Create an Instagram or Facebook Shop and link it to your posts and Pages.
Announce product launches on your Page and send your followers to your Shop.
Tag products in your posts and stories and send them to your website.
If you create handmade products, set up an Etsy account to list your products there.
12. Microblogging social channels
Examples: Twitter, Tumblr, LinkedIn
About: Microblogging lets users post short messages. Microblogging became popular on social media platforms like Twitter, where users are limited to a word or character count (e.g., the maximum Tweet length is 280 characters). This keeps messages short, sweet, and to the point, making them great for quick, concise thoughts.
Microblogging has grown in popularity over the years due to the increase in mobile phone usage. Platforms like Tumblr and LinkedIn have added similar features and have quickly become prominent microblogging platforms. Microblogging is a great way for businesses to share quick messages that direct to announcements, articles, and other content that would be relevant to your followers. Businesses can also use microblogging platforms to improve customer relations in the form of giving and getting feedback.
How to use them:
Share content with brief messages about your business with followers.
Use and follow relevant hashtags to stay on top of your industry.
Join conversations directly related to your business or industry with your followers.
Address comments and concerns about your business directly on the platform.
13. Interest networks
Examples: Goodreads, Houzz, Last.fm
About: Interest-based social media networks are online platforms that let businesses connect with people who share the same interests, hobbies, or topics. Through these networks, companies can engage with a highly-targeted and relevant audience interested in their products and services. These networks allow businesses to tailor their campaigns and messages specifically to the audiences they want to reach.
These networks are great for customer engagement as they give businesses the chance to have an ongoing dialogue with their customers, providing them with quality content and helping them build relationships. They can also use these platforms for advertising, customer feedback surveys and polls, providing support, developing loyalty programs, addressing customer complaints/issues, and influencer marketing campaigns.
How to use them:
Focus on creating targeted campaigns for specific followers.
Highlight specific products and services, knowing what interests your followers most.
Engage with followers you know are interested in your offering.
14. Community blogging
Examples: WordPress, Medium, DoSplash
About: Community blogs are designed for people to write, share and collaborate on long-form written content. Most community blogging sites revolve around connecting people with similar interests – making them a great place to promote your content with followers who are genuinely interested in what you're offering.
How to use them:
Provide credible content (e.g., whitepapers, industry reports, etc.) to your followers.
Create long-form content to provide followers with additional information about your business.
Follow relevant content related to your industry.
Get honest feedback from followers you can use to improve your business
15. Customer review sites
Examples: Zomato, DealerRater
About: Customer review sites help customers find and choose businesses worldwide. They're also a leading platform for people to share their thoughts and opinions about local businesses.
It's a good idea for every business to get listed on review sites connected to their industry. For example, is focused on the hotel industry, Zomato focuses on the restaurant industry, and DealerRater focuses on the automotive industry. Having your business listed on review sites can make it reputable online as users continue to leave reviews and share their experiences with others.
How to use them:
Generate positive reviews for your business that can improve your online reputation.
Monitor what's being said about your business for valuable feedback.
Encourage customers to talk about your business and share their feedback with others.
Frequently asked questions about types of social media
What are the five biggest social media?
The five biggest social media platforms are Facebook, YouTube, WhatsApp, Instagram, and WeChat, with a collective of 10.19 billion monthly active users.
Why do people use social media?
Millions worldwide use social media for entertainment, connecting to other people, communicating with friends and family, and finding new information.
What was the first social media platform?
Six Degrees is considered the first social media platform, launched in 1997 and created by Andrew Weinreich.
What are the benefits of social media?
Social media has several major benefits, including connecting with others, increasing visibility and brand awareness, sharing expertise, and gaining market insights.
Why is social media important today? 
Social media allows you to distribute information worldwide, making it one of the most efficient ways to share your business with as many people as possible.
Boost your local reputation with Birdeye
Local businesses prioritizing creating a strong social media presence unlock a great way to connect with their customers, engage new leads directly, and share their brand on today's most popular channels. Birdeye Social is designed to scale as your business grows. From a single dashboard, you can easily manage all of your locations' social accounts, stay on top of your reputation, and engage with your customers. For more information, watch a free demo.
Before you go, click on the banner below to get your very own copy of our social media toolkit. The toolkit is packed with easy-to-use templates to get you started with your social media strategy today.


        

This blog post is part of our Social Media Management Guide 


      

           



Originally published