You're living in a world where clicks and comments shape opinions. And the reality is your online reputation matters more than ever.
Imagine you launch a new product, and a negative review gains traction within hours. You may have gained seven positive reviews, but that one bad review caused a dent in your brand's credibility, which you did not expect.
To solve the growing need to improve authority, many reputation management solutions are in the market now. And when powered with AI, this becomes one of the best ways for brands to build stellar authority.
In this blog, we'll walk you through the benefits of AI in reputation management in your business and why you should implement AI in your workflow today.
What is AI for reputation management?
AI for reputation management involves leveraging advanced algorithms, machine learning, and NLP techniques across the post-sale customer journey to build your online reputation and improve customer experience without adding more resources.
AI-powered reputation management solutions can help you quickly understand customer sentiment, drive personalization at scale, improve response times, and reduce costs. 

Manage Posts, Reputation, and Reporting across Locations
Want to see the impact of Birdeye on your business? Watch the Free Demo Now.
Benefits of AI reputation management for businesses
Positive reviews and feedback attract more customers, while negative sentiments can drive them away. AI-powered reputation management solutions influence consumer trust and buying decisions that impact a business's overall revenue. That is why increasingly small and large businesses rely on AI to improve their reputation management.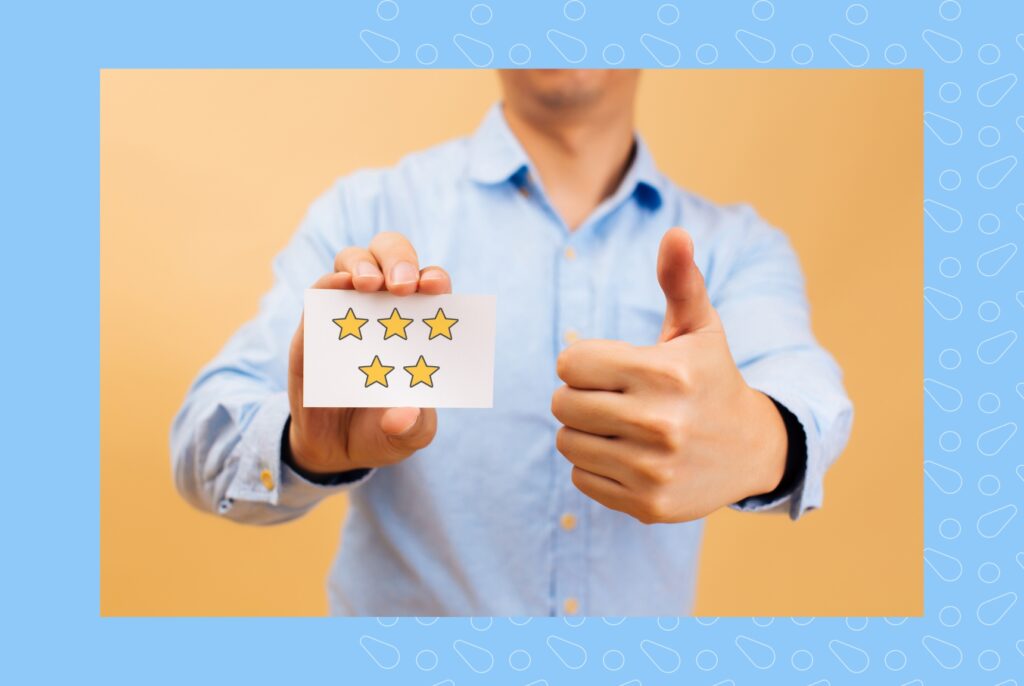 Benefits of AI reputation management for small businesses
Small businesses can streamline operations by:
Leveraging AI for efficiency
Problem: Small businesses often have limited resources, and employees may juggle multiple roles.
Solution: 1. AI-powered reputation management can ease this burden by automating the process of tracking and responding to online reviews and comments.
Delivering exceptional experiences
Problem: Small businesses may not have the financial means to invest in advanced customer service technologies or hire dedicated customer support staff.
Solution: By promptly addressing customer feedback and concerns with AI tools, small businesses can attend to customers better, leading to higher customer retention and positive word-of-mouth marketing.
Read our guide on your how can use AI in social media management and gain more authority online. 
Benefits of AI reputation management for large organizations
Large organizations can enhance consistency by:
Maintaining uniform standards across locations
Problem: Multi-location businesses face difficulties in maintaining consistent service quality and reputation.
Solution: AI-powered insights can help identify underperforming locations and provide actionable recommendations to bring them up to the desired standard.
Having an asset without requiring additional resources
Problem: Scaling without investing in additional resources.
Solution: AI-powered tools allow large organizations to centralize their reputation management without becoming a liability to company expenses. This means they don't have to invest time in hiring more resources.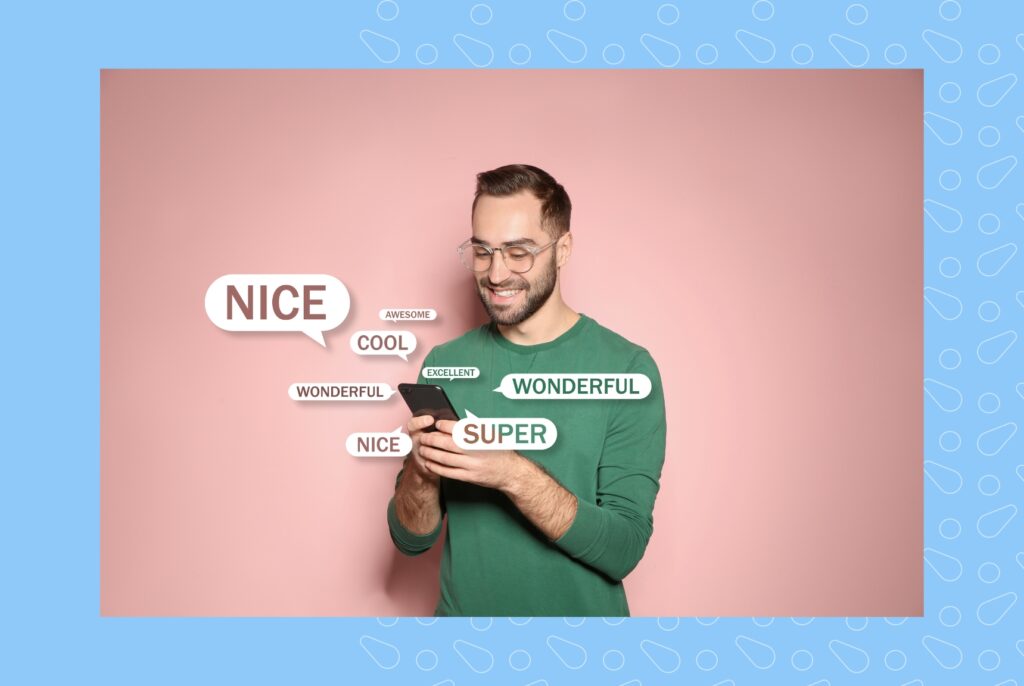 How does Birdeye use AI to improve reputation management outcomes?
Success in reputation management can be measured through KPIs like online review ratings, customer feedback, and brand sentiment analysis. Though many software solutions exist, juggling between software could take another learning curve.
To implement AI-powered reputation management, businesses can rely on Birdeye, which uses advanced automation like BirdAI.
BirdAI is the AI and NLP engine that powers the Birdeye platform and offers local businesses all the AI tools needed to attract, convert, and delight customers.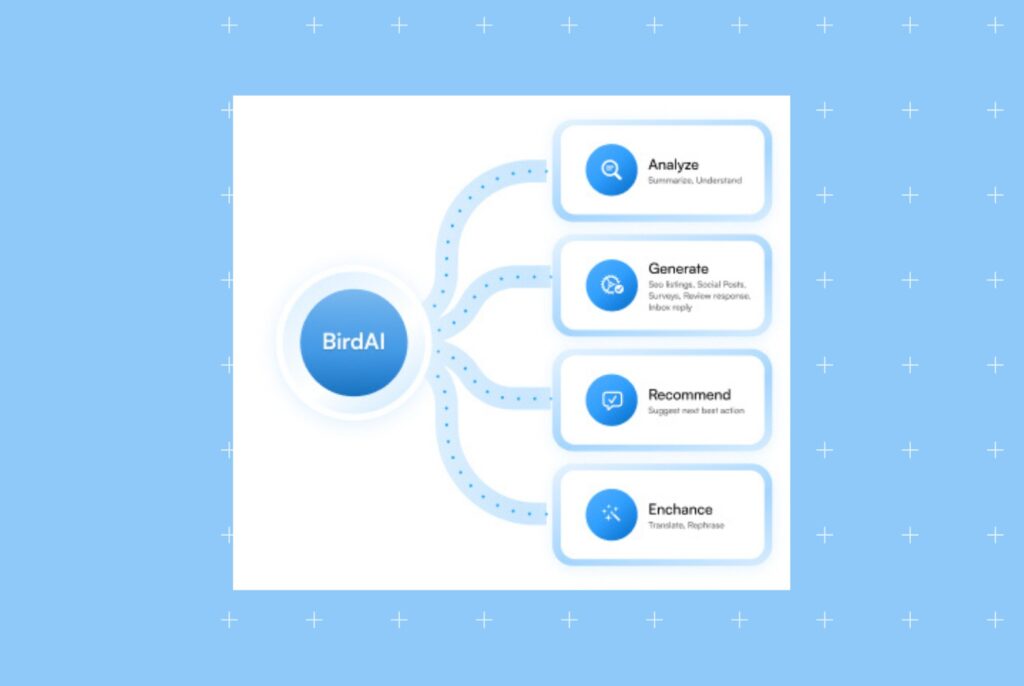 Make review management easy even as your business scales and:
Auto-generate review responses to each customer review
Speed up customer interactions with AI-assisted responses.
There's an option in the Birdeye dashboard to "Generate AI response," which gives you the talking points.
Note: AI-assisted review responses generate unique replies, so you can set up multiple templates to suit your needs. 
How does it impact your business? Instant engagement makes customers feel valued and heard. This is a good sign of gaining a repeat customer and enhancing customer satisfaction.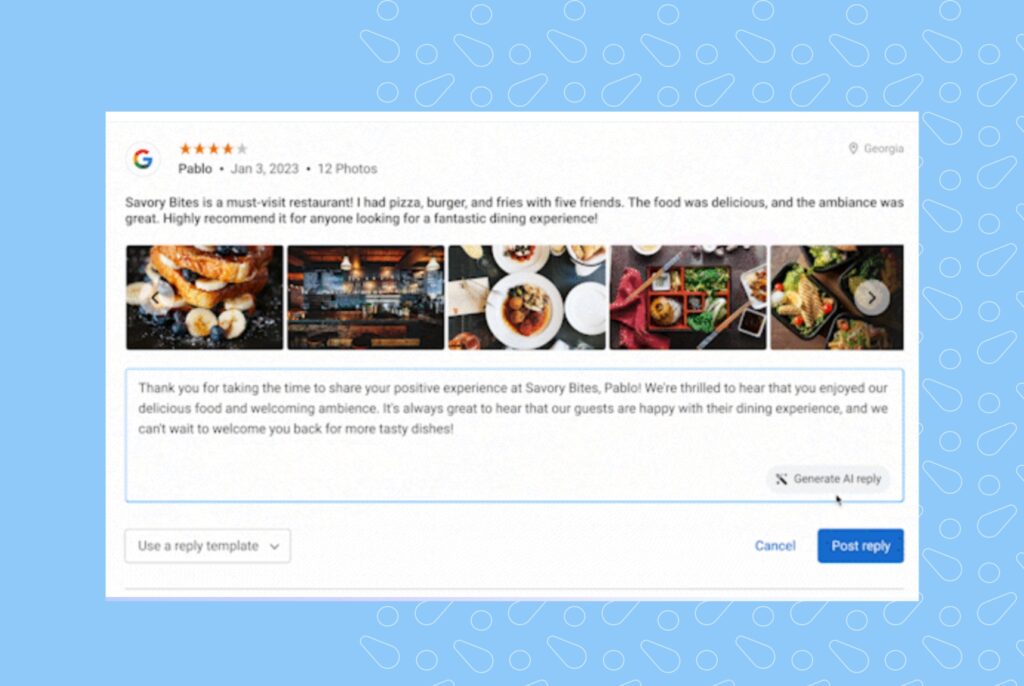 Use rules and templates when responding to reviews
With Birdeye Reviews, you can automate the process by responding to customer reviews using pre-fixed templates and rules.
How does it impact your business? This saves you time and manual labor work spent on writing creative replies every time.
With pre-set rules and templates, you are sure your responses are always brand-specific.
Translate reviews to respond in your customers' language
Get multilingual and respond in the language your customer understands with AI.
For businesses operating globally, BirdAI assists in translating reviews from different languages to English, making it easier to understand, respond to a diverse customer base, and ensure effective communication.
What's great is that AI translation considers the context of the text, including grammar rules and cultural nuances, to provide more contextually accurate translations.
You can also reply in the language of the customer. This is one of the most powerful ways of getting actionable feedback insights. 

How does it impact your business? Responding to reviews in a customer's native language shows a commitment to personalized and responsive customer service. This goes a great way to enhance customer satisfaction and loyalty.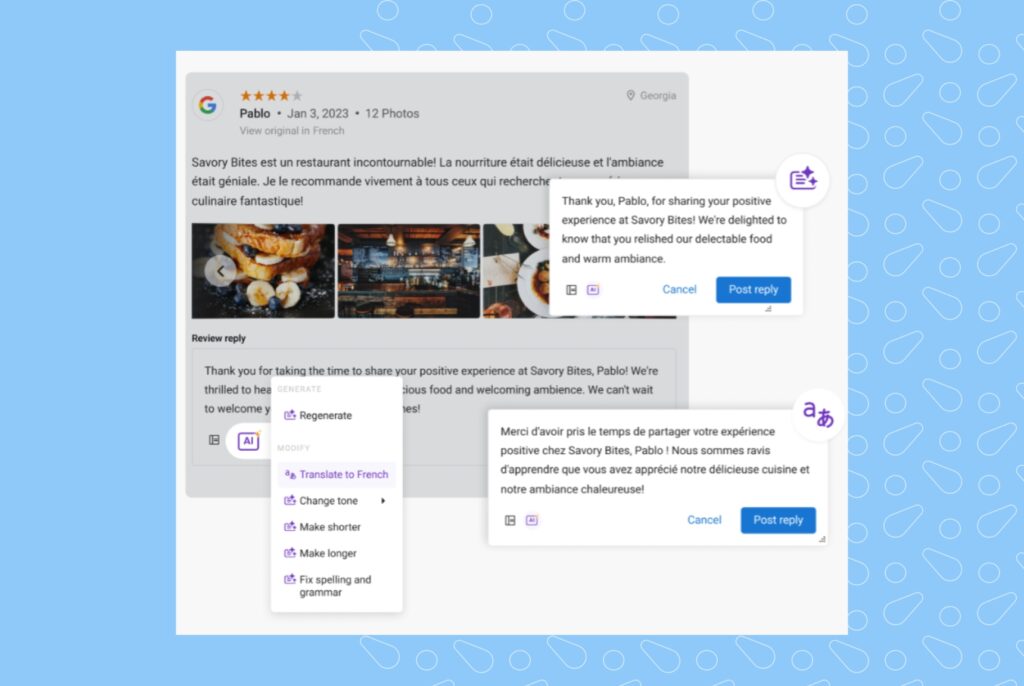 Generates a review summary to get an accurate overview of your reputation
Manually sifting through all these reviews can be time-consuming and overwhelming.
A review summary helps you:
Identify critical issues requiring immediate attention.
Get insights on how your products or services compare to those of competitors.
Track changes in customer sentiment and review trends.
AI-generated review summaries condense this information into digestible content, allowing businesses to quickly grasp the key points without investing excessive time and effort.
How does it impact your business? BirdAI-powered review summaries detect recurring themes, sentiments, and trends within the reviews. This way of AI-powered customer feedback management helps you better understand what matters most to your customers by highlighting common issues or positive aspects.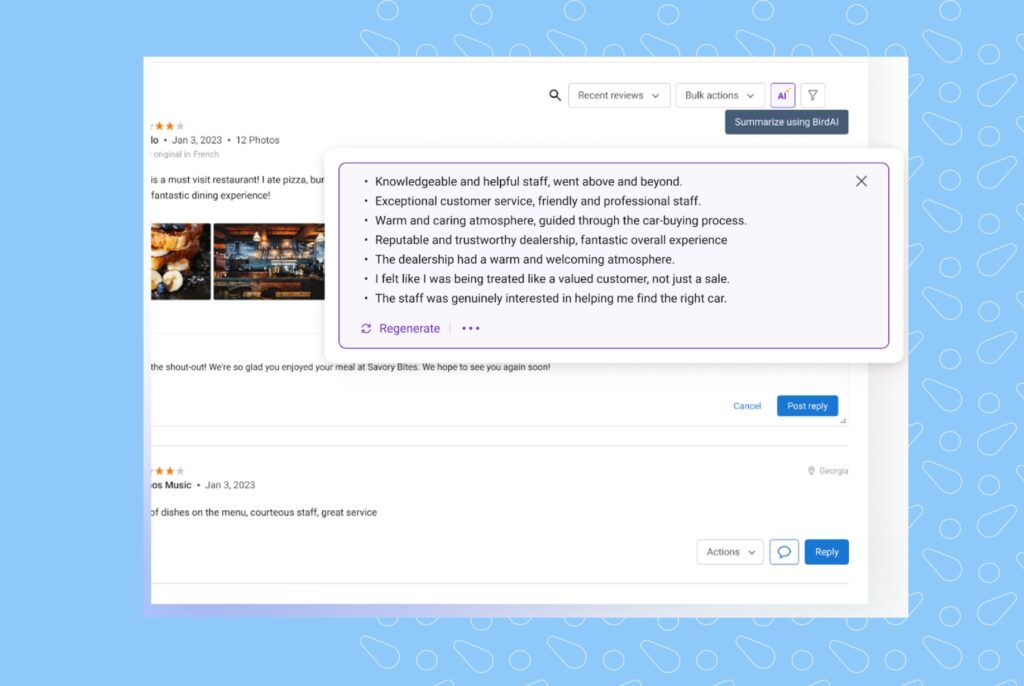 Rephrase review responses that are on-brand and thoughtful without grammar errors
BirdAI assists in creating customized responses to customer reviews. Responses are rephrased to suit the specific context to create a more engaging and personalized user experience.
How does it impact your business? On-brand and empathetic responses. This saves you time that may be prone to manual spelling or grammar errors.
FAQs on AI for reputation management
How do businesses ensure that AI-driven reputation management aligns with their brand values?
Businesses can customize AI tools to reflect their brand values and messaging. 
What are the challenges in implementing AI for reputation management in businesses?
Challenges include selecting the right AI tools, integrating them with existing CRMs, and ensuring that AI-generated responses align with your brand's tone and values.
How do businesses ensure that AI-generated responses are accurate and contextually appropriate?
Human review is essential to verify AI-generated responses for accuracy and context. This ensures that responses are aligned with brand values and resonate with the audience.
Can AI analyze competitors' online reputations and provide insights?
Yes, AI can analyze competitors' online presence, reviews, and customer interactions. This provides insights into their reputation strategies, helping businesses position themselves effectively.
Streamline your reputation with BirdAI
Now you know the benefits of AI reputation management, it's time to test it.
There's no better time than today to start thinking about the future and automate your revenue growth for the years.
Contact our rep to make BirdAI a part of your business success. 

Originally published