If you're like most real estate professionals, you're always looking for new leads and ways to grow your business. One way to attract new clients is by using real estate review sites. Creating an agent profile on top realtor review sites makes it easy for prospective buyers and sellers to learn more about you and your brokerage. You can also improve your chances of being found by potential clients by actively managing your profiles and responding to reviews.
Creating profiles on real estate review sites is also completely free. If you're not already using real estate review sites as part of your marketing mix, now is the time to get started. In this blog, we'll tell you about the 7 best practices for using real estate review sites to grow your business.
1. Create a profile on major real estate review sites
Whether you're a newbie real estate agent or a seasoned professional, the first step is to claim your profile on major real estate review sites like Zillow, Realtor.com, and Rate My Agent. Don't forget to also create profiles on the most popular review sites, Google and Facebook. This usually involves creating an account and verifying your identity through your email address or phone number. Once you've claimed your profile, take the time to fill out your bio and upload a professional and current headshot.
It's important to have consistent information across all your profiles on the internet. By keeping your info consistent, you'll tell search engines like Google that your business listing is relevant to "near me" or specific location searches, like "real estate agents in Manhattan, NY."
Here are some quick access links for claiming your profile on these top review sites:
And here are some quick access links to help you create your agent profile on three top real estate review sites:
2. Use keyword-rich descriptions to improve visibility
Using keyword-rich descriptions helps improve visibility in online search results by making it easy for buyers and sellers to find you when searching for a real estate agent. Some examples of keywords are "assisting buyers in finding their next Santa Barbara home," "buyer's agent," "seller's agent, "relocation specialist," "luxury property specialist," and so on.
Keywords can also help potential clients learn more about what you offer as a real estate agent. When creating your agent profiles, make sure to use a variety of keywords relevant to your business. This will help you attract more leads and grow your business.
3. Include photos and videos to enhance your agent profiles
Adding photos and videos to your agent profiles across all real estate review sites is a great way to show what you do and attract potential clients. By including high-quality images of your previous listings and videos of you discussing your real estate expertise, you can help potential clients better understand what it would be like to work with you. This will help you stand out from the competition and increase your chances of landing new clients.
4. Ask all your clients to leave reviews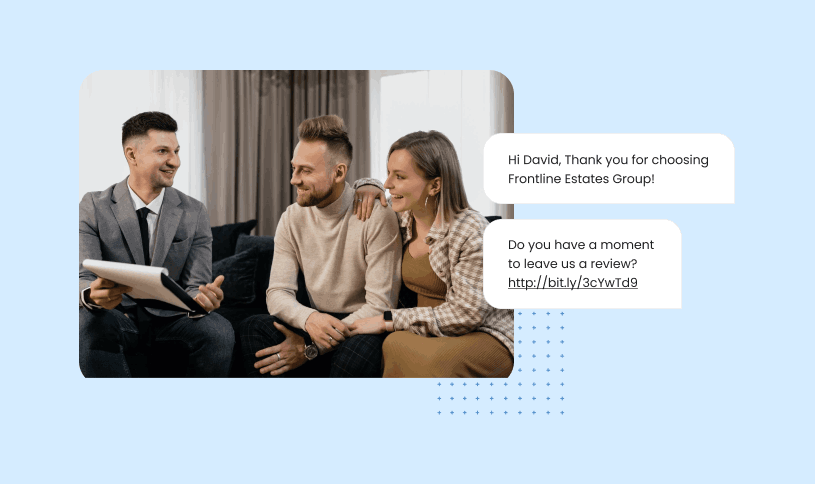 Reviews can help establish your credibility as a real estate agent and build up your reputation. Having a proven track record in assisting buyers and sellers will show prospects you're the right choice.
It's really important to get reviews from all your past clients. Hand-picking only reviews from satisfied clients will slow down the volume of reviews and have negative consequences for your business in the future.
Unhappy clients can help identify areas of improvement in your business, making it even better and more competitive. Responding to client reviews also shows that their satisfaction matters to you and your brokerage.
Showcasing your customer reviews is helpful for potential clients and boosts your search engine optimization (SEO). The more client reviews you have, and the higher star rating you receive, the higher you'll rank in online search results. That means more prospective clients will be able to find you more easily.
Pro-tip on timing: For a better response, send review requests to your clients within 24 -48 hours of closing on the property. The closing experience will be fresh in your client's minds, and they'll be more likely to write an accurate, detailed review.
Pro-tip on the review request process: In theory, manually requesting reviews from each client after closing sounds doable. However, it's easy to become distracted by current client requests and forget to ask past clients for reviews. Automating review requests with a platform like Birdeye can help you make sure every single client receives a review request.
Check out our article on the importance of reviews for real estate agents.
5. Actively manage your profile on review sites
When your client leaves a review, whether it's positive or negative, be sure to respond as quickly as possible. Thanking your past clients for positive reviews is always a good idea, but responding to negative reviews is even more important. Therefore using a online review management platform like Birdeye can actively collect and manage reviews from hundreds of review sites, ensuring that you have a strong online reputation.
It's never fun getting a negative review, but negative reviews give you the chance to turn a dissatisfied client into a satisfied one. If you're dealing with an angry client, take the conversation offline so the back and forth is not public. By reaching out and trying to resolve their issue, you'll improve their opinion of you and show prospective buyers and sellers that you're committed to providing excellent customer service.
Check out our ultimate guide to responding to online reviews for tips.
6. Showcase your client reviews on real estate review sites
There are several benefits to showcasing your client reviews on real estate review sites. First, reviews can help agents build trust with potential buyers and sellers. By sharing reviews that discuss the positive experiences clients have had with them, agents can show potential buyers and sellers that they're reliable and trustworthy professionals.
Reviews can also help agents attract new clients by showcasing the high quality of their work. By providing potential clients with feedback from past clients, agents can show that they are skilled at exceeding the needs of their clients and delivering a positive customer experience. Finally, reviews can help agents improve their business by providing feedback on what's working and areas of improvement.
7. Use review sites as a lead generation tool
There are over 3 million active real estate licensees in the United States, so agents need to gain every advantage they can in this competitive market. Displaying reviews on real estate review sites can help agents stand out from their competitors and attract new clients. As potential buyers and sellers read through reviews of an agent's past work, they may be encouraged to reach out for more information or even schedule a consultation.
If you're looking for even more leads, top real estate review sites like Zillow, Realtor.com, and Trulia have paid lead generation solutions. For example, Zillow's Premier Agent lead solution lets an agent appear on all listing detail pages in the zip code(s) they purchased. This prominent placement gives greater visibility and further boosts their credibility as the local market expert.
Pro tip: Once you meet with your potential buyers or sellers, you only have one chance to make it count. According to a recent study, 73% of buyers interviewed only one real estate agent during their home search. And that number is even higher for sellers —82% of recent sellers contacted only one agent.
By following the seven tips above, you can effectively use real estate review sites to grow your business. Remember to create a profile on multiple platforms, actively manage your profiles, and respond to all reviews.
Frequently asked questions about real estate review sites
What is the most accurate realtor site?
Realtor.com is the most accurate real estate website and the official listing site of the National Association of Realtors. Realtor.com shows 99% of all MLS-listed "for sale" properties in the United States, and 90% of "for sale" listings update every 15 minutes.
How do realtors get reviews on Zillow?
Realtors start by creating a free Zillow profile. Then the realtor can ask clients to write reviews on Zillow. However, the client must create their own Zillow profile to write a review. Then, your clients can write a review by finding your Zillow profile and clicking on the reviews underneath your name.
See why realtors choose Birdeye
Over 100,000 businesses and thousands of realtors use Birdeye, the highest-rated reputation and customer experience platform on the market. Birdeye lets you seamlessly fix listings, collect reviews and referrals, interact with clients through mass texting and website chat, and send in-depth surveys in minutes. You can also easily connect the Birdeye platform with your existing cloud-based or legacy systems. Watch a demo.

Originally published