Social media and healthcare topics have significantly become intertwined. Across all major social media platforms, wellness, and healthcare topics have overtaken almost all conversations. According to a study by PatientsLikeMe, a growing number of people (11%) turn to social media for reliable healthcare information.
If you're a business looking to navigate social media in the healthcare industry, we understand why you might be hesitant. Social media is constantly evolving, and healthcare is a challenging topic to create content around.
In this blog post, we'll explore the role of social media in healthcare marketing and how you can make the most of it.
Impact of social media on the healthcare industry
Before we explore the role of social media in healthcare marketing, it's essential to acknowledge its impact on the healthcare industry. Before the internet opened up avenues of information, a lot of healthcare information was gated. This led to a very formal relationship between healthcare providers and patients.
Social media has greatly changed this dynamic. The advancement in communication technology has impacted patients and service providers in the healthcare industry.
With the arrival of social media:
Healthcare providers can reach a wider audience.
Doctors and service providers have a greater understanding of patients' challenges, queries, and expectations.
Information exchange between experts and social media users has become more accessible.
The general public can now know about new advancements in healthcare.
Healthcare brands and companies can leverage social media to build a loyal following, engage with existing patients, attract new patients, and grow.
Social media users have a new expectation of service from the healthcare industry.
[Free Guide] The ultimate guide to social media marketing for businesses
Download Now
Benefits of using social media in healthcare marketing
Reach a younger audience
Gen Z and Millennials often turn to social media to discover new products, brands, or concepts. This applies to the healthcare industry, too. By being present on social media, your healthcare brand can gain an advantage over your competitors and familiarize yourself with younger generations. The more they see your brand active on social media, the more likely they'll trust you.
While many traditional marketing strategies available, social media is one of the most critical channels for healthcare brands and professionals to connect with younger audiences seeking information online. Healthcare brands can use social media to share information and connect with the audience on each platform.
Be discovered easily
Social media is rapidly becoming an alternative to search engines for finding product and service providers. An active social media presence can also help your brand's search engine optimization (SEO) efforts. By consistently publishing new content and interacting with your audience, you'll help put your practice in front of potential patients.
Also, social media has become a growing space for fitness and wellness influencers. If you partner with them, you can take your information to their followers and drastically increase your reach in the industry.
Build a solid online reputation
Your reputation matters a lot in the healthcare industry. By leveraging social media in healthcare marketing, hospitals, clinics, individual professionals, and brands can work on building a solid online reputation.
Plus, social media can help you strengthen your existing word-of-mouth channels, collect public testimonials, showcase reviews, and respond to customer queries.
Communicate your values
Research shows us that consumers have begun to choose brands based on their values. While you may have communicated your values and principles on your website or other sales collateral, social media is the best place to highlight that in front of your audience.
You can leverage social media in healthcare marketing to display your values, showcase brand personality, and connect with like-minded patients to boost your revenue.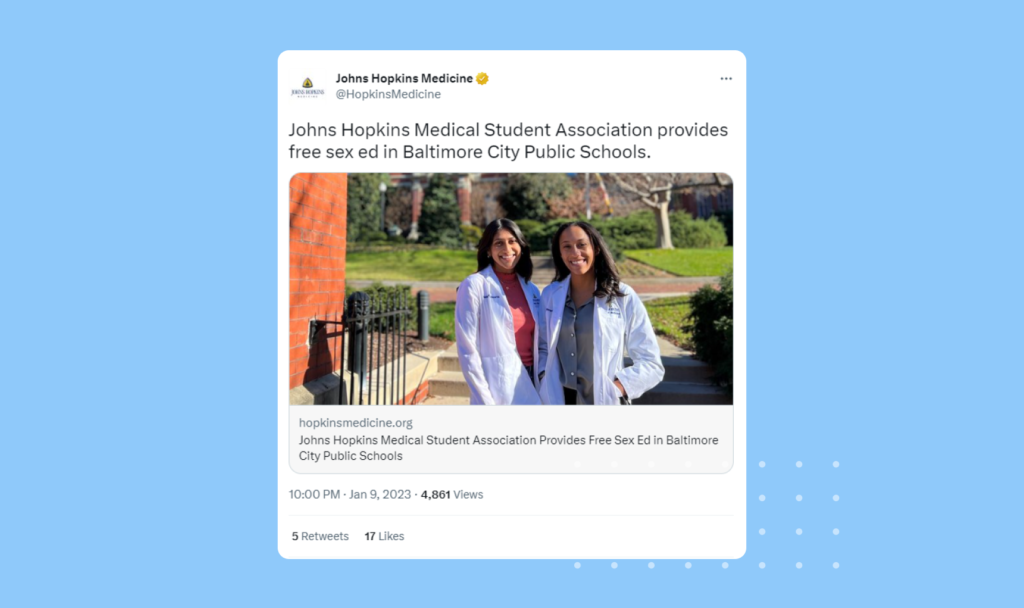 Source: Twitter
Risks of employing social media in healthcare marketing
Social media can seriously benefit your healthcare business, but it also has its disadvantages. Any healthcare company interested in using social media must consider the pros and cons before beginning.
Online reputation management
While social media plays a vital role in building an online presence and reputation for a healthcare brand, maintaining a social media reputation is also a concern. Social media platforms are open to all, which means everybody's free to have an opinion about your brand, service, product, and even industry.
Healthcare brands often have to deal with angry patients flooding their social media profiles with negative comments and exaggerated feedback. Online reputation management on social media can be a big challenge for a large healthcare brand with multiple locations.
Customer service expectations
When a business has a strong online presence, customers expect that business to be "present" at all times and provide round-the-clock appointment scheduling services, instant responses, and accurate information. However, these expectations are only realistic for some healthcare brands.
Social media marketing can be challenging for healthcare brands with multi-location operations and large teams. With a lot of cooks in the kitchen, it can be hard to delegate tasks – but there are a few ways to make things easier, including:
Setting up automated responses for direct messages indicating if that is the right channel and directing them to the appropriate channel, if necessary
Including their contact information on their handles so that social media users know how to contact them
The bottom line: Clear communication can help healthcare brands set boundaries and avoid any miscommunication.
Resource requirement
Online reputation management and customer service are highly demanding and require plenty of time, money, and effort.
Social media marketing in healthcare needs a marketer to create and publish content while a medical professional oversee them to avoid misinformation. As patients tend to reach out with concerns on these channels, businesses also need staff to monitor the inbox. Without dedicated people, this can take up a lot of time for other staff, such as receptionists or marketing teams.
Without a dedicated team in place, this eventually becomes a handicap for many healthcare companies to use social media to boost their brand.
HIPAA (Health Insurance Portability and Accountability Act) concerns
Healthcare brands have the unique ability to create genuine educational content, which is usually a big success in social media content marketing. However, when using social media in healthcare marketing, there is also a risk of violating HIPAA or doctor-patient confidentiality norms.
When referring to medical cases or soliciting testimonials, healthcare providers and companies must be aware of the data privacy requirements.
Of course, this doesn't mean that social media in healthcare marketing is impossible to get right. Many brands successfully build a solid social media presence, and you can too.
Best practices for using social media in healthcare marketing
Understand your audience
Every marketing strategy starts with understanding an audience – and social media in healthcare marketing is no exception. Before creating social media profiles and publishing content, you should know who you're talking to. An easy way to do this is to send out a survey to your patients and understand their social media preferences.
This data should ideally guide your:
Choice of platform
Posting schedule
Content creation strategy
Not everyone is looking for the same information, so knowing your audience can help you reach the right person quickly.
Stay factual
As good as social media is for healthcare brands, it's also a place where misinformation spreads quickly. Your content must focus on the facts and nothing else to stand out and build credibility.
If and when you set out to battle misinformation, rely on verified sources and use simple concepts that are easy for your social media audience to understand.
Make sure you're staying professional at all times, and don't engage in social media arguments or debates.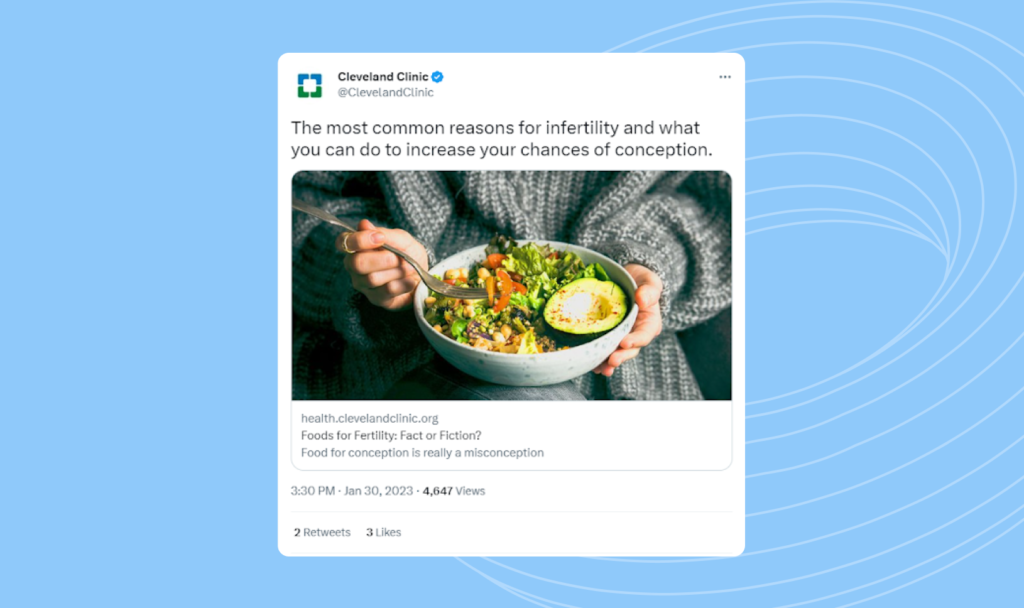 Source: Twitter
Create relatable, shareable content
In healthcare marketing, your brand will benefit from content that caters to a large portion of your audience. This makes it instantly relatable and urges them to share with their own networks. Most social media platforms reward this behavior and will boost the reach of your brand's profile.
Be sure to avoid jargon and communicate in plain language. You want your content to be easy for a large, diverse audience to understand.
Post content that may engage best in the health and fitness social media world.
Engage with your audience
Social media can often feel like a one-way street, with your brand just posting content for your audience. But if you want to truly connect with your audience, open up the lines of communication. Invite your social media followers to:
Comment on your posts.
Reply to your stories with feedback and questions.
Directly message you for appointments or consultations.
Stay present after publishing content and engage with the responses. This makes your social media followers feel heard and can encourage them to interact with your company more.
Share reviews and testimonials
As social media in healthcare has the potential to build a strong online reputation, brands must make the most of this by sharing reviews and testimonials. This will help to balance any negative comments or reactions your brand may be getting online.
Healthcare brands can share reviews and testimonials from their other platforms (e.g., website, blog, etc.) and can also encourage their patients to share their positive feedback directly on the social media platform.
FAQs about using social media in healthcare
How can social media be used in healthcare?
Social media can be used in healthcare to spread awareness, combat misinformation, and improve the accessibility to quality products and services. 
What are the strengths of using social media in healthcare?
Social media is an easy-to-access platform with over 50% of the world's population. Using social media in healthcare ensures everyone can access the correct information quickly. 
Why do hospitals need social media? 
Hospitals need social media to spread brand awareness, connect with patients, and boost their online reputation. 
How do patients use social media in healthcare? 
Patients use social media in healthcare to look up healthcare information, find providers, check reviews of companies, and choose the best service for them. 
What are the three challenges of using social media in healthcare?
The challenges of using social media in healthcare are that it invites negative feedback, HIPAA concerns, and instant customer service expectations for healthcare providers.
Boost social media reputation with Birdeye
Mastering the role of social media in healthcare marketing needs an organization to stay on its toes constantly. Make monitoring your social media platforms, publishing professional content, and responding to your followers easily with Birdeye Social. Stay connected to all your social media followers from a single dashboard. Watch a free demo to learn more.
Check out our 2023 Social Media Toolkit —it has everything you need to fire up your social channels this year.


        

This blog post is part of our Social Media Management Guide 


      

           



Originally published