Negative reviews can be very harmful to your business. When you start seeing negative reviews a lot, the first instinct is to think, "Can I turn off Google reviews for my business?". 
If you are in this situation, you are not alone and have reached the right place to find answers. Read on to learn how to turn off Google reviews and handle negative reviews for your business.
Can you disable Google reviews?
The short answer is no, businesses cannot disable Google reviews.
While it would certainly be an easy solution to handle negative or fake reviews, you can't, unfortunately, disable Google reviews. We know it is difficult to handle every bad review that comes your way. But Google will, in very limited circumstances, disable Google reviews.
According to Google's review policy, customers can leave reviews for any Google business profile. Google only prohibits offensive, deceptive, and mature content. If the review in question promotes hate speech, is false, or is obscene, you can flag it.
Google will then scrutinize it and decide if the review needs to be taken out. But every business with a Google Business Profile is open for users to review.
Should a business disable Google reviews?
The next big question is if disabling Google reviews is the right move. We do not recommend this. Customers trust businesses with active Google reviews, and it directly impacts your local search rankings.
While it is not a good move in the long run, there are circumstances that call for a temporary suspension.
Occasionally, businesses see an increase in bad reviews on their Google Business Profile. This may happen if the business is featured unfavorably in the news or competitors try to gain an unfair advantage. You could also be a victim of spam.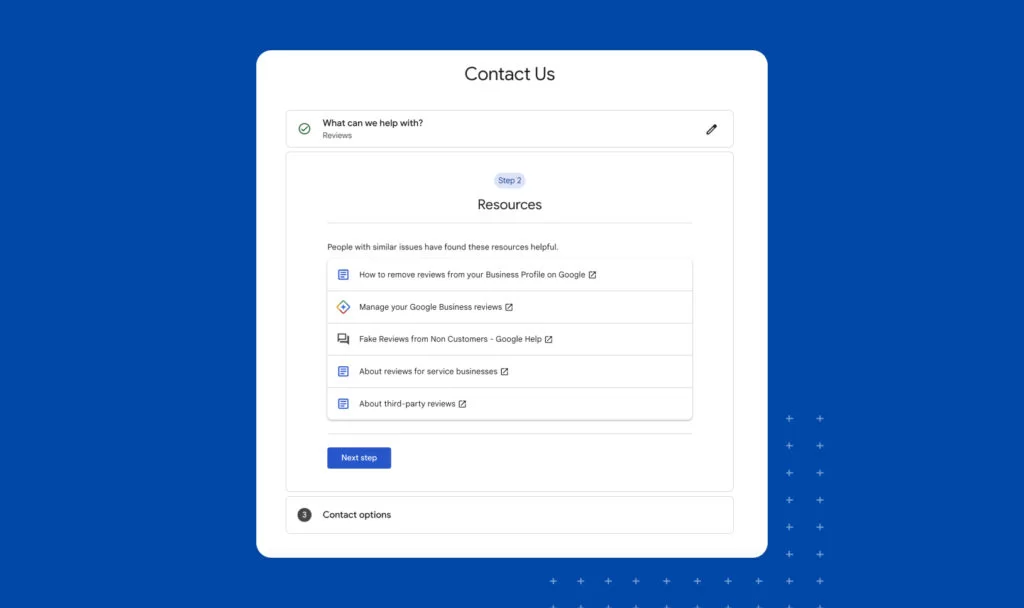 If this happens to your business, you can petition Google with the relevant evidence and screenshots to disable Google reviews temporarily.
All you have to do is to contact Google customer service with the available options via their support page. Depending on your location, you may be able to connect with them via text, call, and email.
Can you remove individual Google reviews?
Now that we know that it is not possible or advisable to disable Google reviews, how do you handle negative reviews? As a rule, businesses must welcome both positive and negative reviews as it depicts a more honest picture to potential customers.
Businesses can flag individual negative reviews if they feel it violates Google's policies. This applies specifically to fake or spam reviews.
For this, log into your Google Business Profile and choose the review that violates Google's review policy.
After selecting the review in question, look for the three dots located in the upper right-hand corner.
Click on"Flag as inappropriate."
From there, you can follow the prompts to complete the flagging process for reviews.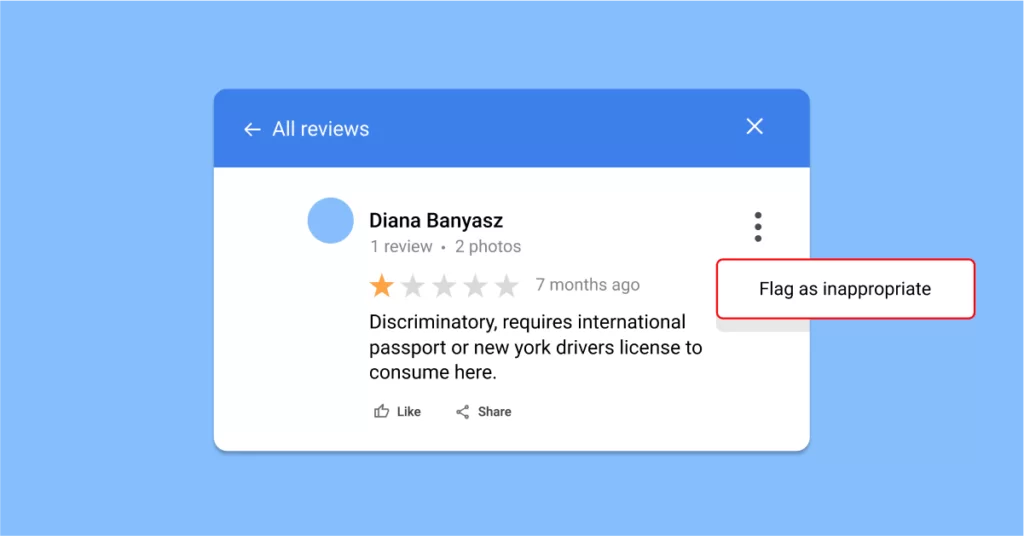 But if a customer is misrepresenting the situation or being unfair to the business, Google does not interfere in such instances.
In such cases, it is best for businesses to employ strategies that depict their side of the story to any potential customers reading the reviews.
Check our next section to learn more about handling negative Google reviews.
How to handle negative Google reviews
Negative Google reviews can be a good thing for your business. Customers trust 4.5+ ratings more than an absolute 5-star rating, as it shows the reviews are more honest.
Your customers are more worried about how you handle negative feedback than about the presence of it. That is why getting ahead of the problem is important rather than disabling Google reviews altogether.
Here are a few strategies we recommend to handle negative reviews on your Google Business Profile.
Respond politely
Irrespective of the tone of the customer, it is important that your response is professional and polite. More than establishing who is right, your business's reputation matters. Show that you care about customer experience and respond to the review with politeness.
This shows potential customers evaluating your business that they can expect you to listen to their grievances, if any.

Action on the complaint
Customers want to see action. So, in your response, detail the actions you're taking on the complaint. This can include everything from inviting the reviewer to call you to work out a resolution to explaining the steps you're taking to make sure a similar situation does not happen.
It is best to converse with the reviewer offline and document your response with action taken for resolution.
Collect more reviews from happy customers
If you aren't already doing so, you need to start soliciting reviews from your happy customers. Build a review generation strategy and incorporate the practice of asking every customer that interacts with your business to review you. Send reminders via text, email, and other channels for the best results. 
When customers see that the positive reviews far outweigh the negative, they are likely to discard the negative reviews as an exception to the rule.

Build a reputation management strategy
Building an online reputation management strategy is the best way to deal with the inevitable negative reviews that will come your way.
Monitoring and responding to all reviews as they come in is essential. Online Review management software can help you track reviews, respond, and resolve issues instantly.
For quick turnaround time, work with solutions that allow you to send automated responses to negative reviews and assign internal tickets to your team. This way, you will never miss a negative review and can boost your online reputation
FAQs about how to turn off Google reviews
How to turn off reviews on Google?
You can't turn off reviews on Google unless there is a spam attack from competitors or bots on your profile. 
Can I list my business on Google without reviews?
No, every Google Business Profile listing comes with reviews to help customers choose the right business. 
Can you hide Google reviews?
No, you can flag certain Google reviews, and the platform may decide to remove them. But all other reviews would be displayed on your profile.
How long will it take Google to remove a review?
If Google determines a review violates its policy, it could be removed in as little as a day.
Conclusion
You probably began this article wondering how to turn off reviews on Google Business. By now, hopefully, you are instead committed to developing a rock-solid reputation management strategy. Google reviews can be a powerful lead generation and reputation management tool for your business. If you use it well.
Work with Birdeye to manage your Google Business Profile, Google reviews, and complaint resolution tasks from a single easy-to-use dashboard.
Talk to a Birdeye expert today to know more.

Originally published