For your business, online reputation management services are crucial as potential customers are searching online, comparing similar businesses, and checking to see what customers say about them. While it's important for businesses to rank well on search engines and to properly use social media to gain customer trust, the internet can be complex, and most small business owners don't completely understand the factors that create their online reputation. It can be all too easy to start believing in online "myths," some of which can actually harm your business.
Here are the five most common online reputation management services myths:
Negative reviews can be deleted
No online reputation is better than a negative reputation
Online reputation isn't in your control
You need hundreds of positive reviews to build a great online reputation
Online reputation management is time-consuming
Now let's delve deeper into these online reputation management myths to bring out the facts.
Myth 1: Negative reviews can be deleted.
Fact: Once an unsatisfied customer has posted a negative review of a business online, it's virtually permanent.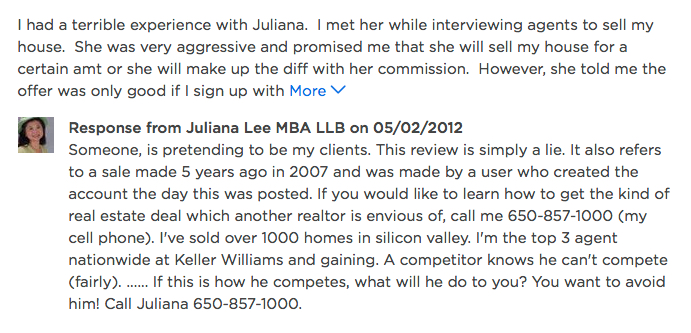 There's no lack of websites that claim they can help delete online reviews of a business. However, the fact is that valid reviews are important signals of customer satisfaction, and in most cases, you cannot remove negative reviews. On the other hand, if the reviewer is making patently false claims about your business or if you can prove that the negative review is fake and possibly written by your competitors, you can flag the review and request the review platform have another look at it. If you know that a review has been submitted by one of your actual customers, it's better to respond to it. You'll have to acknowledge the mistake and assure them that you'll do better the next time they do business with you.
Myth 2: Having no online reputation is better than having negative feedback.
Fact: A lack of online reviews raises suspicion in the minds of potential customers.
According to research, over 90% of customers read online reviews of a business before making a purchasing decision. If your business doesn't have a reputation online or if you're not investing in online reputation management, customers may feel that either you're the too new to the business or you haven't updated your products and services. Either way, they're less likely to choose you over a competitor who has at least a decent online reputation. On the other hand, a mix of negative reviews lends legitimacy to your business. This is because 95% of customers suspect censorship or fake reviews if they don't find any negative reviews online.
Myth 3: Your online reputation isn't in your control.
Fact: You can do a lot to build a great online reputation for your business.
Some businesses believe that since it's customers who write reviews, they can do nothing about online reputation management services. It's true that you cannot remove negative feedback or write lots of fake positive reviews for your business. However, you can connect with customers who weren't satisfied with your service and went on to write a negative review. An appropriate response may encourage the reviewer to make changes to their review. Additionally, it will also let potential customers know that you value their feedback. You can even encourage all your customers to review your business online, thereby helping you build a solid online reputation.
Myth 4: You need hundreds of positive reviews to build a great online reputation.
Fact: Even a few detailed positive reviews can help you get more customers.
Research shows that over 88% of potential customers form an opinion about your business by reading less than 10 reviews. While you should try to encourage your customers to share their experience online, even a few detailed and recent reviews can improve your online reputation and help you get more business. Moreover, if your competition doesn't have a stellar online reputation, you can move ahead with just a few positive reviews.
You may also want to read Competition analysis and how it can help your business
Myth 5: Online reputation management services are time-consuming.
Fact: It doesn't eat up a lot of your time, especially if you invest in the right solution.
If you're new to managing your online reputation, you might believe that it will take a lot of your time. You may think that you'll have to scour dozens of websites to read what your customers are saying. Additionally, you may have to encourage your customers to review your business and then respond appropriately to any feedback that you receive. While it's true that this is part of managing online reputation, there are online reputation management services available to ease it for you. With a user-friendly solution like Birdeye, you'll be in a much better position to analyze your online reputation. It will also help drive insights from user data and attract new customers, all while continuing to spend the bulk of your time running your business.
With the right knowledge and the right solution, you too can win a lot of new customers by having a sound online reputation. 

This blog post is part of our Online Reputation Management Guide:




        


Online Reputation Management





Originally published