Communication channels are at the heart of any successful business. These tools help you share the right message with the right recipients at just the right time through their preferred channel. Using these channels strategically will help keep customers engaged and employees productive.
Whether it's building the confidence of a new customer, establishing a better rapport with your staff, or resolving customer complaints, effective communication is essential for business success and growth.
In this article, we'll share examples of communication channels, the most effective channels of communication to reach customers and your employees.
Birdeye – One platform for Reviews, Reputation & Listings Management
Want to see the impact of Birdeye on your business? Watch the Free Demo Now.
What are communications channels?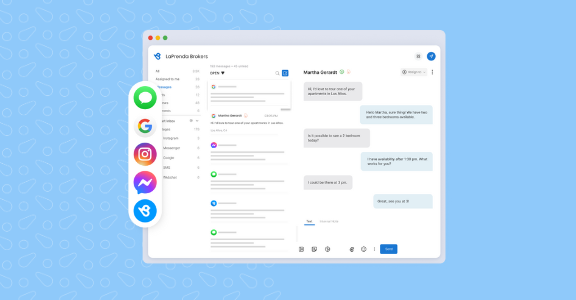 Simply put, communication channels are methods through which you send messages to your target audience. How we communicate is just as essential as what we say. And there are many forms, including email, text messages, phone calls, face-to-face, video conferencing, and social media. All these are types of communication channels.
The hallmark of effective channels of communication is that deliver your message properly. Whether you're a multi-location business or a local business, keeping information flowing efficiently makes the difference.
It's also key to avoiding customer misunderstandings. For example, a breakdown in your email communication could leave your customers seriously misinformed or frustrated. And a not-so-happy customer can hurt your sales, brand, and reputation.
On the flip side, effective communication channels can help improve customer satisfaction, build trust, and increase sales. They can also help in making better decisions as a team.
8 reasons why businesses need communication channels
Collaborations and teamwork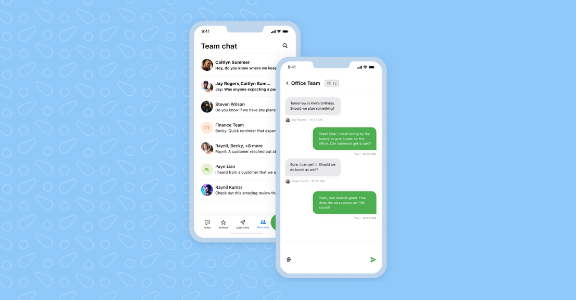 To be more productive, your staff has to communicate and collaborate openly and seamlessly. Digital communication methods and easy-to-use project management tools allow your teams to work together easily, regardless of their location and device. The right tools and strategies can translate to improved real-time communication. And it allows teams to exchange important documents and collaborate on team projects as if they were on-site together. Whether it's a quick Slack message of "done" or Zoom call, they can all engage in discussions, seek feedback, or share information they need to perform their tasks properly.
Internal communication
By incorporating the right-fit communication channels, you can enhance how your business operates as a whole. No one works well in a silo. And people don't like to be kept in the dark about things happening in the company. Instead, your staff is eager to be in the know about tasks, upcoming events, policy updates, etc.
Having a proper internal communication system allows you to deliver timely, consistent information to your employees, engaging them and reinforcing the team atmosphere.
Internal communication methods might include in-person or virtual team meetings, company-wide or departmental emails, or internal company newsletters. Internal communication also gives your staff a voice since it provides proper channels for communicating feedback, frustration, and even praise. And the value of that employee input cannot be underestimated, especially in today's workplaces.
Customer relations
Communication extends beyond your internal teams to also include your potential prospects and customers. The way you communicate with your customers, whether by phone, face-to-face, or social media, influences how they perceive your brand. When and how to interact or share information externally will impact your ability to make them feel valued and happy. Positive customer experiences, even in communicating, can help generate repeat business and word-of-mouth marketing.
Pro tip:
Think of your customer relations as a two-way street. Customers should feel they're building a connection with the brand and that the business values them. So, nurture them in the same way you would a friendship. That means responding to unhappy customers to make sure they feel heard.

Also, reply to their concerns promptly – ideally within 24 hours. Lastly, engage your customers in a dialogue to learn more about their preferences and opinions so you can improve how you communicate with them.
Marketing and promotion
Integrating an effective communication channel into your larger marketing strategy has benefits, too. Having the right mix of messaging and channels allows you to reach customers precisely where they are. For example, social media presence and interactions can help you attract new customers and engage more insightfully with existing buyers. Communication efforts should be included in your social media marketing strategy for the best results.
Other communication tools to consider include:
Text messages: A higher open rate makes SMS marketing campaigns highly effective at promoting your offerings. And everyone checks their mobile devices when the text notification appears.
Advertising: Advertising has a broader reach and allows local businesses to gain new customers and build brand awareness. Advertising channels can be targeted, communicating specific messages to specific audiences.
Email: These enable businesses to generate more leads and prospects by sending relevant, personalized content to their ideal prospects.
Personal selling: Face-to-face sales interaction is still the most effective communication effort to market yourself and win new prospective buyers.
External communication
Customers often prefer engaging with companies that openly align with their own values and beliefs. That's why you should clearly communicate your company values, not only internally but also to the public. Your external communication strategy should include details about your position on sustainability, inclusive workplace culture, or other initiatives. They should also underlie your marketing campaigns, customer interactions, and even the company culture.
Businesses can also showcase their values through brand messaging, social media, and action. For example, you might share a video telling a story that captures your values in action. Be sure the message is genuine and not simply a marketing ploy. Customers appreciate authenticity and are more likely to respond to real stories and lived experiences. These stories are also huge brand-building content for your customers and for boosting public relations.
Business-focused external communication topics include your hours of operation, holiday observances, new product launches, special events, or seasonal sales.
Crisis management
Communication channels and strategies aren't just for growing. They're also mission-critical for putting out fires. Sometimes, businesses are forced to restructure, contend with key executives leaving, or undergo acquisitions. When a crisis hits, you need a crisis communication plan to keep employees calm and informed. Effective crisis communication means you'll want to communicate clearly, consistently, and accurately. Be transparent about what's happening, who's affected, and what the change means for the company.
If your company has made a mistake and customers are unhappy, try to find a solution quickly. Contact your customers directly to solve their problems to improve public relations. Also, provide updates on social media and your website to reduce uncertainty, anxiety, and rumors. After the crisis settles, evaluate your performance and response and follow up with your audience.
Feedback management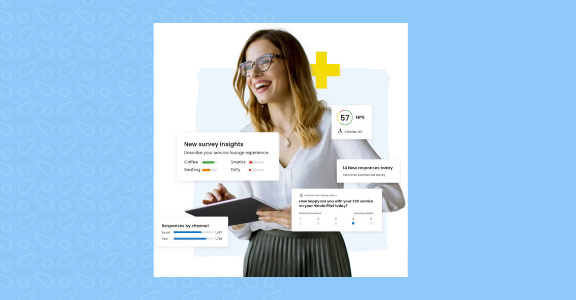 Digital communication tools like surveys and online reviews allow you to get valuable customer feedback for improving your business. A survey can help you identify customers who are happy with your offerings and why they buy from you. Online reviews, whether positive or negative, provide richer data. They allow you to broadly gauge customer sentiment towards your brand. Reviews are crucial because 98% of customers read them before making a purchase.
Social media is another good source of customer feedback. Using social listening tools like polls and hashtags, businesses can learn what customers are saying online about the brand. And it's a snapshot of helpful insights to improve products, services, and engagements.
Remote work and global connectivity
With more people working remotely, companies need to communicate effectively and promote collaboration among workers clocking in from around the globe. Use digital communication channels like email, instant messaging, and video conferencing to ensure everyone on your team is on the same page. Also, consider tapping into a weekly or monthly newsletter for regular updates and non-urgent communication.
Additionally, be mindful to set clear communication guidelines for effective communication among your nationwide or global workforce. For example, you could specify which channels to use for specific tasks and key responsibilities. On top of that, use project management software for scheduling tasks, collaborating on projects, and tracking your team's workflow.
What are the types of business communication channels?
From face-to-face conversations to written communication and everything in between, businesses like yours employ various channels to convey all kinds of messages to customers and employees.
Let's look at the more common business communication channels and how to maximize them.
In-person
Direct interactions, such as sales presentations or meetings, are fundamental to business communication. It's one of the most enriching forms of communication as it allows for immediate feedback and clarification. Therefore, misunderstandings are less likely to occur. In-person interactions are also a great way to go deeper into conversations, explore ideas, and build relationships. Businesses use in-person communication for:
Important meetings with colleagues or vendors
Sales and demo presentations
Negotiations and contract signing
Daily or routine internal communication
Written communication channels
Businesses rely heavily on written communication channels for contracts, documentation, emails, memos, letters, and business reports. The saying goes, "Get it in writing." Even customer service depends on written messages to educate and serve customers. For example, you might use written communication to document a customer problem, the date they called, or trouble ticket timelines. Effective written communication is crucial for conveying information accurately and consistently. It's also important for preserving records and providing evidence of customer service response time.
Digital communication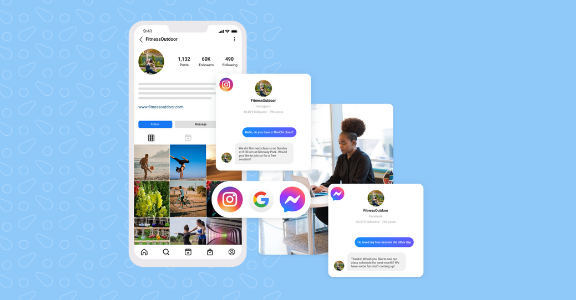 Digital communication channels, unlike in-person engagements or tangible documents, involve the use of digital technologies and the internet to convey information quickly and conveniently. Examples include email, instant messaging, chat, video conferencing, project management tools, and social media. These digital channels provide convenience and the ability to communicate with customers or teams located anywhere. Businesses also heavily use them to collaborate on projects, offer customer service, and conduct meetings remotely.
Mobile communication
You'd be hard-pressed to find anyone without a mobile device these days. Mobile communication involves creating and sending messages through popular mobile devices. With the rising importance of mobile phones in people's lives, companies are increasingly interacting with customers via mobile apps, text messages, and with direct messaging via social media.
These channels allow companies to reach their intended audience anytime, anywhere. They also enable brands to create more meaningful engagement in the form of mobile-friendly outreach. For example, through push notifications or SMS, businesses can deliver personalized offers and updates directly to a customer's device.

8 Examples of communication channels for businesses
Face-to-face communication
Face-to-face communication allows for real-time interaction, complete with conversation and engaging body language. It's a particularly valuable method for important business meetings, relationship-focused networking, and negotiations. Meeting in person is a more personal connection, which is key for building trust with customers, partners, and employees. Making eye contact and playing off social cues builds stronger bonds. In addition, asking follow-up questions allows for an opportunity to dispel concerns and prevent miscommunication.
Pro tip:
Before you try to push face-to-face communication, consider that it may not always be feasible. More in-person interactions mean more potential for distractions and time wasting. So, provide an agenda for your face-to-face meetings to ensure time spent in person is productive. Also, choose a time that is more convenient to the other person.
Video conferencing
Video conferencing has a permanent place in today's business environment, considering its widespread adoption in recent years. It's an alternative to face-to-face communication, streamlining the perks of in-person meetings with digital channels to facilitate them. Video conferencing software lets you stay connected with your staff or customers through virtual meetings. It's an excellent option for communicating with long-distance customers or managing remote teams. Some video conferencing tools additionally provide screen sharing and whiteboard technology to add extra value to the conversation.
This is among those communication channel examples that is an excellent option for communicating with long-distance customers or managing remote teams. Some video conferencing tools additionally provide screen sharing and whiteboard technology to add extra value to the conversation.
Establishing video conferencing etiquette is essential to minimize interruptions or the flow of your meetings. Some tools have instant messaging or a "raise hand" feature that allows someone to raise a point without interrupting the speaker.
Phone calls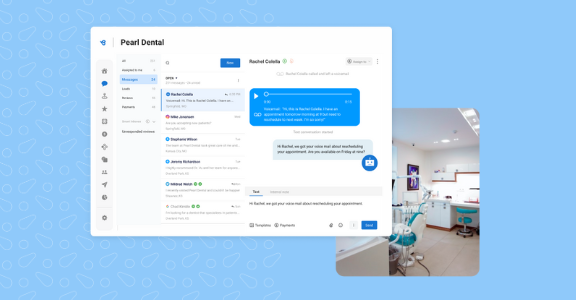 The old-fashioned phone conversation is still a relevant method of communicating, especially when you want to get answers quickly or communicate urgent business matters. There are no back-and-forth messages and no lengthy wait times for a response. And people can answer phone calls almost anywhere. Even if they don't reply, you can leave a voice message.
Phone calls are best used for lead generation, sales efforts, customer service, appointment scheduling, placing orders, and checking up with partners. However, phone calls can incur costs, especially if you make lots of international calls.
Consider tapping into Voice over Internet Protocol (VoIP) services which allow you to facilitate those calls using an internet connection at a fraction of the cost of traditional phone service. The best VoIP solutions also offer voicemail, call recording, custom caller ID, and voicemail-to-text features.
Emails
Emails are still the most popular and easily-facilitated communication tool for local businesses. They also remain the most effective method for engaging clients. Research reveals that email marketing drives higher conversions than social media. For every $1 spent on email campaigns, businesses can expect to generate $36 in return.
Apart from marketing, companies use email for business communication, including exchanging documents, sharing updates, assigning tasks, etc. Emails also make it easier to track discussions and maintain a record of the conversation. However, your email can easily be lost due to stuffed inboxes.
Using business messaging software like Birdeye can streamline your email marketing campaigns. This tool allows you to bring all your emails alongside text, social media, and web chat messages into one inbox for easier management. You can organize messages by customer or channel and stay on top of all your dedicated customer communications.
Text Messages
Text messages are one of the most widely used communication channel examples because it is the easiest and most effective way to send your messages. 
In terms of marketing, text messages offer immediate responses to your messages. Data shows that 98% of text messages are opened and read. Indeed, most SMS is read within three minutes of delivery. Also, text messages have an average response rate of 45%. By contrast, the email response rate averages 8%. This makes text messaging a cost-effective tool to add to your overall business communication strategy.
Text messages deliver time-sensitive messages such as sales promotions, surveys, polls, and important updates. They are also easy to implement. With the help of SMS automation tools like Birdeye Mass Texting, brands can create, schedule, and send targeted text messages to multiple clients simultaneously. Once you've created your text messaging campaign, you can easily track, manage and optimize performance from one place.
Team chat/Instant messaging
Instant messaging or team chat are applications that allow you to message team members within your workspace. They are considered instant forms of messaging because people often respond instantly. Also, they enable you to focus on what your team needs to accomplish while keeping in touch with everyone. You can hold private and group conversations and share documents within one platform. This keeps you organized and reduces the need for burdensome emails. These project management and collaboration tools can improve productivity by 30%.
Birdeye offers an intuitive instant messaging tool to make your business communication effortless. It also provides great features for workplace collaboration, including instant messaging, group messaging, and document sharing. Watch our free demo and check out the Team Chat feature within the Birdeye Messaging app for how to collaborate with your teams and connect with customers.
Live chat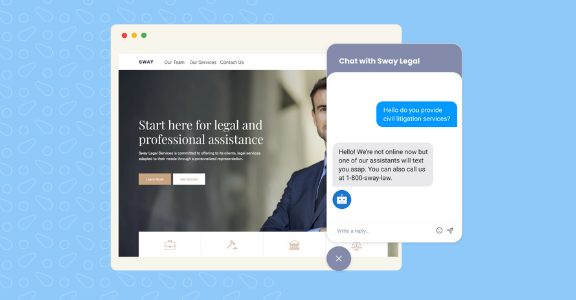 Hosting a live chat feature on your website allows you to engage your customers better either through a text-driven, person-to-person interaction or with the assistance of an AI chatbot. One study found that 77% of customers won't buy from a website without real-time chat support. With live chat, companies like yours can provide real-time customer service solutions and offer product and service recommendations.
Additionally, live chat can be omnichannel. This means the chat software allows you to engage with customers on your website as well as through social media, email, and SMS. As a result, you can maintain consistent and personalized conversations with customers, regardless of the channel they choose to use.
Use Birdeye Webchat software to provide exceptional live chat support and connect with your customers in real-time. It has auto-response templates, a smart inbox, and instant notifications to help you stay on top of your chats. The app also has reporting and analytics features to track and measure your chat interactions and performance.
Social media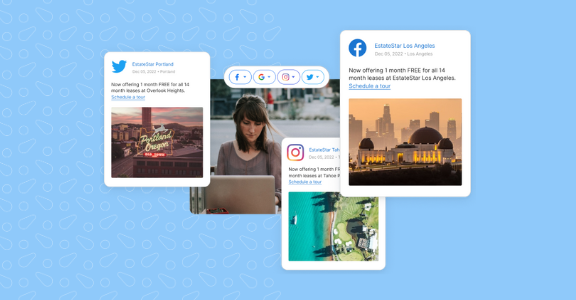 Social media messaging is a must-use communication channel examples for businesses to communicate. Unlike send-and-wait email conversations, social media enables instant interaction. This helps facilitate better communication across teams and offices. It even aids in brand-building efforts by showcasing the company culture and positive updates on platforms like Facebook and LinkedIn.
Social media can also help you boost revenue. It's a highly effective tool for attracting new business and sales because you can instantly message contact for an appointment or to share a link. Use this tool to connect with customers, respond to their comments and messages, and provide helpful information. This approach is essential for building relationships and closing deals. Social media management software like Birdeye Social lets you engage customers in real time. It helps you answer customer questions, post relevant content and engage in social conversations from a single dashboard. That way, you can nurture leads and guide them through the sales funnel.

FAQs about communication channels
What is the most common channel of communication?
The most common channels of communication include email, text messaging, instant messaging, phone calls, and video conferencing.
What is a formal communication channel?
A formal communication channel is a structured or official means of relaying information within a business. Examples include memos, emails, meetings, and reports.
What is an example of an informal communication channel?
An informal communication channel is any method used for casual conversations on social media, email, or Slack. These messages are usually reserved for status updates, quick references, and impromptu engagements.
What are business communication channels?
Business communication channels are those used to conduct business. They're methods or tools that companies use to communicate with clients, employees, and other stakeholders.
How do visual communication channels impact engagement?
Visual communication channels like infographics and videos capture attention quickly, making complex information easier to understand.
Use these examples of communication channels to optimize engagement
Now that you've read all the major examples of communication channels, start optimizing your business communication effectively. It's the key to winning customers, building relationships, and improving productivity.
After all, the richest communication channel is in knowing which options are the best and how to use them to generate the best results for your business.

Originally published