Effective customer communication is vital for the success of any business. After all, how will clients know about your business and its offerings? Companies also communicate with customers to share product updates, resolve complaints, gather feedback, and provide customer service. If that communication breaks down, customer engagement will drop, and they'll likely take their business elsewhere.
In this blog post, we'll share insight on effective communication channels as well as tips on how to improve your customer communication to keep your business growing.
What does customer communication mean?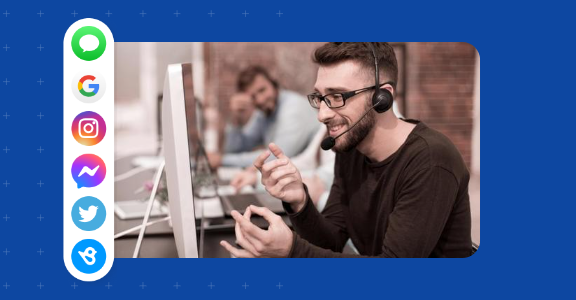 Customer communication is all about creating seamless and dependable interactions with new and current customers. It means conveying consistent brand messaging across multiple channels to provide support, address pain points, and build relationships.
With the rise of omnichannel communication, consumers have raised the bar for engagement with a business. Customers aren't just using two or three touchpoints to interact with brands.
In fact, 71% of them expect seamless experiences and continuous interactions across all your communication channels. Don't just rely on what's convenient for your business to communicate with customers. Instead, use a cross-channel approach to reach them where they are to provide effective customer service.
For example, a client might initiate a conversation with you about your product using the web chat feature on your website. Your customer service staff can then respond to their question and provide information for immediate resolution. If the customer needs further assistance, your customer support can ask for an email address or phone number and transition the conversation to other staff through those channels.This customer communication management approach ensures that the conversation switches from one platform to another without any interruptions. You just improved the customer experience by providing the flexibility to engage with your brand through their preferred channels.

Why is customer communication important?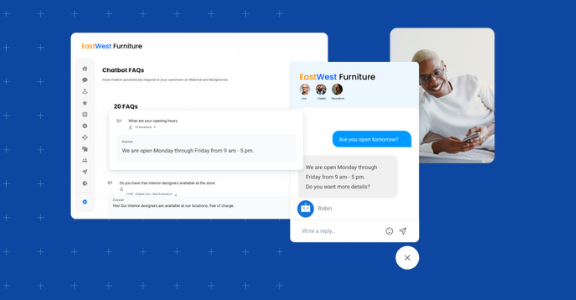 Effective customer communication allows brands to establish and nurture customer relationships so they last. It's a series of interactions designed to chaperone prospects through your funnel, from introduction to conversion.
A customer with positive experiences at every turn is more likely to become loyal to your brand. This increases the chances of them sharing their experiences with others. A happy customer who gets their questions answered and has a frictionless experience can boost business.
Here are some of the benefits of prioritizing how you communicate with customers.
Builds trust and loyalty: Engage in open and transparent communication to foster trust and build customer loyalty. When they feel valued, you've taken the first step in establishing brand support.
Improves customer satisfaction: Clear, consistent, and timely communication addresses customer concerns and solves their problems.
Enhances brand reputation: An effective customer communication strategy drives positive customer experiences that lead to positive word-of-mouth marketing. More people talking favorably about your business will enhance your brand's reputation.
Increases customer retention: Customers who feel heard are more likely to continue doing business with your company. Robust customer communication management strategies can ultimately lead to increased customer retention rates, turning first-time buyers into repeat buyers.
Encourages customer feedback: Regular communication with customers encourages them to share their opinions and offer valuable feedback. These insights can lead to improvements in products, services, and the overall customer journey.

What are the steps for effective customer communication?
Your customer satisfaction rates weigh heavily on how your team communicates and responds to their concerns. Follow these proven steps to achieve better communication outcomes with your customers.
Know your audience: Understand your customer demographics, preferences, past interactions, and current needs. Grasping this information will help you tailor your communication style and messages accordingly for more effective conversations.
Choose the right channel: Customer communication management works best when you're able to meet customers where they are. Whether it's email, phone, social media, or live chat, engaging with customers on their preferred channels will improve customer satisfaction.
Respond promptly: Timeliness is a pillar in customer communication. Aim to quickly address customer inquiries and issues to show that you value their time. If you can't provide an immediate solution, acknowledge their concerns and share when they can expect to hear back from you with an answer.
Personalize your approach: No one wants to feel like a number in a database. Use your customer's name and refer to their specific situation to create a more personalized and connected experience. Adding a personal touch to your customer communication strategy improves relevance and expresses authenticity.
Maintain a positive tone: Polite, respectful, and professional are the only tones allowed in effective customer communication. A positive attitude can often diffuse tense situations and can lead to better outcomes.
Be consistent: Your company messaging and branding have to be consistent across all communication channels to maintain a cohesive brand identity. Delivering different messages in different places can lead to customer confusion and mistrust.
Follow up: Check in with your customers even after an issue has been resolved or a purchase has been made to ensure their satisfaction. Thank them for their business. This opens the door for customer reviews or a referral that can boost your reputation and sales.
Train and empower your team: Provide ongoing training and support for your customer service representatives. Keep your team up to speed on etiquette, offerings, and acceptable timelines for resolving issues. Enable them to effectively communicate with customers and make decisions that benefit both your customer and your business.
What are the best customer communication channels?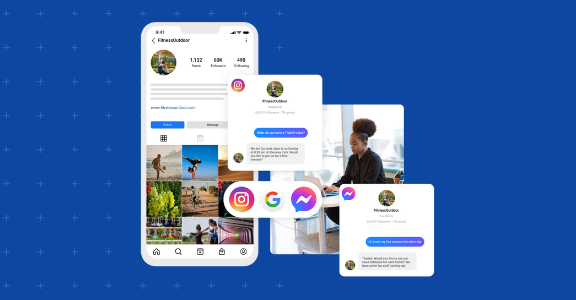 From in-person conversations and phone interactions to email, text, and social media, most brands engage with clients on various platforms. These are the most effective channels to use as part of your customer communication management efforts.
Email: Email is still a widely-used communication channel for customer support, marketing, and transactional messages. Email is convenient and more cost-effective to use. It also allows you to create a documented timeline of conversations, perfect for customer care efforts.
Phone: Phone support is ideal for immediate assistance. It allows for direct communication and can help resolve issues more efficiently.
Live chat: Live chat is a wildly popular channel for real-time conversations between customers and support staff via your website or mobile app. This channel is particularly useful for fielding common questions, product assistance, or even setting up an appointment.
Social media: Social media platforms, provide a direct line to customers where they spend most of their time. Customers often turn to social media for brand research, providing feedback, or complaints, making it crucial for businesses to have a responsive and active presence on these platforms. Recent data suggests that 40% of customers expect to receive a response within the first hour of connecting with any brand on social media.
Self-service help center: A well-organized help center on your website can give customers access to frequently asked questions (FAQs,) tutorials, and guides. These resources allow customers to find their own answers and reduce the need for direct support.

What customer communication skills are important?
An effective customer communication management strategy combines certain skills that should be cultivated and honed. Explore these must-have skills for your frontline customer service teams to deliver top-notch customer experiences.
Active listening: The key to comprehending customers' concerns, needs, and preferences and delivering solutions is to actively listen to them and ensure that they feel understood. Give them your full attention, reflect on what you heard, and ask clarifying questions. Moreover, active listening can help de-escalate difficult situations.
Emotional intelligence: Customers gravitate to businesses that are approachable and make them feel appreciated. Demonstrating emotional intelligence is a surefire way to connect with them authentically.
Clear and concise communication: Keep your messages short and direct. Steer clear of jargon or sales language that may confuse or turn off your customers. Offer information in different formats, too. For example, some people respond better to written communication and others to visual aides.
Problem-solving and adaptability: This may sound like a no-brainer, but it is essential to efficiently address and resolve customer issues. Knowing your stuff is key to improving customer experience. This means being resourceful, thinking critically, and adapting to challenging situations to find the best possible solutions for customers.
Professionalism and positive attitude: Maintaining a professional demeanor and constructive attitude during customer service communication helps create a pleasant experience and fosters trust. It's mission-critical to stay calm under pressure and treat customers with respect in order to establish rapport. Remember to stay solution-focused when dealing with difficult situations or unhappy customers.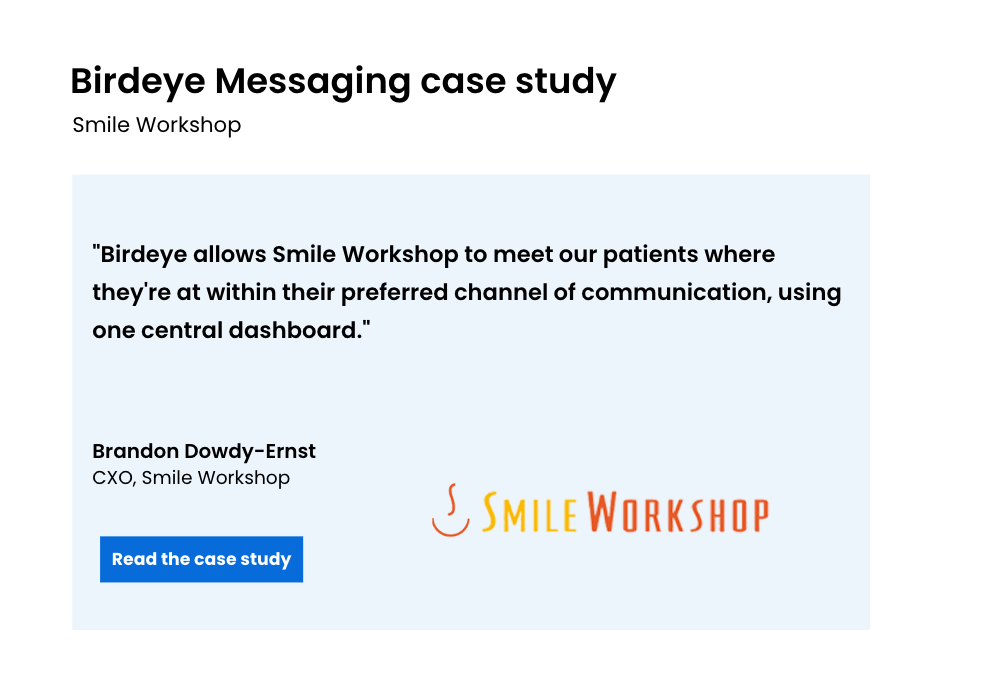 FAQs about customer communication
What is an example of customer communication?
An example of customer communication is when you speak to a customer on the phone or via text. This could include answering questions, resolving issues, taking orders, and providing helpful advice.
What is good customer communication?
Good customer communication is any dialogue between your company and a customer that results in a resolution and a positive customer experience. Timely, transparent, and customized responses generate the best results.
What skills are important in customer communication?
Essential customer communication skills include active listening, empathy, and patience. Care teams should also have problem-solving skills, positive attitudes, and adaptability.
Connect with customers with Birdeye Messaging
In today's highly connected world, consumers expect smooth and consistent communication with their favorite brands at every touchpoint. With Birdeye Messaging, you can engage with customers on multiple channels all from a single inbox. This eliminates missed opportunities to provide good customer service. Click the banner below to learn more about how Birdeye can help you connect with your customers better.


Originally published