If you want to see the importance of a digital transformation strategy, think about the last time you didn't have a ride to the airport. While we take it for granted now, it wasn't always a convenient process.

Thirty years ago, if you needed a ride to the airport you needed to make a call to the cab company. Then, you'd have to go outside every couple of minutes to see if the cab had arrived. It was extra stress that you just didn't need when you were traveling.

Nowadays, the process is easier. All you have to open up Uber or Lyft on your phone and request a ride. You can see the driver's location and when they are scheduled to arrive. You can wait in the comfort of your home until it's time to leave.

Digital transformation has made requesting rides significantly easier for customers. Of course, you don't need to be a rideshare company to start improving your customer experience with the power of digital- any business can get started. Here's how. 

What is Digital Transformation?
Digital transformation is the act of integrating technology into your business practices- helping you use data and automation to deliver more value to your customers.

Why Does Digital Transformation Matter?
Business as usual has been disrupted. The arrival of the smartphone and the Internet means that everything about the consumer world has shifted. Customers now discover businesses online and expect services to be delivered more efficiently than ever.

The world is shifting faster than we know. Think about how much the business landscape has changed in the past couple of decades. Billion-dollar companies like Uber, Airbnb, and Slack have been founded in the past ten years, primarily leveraging new technology like the smartphone.

But you don't need to be a billion-dollar company to recognize something simple. The fact is that the game has changed. Customers are now discovering businesses online and expecting service that is convenient, rapid, and quality- all at the same time. With digital transformation, you can ensure that your business is delivering the value your customers are expecting.

When your internal processes undergo digital transformation, you'll find that it leads to real results. Businesses that are able to effectively serve customers attract more loyal customers. These positive reviews and word-of-mouth lead to more customers for your business.

Benefits of Digital Transformation
Still not sold on digital transformation? Here are a few ways that digital transformation can improve your business.

Improve customer experience
The smartphone has revolutionized the world: customers now expect speed and convenience. Digital transformation allows your business to deliver value to your customers more efficiently than ever.

Drives data-driven insights
When you implement digital transformation, you'll find that you'll be sitting on a mountain of data that can be used to improve your operations. We'll go into more detail about how you can collect this data later in the article.

Keep up with the competition
Let's be real: nobody wants to be the last business to adapt a great digital solution. Embracing digital transformation stops you from being the last business using pigeon carriers when everyone else in your city is using telephones.

5 Digital Transformation Ideas
Here are 5 digital transformation ideas that can help grow your business. You don't have to do it all by yourself. Birdeye is here to help and here is how much it costs to give your business a digital transformation.  

Automatically Collect Customer Reviews
For anyone to want to do business with you, there's one thing that's needed: trust. Building trust with customers is traditionally a hard process. Traditionally, this was done by building a reputation for honest dealings. As you can imagine, this took a long time to do. It's hard to imagine a business going through this process in our fast-paced modern world.

Luckily, there's another way that businesses can start building trust with customers: social proof. Online reviews can provide social proof that you need to start building trust with your customers.

We've found that the easiest way to collect customer reviews is to use automation. With software that integrates with your business system, you can send review requests to your customers on the same day as the sale without having to lift a finger.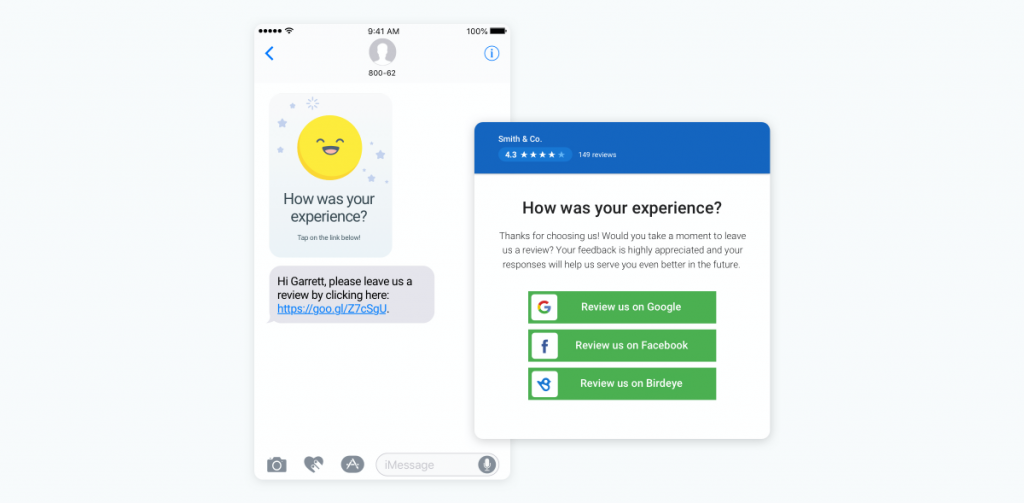 Start Getting More Customers with Webchat
There's one way that customers want to interact with customers: webchat. Let's face it: calling a business to try to get additional information about things like pricing is often inconvenient. Much of the time, nobody is even available to take your call. Email isn't much better. It's just too easy for an email to be missed. Luckily, there's a great middle-ground: webchat.

Webchat works because it offers customers a convenient and easy solution to chat with your business. Nobody has to stop what they're doing to make a phone call. A customer can send a chat while continuing whatever they were working on before.

If you're using the right software, webchat does not require a big investment or a big team on-call to answer customer chats. With a platform like Birdeye, you can answer customer webchat messages from your smartphone.

Improve Business Operations with Customer Surveys
Just a few decades ago, it was much harder for businesses to get real feedback from customers. While big businesses could get real-time feedback from focus groups, it was much harder for small businesses to do the same. Focus groups take some time to put together and businesses typically need to pay participants. Most small businesses lacked the resources to conduct these focus groups.

Nowadays you don't need expensive focus groups in order to collect customer opinions. With a survey tool, it's easier than ever for you to collect authentic customer opinions. You don't need to spend time and money trying to understand what customers like and dislike your business. With a tool like Birdeye, you can create a survey, send it via text and email, and analyze the results in the dashboard.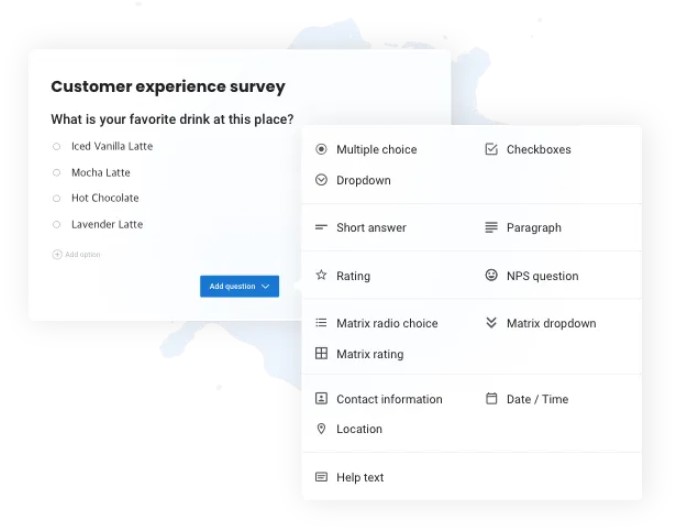 Collect Insights with Natural Language Processing
To be the best business in your area, it's important to make sure that you're fixing problems before they arise. After all, you don't want negative word-of-mouth to turn potential customers away from your business. It's almost impossible to know the areas of your business where customers want to see improvement on a moment-by-moment basis.

Of course, digital transformation can help you identify these problems quickly. With natural language processing (NLP), you can immediately find the categories that customers are talking about the most in reviews, along with a corresponding grade based on whether these categories are being mentioned in a positive and negative context. It's easy for your team to pinpoint problem areas before they turn into larger issues.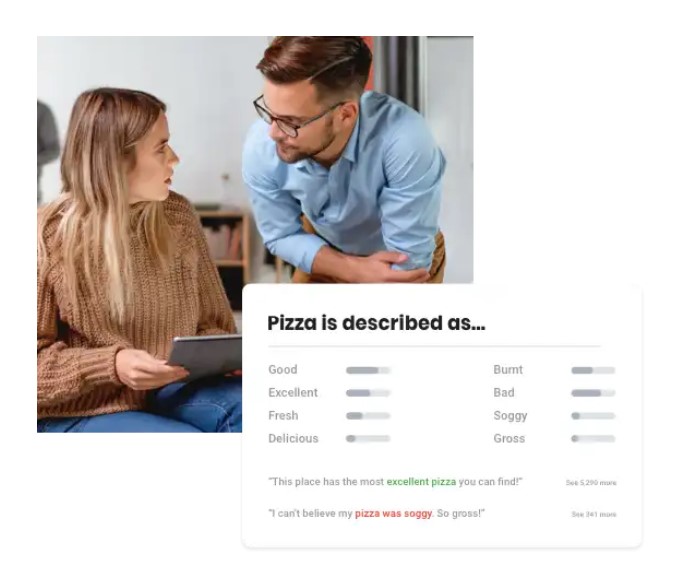 Benchmark with Competitors
Imagine if you could replicate what customers love the most about your competitors within your own business. If you could do this successfully, chances are that you'd have a big advantage over the competition. Of course, the challenge is in execution.

In the past, it was tough to try to learn from your competitor's strengths. You could go the low-tech method of going to the competitor's business and try to figure it out yourself- but this isn't always possible. Plus, it's pretty much impossible for you to see their services through the eyes of their happiest customers.

Luckily, competitive benchmarking software can help solve this problem. Natural language processing software can be used to analyze your competitors' reviews and pull out the categories their customers are praising the most. These insights can help you understand what you can work on in your own business. If customers are praising "wait time", it shows a potential area for improvement.

Challenges in Digital Transformation
Of course, digital transformation doesn't always lead to great results. If an organization isn't ready for it, it can lead to some confusion. Harvard Business Review identified a big challenge when it came to digital transformations: leadership being divided about goals. Let's talk about how you can avoid this. 

Any sort of change is difficult for an organization to deal with. Digital transformation is no exception.

So remember, whenever you implement any sort of digital transformation, it's important to be clear what your organization is expecting in terms of results. Otherwise, you run the risk of causing more confusion.

It's also important to remember that digital transformation is not a magic bullet solution that will fix business woes. High-profile companies like GE and Nike have gone through problems with their digital transformation because of external factors. Ultimately, digital or non-digital, your business still has to focus on providing fantastic customer experience and delivering what you promise.
Digital Transformation Framework
Remember, digital transformation works best when leadership is aligned with the goals. So before you start on these ideas, make sure that you get expectations straight. Understand what you can expect from each one of these new ideas for your business.

Next, make sure that you communicate your goals with all of your employees. Chances are that they are used to the old ways of doing things and will naturally want to resist any sort of change in business operations. That's why it's important to think about how you can incentivize digital transformation in your business.

One way that we've seen businesses use digital transformation to change their business is through a review leaderboard. It works like this: when employees are finished helping a customer, they send a review request. The review leaderboard tracks which employees have sent a review request, with the leading employees at the top. This creates a competitive environment where every employee is striving to send more review requests and top the leaderboard.

Digital Transformation Success Stories
While we've talked about some of the negatives of digital transformation, the process has also helped businesses grow rapidly. Here are a couple of examples of businesses who've managed to grow business with digital transformation.

Aspen Dental
Aspen Dental is a multi-location dental business with more than 500 practices. The practice was opening around 55 new practices every year and needed a way of collecting customer feedback and building a positive online reputation. 

Aspen Dental started using Birdeye to collect more reviews from patients. With an automatic integration with its existing practice systems, Aspen Dental sent review requests to patients on the same day of their visit. Patients would then leave reviews on sites like Google and Facebook.

The results were immediate. Aspen Dental more than quadrupled its review count in less than three months. That's the power of going digital.

So the lesson here is clear: look at where you can use technology to help you get to where you want to go. In this case, it was getting reviews, but no matter what you're doing: consider using automation. While not every digital transformation can be automated, it's a great way to get results while keeping your existing processes running smoothly.
For more information on Aspen Dental's digital transformation tips, check out this article on how enterprise sales can work with procurement to win more business.
Pretty Handy Guys Handyman Services
Pretty Handy Guys Handyman Services is a 1-location business based in Atlanta, Georgia. Rick Patterson, the owner, has run the company for more than four decades. However, the business was not closing as many deals as Patterson would've liked. He realized that in order to start closing more deals he needed to make it easy for customers to contact his business.

Rick Patterson started using webchat to make it easy for customers to reach out- using Birdeye as a tool for this digital transformation. Instead of taking phone calls or responding to emails, Patterson was able to respond to customer chats from his smartphone. Almost immediately, Pretty Handy Guys saw results. In just a month, the business saw 12 new customers come in through webchat.

So what does Pretty Handy Guys teach us? It doesn't matter how long you've been in your business, nor how big your business is. You don't need a big business to start implementing digital transformation. Small businesses can start making their processes more convenient for their customers with the help of the right software.
Want to learn more about offering great customer experience?
If you're interested in learning more about how your business can offer great customer experience, check our complete guide. It contains tips and tricks that you can't find anywhere else.

Originally published