Nowadays, businesses are well aware of how important reviews are in a customer's search for a local business. Many businesses feel pressured to try to influence reviews in their favor.
However, by manipulating the review process, they actually undermine the very value reviews hold: trust. In April 2018, Google updated its review guidelines for businesses that collect reviews from their customers. Among the new changes was the banning of a practice known as "review gating". Both Google and Birdeye are against review gating.
As Google states alongside its Prohibited Content policy: Don't discourage or prohibit negative reviews or selectively solicit positive reviews from customers.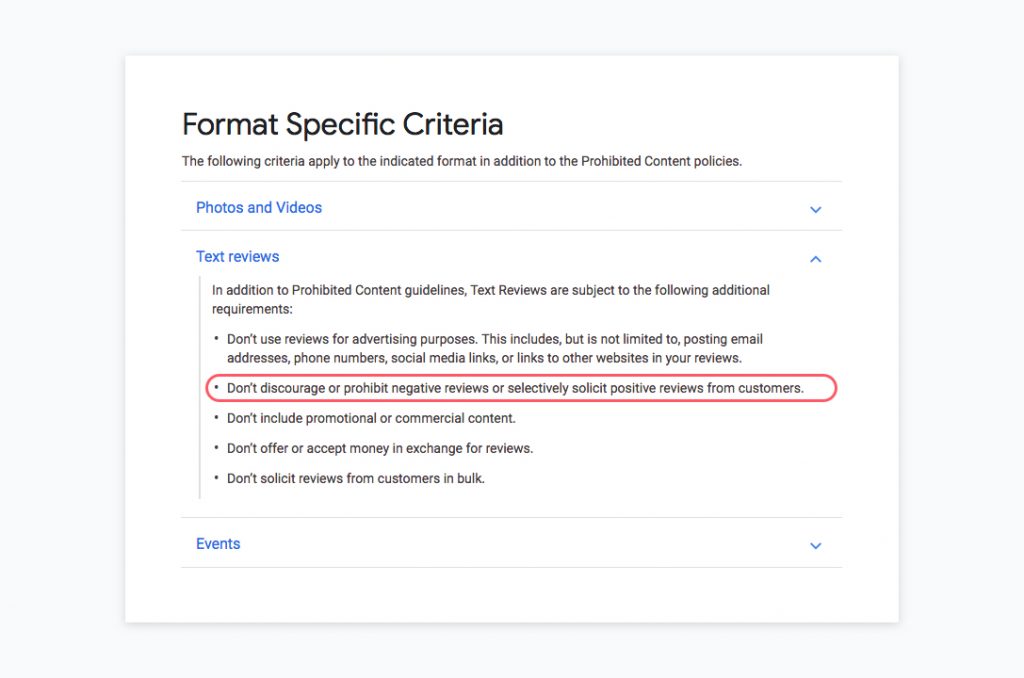 Before we take a deeper look into 'review gating' and why Birdeye discourages it, listen to this audio guide to discover how your business can climb the ranks and get more visibility on Google? In this 20-minute audio guide, learn everything you need to know about reviews, SEO, review collection strategies, and ways for encouraging customers who had a negative experience with an edit. In this free audio guide, you'll have a clearer understanding of 5 easy tips that will help ensure customer satisfaction as well as increase the likelihood of collecting positive feedback from clients so they're incentivized enough to leave good reviews when prompted by businesses like yourself. Let's dive right in!
So what does 'review gating' mean?
Review gating refers to when a company only sends happy customers to review sites. Unhappy customers are filtered out to prevent negative reviews.

Those who say they had a positive experience are redirected to a form where they can easily post an online review, while those who say they had a negative experience are sent to the business's website to leave a comment privately. The end result is a deceivingly positive rating for the business that may not be representative of actual customer opinion.

There are multiple ways businesses can 'gate' reviews. Here are a few examples:
Using software to preface each review request with a sentiment question. Were you satisfied with your experience? Yes/No", then only sending those who say "Yes" to review sites to share feedback.
Selectively routing survey respondents to review sites based on their responses. Most survey companies allow businesses to set up "skip and display" logic, sending unhappy customers to different questions than happy customers. Using this, businesses can get away with only asking happy customers for reviews.
Asking only those customers to leave a review who you think will leave positive feedback face-to-face, and refraining from asking unsatisfied customers for feedback.
Offering incentives for positive reviews. This results in the biased positive feedback that does not actually reflect real customer experiences.
Why is Google against gating reviews?
Google's mission is to provide users with relevant, trustworthy information. Customer's Google reviews are at the core of the trust Google strives to foster. These reviews describe authentic experiences from unbiased sources. Reviews help consumers find the best local businesses; reviews and ratings impact how local businesses rank in Google search results. By not allowing review gating, Google intends to keep the integrity and power of reviews intact.
Does Birdeye allow review gating?
No. Birdeye does not allow review gating. Read Section 5 of our Terms of Service for complete details.
Birdeye collaborated with the Google Maps team and updated Birdeye software to comply with the new review gating rules. In the past year, we have also launched several new features to crack down on fake reviews. These include stricter user authentication for Birdeye reviews using a Google or Facebook login, tighter review content relevance requirements, and enhanced spam and slander detection algorithms.
Businesses that use Birdeye to collect and manage reviews know all the reviews they receive are authentic and ungated. They can rest assured that customers and prospective customers trust those reviews to be a genuine representation of their business.

Birdeye's review generation process
Businesses using Birdeye can get new reviews using three different workflows. All of these workflows have been validated by Google.
1. Sends review requests to all your customers
Birdeye integrates with 300+ CRMs to automate the workflow. Right after a customer visits a local business, they automatically receive a review request email or text. The customer has the option to write a review on a third-party site (with links provided by the business). All these options are provided to all customers, regardless of their sentiment (positive or negative).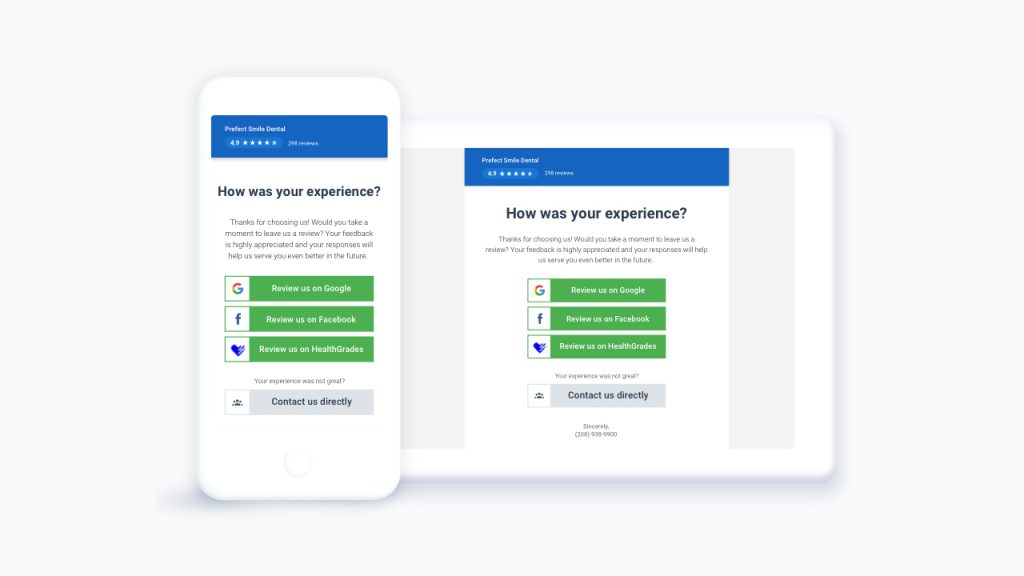 2. Combines customer experience and third- party reviews
Many of the businesses we work with want to measure their Net Promoter Score (NPS) or Customer Satisfaction Score (CSAT) at every touchpoint in the customer journey. While collecting this internal NPS / CSAT data, often these businesses want third-party reviews from their customers as well. Birdeye allows businesses to set up 2-in-1 customer experience templates that let them measure satisfaction internally, while simultaneously soliciting reviews on third-party sites.
The key distinction here is that if the business does decide to include third-party review requests in its customer experience template, those review requests must be sent to all customers, regardless of how they score the business on NPS or CSAT.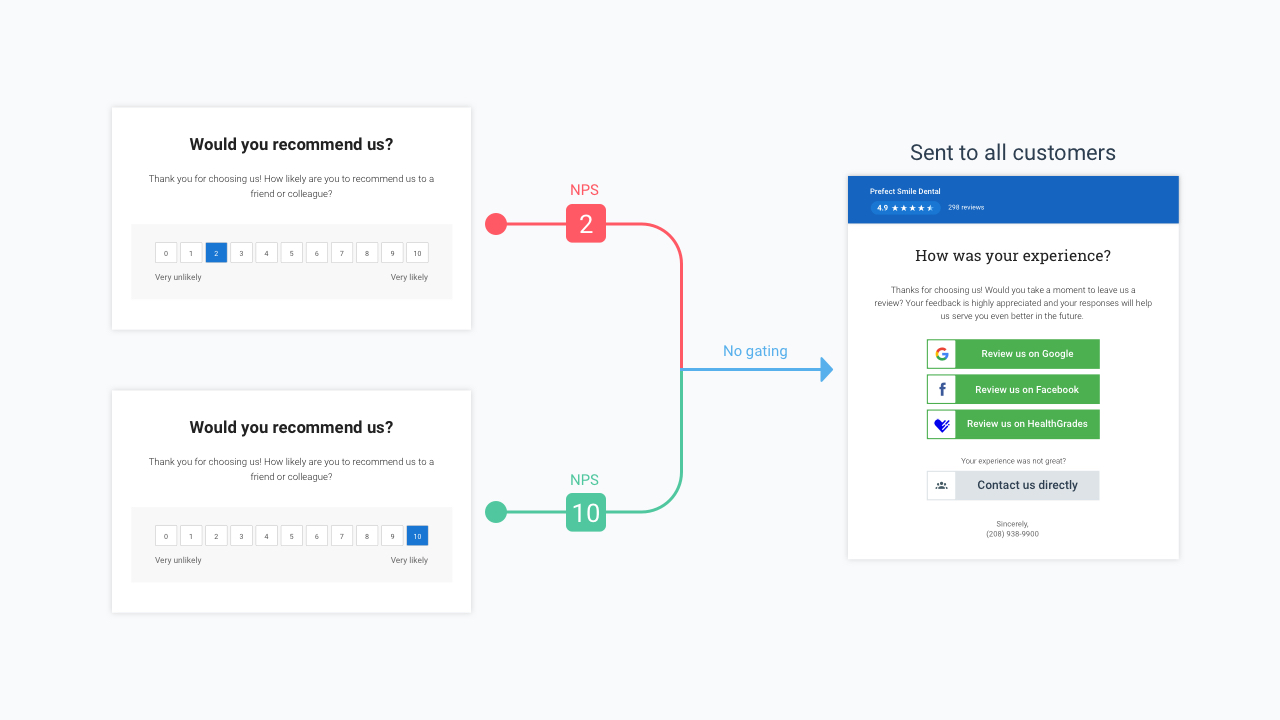 3. Combines surveys and third-party reviews
Many of our small business and enterprise clients want in-depth insights into their customer experience. Birdeye allows them to create custom surveys at every touchpoint of the customer journey. In addition to survey responses, many businesses also want to collect more third-party reviews. Birdeye gives businesses the option to include a third-party review request at the end of each survey.
Birdeye does not tolerate review gating in these surveys. In other words, if a business adds a third-party review request to any survey, all customers taking that survey will be given the option to write a third-party review, regardless of their sentiment.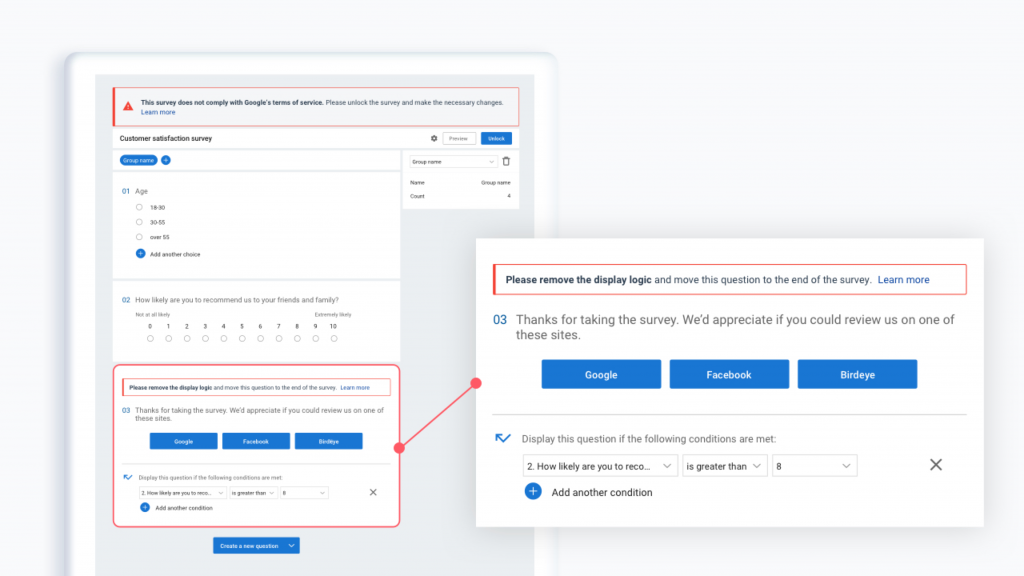 Why review gating is bad for businesses
Here are three reasons why you should avoid review gating.
1. You will lose the trust of your customers and prospective customers
Your customers will only trust your reviews if it's clear they are authentic and represent an unbiased view of your business. Gating reviews defeats that purpose by leading to disproportionately positive reviews that customers view as less credible, especially when their experience doesn't match what they read about.
2. Companies like Google are unlikely to publish your reviews if you use gating
If you gate your reviews, Google can likely detect this. They may remove your reviews, and/or penalize your business in search rankings.
3. Review gating doesn't help you get ahead
Birdeye has accumulated review data for 100,000+ businesses over the past several years. We looked at review ratings and conversion data for businesses that used Review Gating (prior to Google releasing their policy on review gating in April 2018) vs. businesses that did not use Review Gating (or subsequently turned it off after the Google policy change). We observed that businesses not using review gating actually increased their review count, without any meaningful impact to their ratings.
Your best course of action is to build trust with your customers by collecting reviews for all customer interactions. Understanding all points of view about your business can help you improve aspects of your operations that you maybe hadn't even thought of before. Besides, negative reviews aren't a bad thing. They actually help prove to prospective customers that your reviews represent real experiences, making them trust the positive ones even more.
Most successful businesses use a tool like Birdeye that automates their end-to-end review process while following industry best practices. Birdeye partners with Google and has API integrations for each step of the review process. That means a private API integration for getting new reviews, API integration for automated review response, and API integration to display maps and reviews on your business profile. In addition, Birdeye also integrates with Customer Relationships Management (CRM) software such as Salesforce, HubSpot ServiceTitan, and Yardi to seamlessly automate review request solicitation and generate new reviews in one place.

If you're a channel partner or reseller, review gating is still bad
If you have chosen Birdeye as your trusted partner for reputation management or customer experience management, it's our responsibility to make sure you and your businesses are compliant with the policies of all third-party platforms — be it Google, Facebook, or any vertical-specific review site. Review gating is harmful to you and your customers for the same reasons listed above.
Preserving the trust economy
Trustworthy reviews benefit both businesses and customers. That's why preserving an authentic review ecosystem is the core mission of both Google and Birdeye. By giving existing customers an outlet to share their experiences, businesses can acquire new customers while gaining insights into the customer experience. Customers can consult reviews for reliable, unbiased information when comparing local businesses so they're confident in their selections. Google and Birdeye automate and simplify the review process while maintaining trust in reviews. Everyone wins.

Originally published