Customer reviews are essential to garnering interest in your service or product, but convincing customers to leave them is challenging. Unless they had a very positive or negative experience, customers are unlikely to provide feedback — unless you make it worth their while. This idea of getting, "that silent middle to speak up," as the Cornell Chronicle calls it, led to the development of incentivized reviews.
What is an incentivized review?
An incentivized review means you offer customers a perk or reward for an honest review. Examples of incentives include gift cards, free products, sweepstakes entries, discounts, and rewards points.
Here's an example of a review left in exchange for a sweepstakes entry:
Considering 95% of consumers read online reviews before committing to a purchase, spending a chunk of the marketing budget on incentivized reviews makes financial sense for most companies. However, offering incentivized reviews can lead to a slippery slope – and they come with a massive amount of red tape.

Is an incentivized review illegal?
The short answer is no. Incentivizing reviews is not illegal.
However, you must adhere to several rules and guidelines to ensure the way you solicit and share these reviews remains legal. The most important thing to remember is that you stay open about which reviews are incentivized.
Prior to 2016, you might have seen a standard disclaimer on Amazon saying something like, "I received this item at no charge in exchange for an honest review." That's a legal disclaimer for an incentivized review.
Some websites, like Lowes.com, have badges for incentivized product reviews.
Legal penalties
The best way to ensure an incentivized review follows Federal Trade Commission (FTC) guidelines is to remain transparent.
You must let incentivized reviewers know they have the freedom to leave honest feedback. While rewarding someone for providing negative reviews may seem counterproductive, attempting to influence customer feedback could result in legal repercussions.
FTC fines: Violating the FTC guidelines with bogus or inauthentic endorsements and testimonials can lead to significant fines. These penalties will vary depending on the severity of the violation. But generally, you face fines for offering money in exchange for positive reviews. And it could get even more costly if you're incentivizing reviews with conditions or failing to announce that a reviewer received an incentive.
Potential class-action lawsuits: In some cases, businesses offering incentives for reviews could face even steeper consequences. For example, without proper incentives disclosures, companies could face class-action lawsuits from customers or competitors. Just see what happened In 2022 when the FTC and several states sued Roomster for fake reviews and misrepresentation.
Reputation penalties
Even if you are honest about which reviewers receive incentives for sharing their customer experience, incentives can still backfire. Case in point, some consumers dislike the idea on principle. But Cornell University performed a social experiment to determine whether incentivized reviewers were naturally more likely to leave a positive review. And they were. This data suggests that maybe a review can't be incentivized and unbiased.
Regardless of your opinion on customers being swayed by incentives or not, it's still potentially suspicious when a company offers to pay or reward someone for rave reviews and feedback. And when consumers are already suspicious, your reputation hangs in the balance.
Loss of credibility: Incentivized reviews without proper disclosure, of course, can undermine overall consumer trust in the brand. For example, back In 2017, UrthBox had an F rating on the official Better Business Bureau website. The company's solution? Ask their paying customers to leave a positive review on the BBB website in exchange for a free snack box. Seems fair, and as luck would have it, It worked – that is, until they got caught. This infraction cost the Urthbox $100,000, and its average rating dropped abc down to an F.
Platform penalties: Online platforms, including giants like Amazon and Google, have strict policies against incentivized reviews. Violations can lead to account suspension, review removal, or even an altogether ban from the platform. Earlier this year, these two companies alone filed four lawsuits against fake review peddlers.
Diminished SEO rankings: Search engines can also penalize websites with a high volume of incentivized or fake reviews by lowering site search rankings. So misstepping with incentives and disclaimers could significantly impact how browsing customers find you online.
How are companies incentivizing reviews?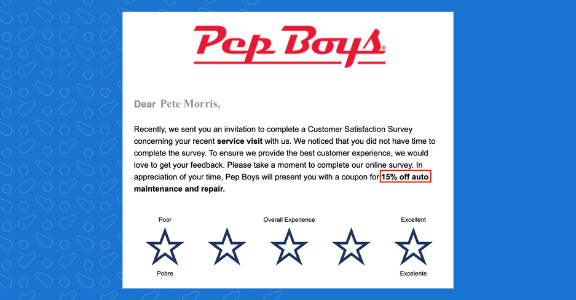 Once you're fairly confident in your ability to follow the strict guidelines that come with offering incentivized reviews, you can explore your incentivizing options. Check out these examples of how you can entice customers to provide feedback.
Offer a small discount: Dangle a small discount on a customer's next purchase in exchange for an honest review. It's critical to clearly state, however, that the discount is for any feedback, positive or negative.
Conduct a giveaway or contest: Organize a fun contest or giveaway for customers who can enter by submitting a review. Again, be sure to emphasize that the winner will be chosen at random, and the winners chosen will not be based on the content of the review.
Leverage loyalty programs: Reward enthusiastic members of your loyalty program with points or other benefits for leaving a review. This can help build a sense of community while encouraging honest feedback.

What should you avoid when incentivizing reviews?
More than 80% of consumers say that trust is a deciding factor for them when making a purchase from a brand. And those buyers who feel deceived or misled in any way can be unforgiving. If you are anything less than transparent while offering incentives in exchange for reviews, you will put your reputation at risk.
Avoid any potential negative blowback or scandal associated with incentivized reviews with these suggestions.
Always disclose incentives: If you offer any form of incentive for customer feedback or reviews, clearly disclose this information publicly and individually to customers. Acknowledge the review directly, too, to comply with FTC guidelines.
Emphasize honest feedback: Ensure customers understand that incentives are provided for their honest feedback, regardless of whether it's positive or negative.
Avoid paying for reviews: Refrain completely from directly paying customers with money. And avoid using third-party services that pay for reviews. Both can lead to severe penalties and potentially damage your brand's reputation. Last year, as an example, Amazon sued several fake review brokers doing business through Facebook.
Adhere to platform policies: Familiarize yourself with the specific policies of each review platform (e.g., Amazon and Google) and make sure your incentivization practices align with their guidelines. Many of these platforms do not allow incentivized reviews.
Focus on organic reviews: Prioritize building a strong reputation through exceptional customer service, high-quality products, and genuine customer engagement. This will naturally encourage more organic reviews.
Keep records: Maintain clear documentation of your review solicitation practices and any incentives offered to demonstrate compliance with regulations if needed. And use tools to help you track and manage the effectiveness of any incentives, consumer reviews, and star ratings you receive, like Google Analytics.
What is the difference between incentivized vs. fake vs. biased reviews?
Fake and biased reviews can get you in big trouble with the FTC, while incentivized reviews are usually above board. The best way to ensure you aren't creeping into unlawful territory is to know the definitions of incentivized, fake, and biased reviews.
Incentivized review
An incentivized review is when a company offers an incentive for an honest review, and that information is disclosed to both the reviewer and anyone reading the review.
Fake reviews
Fake reviews are reviews that do not accurately represent a customer's experience. If you pay someone to leave a positive review or ask someone to leave a positive review when they have no experience with your product or service, that's a fake review.
Biased reviews
Biased reviews are left by a business owner, employee, or family member – someone with a vested interest in seeing the company succeed.
How do you get authentic customer reviews?
Fake, biased, and incentivized feedback can never compete with authentic customer reviews. When real people are excited about your service or product, they'll refer a friend, promote you on social media, and defend your brand.
But how exactly do you convince customers to leave these stellar reviews? You do so by shining bright and following these tips and best practices.
Offer exceptional customer service: Provide outstanding customer service to delight your customers, leaving them more likely to share their positive experiences through reviews.
Request reviews via email: After a purchase or service interaction, send a follow-up email with a review request, politely asking for feedback and expressing gratitude for their time and input. A 2020 infographic shows that 70% of customers will leave a review if asked.
Make the review process easy: Simplify your company review process by providing clear instructions and direct links to review platforms. Convenience is key for inspiring customers to share their experiences.
Engage with existing reviews: Respond professionally and courteously to all reviews, always. And this applies to both positive and negative feedback. Doing so demonstrates your company's genuine appreciation for feedback efforts. And it also encourages others to leave their own reviews.
Leverage social media: Get active and engage with customers on social media platforms. Promote offers and be energized about sharing customer testimonials. This can prompt others to share their experiences and leave reviews.
Frequently asked questions about incentivized reviews
Can you incentivize Google reviews?
Google clearly states that incentivized reviews violate the fake engagement policy.  Offering any type of compensation in exchange for reviews is strictly prohibited. Allowing incentives would compromise the integrity and relevancy of reviews.
Does Amazon allow incentivized reviews?
Amazon no longer allows incentivized reviews. However, they offer a loophole through their review program, Amazon Vine. They also make an exception for books, as stated in the Kindle Direct Publishing guidelines.
Is it ethical to incentivize reviews?
Offering incentives is a mild and usually benign form of review manipulation. But because you cannot have incentivized reviews on popular platforms like Amazon and Google, unsolicited reviews will always be more valuable.
Get more organic reviews with Birdeye
Skip the risk and red tape involved with incentivized reviews and put your resources towards connecting with customers. Birdeye's all-in-one platform makes it easy to collect reviews, engage with customers, and track your company's reputation. Click the banner below to learn more today.

Originally published