Facebook remains a dominant platform for businesses to connect with their audience and promote themselves. One highly effective strategy that can significantly enhance your brand's visibility and engagement is by tagging a business on Facebook.
In this guide, we'll share step-by-step instructions on how to tag business on Facebook, and why it's such an important engagement tool to get more organic traffic to your page and reach out to potential customers.
Make Social Media Management Stress-free
Want to see the impact of Birdeye on your business? Watch the Free Demo Now.
Understanding Facebook tags
Before you scroll further to learn how to tag your business page, you must understand the logic behind tagging a business on Facebook.
Tags on Facebook are a way to mention or link to another user, page, or business in your posts.
Tags create clickable links, directing users to the tagged business's profile.
When used strategically, tags can foster business connections and interactions, driving organic growth.
Why tag a business on Facebook?
Business tagging on Facebook makes your organic content reach beyond your followers. As Facebook's algorithms keep on changing, it is hard to get the attention or reach you'd received earlier.
For local businesses especially, running ads is a luxury, so mostly, they rely on Facebook's organic reach to make their posts reach their audience.
When you tag your business in a post, it becomes visible not only to your followers but also to the broader audience of the tagged account. This cross-promotion strategy increases visibility, higher engagement and generates new followers.
The benefits of tagging a business on Facebook
In general, tagging a business on Facebook:
Boosts visibility to a wider audience for both the brand and the tagger
Encourages more online engagement and interactions.
Here are some other advantages of Facebook tagging a business.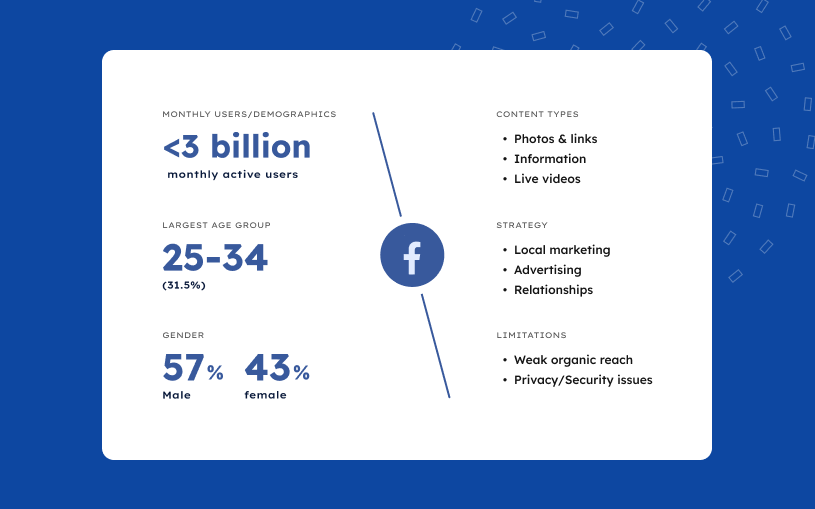 In general, tagging a business on Facebook provides a boost in visibility to a wider audience for both the brand and the tagger. It also encourages more online engagement and interactions. Here are some other advantages of Facebook tagging a business.
Drive more traffic to your business page
Tagging a brand increases exposure leading to more traffic because tags typically provide direct links to the company's Facebook business Page. 
Once new visitors arrive, marketers can work to hopefully inspire new buyers.
This boost in traffic naturally drives new inquiries via Facebook Messenger, giving you a golden opportunity to interact 1-on-1 and turn leads into customers.
Direct people who are already interested in your business
Business owners can also tag their businesses within replies to Facebook posts, routing prospects to their Facebook business Page.
For example, you might respond to a question from a Facebook group about local HVAC providers by tagging your own HVAC business in your reply.
The link to your business profile makes it easy for others to click and learn more about your services. But you can also provide other details with your tag, like services offered, hours, or instructions for appointment setting.
Discover new followers
As traffic to your Facebook business Page increases, so will your follower growth rate. The more followers your company has, the more people trust that you are a credible business and are likely to interact with your Facebook posts.
The snowball effect continues because more interactions translate to more leads and sales.
Additionally, having an ever-growing following on Facebook makes your company appear popular. This will likely attract more followers and prospects to check out your brand and offerings.

Generate more Facebook reviews
Generating massive traffic to Facebook pages is an easy way to generate more reviews. The more rave reviews your brand receives, the higher your conversion rates.
Show up on the business page
Once you tag a Facebook page in your post, your content appears on their page too. Tagging a business page helps associate your content with that specific Facebook user, creating a direct link between your post and the tagged page.
Anyone visiting the tagged page can see your post among the content.
How to tag a business on Facebook in 3 steps
Tagging a business on Facebook follows a slightly different script than tagging a person.
Before you can start tagging your business on Facebook, you need to have a dedicated business page. If you still need to set up a page, follow these steps:
Creating a taggable Facebook Business page
Step 1: Log in to your personal Facebook account.
Step 2: Click the "Create" dropdown menu and select "Page."
Step 3: Choose the "Business or Brand" option and follow the prompts to set up your page.
Step 4: Add relevant business details, profile picture, and cover photo.
Done! Your Facebook Page has been created! 
Tagging your business in posts
Use your personal or business account to start tagging Facebook pages. However, each has some rules worth noting:
Personal account: When logged in to your account, you can only tag your brand in comments, photos, and statuses. You won't be able to tag photos your business uploads using your personal profile.
Facebook business page: If you're logged in using your Facebook business account, you can add tags to your business photos and all other interactions.
Tagging your business in posts can significantly expand your content's reach. Here's how to do it:
Step 1: Click on the "What's on your mind" box. Create a new post or edit an existing one.
Step 2: Begin typing "@" followed by your business name. A drop-down menu will appear with suggestions.
Step 3: Select the business you want to tag from the dropdown menu. The business's name will turn into a clickable link.
Check this GIF below to tag a business in 7 seconds!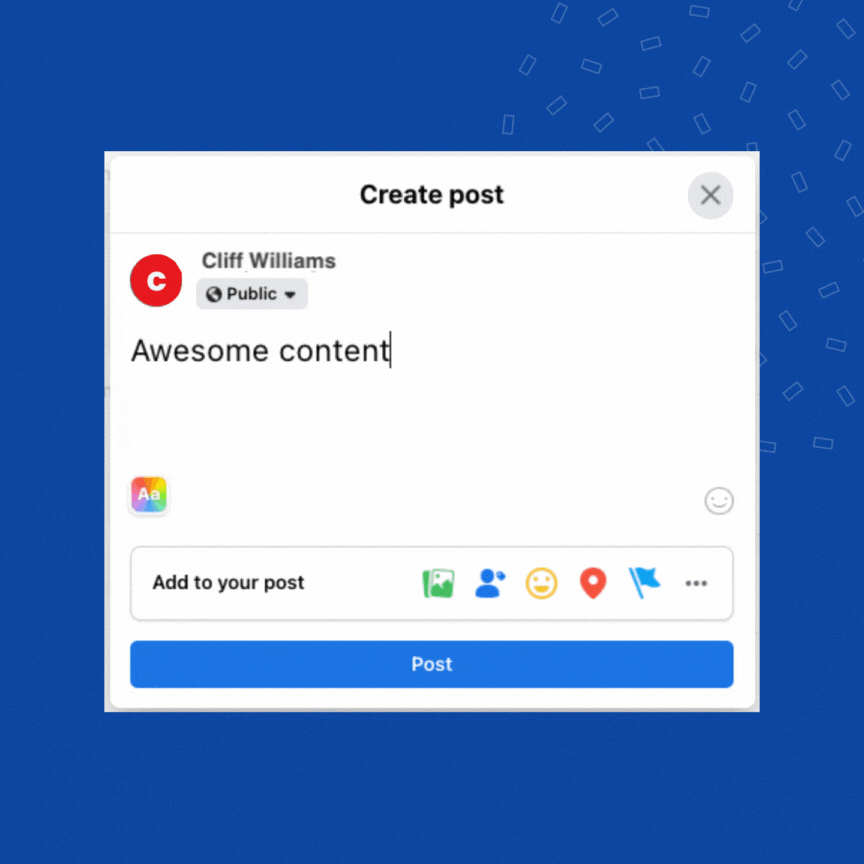 Tagging a Business in comments
Can you tag a business on Facebook in the comments? Yes! You can also tag your business in the comments to engage with other users' posts. Follow these steps:
Step 1: Type "@" and start typing your business name.
Step 2: Select your business from the suggestions that appear.
Tagging other businesses on Facebook collaboratively
Collaborative tagging can expand your reach even further. Here's how to tag other businesses:
Step 1: Create a post or find an existing one.
Step 2: Tag another business by typing "@" and their name.
The tagged business will receive a notification and can engage with your post.
How do you tag a business on Facebook via mobile?
When asking how do I tag my business page on Facebook through your mobile phone, here are helpful steps you should follow.
Step 1: Go to your Facebook app on your phone
Step 2: Tap on the "What's on your mind?" section. Create a post.
Step 3: Once you've created the post, tag a business on Facebook. Type the "@" symbol and the name of the business you'd like to tag.
Remember, some business entities by the same name may exist in other regions. You don't want to tag ABC Company in Utah if you're trying to tag ABC Company in Illinois.
Step 4: Tap the page's name once you have confirmed the business. The page name will likely appear in bold wording.
Step 5: Post your status – Navigate to the top right of the screen and click the Post button. 
Your post will now tag the Facebook page. 

Tagging on Facebook and indirect signals
When you tag people or a business account, you are indirectly sending the following signals:
Expand your brand's horizons – Sharing content beyond self-promotion helps position you as a thought leader in your industry. This can make your brand the first choice for potential customers needing the services and products you offer.
You are helpful to customers – Addressing customer questions and sharing relevant information means you are willing to help your customers overcome common obstacles. This consistent reliability can be used as a magnet to attract and retain followers to your business page.
You are trustworthy – Having your business tagged on Facebook signals to users that you are trustworthy and could encourage others to follow and interact with your brand. Social media provides a place to connect with peers and build relationships that can translate to powerful referrals.
Photo tags: How they work?
Tagging a photo is fairly straightforward, whether tagging your business or personal photos. Here's how photo tags work:
Find and select the image you want to tag.
Toward the top, you will find and click on the "Tag Photo" button.
Type the company name in the provided field.
Remember, you don't have to use the "@" symbol when tagging photos.
Select the correct business page from a selection of potential matches that will appear on the drop-down menu.
Click "Done Tagging" to officially post the tag.
How to tag a business on Facebook more simply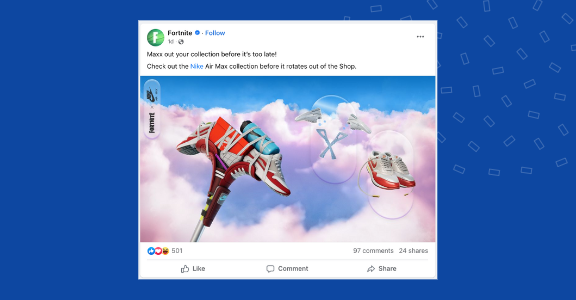 If you're looking for simpler ways to tag a business on Facebook, here are some quick tips to simplify the process:
Desktop vs. mobile app
If you are tagging a business on Facebook, using a desktop instead of the Facebook Page Manager app on your mobile devices is best. The platform on the desktop, with a larger screen, makes it easy to pick the right business to tag, preventing incorrect or wrong tagging. 
Use scheduling software
Scheduling software is a third-party application that simplifies the Facebook tagging process. These tools make it quick and convenient to complete the entire process. However, scheduling software comes at a price so make sure to check your budget before making a purchase.
Best practices for effective business tagging on Facebook
Only tag businesses when they don't mind
One of the main unwritten rules of tagging a business on Facebook is to only tag those who welcome the tags or, at the very least, don't mind being tagged.
Let them know before you post something, making sure it's acceptable to tag them. If you use the check-in feature on Facebook, remember to give them a heads-up, too. 
Using relevant tags
Ensure that the tags you use are relevant to the content and context.
Irrelevant tagging can be spammy and may lead to a negative perception.
Tagging influencers and partners
Collaborate with influencers or business partners by tagging them in your posts.
Foster relationships and expose your content to a wider audience.
Avoiding over-tagging
While tagging can be beneficial, over-tagging can dilute your message and irritate your audience.
Use tags judiciously and prioritize quality over quantity.
Now you're all ready to tag a business on Facebook post!
FAQs about how to tag a business on Facebook
How do you tag a business in a Facebook post?
To tag a business in a Facebook post, log into your Facebook account, draft the content, and @ mention and select the business page you wish to tag within the post.
Why can't I tag a business in a Facebook post?
If you can't tag a business in a Facebook post, you might have missed a step in the tagging process, entered the business name wrong, or forgot to finalize the posting step. Also, some businesses have restrictions about others tagging them, which might lead to your tagging trouble.
Can you tag a business from your Facebook page?
Yes, you can tag a business from your Facebook page by @ mentioning them in your status updates, replies, and comments. It's a good idea to only tag businesses with overlapping audiences and groups.
Leverage your social media marketing with Birdeye Social
Juggling numerous social media accounts across various platforms can be challenging. Discovering how to tag a business on Facebook is just one of the strategies to boost your business.
With Birdeye Social, you can manage all your social media networks from a single dashboard. Watch a free demo today and learn how our all-in-one platform can transform your communication with your customers.

Originally published