Are you curious about how people use social media? Are you trying to understand the impact it has on our lives? Social media statistics can provide valuable insights into these questions and more. From Facebook's total users to Twitter's average daily tweets, there are so many facts that help us better understand how we interact with social networks.
In this article, we'll take an in-depth look at over 100 of the most interesting and important social media stats. We'll explore key trends such as user demographics and advertising across platforms as well as share our first-party data to help you gain insights for your own social media marketing strategy. Let's get started.
Why social media is essential
Social media is more popular than ever, and billions of people use it to stay connected with friends and family and to get news and information. Here are some interesting social media stats to prove it:

Birdeye social media statistics
At Birdeye, we pride ourselves on providing the best possible reputation and customer experience service to our customers. Part of that responsibility means making sure that our products meet the highest standards. We recently surveyed our customers to better understand their social media needs. There were hundreds of participants, with company sizes ranging from small market businesses (SMB) to commercial and enterprise. Here are the results. Please note that for some participants, selecting multiple answers applied.
Managing social media activities
Who manages your social media activities will depend on the size and goals of your business. The person or group of people responsible for your company's social media accounts must be familiar with the platform's features and functions. They should also understand their audience, stay up to date on trends, and post engaging content that resonates with followers.
For multi-location businesses, our data tells us that about 81% of participants handle social media on the corporate level, 24% have employees at individual locations, and 20% work with marketing agencies.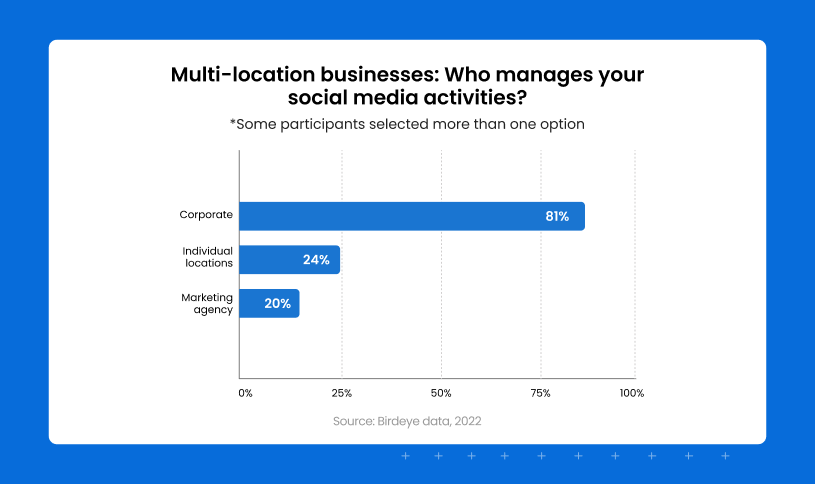 For single-location businesses, most manage social media in-house.
Content creators for multiple locations
The content that you post on your social media accounts says a lot about your brand and its values. You need to create content that is relevant, engaging, and visually appealing. That's why it's important that the person you choose to create your social media content is in tune with your goals and objectives.
Our survey found that:
79% of businesses get their social media content created and published by their corporate social media team, while
27% create content at the location level, and
22% take a hybrid approach by creating content at the corporate level that is then shared with each location.
By keeping control of social media content creation, a corporate team can make sure that messaging is on-brand, follows corporate guidelines, and is in line with the overall strategy across all locations.
Popular social media platforms
The social media platforms your company uses should be the ones that your target audience frequents the most. According to our survey:
87% consider Facebook either pretty important or mission critical, making it the top choice for our customers.
Instagram came in second place with 60%, followed by LinkedIn (43%), YouTube (36%), and Twitter (23%).
Choosing the right social media platforms for your business can make or break your marketing strategies. Each one offers a distinct user base and capabilities. It's essential to determine which option best aligns with your objectives. To help you take the guesswork out of the equation, here are some social media statistics from the most popular platforms.
Statistics about social media platforms
Facebook statistics
General stats
Demographic stats
Marketing stats
90% of social media marketers use Facebook to promote their business.
1.6 billion users are connected to small businesses on Facebook.
Facebook advertising revenue last year was $114.93 billion.
To learn how to attract more engagement for your Facebook posts, check out our blog post How to get more Facebook likes: 12 tips that really work.
Instagram statistics
General stats
Demographic stats
Instagram has over 670 million female users which is 56% of its overall users.
The majority of Instagram users (71%) fall within the age range of 18 to 24 years old.
Marketing stats
Need help getting verified on Instagram? Check out our blog post, How to get verified on Instagram with the blue check mark, to make it happen sooner than later.

YouTube statistics
General stats
Demographic stats
53.9% of YouTube users are male and 46.1% are female.
In the U.S., 81% of adults use YouTube.
YouTube is most popular with people between the ages of 25-34 (20.2%).
Marketing stats
Twitter statistics
General stats
Demographic stats
20% of U.S. adults use Twitter.
Twitter is popular with millennials — 38.5% of users are between the ages of 25 and 34, and 20.7% are aged 35 to 49.
More than 70% of Twitter users are male and 30% are female.
Marketing stats
TikTok statistics
General stats
Demographic stats
Marketing stats
Snapchat statistics
General stats
Demographic stats
Marketing stats
LinkedIn statistics
General stats
Demographic stats
Marketing stats
If you're looking to get your LinkedIn marketing off the ground faster, read our blog post LinkedIn marketing hacks to grow your business.
Pinterest statistics
General stats
Demographic stats
Over 75% of users on Pinterest are female.
Pinterest users 50-64 years old make up the largest age group on the platform (38%), followed by 30-49 (34%), and 18-29 (32%).
Marketing stats
FAQs about social media statistics
How effective are social media marketing statistics?
Social media marketing statistics can be an extremely effective resource for businesses. They provide insights into demographics, engagement rates, and more, giving businesses valuable information so they can create strategies that work.
What percent of the population uses social media?
Reports show that nearly 5 billion people use social media around the world as of January 2023. This equates to about 60% of the total global population.
How do you import social media statistics into Google sheets?
To import social media statistics into Google Sheets, they'll need to be in a CSV format. Open a new spreadsheet and select File -> Import. Under the 'Upload' tab, find the CSV file and click 'Open'. Finally, click the 'Import data button'.
What are 5 facts about social media?
1. People spend close to 2.5 hours on social media daily.
2. Nearly 270 million people used social media in the U.S. in 2022.
3. Social media is more popular with U.S. females than males.
4. There are 4.76 billion social media users worldwide.
5. As of January 2023, Facebook is the most used social media platform.
What are some negative statistics about social media?
Negative statistics about social media primarily deal with its impact on mental health and how it may affect children.
Bring your social networks together with Birdeye Social
Social media statistics can be an invaluable resource for understanding customer behaviors and creating effective strategies. With Birdeye Social you can bring all your social networks together like Facebook, Instagram, LinkedIn, YouTube, and Twitter so that you can easily track key social media metrics in one place. Watch our free demo and start connecting with followers today.


        

This blog post is part of our Social Media Management Guide 


      

           



Originally published