Did you know that 50% of businesses fail within the first five years? This means for business owners, advertising locally is essential to keep the doors open and reach the target audience in the local market. These ad campaigns are necessary to build brand awareness, generate leads, drive traffic to your physical location, and increase sales. In this blog post, we'll share 25 local advertising ideas to help you reach those goals.
What is local advertising?
Local advertising, also known as local marketing, is a type of marketing strategy that targets people in a specific geographical location, such as a city or town. The goal is to create anticipation and excitement about your product or service within the local community. It can be used to increase your business's online visibility, promote special offers and discounts, and generate leads for your business.
Here are some local ad strategies that can work for your business.
1. Google Ads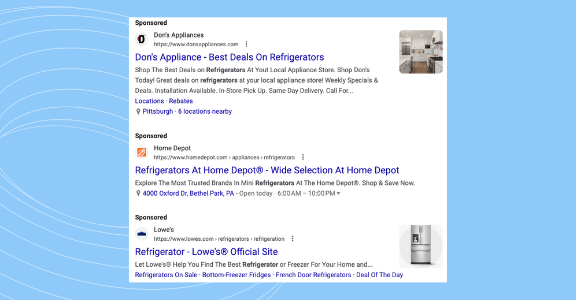 Google, arguably the world's most powerful search engine, created Google Ads, which lets you reach your target audience on websites they frequent or Google Search. This tool is dynamic and easy to use. It lets you set specific locations where you want the ad to appear so that you know you're reaching your target audience and making efficient use of your budget. For example, you can target customers within 10 or 15 miles of your shop's address.
Most small business owners hesitate to use Google Ads due to the cost implications. It's no secret that paid ads can be pricey, especially when you're just starting off. However, once you work through the growing pains, you can see a solid return on your investment (ROI).
To help, Google offers free advertising credits when you sign up. You can use the free credits to test your marketing strategies and observe if the ROI makes sense for your local business goals.
2. Claim and optimize Google My Business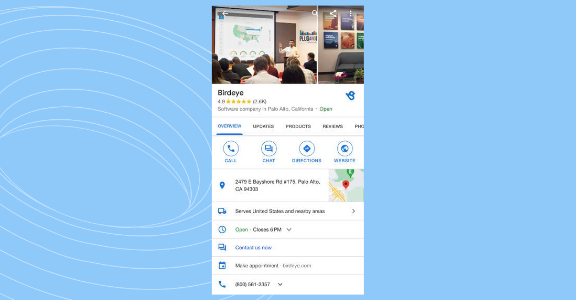 Google My Business (GMB), now known as Google Business Profile, is a free tool that lets you control how your business will appear on Google Search results. By creating and optimizing a GMB account, You can improve your local SEO rankings and strengthen your online reputation management. Additionally, with an optimized GMB profile, customers will be able to find information about your business, such as contact details, store hours, customer reviews, and more.
To fully optimize Google My Business:
Fill out all the necessary information like name, address, phone number, website, and business category.
Add images and videos showcasing your business, products, and services.
Include two or more key terms associated with your business in the description.
Professionally respond to all customer reviews.
3. Use social media to your advantage
Social media provides an effective and inexpensive way to reach local customers by creating quality content. The key with all social media channels is to post consistently. The more often you post, the more you'll learn what type of content your followers want to engage with.
Customers expect businesses to have a solid social media presence, as it builds trust and draws engagement. You can use numerous platforms to reach more clients. Let's look at some below.
4. Facebook Ads
Facebook has nearly 3 billion users globally. The large audience alone makes it a valuable marketing tool. Facebook Ads' costs will vary depending on the industry, target audience, and type of ad. In addition, the platform allows you to target specific people based on your location.
To effectively use Facebook Ads, you'll need to have precise goals. For instance, if you aim to drive more traffic to your website, the ad should contain a link to a landing page. If you want more email subscribers or social media followers, the ad should specify the actions viewers can take to join. Also, you'll want to include videos and attractive images in the ads, so they stand out from others.
5. Nextdoor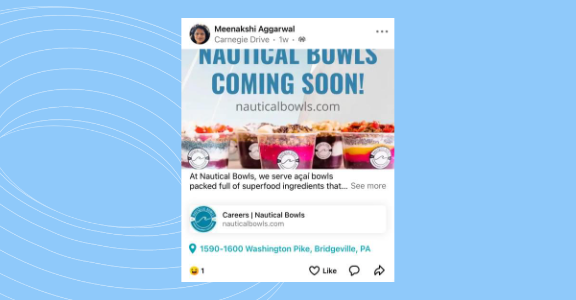 Nextdoor is a growing marketing platform you can use to enhance your presence in the local community. First, you'll need to open a free business page on the platform. This will let you share photos, business hours, contact information, and links to your website. You can also reply to messages sent by neighbors and more.
Immediately, you'll get recommendations, and you'll appear in neighborhood results, making the business discoverable to more people in your specific service area.
Nextdoor also offers paid ads that boost posts to the top of user's newsfeeds helping local businesses:
Increase website visits
Promote sales or discounts
And get more recommendations
You can adjust your ads depending on what you want to focus on and Nextdoor has templates to make it easy.
6. Geotagging on social media
Geotagging is an ideal way of attracting local customers by tagging your location on your social media content. Platforms like Facebook, Instagram, and Snapchat allow you to geotag your posts and then use hashtags to localize them. For example, if you run a donut shop in the Dallas area, geotagging your content and using the hashtag #DallasDonuts will help people find your post.
7. Connect and partner with local influencers
Influencer marketing isn't only for the top brands. Local businesses can join the action by working with influencers that are well-known in the local area. It's an ideal way of promoting your business to a local audience.
You'll need to do a bit of research on local influencers and check out their engagement rates before you reach out with an offer. Then create content together that'll help appeal to your target audience.
Make sure you provide the influencer with particular product or service highlights you want customers to know about. Once the post goes live, you can reshare it to enhance awareness and engagement.
8. Run a social media contest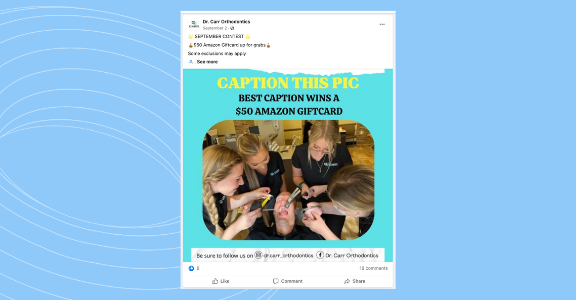 Social media contests can help by increasing your following and raising local awareness fast. To set up a social media contest, first, determine your prize. It can be a gift card, free service, or product. Then outline how people can join the contest and create a post to promote it.
Some contest ideas include tagging your business in pictures, following you, liking your posts, or tagging friends. Also, post pictures whenever someone wins a prize so your audience knows it's a legitimate contest.
9. Claim and create local business listings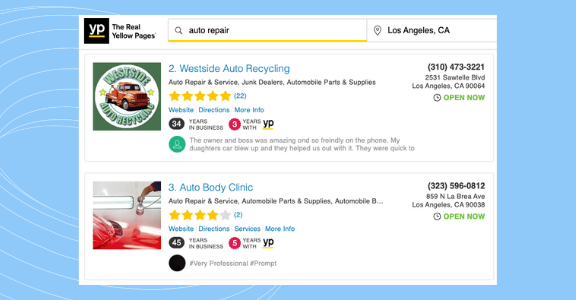 Studies show that Google searches for local places have increased by 150%. This is why it's critical for businesses to claim and create local business listings. Search engines use the information provided by listings to connect users with the best results for their queries.
Outside of GMB, you can sign up for other popular business listing management sites like Bing, Foursquare, and Yellow Pages. Make sure the information you provide is consistent and accurate on all your listings. Accurate and consistent information creates a positive user experience which can help with search engine rankings. Business listings are a  small business advertising must-have.
10. Generate customer reviews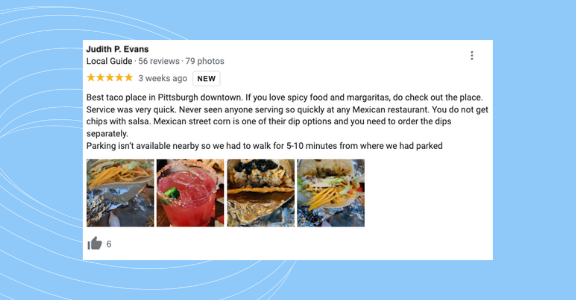 Reviews give your business that extra oomph in publicity – it's like having a team of cheerleaders hyping up potential customers. They can be the deciding factors for why a customer picks you instead of the competition.
Nearly 50% of people trust the reviews they read online, making it essential for businesses to actively manage their customer feedback. You can send emails, texts, and social media messages to ask your customers for reviews. Make it easy for them to leave a review by including short links to your preferred review sites.
11. Optimize your website
An attractive website will provide a positive user experience, making visitors stay longer to hopefully make a purchase. Your website should also be mobile-friendly since most consumers make purchasing decisions using their phones and mobile devices.
Check that your landing pages include keywords relevant to your business and local area as well as within your content and URLs. This will connect local customers with your website when they search for products or services similar to your offerings. You can also include trust badges like a logo showing you have Better Business Bureau accreditation.
12. Local SEO
In order for your content marketing to be effective, you need to incorporate Local SEO tactics. A good place to start is by creating relevant, compelling blog posts using keywords associated with your business. When you do your keyword research, a good strategy is to focus on keywords with low competition and high search volume. Be sure to also include your location in the meta description, headers, or the conclusions of your blog posts.
13. Post reviews on your website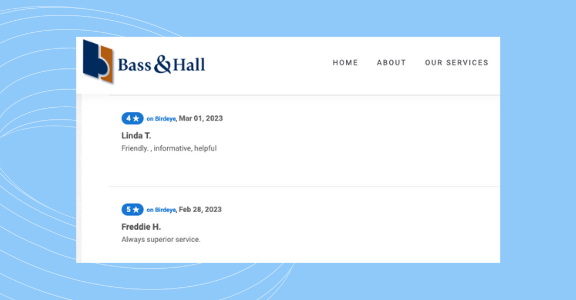 When people visit your website and see the products or services you offer, they'll likely want to know the experience of past customers. Posting reviews on your website instantly gives your visitors that information to help them with their purchase decisions. Even if they don't purchase right away, the reviews will give them confidence that they can trust your business and brand.
14. Create individual location pages
If you have a restaurant, auto shop, or other business with multiple locations, a good idea would be to create individual location pages on your website. Doing so helps local customers get information about services and products at their nearby location.
For example, if you have a pizza restaurant chain, you can create individual pages for each location that describes the menu items, delivery options, and coupons specifically associated with that location.
15. Start a locally-focus email campaign
Consumers follow brands and subscribe to mailing lists to get specialized offers. Because of this trend and the ability to have direct contact with potential customers, email marketing is a top advertising strategy for local businesses. To build a robust mailing list, ask your customers to sign up on your social media channels, website, and store.
Once you've built your list, customize the content so that it's local in nature and speaks to the people within your area. You can offer exclusive promotions and deals that are only available to subscribers in a specific location. This will encourage them to make purchases from your business, giving you an opportunity to increase sales.
16. Referrals program
An effective referral program will incentivize your customers to spread the positive word about your company to their families, friends, and colleagues. Your past customers essentially become "free" brand ambassadors. It's one method that can provide a good ROI without having to drain your budget. To get started with a referral program, you can offer discounts for each person a customer successfully refers to your business.
17. Attend and host local events
Most towns and cities have local events weekly, monthly, or yearly. Think of seasonal festivals and community farmers' markets. Research and attend events that potential customers frequent.
Use the opportunity to set up a booth and promote your services or products. You can even host some of these events on your premises, so people can interact directly with you and your team, along with seeing what you have to offer.
18. Join your local Chamber of Commerce
A Chamber of Commerce is a network that focuses on improving the growth of local businesses. Being a member allows you to interact with other local business owners, showing you are invested in the community. 59% of customers feel that joining the local Chamber of Commerce is a good business strategy.
19. Be a local sponsor
Sponsoring bus benches, children's sports leagues, or supporting a retirement home will make your business better known to locals. You can also sponsor festivals or town races and have your business logo visible on marketing material and merchandise. All these can help your advertising efforts and are typically affordable for businesses with smaller advertising budgets.
20. Volunteer within the community
Volunteering is an ideal way of raising brand awareness and promoting your brand's values. By volunteering, the local community sees that you are invested in the community, which may earn you new customers. You can volunteer to clean a park, work at a homeless shelter, or offer free services for veterans. Just make sure it's a cause you are truly passionate about.
21. Use direct mail
Mailing out flyers and menus to the people in your service area will help them learn more about your business and what you offer. Print out hundreds of copies and mail them out to all the houses within a 10-20 mile radius of your business. To make the flyers more effective, you can send them out whenever you have a discount or special event.
22. Print advertising
Even though digital advertising is dominant, it doesn't mean magazines and newspapers have been forgotten – they are still influential. Identify the newspapers and magazines locals read the most and advertise in them. Doing so will give you access to an audience that might not be reached through digital channels.
23. TV and radio ads (within local programming)
Adults in the U.S. spend over two hours watching TV and most listen to the radio on their way to and from work. So having ads on local TV and radio stations is a surefire way to reach more customers and boost sales. Also, cable providers are required to keep time slots available for local ads so your TV spot could run during big events like the Oscars. And with stream services now in the mix, spots can reach even more of your audience.
24. Billboards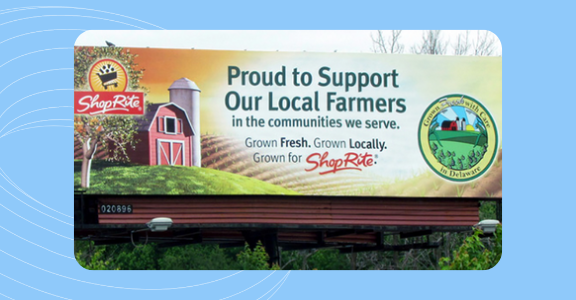 Setting up a billboard on a busy freeway or street will get you a lot of attention from local customers. However, most small business owners shy away from this option, fearing they are too costly when in actuality, they are reasonably priced. Search for a provider that meets your local and budget needs and weigh the pros and cons between digital and physical billboards.
25. Use your storefront display
You can maximize your storefront display by using it for advertising through digital signs. Digital signs, especially those with animated elements, are memorable and eye-catching. Plus, you can rotate through different offers because changing the messaging on a display sign is easy. For instance, you can use a digital display to advertise daily menu specials, discounts, or upcoming events.
Frequently asked questions about local advertising
What is an example of local advertising?
An example of local advertising is partnering with local influencers, using billboards, and handing out business flyers to people at your store or local events.
What is local advertising called?
Local advertising is also known as local marketing or community advertising. It's a strategy many local businesses employ to attract more customers and boost growth from an audience within physical proximity.
What is the best form of local advertising?
One of the most effective forms of local advertising is word-of-mouth marketing. You can ask existing customers to leave reviews online or tell their friends and family, which can help spread the word about your business.
Is local advertising free?
Some local advertising methods are free, including creating business listings, local SEO, and geotagging social media content. However, other ad methods will require a budget, such as Google Ads, TV and radio commercials, and direct mail.
Final thoughts on local advertising
Whether you have a small or large advertising budget, you can implement most of the small business advertising ideas we've listed in this article. Use a combination of different advertising strategies for faster results, and track them to see which works best. If you're a local business struggling to get more customers, then local advertising just might be your ticket to success.

Originally published