Are you a business looking to increase your visibility in your local market? If the answer is yes, you'll need an active and engaged presence on Nextdoor. This popular social media platform allows businesses to post updates, advertise special offers and deals, and generate Nextdoor reviews from local customers.
However, getting the most out of Nextdoor for your company does require some understanding and research. That's why we've put together this complete guide to Nextdoor reviews for companies.
What is Nextdoor?
Nextdoor is a private social media network that supports meaningful connections between neighbors within communities. When signing up for the app, users provide their physical home address and join a digital neighborhood to directly communicate and share information with their neighbors. This can include recommendations on services like plumbers and mechanics, keeping an eye out for lost pets, selling items in the classifieds section, and more. Nextdoor is an amazing opportunity for companies to build relationships with the members of a local community, promote products and services, and get valuable reviews from customers.
[Free Audio guide] The impact of reviews on SEO
Listen now
Nextdoor reviews matter
Also known as recommendations, Nextdoor reviews have become an important part of a company's online presence and reputation. Positive recommendations can boost your credibility on the platform, build trust with neighbors, and help you attract new customers.
Get recognized in your neighborhood
Nextdoor is hyper-local and was built to serve people within a specific digital neighborhood. This makes the platform unique because reviews and recommendations feel more personal. This personal touch helps build trust faster amongst users because they're coming from someone within their own community.
Be the best in your area
While a more local approach can help boost traffic to your company's website sooner, it also means that you must strive to be better than your neighborhood competition. Recommendations describing your top-notch customer service and excellent products will certainly help. Having high-quality reviews is essential to help set you apart from the competition.
More recommendations improve visibility
Nextdoor reviews are similar to those on other platforms. The more positive recommendations you can get, the higher your visibility will be on Nextdoor's news feeds. This means that potential customers are more likely to see your company and choose it over others in the area.
Getting more Nextdoor reviews
Knowing why Nextdoor reviews are important is only the first step. The next step is to generate those reviews. Here are a few tips that can help you start getting recommendations and how to keep them coming.
Create your Nextdoor Business Page
To create a Nextdoor Business Page, you'll need to create a business account. You'll be asked to fill in some business details, including the company name, address, and relevant business categories. After that, you'll be able to claim your Business Page. If Nextdoor already has your company listed in its directory, you'll be asked to claim it to avoid creating a duplicate listing.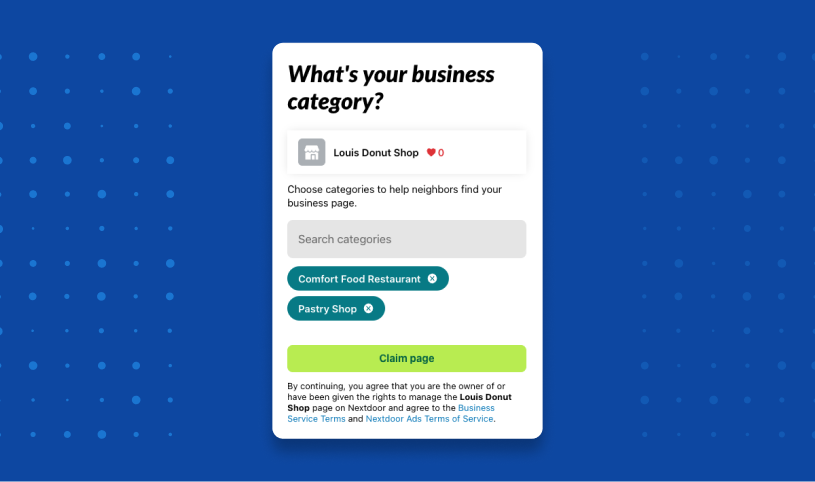 Business Page for multi-location companies
If you are a multi-location company, one business account can house up to 10 different locations. This will make it easier to manage multiple locations because you only need to sign into one account. Please note that each location will need to create or claim its own Business Page. This will let them collect recommendations unique to their branch. Now, when users perform a search for a product or service, the location nearest to them will appear on their feed.
Optimize your Nextdoor Business Page
Once your Business Page is active, you'll be able to optimize it by uploading images, adding contact information, and a description of your company. You can even add a contractor license number if it's appropriate for your situation. By taking the time to optimize your Business Page, you'll make your company easier to find on the platform and give yourself the best chance of having more potential customers find you.
Promote your Business Page
Once your Business Page is complete, start creating content that will attract new neighbors. This content will help you raise brand awareness and create a stronger presence on the platform. If you need help coming up with content ideas, start by offering discounts or promotions for your products and services This will persuade neighbors to give you a chance and get to know your company.
Ask for recommendations
Having your Business Page up and running is a good start, but collecting recommendations is what will separate your company from others in the neighborhood. A good way to get recommendations is to create a post asking neighbors to write a recommendation about your company. Some other ideas include:
Post a link to your Nextdoor Business Page on your website. If people are taking the time to visit your website, maybe they'll take some time to write you a recommendation. Utilizing online review management platform can help you track and manage these recommendations efficiently.
Share your Nextdoor link on your other social media channels. Chances are you've already built up followers on those platforms, which means you can reach a larger audience sooner.
If you have a mailing list, send out an email promoting your company and asking for recommendations. Be sure to include a link in the call-to-action of your messaging and again in the signature line of the email. You can also create an email campaign specifically asking for recommendations.
During local events, post QR codes that link back to your Business Page on your booth or table and any marketing materials you hand out. This will make it easier for neighbors to post a recommendation.
Whichever method you decide on, having frequent, positive reviews will help you stand out in the neighborhood and give potential customers a good idea of the experience they can expect with your products and services.
Nextdoor business feature
While Nextdoor reviews and recommendations are the most important feature for promoting your company, the platform also offers a business feature to help you get noticed faster within your neighborhood.
Nextdoor Ads
If you have room in your marketing budget and need some help generating buzz, Nextdoor Ads are an easy way to target customers in your area. To get started, you'll need to:
Set your goal – Are you trying to improve traffic to your website? Promote a current or upcoming sale? Or, are you looking for neighbors to reach out directly? Take some time to think about what you are trying to accomplish with your ad so that you get the most return on your investment.
Create your ad – Start creating your ad by setting your headline, adding a photo, selecting your call-to-action button, and adding your website URL. You'll have the option to preview your ad to see if you're happy with what you created.
Select your audience – You can do this by setting your radius or adding specific zip codes. Targeting specific areas can help reach your desired audience and get the best value from your ad.
Set your daily budget – Setting a daily budget for your ads will help track spending and make sure you don't go over budget. At any point, you can increase or decrease daily spending or pause the ad to save on costs.
Publish your ad – After adding the payment method, you'll be able to publish the ad. You'll also have the ability to track how well it's performing so that you can make any necessary changes in the future.
Once your ads are live, neighbors will be able to see them as a full post in their newsfeed, on the right hand rail of the newsfeed section if you're on a desktop, and in the "For Sale" section of the site.
FAQs about Nextdoor reviews and recommendations
Can you have a business account on Nextdoor?
Yes, business accounts on Nextdoor make it easy for companies to connect with their local customers, post updates and promotions, share referrals and recommendations, and much more.
Is a business account on Nextdoor free?
Yes, Nextdoor Business Pages are free to create or claim. However, advertising on the platform to promote a product or service will cost you.
How do you ask for reviews on Nextdoor?
A good way to ask for Nextdoor reviews is to create posts asking neighbors to leave their recommendations on your Nextdoor Business Page. You can also share a link back to your Business Page on your other social networks, website, and emails.
How do I remove negative Nextdoor reviews?
If you see a negative review about your company on Nextdoor, you can reply directly to the reviewer to try and resolve the issue. You can also flag the review for removal if it violates Nextdoor's guidelines.
Is Nextdoor safe to use?
Yes, Nextdoor has privacy and security measures in place to protect all users. They also have community guidelines that all business profiles must follow to ensure a safe and secure experience.
How do you leave a review on Nextdoor?
First, create an account or log into an existing one. Next, go to the business page you'd like to leave a review for and click the "Write your recommendation" button. Then begin writing your review.
What is a Nextdoor app review?
A Nextdoor app review is the same as a review left on the website. It's just that in this case, it was left via the mobile app instead.
How do you become a community reviewer on Nextdoor?
To be a community reviewer, you'll need to have an active account and a completed profile. You'll also need to identify yourself as a local expert and start engaging with other users.
How do you see all Nextdoor reviews?
You can see all Nextdoor reviews on a business page by scrolling to the bottom of the recommendations and clicking the "See more recommendations" button. This will list all reviews in a single feed.
Manage all your customer reviews with Birdeye
Generating and collecting customer reviews is vital to a company's growth. However, managing reviews from multiple review sites comes with many challenges. Birdeye Reviews integrates with over 200 review sites and notifies you when new reviews come in. Sign up for our free demo and learn more.

Originally published