93% of customers find local businesses online. So it's not just important that your business take advantage of online marketing strategies — it's imperative.
With a solid online marketing strategy, you'll be better able to connect with potential customers in your area and generate more leads for your business, no matter its size.
In this blog post, we'll share some quick and easy ways to get started with local online marketing as well as the benefits your businesses can expect.
What is local online marketing?
Local online marketing is a set of tactics that help advertise your services and products to local customers on the internet. It's a marketing strategy that focuses on things like optimizing your website and social media channels for local search along with generating customer reviews.
Why is local online marketing important?
The local business landscape is highly competitive. Companies are continuously battling for new local customers and repeat business. It's vital for your business to do everything possible to be successful in your local area. This is especially important for businesses in areas with smaller populations.
Benefits of local online marketing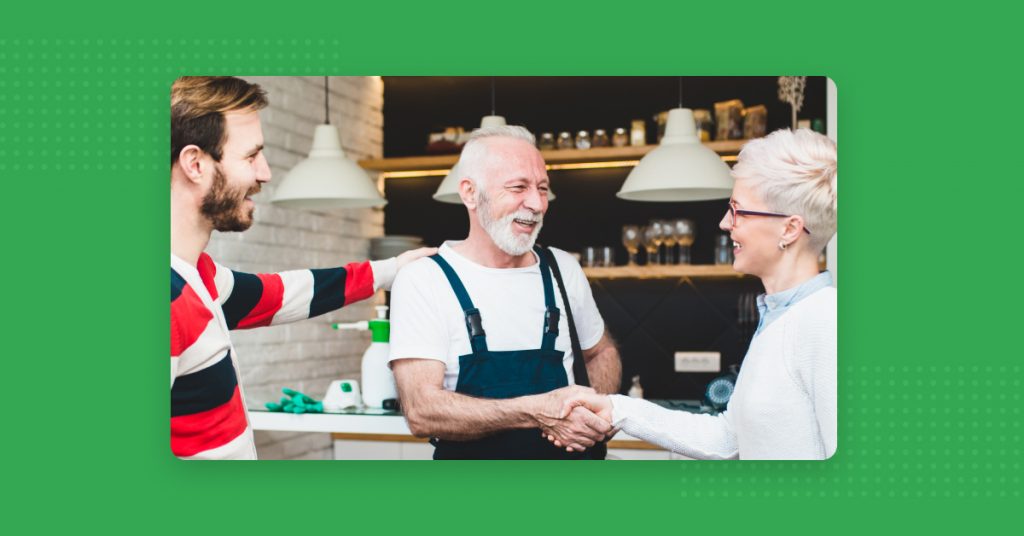 By having a local online marketing strategy in place, you make it easy for customers to find your business.
Local online marketing can also help your business:
Improve SEO ranking – Tailoring your marketing assets for a local audience means your business can rank higher in popular search engines like Google and Bing.
Increase quality leads – By only targeting customers in your service area, you can save time and increase your number of quality leads.
Gain a competitive advantage – Many businesses have not yet recognized the benefits of local online marketing – which means your business's online presence can outshine your competitors.
Save your budget –Direct mail campaigns require postage and printing fees with no guarantee that local customers will take any action. Local online marketing is much more affordable for smaller businesses.
Track and measure metrics – The majority of online marketing tactics can be tracked and measured, which means you can see if your strategy is paying off.
Tips on how to get started with local online marketing
Online marketing can be intimidating, especially if you're not sure where to start. Fortunately, there are several easy steps you can take to help make the most of your local online marketing efforts.
1. Website optimization
First, take a close look at your business's website. Make sure it's optimized for local search. You can do this by including your city and state in the content title and description. Also, create web pages with content that's relevant to local customers. And make sure to include keywords in that content as those terms are what's commonly used in searches.
For example, if you own a coffee shop, add keywords like "cappuccino" and "latte" in your content. Search engines will then be able to match your business with relevant local searches.
Another suggestion would be to optimize your website for speed and mobile devices. In fact, 88% of customers that find local businesses using a mobile device call or visit the business within 24 hours. Making these adjustments tell search engines exactly what service your business provides and the area you serve.
2. Claim your business listings
By claiming your listings on popular directories like Google Business Profile, Yahoo!, and Bing, you'll make sure your business shows up in local search results. When creating your listing, make sure all your business details (name, address, phone number, etc.) are accurate and up-to-date to avoid damaging your online reputation.
3. Paid listing ads
Listing your business on local directories is free, but it doesn't guarantee your business will be listed among the top entries. If you have the budget, investing in paid listing ads is another great way to get your business seen online.
By paying, you can push your business to the top of search engine results when people are looking for products or services in your area. Unlike a pay-per-click ad, paid listing services like Google Local Service Ads only charge you when prospects contact you directly through your listing. This can help lower your marketing costs and give you the opportunity to reinvest your savings into other areas of your business.
4. Manage your reviews
Online reviews give customers a snapshot of how your business operates and engages with customers. It's important to properly manage your reviews because search engines use them to determine your credibility and ranking position. Here are a few pointers to help you manage your business reviews:
Ask for reviews: It's important to encourage customers to leave reviews after every transaction or interaction. Make it easy for them to leave reviews by posting links on your website and social media pages. You can also include review forms in customer communications like email newsletters and receipts.
Respond to all reviews: Show customers you value their feedback by responding to all reviews, both good and not-so-good. Thank customers for their positive feedback and address any concerns raised in negative reviews as soon as possible.
Monitor your review sites: Keep an eye on websites where customers are leaving reviews about your business. You can highlight those comments on your business site or social media for an added boost of social proof. This is a sure-fire way to increase traffic to your website as well as gain more positive reviews.
5. Social media localization
Use social media to your advantage. It's a free marketing tool with nearly four billion active users. Create your business accounts on platforms like Facebook, Twitter, and Instagram. Be sure to post regularly about events and promotions happening at your business. Also, use relevant hashtags to help people in your area easily find your posts.
6. Create local content
Creating online content is an excellent tool for driving traffic to your website. The more visitors you attract, the higher chance you have of converting them into solid leads. By curating your content for a local audience, you make sure you're attracting people who are actually interested in your products or services.
Here are a few tips on how to create local content:
Write about local events that are relevant to your business.
Share blog posts that focus on local topics.
Create videos that highlight your local area.
Use social media to share content and connect with potential customers in your area.
Frequently asked questions about local online marketing
What is local SEO?
Local SEO refers to the process of optimizing a local business's website for higher visibility on search engines. It involves optimizing a website's title tags, meta descriptions, h1 tags, and other elements that influence organic search engine rankings.
How do I track my marketing activities?
One way you can track marketing activity is by setting up measurable goals. You can use a tool like Google Analytics to track customer behavior such as making a purchase or signing up for a newsletter.
What are keywords?
Keywords are the terms and phrases that people use when they search for businesses like yours online. It's a powerful tool for driving traffic to your website. Focus on using a few well-chosen keywords throughout your website. By using keywords thoughtfully, you can help improve your business's local SEO efforts.
Create a winning reputation with Birdeye Reviews
Getting new reviews and managing your online reputation is hard — so Birdeye makes it easy. From one platform, you can track, manage, respond, and even market your reviews to stand out online and attract more customers. Watch our on-demand masterclass webinar to gain knowledge from industry experts on how to turn your reviews into revenue.

Originally published