If you're looking for an effective way to market your business, online business reviews could be the answer. As a business owner, you already know reviews can help make or break your business – especially when it comes to attracting new customers.
Getting started with online reviews can be challenging, but don't worry – we're here to help. In this blog post, we'll outline some tips for getting started with online business reviews and provide examples so you can see the benefits for yourself.
What are online business reviews?
These days, online business reviews are everywhere. You can find them on review websites, social media, and online directories.
Customers can use reviews to share their experiences with a particular business. This can include anything from the quality of the product to the level of customer service.
Unlike traditional advertising, online reviews can't be controlled by brands or businesses. They can provide potential customers with an unbiased perspective on a company. Most customers look at a business's online reviews before committing to a decision.
Why positive reviews matter for your business
Customers place a lot of trust in online reviews. In fact, nearly 50% of consumers say online reviews are just as useful as personal recommendations.
Positive reviews also give your business credibility and higher online visibility. They can show potential customers that your business is reliable and that others have enjoyed your products or services. Good online reviews will help your business attract new customers and retain current ones.
Positive reviews work
Getting positive reviews can increase your revenue and help improve the customer experience – but the benefits don't stop there. Here are a few other reasons why positive reviews can leave a positive impact on your business.
Top of search engine results
Businesses with positive customer reviews are more likely to rank higher on search engines than those without. The higher your business can rank on search engines, the more likely customers will find you.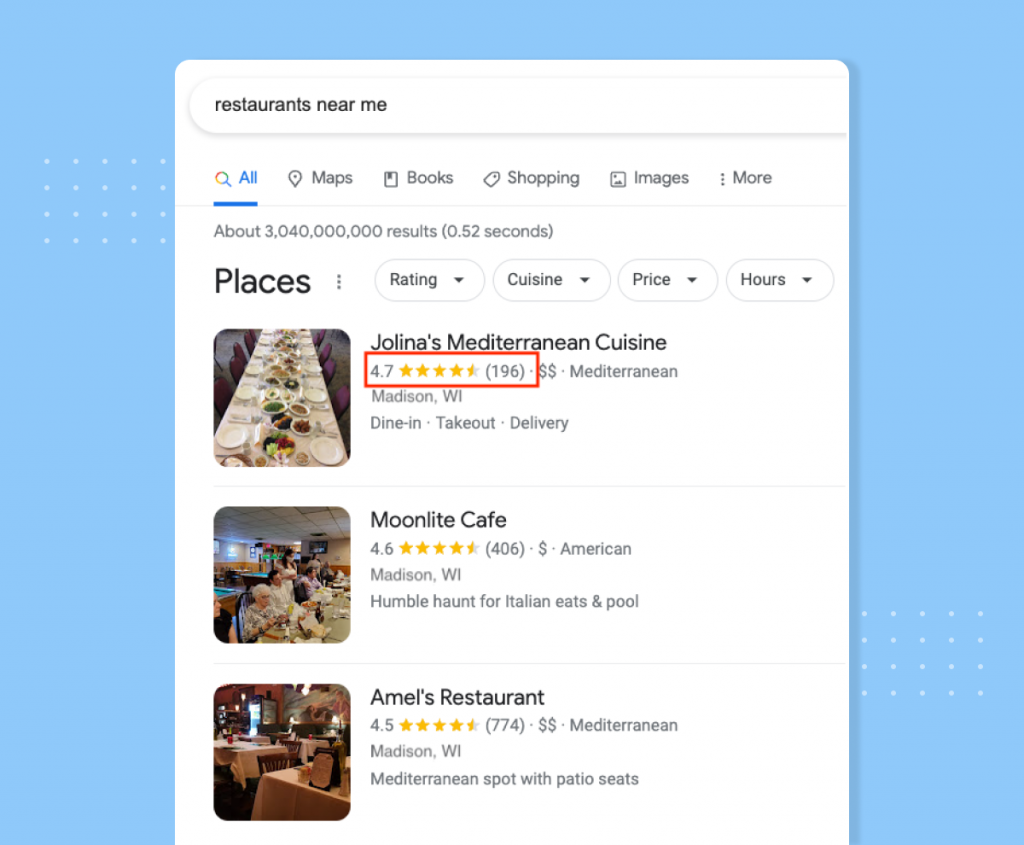 Social Proof
Positive online reviews can serve as social proof and encourage potential customers to make a purchase. Potential customers are more likely to buy a product or service if they see that others are happy with their purchase.
Beat out the competition
Positive reviews can act as a differentiator and help you stand out among your competitors. If two businesses are selling similar products, potential customers are more likely to choose the one with more positive reviews.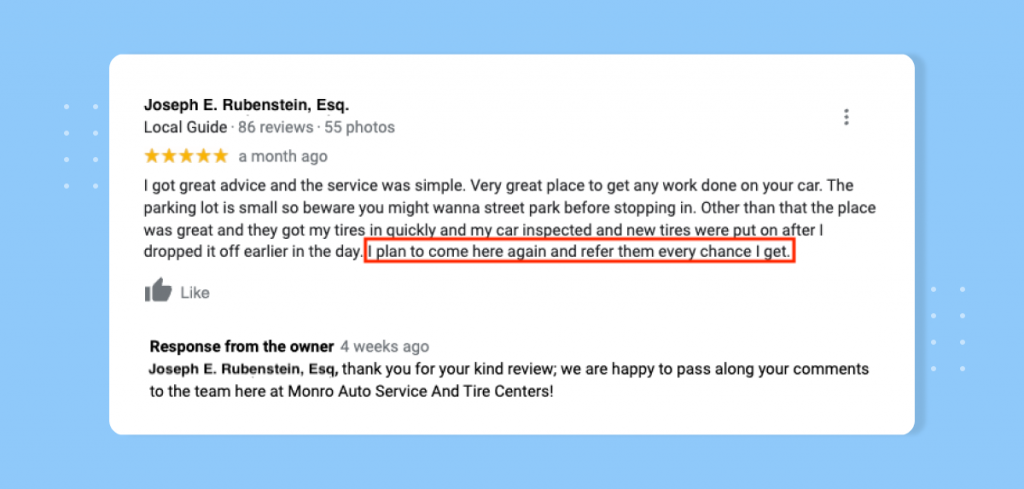 Negative reviews serve a purpose
I know this might seem counter-productive, but negative reviews can actually help give your business more credibility. For instance, let's say you come across a business that has a five-star rating and every review is a glowing recommendation. This might come off as too good to be true or even fake. Having the occasional not-so-good feedback shows customers that they can trust your reviews to be a reliable, unbias source of information about your products and services.
Getting started with online business reviews
Understanding how online reviews can impact your business is only half the battle. Consistently generating those reviews is a challenge many businesses struggle with. Here are a few tips on how you get started:
Create a Google Business Profile – Google is the most popular search engine in the world, so it makes sense for your business to create a Google Business Profile. It's a free and easy way to create a business listing and start receiving and responding to customer reviews. It also lets customers find your business easier when they search for it online.
Use online review sites – Google isn't the only review website out there. In fact, there are hundreds of them. Some are general in nature and some are industry-specific. Hone in on the ones that make the most sense for your business and create your profile. Be sure to list your business details accurately so there is no confusion.
Ask for reviews – Once you've selected your review sites, it's time to start generating reviews. A great place to start is to simply ask your customers. Get in the habit of requesting reviews from customers after every transaction and engagement.
Easy access – If you're asking customers to help your business by writing a review, be sure to make it easy for them. Provide links to your review sites in social media posts, emails, and text messages. Post QR codes at the register and on receipts so that no stone is left unturned.
Use your online business reviews to your advantage
If you're taking the time to collect reviews, make sure you're using them to their full potential. Here are a few ways your business can leverage customer reviews.
Lead generation – Since reviews are primarily controlled by customers, they serve as neutral content aimed at informing instead of persuading. This goes a long way in generating more quality leads.
Brand awareness – Positive reviews are a great way to increase your brand awareness and help make sure you're top of mind when customers need those services.
Marketing assets – Promote your business by sharing positive reviews on your social media channels and website.
Data collection – Reviews are full of data. Whether it's customer demographics or product insights, this first-hand information can help your business discover new trends for continued growth.
Most popular online business review sites
It's important to make sure your business is listed on established business review sites so potential customers can find you and see what others have had to say. Here are some of the more well-known review websites for you to consider.
Google
As we mentioned earlier, there are tremendous benefits to creating a Google Business Profile. Giving customers the ability to review your business on Google will improve click-through rates which will help increase traffic to your website. Plus, your Google Business Profile will automatically list your business on Google Maps.
Facebook
Facebook is more than just a social media platform – it's also a popular destination for customers to review and recommend businesses. And with almost three billion active users, even a small number of Facebook reviews can have a big impact on your business's online reputation.
Bing
Bing is everyone's second favorite search engine. And while Google still dominates in popularity, about 66 million people are turning to Bing instead. Therefore, it's important that businesses don't exclude Bing from their customer review strategy.
Amazon
Amazon is the largest eCommerce website in the world. If you're selling products online, it's likely you're using Amazon to do it. Amazon customers can rate and review the products they purchase. These reviews are then displayed on product listings for other potential customers to see.
Foursquare
Foursquare is a location-based social network that allows users to rate and review businesses. It's most commonly used to rate restaurants, but can be used for any type of business. Customers can leave detailed reviews, photos, and tips about their experience.
Frequently asked questions about online business reviews
Are online review websites free?
Yes, the majority of review sites are free. There are a few sites that do charge, but they typically offer a free version with limited options. 
Should businesses respond to negative reviews?
Yes, you should always respond to negative reviews. Responding to negative reviews shows customers you care about their concerns. Plus, you can get ahead of any issues that might comprise your business's reputation. Check out our article on how to respond to negative reviews.
Attract more customers with Birdeye Reviews
Generating and managing online reviews can require a lot of your time and attention. With Birdeye Reviews, you can funnel all of your reviews into one, easy-to-use platform and get time back to run your business. Watch our free demo and start turning your online reviews into steady revenue today.

Originally published