It takes planning to stay relevant on one of today's most popular social media platforms, Instagram. To make a notable impact, you must schedule Instagram posts, especially if you're trying to keep your customers engaged.
That's because your customers consistently expect fresh, informative, and interesting posts from you.
This may seem challenging, especially if you have little to no experience with publishing and scheduling Instagram posts. That's why we've compiled this handy in-depth guide to help you with one of Instagram's most beneficial features.
Scale your social media for all locations with powerful tools
Want to see the impact of Birdeye on your business? Watch the Free Demo Now.
5 Benefits of scheduling posts
Instagram is a powerful social media channel, especially for businesses that want to connect with younger and savvier consumers. A well-crafted Instagram post can elevate a brand, drive sales, and increase customer engagement.
Wondering how scheduling Instagram posts can help your business? Here are some ways Instagram posts can help you:
Plan out your content in advance and post real-time updates on time.
Establishes consistency across your social media platform
Reach your business goals faster
Better customer service through consistent posting
Here are the top five tangible benefits you should know:
1. Saves time
As a business owner, you're involved in many areas of your business. You don't need more work than necessary to ensure the smooth functioning of your organization.
Unless you've hired a social media manager, posting on Instagram regularly will consume much of your valuable time. Setting time aside to craft these before you schedule Instagram posts is the trick.
However, if you schedule Instagram posts, you'll have more time to focus better on other aspects of your business. More importantly, you won't haphazardly rush out a badly-worded Instagram post at the last minute, negatively impacting your brand.
2. Eliminates uncertainties on what to post and how
Your customers want to see an active Instagram account, or they'll either lose interest in your brand or stop following you altogether. You want to avoid these two scenarios, so you must get good at scheduling Instagram posts consistently.
All the best Instagram marketing teams create their posts in batches about two weeks ahead of schedule. Then, they keep their audiences returning for more by consistently treating them to winning Instagram content.
If you can still manage to do all that, you'll wow your audience and keep them hanging on every enticing Instagram post.
3. Easier decision-making, goal setting, and better productivity
Impactful social media marketing means writing powerful and engaging captions. You have to hook your customers immediately, or your posts will languish in social media obscurity. It is pretty easy to write appealing captions.
Always aim for memorable, witty, or thought-provoking posts that fit right in with your brand. But whatever you do, make sure posts are not offensive and in bad taste.
4. Create a visual story using the Instagram grid
Instagram marketing is about making the most of the channel's visual appeal. Skilled social media marketing maestros are wizards at designing and creating layouts in the Instagram grid. They know how to work magic and use Instagram as a persuasive storytelling medium.
Arrange your Instagram grid layout to tell a cohesive and engaging visual story. Once again, ensure that your color choices, photos, videos, and memes reflect your brand positively. Moreover, new visitors should immediately grasp what your business does from glancing at your grid.
5. Predictable routine for lessening mistakes
Make your content calendar a heavy-hitting tool to elevate your Instagram scheduling regimen. Your content calendar can perfectly balance showcasing your product and providing interesting and entertaining Instagram content. Most importantly, use it to schedule posts for company events, holidays, and other special occasions that interest your audience.
How to schedule posts natively using the Instagram app?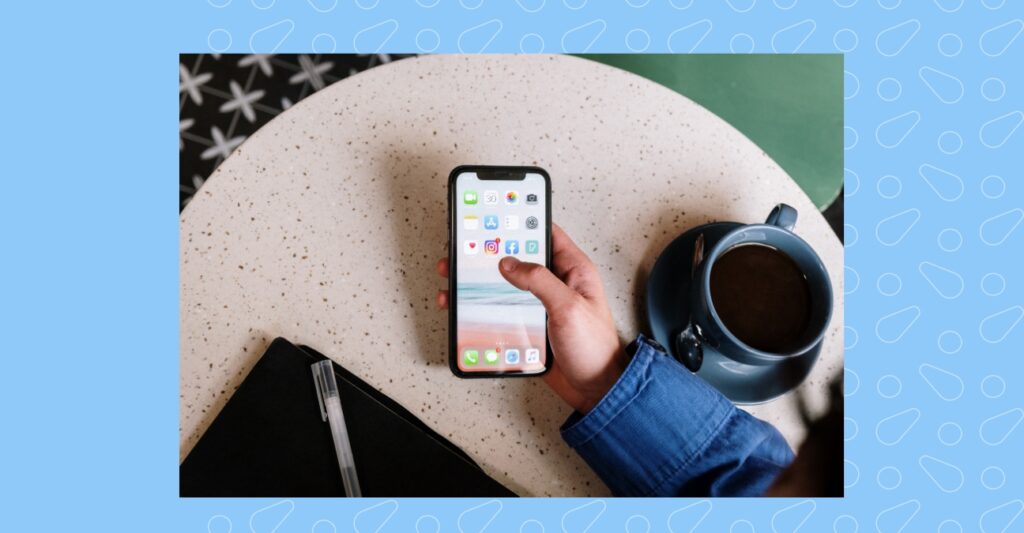 The Instagram app is a handy pocket tool, especially if you schedule Instagram posts. But you'll need a professional or Business Account to use this nifty Instagram scheduling feature. To schedule Instagram posts using the app, follow these steps:
To create a new post, open the Instagram app and tap on the "+" icon.
Pick an appealing photo or entertaining video, and add a caption or filter.
Then, tap the arrow button on Android or "Next" on iOS.
Choose "Advanced settings" and then "Schedule."
Set the time and date for unleashing your post to the world. Then tap "Done."
Tap the back button to post-edit your post, then tap "Schedule." Bravo! You have now used Instagram scheduling within the app.
To peek at your scheduled posts, tap the "Menu" icon and then tap "Scheduled content."
How to begin scheduling Instagram posts with Meta Business Suite?
Meta Business Suite combines Creator Studio's most powerful tools. That makes Meta Business Suite your go-to platform to help you elevate your Instagram and Facebook game.
To schedule Instagram posts using Meta Business Suite, follow these steps:
Log into Facebook.
Look for the menu options on the left side of the screen. Once you find it, click "Meta Business Suite."
Choose "Create Post."
Then click on the window displaying "New Post." Under "Placements," choose "Instagram as a platform." Now you can drag and drop up to ten videos and photos.
Prepare your caption.
Now add those all-important hashtags and mentions.
Schedule your post.
You'll see a down arrow next to the "Publish" button. Click that arrow.
Click "Schedule Post."
A menu with scheduling options will appear. Set the time and date you wish to unveil your posts, then click "Save."
Review your scheduled posts.
Check under "Posts" and "Stories" in the sidebar to the left of your screen.
How to Schedule Instagram posts using Facebook Creator Studio?
Don't forget you'll want to connect to your Instagram Business Account again. You can do it right from the Facebook Creator Studio dashboard. To schedule Instagram posts, follow these steps:
Click "Create Post."
Within Facebook Creator Studio, click "Instagram Feed." You must choose one if you have more than one Instagram account.
Create your caption.
Write a compelling caption and add hashtags and mentions.
Click "Add Content."
Choose high-resolution images or videos to schedule. If you decide on static images, you can upload them from your PC or add them from your Facebook page.
Add a tag.
Tag the accounts you wish to include in your post, then click "Save."
Click "Publish."
This will let you share your post instantaneously. If you wish to schedule your post, click the arrow next to "Publish" and choose "Schedule."
Set the time and date.
After you choose a time and date for your post to go live, click "Schedule."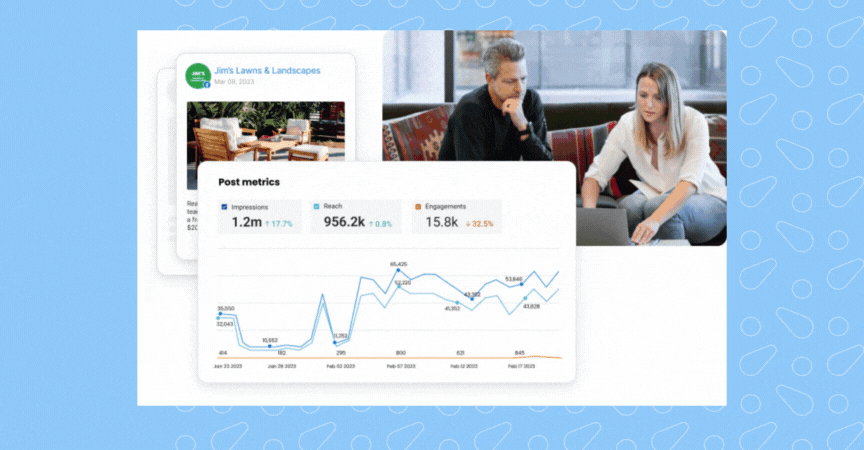 How to schedule posts using an Instagram post scheduler like Birdeye Social?
If you're wondering how to schedule posts using an Instagram post scheduler, there's an easy way: using Birdeye Social.
With Birdeye Social, you can publish, monitor, and report for all brands and locations across Facebook, Instagram, LinkedIn, Youtube, Twitter, and Google.
What's great about it is that you can schedule multiple posts across accounts and networks simultaneously and track them all through an intuitive visual calendar — filtering by date, status, channel, location, and region.
Instagram scheduling best practices
When you schedule Instagram posts intending to engage your customers, you need to follow best practices. Include the best practices below in your Instagram post and content strategy.
1. Post during optimal times
After analyzing over 11 million posts, the team at Later discovered that 8 am is the optimal time to post on Instagram. However, that's an aggregate based on a large pool of data, which may not suit your business. Track all the times you publish posts, and use a spreadsheet if necessary.
Analyze the performance of these posts to pinpoint the best times to post.
2. Use the most relevant hashtags for your Instagram post
Ideally, add 20 hashtags per post to enhance your average reach rate. You may also increase that to 30 hashtags to boost your engagement rate. Always aim for the maximum number of hashtags that Instagram allows.
3. Moreover, ensure the relevance of these hashtags to your post
For example, if you're posting about fish tanks, add hashtags related to the category, such as common varieties of fish for the tank, aquarium size, caring for your fish, and so on. Consider adding trending hashtags if they'll work with your product line for greater reach.
4. Engage with your followers regularly
It's smart to schedule Instagram posts and automate the entire process. But it's never advised to take a hands-off approach when engaging with customers.
They expect to have their questions about various aspects of your business, products, and services answered almost instantaneously.
The better you respond to comments and direct messages, the more loyal and satisfied your customers will become.
5. Add SEO keywords to boost the performance of your posts
You should add SEO keywords to increase your posts' audience reach potential. Instagram now features better search functionality on the Explore page, so include the most used keywords relevant to your posts. But keywords don't lessen the need for hashtags in any way. Be sure to add both SEO keywords and hashtags in all your posts for optimal results.
6. Create impactful visuals to wow your followers
Instagram is a visual-centric platform, so you must ensure high-quality images. If necessary, hire a professional team of content creators to prepare stunning visuals that reflect your brand identity.
7. Fill the gaps in your content calendar with strong content
Another good reason to use an Instagram scheduler is that its content calendar will help you identify periods in your posting timeline when you're posting too much or too little content.
If you're overposting, reduce your posts not to overwhelm your customers. But if you're posting too little, increase your post frequency so your audience doesn't lose interest.
You can always get creative and fill in the content gaps with video interviews, photos of product prototypes, images of concept art, and funny memes related to your industry.
FAQS about scheduling Instagram posts
Can you schedule posts on Instagram?
You can schedule Instagram posts by running your Instagram app, tapping the "+" icon, and selecting "Post." From there, choose a video or photo, tap "Advanced settings," and finally, tap "Schedule."
Why can't I schedule posts on Instagram?
To schedule Instagram posts, you must have a Business or Professional account. This feature isn't available if you have a personal account.
What is the ideal posting schedule for Instagram?
The ideal times to post can change, but sticking with weekdays between 9 am and 1 pm is ideal for many. Remember not to post too much or too little throughout the week to retain customer interest.
Create an efficient Instagram scheduling workflow like a pro with Birdeye Social
While there are several ways to schedule Instagram posts, it's better to use a dedicated Instagram scheduler to streamline your workflow.
It will significantly free up your time in a big way to focus on other aspects of your business that also require attention. Besides, using the tools loved by social media managers and marketers will give you a greater appreciation of how much more productive they help you become a social media pro.

Originally published