According to recent studies, most people spend around 2.5 hours on social media each day – and that number is only expected to increase. Social media has become a major part of our lives, and many platforms offer features that can benefit local businesses. In this article, we'll share 11 important social media benefits that can help you start driving more customers to your business.
Social media marketing at a glimpse
Social media marketing is the process of using social media to showcase your products or services and interact with followers. When done correctly, it can be an effective way to grow your business. By sharing valuable content, you can attract new leads, build trust, and boost sales.
[Free Guide] The ultimate social media marketing guide for businesses
Download Now
Benefits of social media marketing
Businesses that take advantage of social media marketing can see tremendous results. In fact, 71% of consumers who've had positive experiences with brands on social media are more likely to refer them to family and friends. Here are 11 more social media benefits for you to consider.
1. Targeted reach
Social media platforms let businesses target potential followers based on demographics, interests, and behaviors. After creating your ad and including relevant keywords, you can specify who you want to see it by selecting the appropriate criteria. This will let you focus your marketing efforts on people who are more likely to be interested in your products or services. This increases the chances that potential followers will be reached and that they'll take interest in what the business has to offer.
2. Increased traffic
Social media platforms also provide a great way to drive traffic to your stores, website, or events. By sharing relevant content, businesses can reach more people and, therefore, encourage more visits. For example, posting a coupon that offers a discount for 'In-store purchase only' could persuade a customer to pay you a visit.
3. A personal touch
Social media helps businesses connect with their customers in a personal, interactive way. By having a presence on popular social networks, customers can easily communicate with businesses and share complaints or compliments. This two-way communication can help you build better relationships with customers, which can lead to greater brand loyalty and referrals.
Social media also provides a great opportunity for businesses to humanize themselves. Sharing content that showcases the company's culture can help followers feel more connected to the business.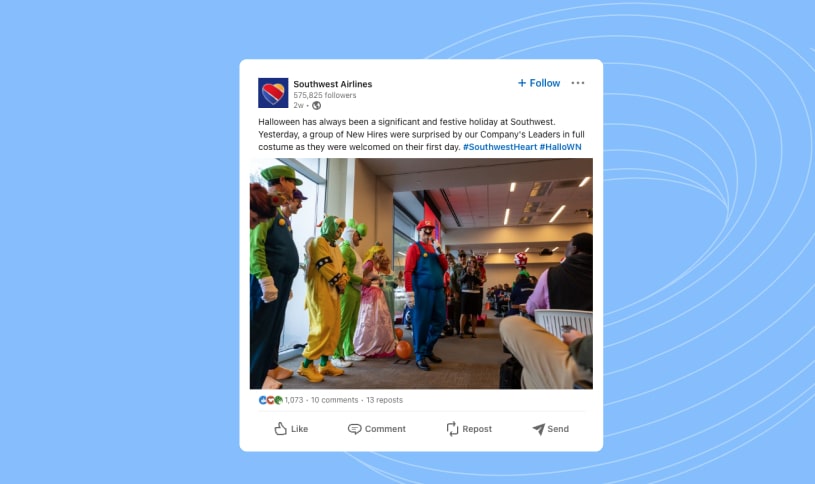 4. Cost-effective
Social media is one of the most cost-effective marketing tools available. Most social platforms are free or relatively inexpensive to use, and some even offer the ability to set a budget when it comes to promoted or sponsored ads. This can help make sure your campaigns stay within their allotted budget.
5. Brand awareness
In today's highly connected world, people constantly share information and experiences online. By creating a presence on social media, businesses can tap into this large pool to increase brand awareness and promote their products and services. Sometimes all it takes is one piece of viral content to take your business from a relatively unknown entity to a household name.
6. Competitive research
You can use social media to research your competitors. Certain platforms can provide insight into what type of content resonates with customers. You can also compare your performance and see which social media strategies of theirs are working and which ones aren't.
For instance, how often are they posting, what type of content are they using (videos, case studies, blogs, etc.), and how much engagement are they getting (likes, comments, shares, followers)? Also, since comments and reviews are public, you can see what customers are saying about your competitors to help you stay ahead of the curve.
7. Generate quality leads
Continuously generating new leads is vital to a business's success. Social media can help you build relationships with potential followers and nurture them into becoming loyal customers. It provides valuable insights into the interests and behaviors of your followers that can help you tailor campaigns to meet their needs, increasing the likelihood of generating quality leads.
8. Learning and improving
Another benefit of social media is that it provides a way for businesses to learn from their followers. By using social listening techniques, businesses can see what customers are saying about their product or service. This feedback can help improve their offerings, and better understand what customers are looking for.
9. Relationship building
Social media can also help businesses build relationships by providing a direct connection to current and potential followers. For example, if you're a business in the food industry, you can run a contest that asks followers to submit a photo of a main dish they created using your ingredients. This type of engagement helps to create, and maintain, relationships between you and your followers.
Additionally, businesses can use social media to respond to complaints. This shows that they care about customer issues. All of this helps create loyal customers who are more likely to recommend the business to others.
10. Analytics
One of the more exciting social media benefits is the ability to track and analyze social media data. This data can give businesses a clear picture of who their followers are, what they're interested in, and how best to reach them. Social media analytics can provide insights into things like which content is working best, who your most active followers are, and what times of day see the most engagement. This information can help businesses fine-tune their social media strategies for a more effective impact.
11. Prime destination
Social media platforms have become prime destinations for people. In fact, almost 60% of the world's population uses social media. This is important for businesses because it means that there are large groups of followers available to reach and engage with. Social media provides an opportunity for businesses to share their stories, connect with customers, and create a community of followers who are interested in what they do.
Disadvantages of social media marketing
While social media marketing can be a great way to connect with potential customers, it also has some disadvantages that you should be aware of.
Tough to stand out from the crowd – One of the biggest problems with social media is that it can be difficult to stand out in such a vast space. With so many brands vying for attention, it can be hard to make your voice heard.
Always changing – Social media platforms are constantly changing their algorithms, which can make it difficult to keep up with the latest trends and best practices. This can also lead to frustration and even resentment from customers who feel like they're being bombarded with too much information or ads that are irrelevant to their interests.
Risky business – Social media can be risky because it's so public. If you make a mistake or say something controversial, it could quickly become news and damage your reputation.
Time-consuming – Social media marketing requires a lot of time and effort to be effective. From creating content to monitoring engagement levels, it can require a dedicated person or team depending on your budget and goals.
While there are clear benefits of social media marketing, it's important to be aware of the potential pitfalls. However, social media is an important part of any well-rounded marketing strategy and is highly recommended for future success.
Frequently asked questions about the benefits of social media
Why is social media so important?
Social media is important because it allows people to connect and share information. It also helps businesses build relationships with their customers and promote products and services.
How does having a social media policy benefit a business?
Social media policies help businesses protect their brand and safeguard their employees while using social media by setting guidelines for what is and isn't appropriate behavior on social media.
Which businesses benefit the most from social media marketing?
Businesses that sell products or services online can benefit from social media. Also, businesses that use word-of-mouth marketing can see a notable boost in sales by actively engaging with followers.
Can social media hurt a business?
Yes, it's important to be responsible by making sure posts are accurate and professional. It's also important to be aware of potential dangers like hacking and other online threats.
How do I budget for social media marketing?
Consider setting aside a fixed amount each month for your campaigns. Allocate funds based on the channels you want to focus on, and make sure your spending aligns with your overall marketing goals.
Before you go, take a look at our ultimate guide to social media management.
Birdeye Social: One platform, every profile
Social media provides a number of benefits for businesses, but it can be tough for some businesses to manage multiple accounts. With Birdeye Social, you can publish, monitor, and report across Facebook, Instagram, LinkedIn, YouTube, Twitter, and Google – for all brands and locations. Watch our free demo to learn more.

Don't leave without getting your free social media toolkit. Click on the banner below to get your copy.


        

This blog post is part of our Social Media Management Guide 


      

           



Originally published