Automotive reputation management is the art of making sure that your automotive business looks great with potential customers. Let's talk about why your online reputation matters and what you can do to improve it.
What is Automotive Reputation Management?
When a potential customer does a Google search for a term like "dealerships near me", this is the first thing that they'll see.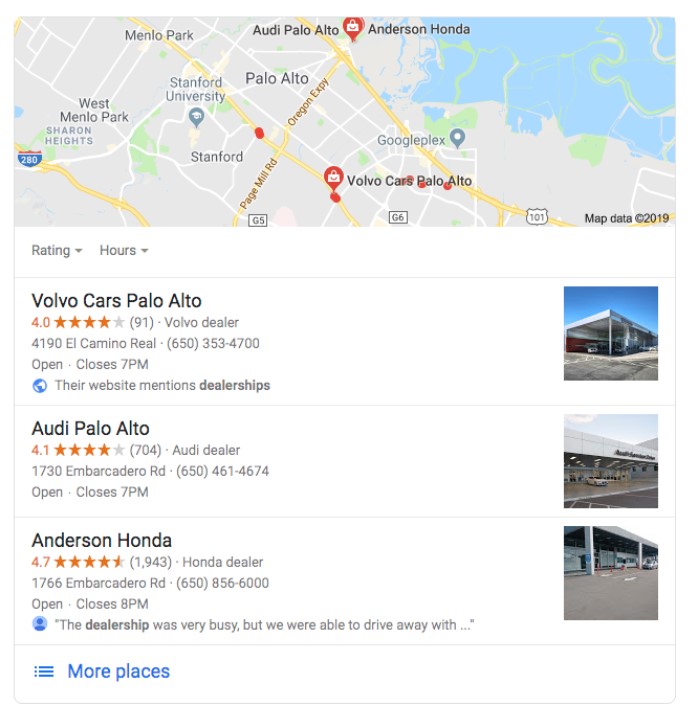 This is a Google local 3-pack. Here you can see three local dealerships, name, address, phone number. But there's one more important factor: customer reviews. There are two big reasons why your online reputation matters.

Your customers care about your online reputation.
Search engines care about your online reputation.
Let's talk about why.

Customers Care About Your Reputation
These days, most purchase decisions start with a Google search. And as we saw earlier, one of the first things that customers see from a Google search is your customer reviews.
Customers trust reviews. After all, reviews represent the opinions that customers care about the most: Studies show that 92% of consumers look at reviews before making a purchase decision.

That's why it's important for all automotive businesses to practice automotive reputation management.

Search Engines Care About Your Reputation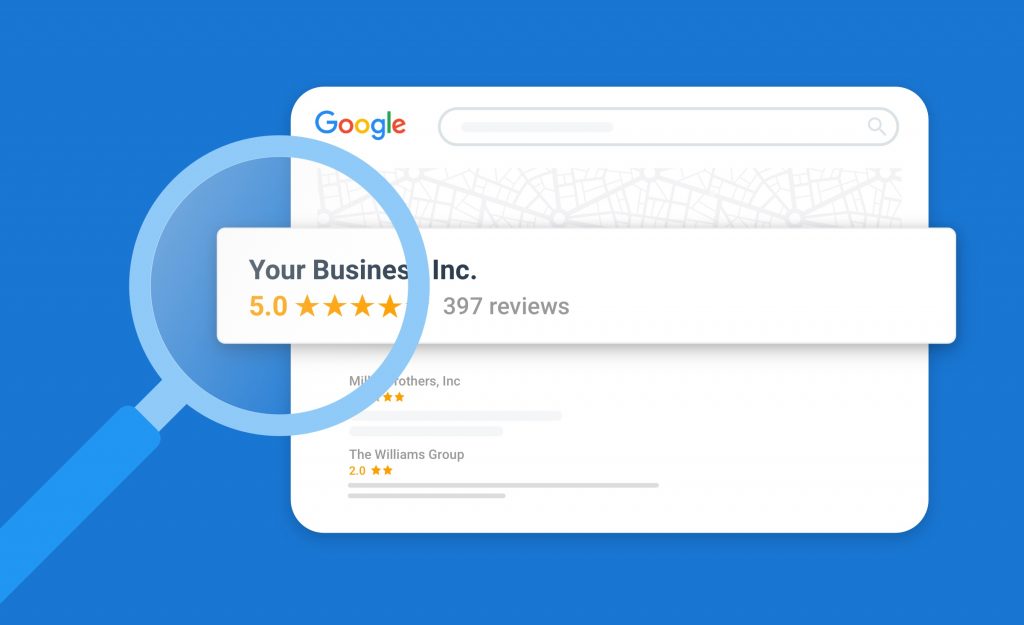 Customers aren't the only ones who trust dealership reviews. Search engines do too. Though it's not the only factor that determines search ranking, Google's algorithm takes reviews into account.

Some of the factors that help to determine a dealership's local search ranking include review diversity, the number of different websites that your dealership has reviews on, review recency, how many new reviews your business is getting, and review quantity, the number of reviews that your dealership has.

Get More Reviews for Your Automotive Business
So there's an easy way to build a strong reputation for your automotive business: getting more customer reviews. The more reviews you have, the better your business looks to both customers and search engines.

So how can you get more reviews for your business? It's simple: just ask. 70% of customers say that they will leave a review if asked.

Of course, there are certain techniques you can use to make sure that you're getting as many customer reviews as possible. Here's what you can do to make sure that your customers are leaving lots of quality customer reviews.

Best Practices for Getting More Customer Reviews
Ask All of Your Customers for Reviews
The first rule of automotive reputation management is – Do not try to only request reviews from a few customers. This kind of review gating is against Google's policies. Review gating refers to the practice of only requesting reviews from a few customers who you're sure will leave a positive review. If you're discovered, you might face penalization by Google.

Though asking all of your customers for reviews might lead to a negative review here and there, that's nothing to worry about. Several studies have shown that customers trust businesses with a few negative reviews more than businesses with only positive reviews.
Use Email, Text or Even Mobile Kiosks
Asking customers for reviews in person is great. Unfortunately, it's not enough. It's too easy for customers to say "Yes" to leaving a review and then immediately forget to do it once they get home.

In order to make sure your business is as getting as many reviews as possible, it's a good idea to send an email or text message reminder to customers on the same day of the sale or service.

With a direct link to your business's Google My Business page, customers can quickly and easily give you a 5-star review. You can even use a mobile kiosk (touchpad or mobile phone at your business location) as an easy way for customers to leave a review on the spot.

Pay Attention to Timing

When sending review requests, businesses need to take timing into account. To ensure the best results, a review request should be sent to a customer the same day a sale was made or service finished.

Customers might be happy to leave a review on the same day as the purchase as their experience will be most fresh in their mind. A month later, after the new car smell is gone, they're much less likely to take time out of their day to leave a review.

Review Automation
Let's be honest. Manually sending new reviews to customers every day is tough. With all the work that goes into running a business, there might not be time to manually send reviews to each one of your customers.

If you don't have the time to manually send review requests, it doesn't mean you should give up hope on your business ever having lots of reviews. Instead, you should consider automating your review requests.

With Birdeye, you can get authentic customer reviews without having to lift a finger. By integrating with your Customer Relationship Management system, Birdeye can send review requests as soon as your customer walks out the front door.
Review Sites for Automotive Businesses
While you should be paying attention to review sites like Google and Facebook, it's also important to pay attention to smaller, niche sites. Customers who are looking here have most likely already decided that they are going to an automotive business soon and are just choosing between a few different options.
Here are some sites that automotive-specific review sites to pay attention to.
Important Review Sites for Dealerships
Cars.com
DealerRater
Edmunds
CarGurus
SureCritic
Auto Car Dealers
Car Folks
Sites for Auto Shops
Carwise
Repairpal
SureCritic
AutoBody Review
Mechanic Review
AutoMD
Dealing With Negative Customer Reviews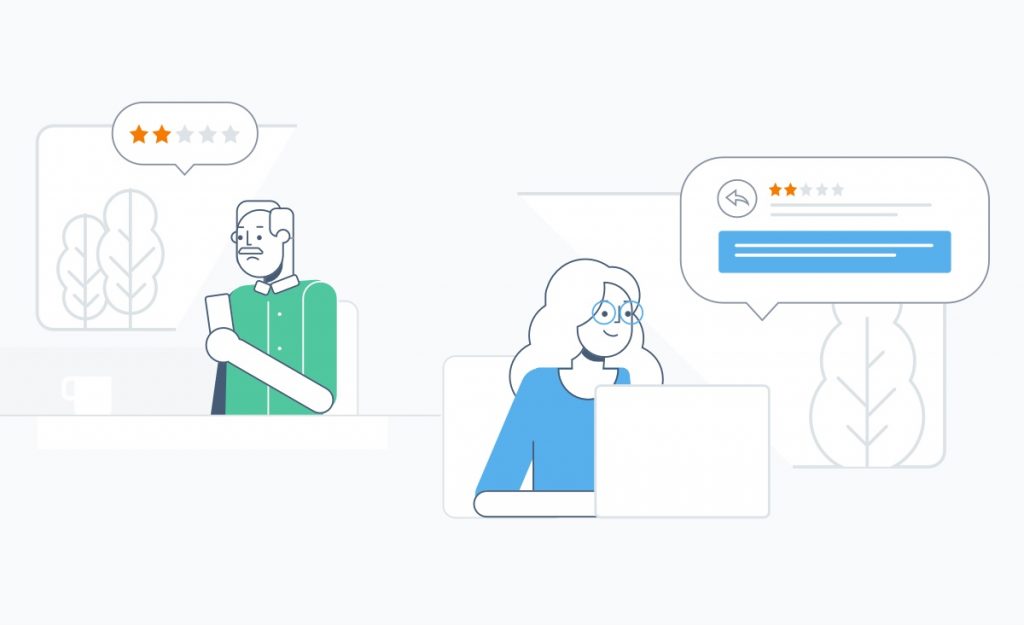 If you're sending lots of review requests, chances are that you're going to get some bad reviews. It happens to every business, even the best ones.


So what can you do when you get a bad review? If you have reason to believe the review is fake, you do have the option to report the review. Sites like Google and Facebook will remove a review if they see that the review came from a customer who isn't on their list.

Most of the time, the best way to deal with a bad review is through a great response. Here's a 3-step process on how to deal with an angry customer review.

Step 1: Take a Deep Breath
While a negative review can be unfair and can seem like a personal attack, it's important to remember that potential customers are looking at your reviews to determine what kind of service you provide. So before you respond, be sure to take a deep breath. Remember to be polite.
Step 2: Apologize and Sympathize
You can also give some contact information to take the conversation offline. It can be easier to solve the customer's problem when the back-and-forth is outside of public view.

Here's a template you can use with your customers.

Thanks for bringing (issue/problem that the customer experienced) to our attention. While we typically pride ourselves on doing everything we can to make our customers happy, it's clear that we fell short here. I want to make sure that you get the attention you deserve as a valued customer. Give me a call at (phone number) when you have the chance.
Step 3: Politely Ask the Customer to Take Down the Review
Once you've got to the bottom of the issue that the customer experienced, you have the opportunity to ask the customer to take down their review. Again, just remember to be professional and be polite.

Here's a template that you can use to ask customers to take down their negative reviews.

Hello (Customer),
Thank you for helping us to improve our customer experience. We regret that your initial experience with us turned out to be a negative one. Because of your review, we've taken steps to make sure that this issue will not happen again for you or any other customer. If there are any additional issues you would like to see resolved, let us know and we will work to quickly resolve them.
We do understand that your review of (Company) on Google was based on your initial experience. We hope that your opinion on us has since changed. We would appreciate if you edited your review to more closely reflect your current opinion. We take all of our customer reviews seriously and we want to make sure that every review is as accurate as possible.
Thank you!
Automotive Business Listings: Why They Matter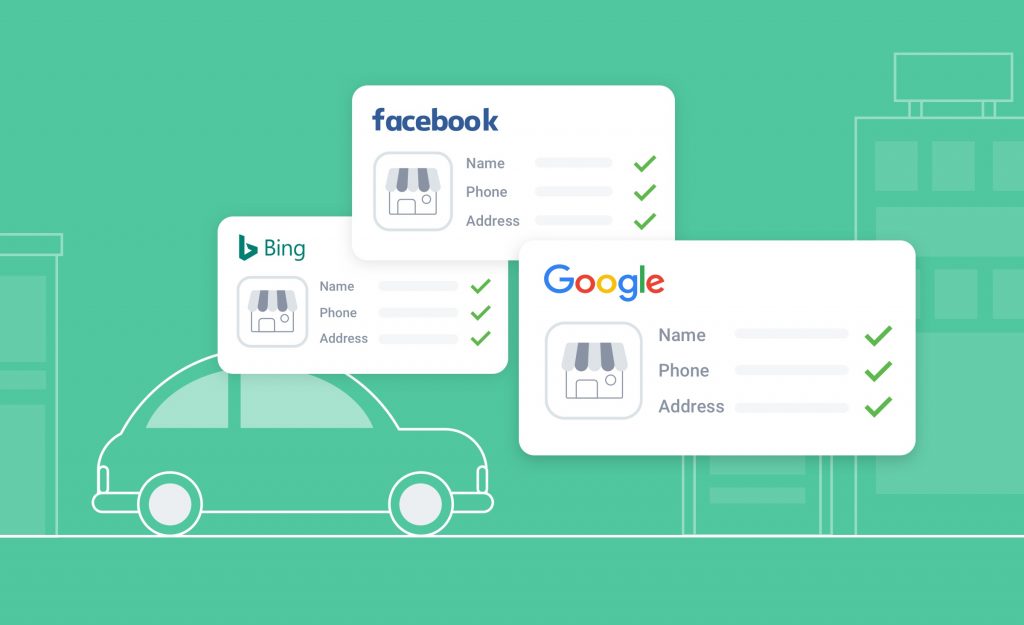 Business listing management is another key element of automotive reputation management.
Remember, your customer reviews aren't the only thing customers see when they do a Google search for your business. They'll also see your Name, Address, and Phone number (NAP). Here's why you should be paying attention to your NAP across the Internet.
Your Customers Care About Your Listings
It probably doesn't need to be said that your Name, Address, and Phone Number matter for your customers. If they have the wrong address, they're going to have a lot of trouble finding where your store is located. If they have the wrong phone number, they're not going to be able to reach out and ask any questions they might have.

Search Engines Care About Your Listings
It's simple: search engines care about many of the same things that your customers care about. Since your customers care about your business listings, so do search engines.

Citation factors (such as your NAP) are the fifth-largest factor determining your business's search ranking. The more consistent your listings are across different review sites, the better chance you have of ranking high on Google.

What Can Go Wrong on Your Listings?
A simple error on your NAP can make a difference in your search ranking. A difference is the abbreviation of your street can count as a difference that might lead to a penalty.

If you're not sure whether customers can find accurate information about your business, here's a very simple first step you can take.

Claim Your Google My Business Profile
If you're a regular reader of our blog, you might be tired of this piece of advice. We give this advice in lots of blog posts and webinars for a very simple reason: Your Google My Business profile is the single most important factor determining your search ranking. Without a claimed profile, it's going to be very hard for you to rank above your competitors.

Find Your Google My Business Profile
Most existing businesses already have a Google My Business profile. If you want to claim it, all you have to do is find it. Type in your business's name and the city you're located in into Google search.

Once you've found your Google My Business profile, click the button that says "Own this business?" That will take you into the process of claiming your profile. Now, you'll just have to verify that you're actually the owner of the business. Most of the time, Google will send you a postcard that contains a verification code. It typically takes 2-3 weeks for the postcard to arrive.

If you need help creating a Google My Business profile, we've got you covered.
Next Steps for Fixing Listings?
Of course, fixing your Google My Business profile won't fix your listings right away. There are dozens of listings sites across the Internet. But here's what you can do. First, you can see how accurate your business listings are by using our free Scan Your Business tool.

Next, consider using a listings tool like Birdeye. Instead of having to go to each listing site individually in order to make sure that they're all consistent, Birdeye can take care of this for you. In the Birdeye dashboard, you can fix all of your listings at once.

We'll also make sure that you don't have to go back regularly and fix your listings. While customers still have the ability to suggest edits, platforms like Google and Facebook trust Birdeye as a listings provider. That means that the information that you provide with Birdeye will be trusted over any customer-suggested edit.
Mackin's Auto Body: More than 3k Reviews with Birdeye
Let's talk about some of the strategies a real automotive business used to get lots of new reviews. 

Here's the experience of a real Birdeye customer: Mackin's Auto Body. Mackin's Auto Body is a nine-location collision repair business located in the Pacific Northwest.

Mackin's Auto Body got started with Birdeye in order to improve their online reputation. The business was able to both get more reviews and stay on top of customer reviews. 
Automated Reviews Led to More than 3000 Reviews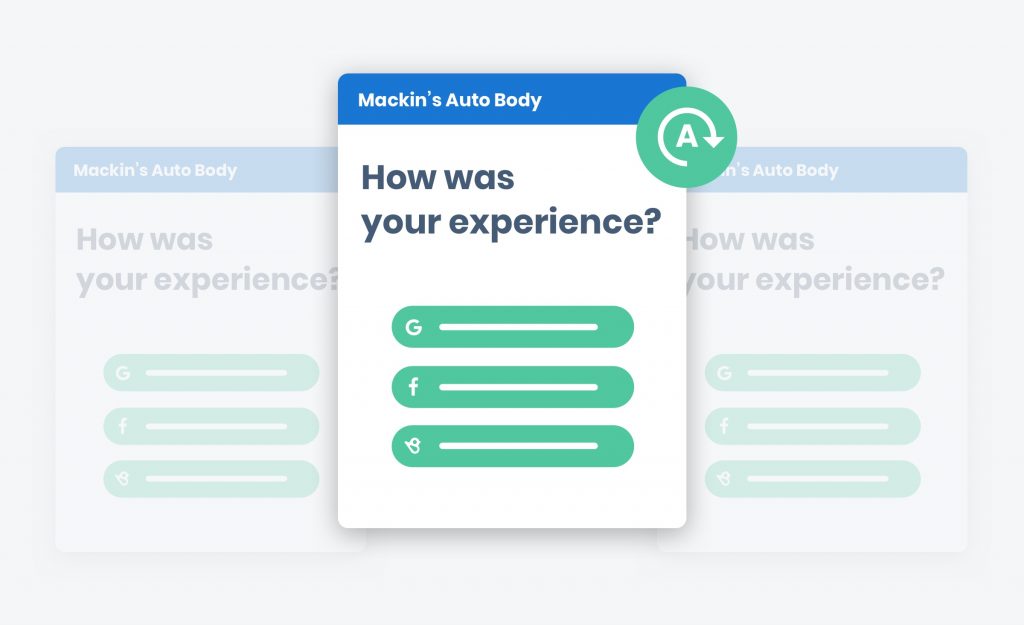 Mackin's Auto Body didn't have to rely on sending review requests manually. With review automation, Mackin's Auto Body could automatically send review requests to customers that had been serviced during the day. Birdeye's integration with CCC One, the customer relationship management system that the shop used, made the process effortless.
Using review automation, Mackin's Auto Body received tons of authentic new reviews on the two platforms the company was targeting: Carwise and Google. Right now, Mackin's Auto Body has a combined 3,468 reviews on those two review platforms with a 4.8 overall star rating.

Responding to Customer Feedback
With Birdeye, Mackin's Auto Body can respond to customer feedback quickly and easily. Businesses have the option to set notification criteria within the Birdeye dashboard.

The Birdeye dashboard makes it easy for Mackin's Auto Body to respond to customer reviews. Instead of having to log in and respond from every review site individually, Mackin's Auto Body can respond within the Birdeye dashboard. When a response is posted, it will appear on the site where the review originally appeared.
Try Birdeye, the #1 Review Software for Automotive Reputation Management
Sending review requests to new customers on an ongoing basis isn't easy, especially with all the work that goes into running a dealership. That's where automated review requests can help you. With Birdeye, dealerships can send automated review requests to customers to get as many new reviews as possible.

Birdeye is the top-rated review software among business owners. Birdeye was recently named the #1 software in review management by G2 Crowd, based on the data from thousands of real customer reviews. No competitor offers the same amount of support as Birdeye does on the journey to help businesses be found, be chosen, and be the best business.

Birdeye allows you to monitor all your reviews from 150+ sites like DealerRater, Cars.com, and CarWise.

Originally published