How do you decide where to go if you're new to an area and need a haircut? Chances are you'll probably search for "barbers near me" and choose from the top three results that Google gives you. This is a coveted position for businesses and is Google's local pack.
Thanks to online reviews, modern consumers no longer have to take chances on unfamiliar businesses. Businesses must ensure they appear in Google's local pack for their area and service.
Here is all you need to know about Google's Local Pack and how to boost your local SEO using Birdeye and rank higher.
What is Google's Local Pack?
Google's Local Pack is a prominent feature displayed on the search engine results page (SERP) when a user conducts a local search. It appears at the very top of the page, just below the paid ads and above the organic search results.
The Local Pack is a collection of local business listings related to the user's search query.
When a customer is searching for a business in their area, for example, "barber shop Palo Alto," these results show up:
These three barbershops probably get discovered a lot more than their competitors. After all, they have much greater visibility than their competitors due to their position on the Local Pack.
This is also because these three results are highly relevant per the searcher's query (and this is where you'd want your business to be).
Google Local Pack is also known as:
Local 3-Pack
Snack Pack
Google Map Pack
Google Local Map Pack
The importance of the local pack is increasing due to the prevalence of mobile search.
Did you know 68% of consumers check online reviews before engaging with a business? This is the impact of online reviews on multi-location businesses.
Customers typically see the Local Pack and very little else when they do a mobile search.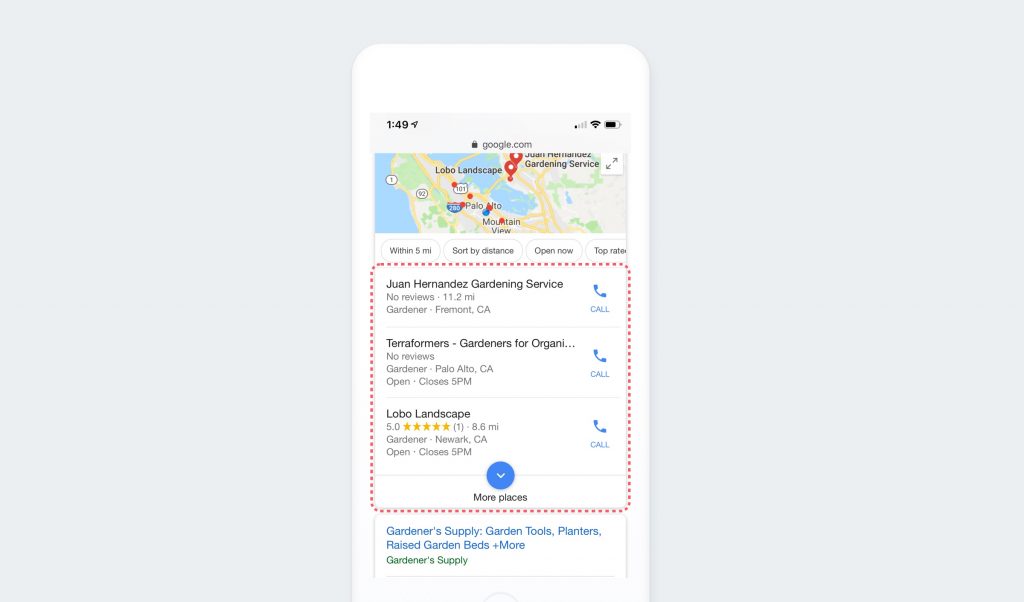 Mobile search customers typically choose among the three businesses in the local pack. Though being on the first page of search results guarantees businesses a fair amount of visibility, this doesn't cut it anymore. Customers don't scroll that far down.
The local pack will only become more important as mobile search becomes more dominant. 
How does Google's Local Pack work?
Google's Local Pack provides users with a concise and convenient overview of local businesses that match their search query.
Studies show that around 60% of searches are through mobile devices. Your chances of landing on the local pack depend on several factors, including the competition in your area. Still, there are a couple of things you can do to look better in the eyes of search engines.
Here's a breakdown of how it operates:
1 – User's search queries
It all starts when a user types a search on Google, specifically looking for a product, service, or information related to a specific location.
For example, someone might search for "best coffee shops in New York City near me."
2 – Google's algorithm works in the background
Google's search algorithm is highly sophisticated and constantly evolving. It takes action when it detects a local search intent (i.e., a search with location relevance).
3 – Fetching local business data
Google's algorithm scans all businesses listed on Google Business Profiles for relevant local business data. This data includes information about businesses' names, addresses, phone numbers (NAP), website links, and customer reviews.
4 – Ranking factors
Google's algorithm then evaluates and ranks these local businesses based on various factors, including the relevance of their information to the user's query, the proximity of the business to the user's location, and the quality and quantity of customer reviews.
5 – Analyzing key information
Within the Local Pack, users can see essential information about each business, such as the business name, address, phone number, website link, and a snippet of customer reviews. This quick overview helps users make informed decisions about which business to choose.
6 – Display in the local pack
Finally, Google displays a curated selection of three local businesses that it deems most relevant and trustworthy in the Local Pack. These businesses are prominently featured at the top of the search results page, just below any paid ads and above the organic SERPs.
Be Found Wherever Your Customers Search You
Want to see the impact of Birdeye on your business? Watch the Free Demo Now.
How is Google Local Pack different from organic SERPs?  
Google's Local Pack and organic SERPs are distinct in content, positioning on the page, information displayed, and user intent. The Local Pack is more for local searches, while organic SERPs offer a broader array of results. 
Here are the basic differences between them: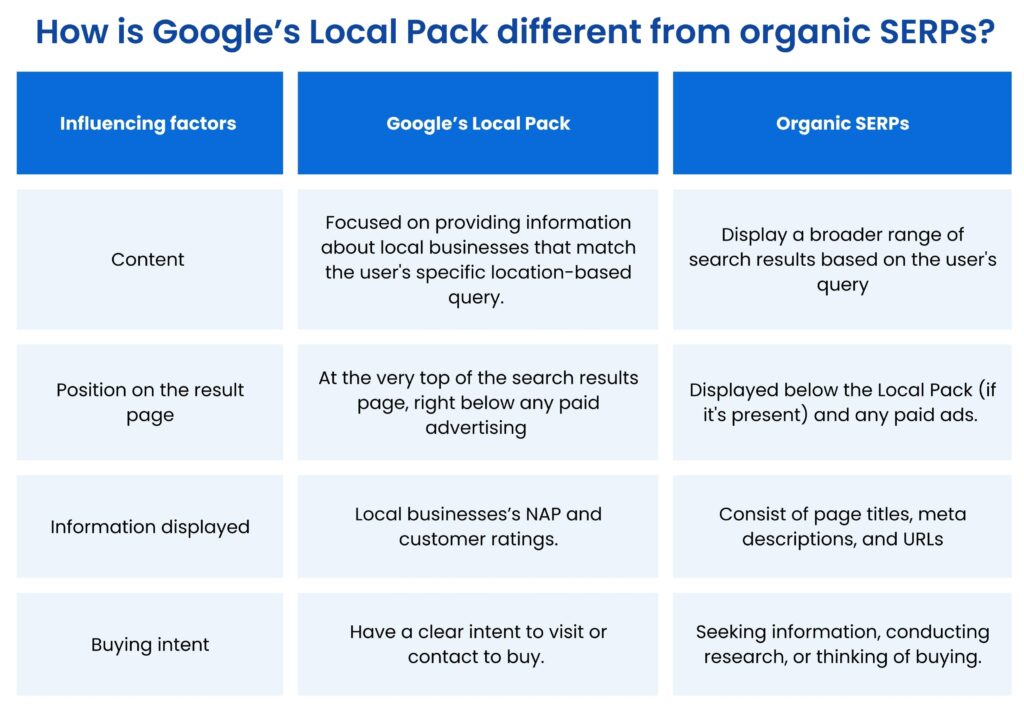 5 Tips to rank in Google's Local Pack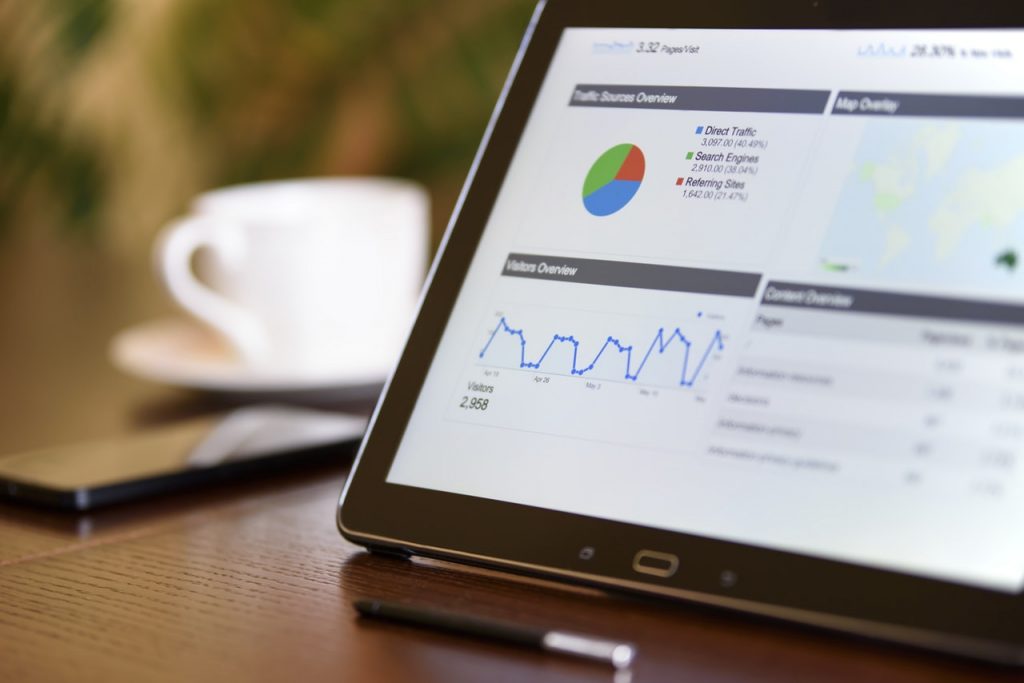 It's okay if your business isn't ranking highly right now. Even if you know nothing about more complex SEO topics like schema markup, that's okay. There are two areas you can work on to improve your ranking.
Correct business listing details across the internet.
Get more high-quality Google reviews.
That's not to say that these are the only two factors that Google considers for local search–Business listings and reviews are part of the algorithm. 
Not only will optimizing your website for local SEO help your business's appearance with search engines, but it will also help your business's appearance with customers. 

Appearing good to Google and appearing relevant to customers are two sides of the same coin.

There are ways you can improve in these two areas and look more trustworthy in the eyes of the ranking algorithm.
Here are the five tips you can apply right away: 
1 – Update your Google Business Profile
This tip might seem pretty simple. Unfortunately, Google Business Profile is a resource that the majority of business owners are not taking advantage of.
Claim your business's profile if you have not already done so. This will allow you to make changes to your business's information.
You may not have an existing profile if you can't find your Google Business Profile. That means that you'll have to create a new one from scratch. Here is a quick guide to help you on how to set up a Google Business Profile.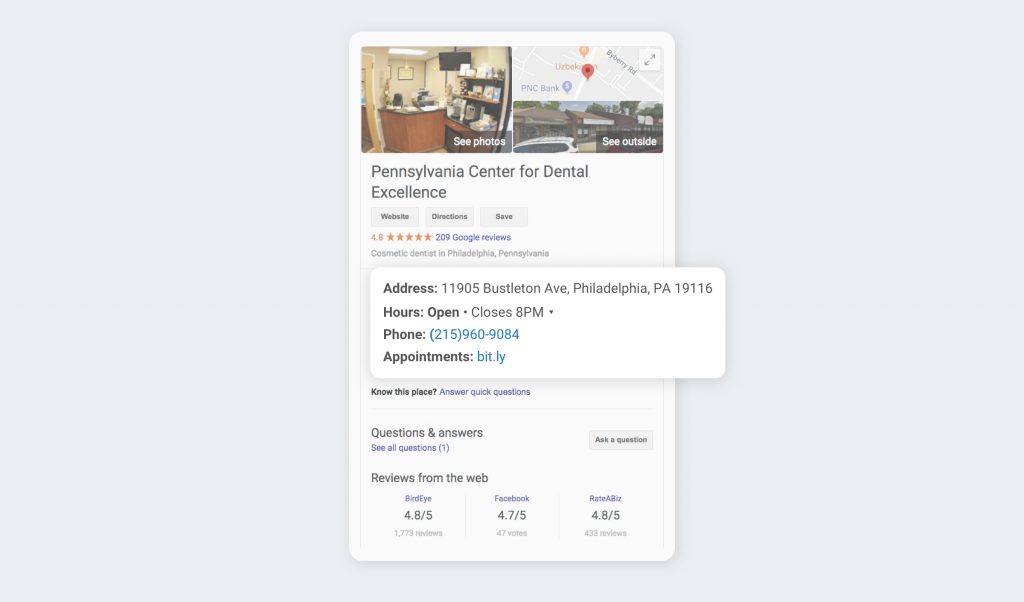 2 – Fix your listings
Once your Google Business Profile is set up, ensure it has the correct phone number, business hours of operation, and high-definition images. Businesses with complete profiles will be more visible and likely rank highly on local searches.
You want the same name, address, phone number, and website across all consumer review sites.
This may look easy, but it's more difficult than it appears. There are hundreds of consumer websites across the Internet. Even the smallest details count when it comes to your listing. Many search engines consider different formatting of street names to be an inconsistency. 
Luckily, listing management tools can help you find errors and fix them easily. With services like Birdeye, you can make your listings consistent across hundreds of sites.
Click here for a free scan of your business's listings.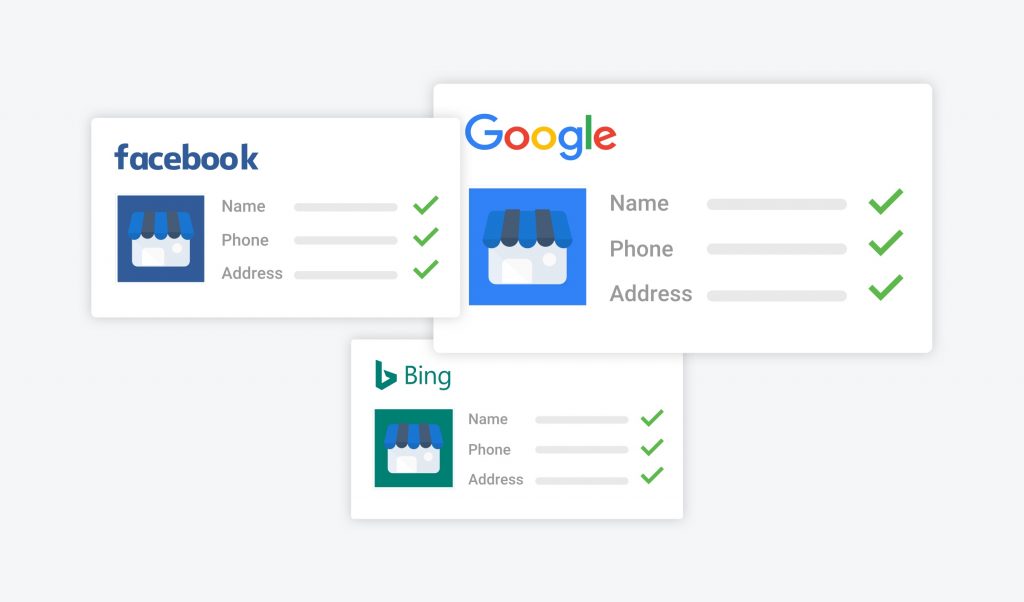 3 – Use all relevant keywords that best describe your business
Google primarily considers these three factors when returning a query:
Proximity – How near your business is to the user
Relevance – How accurate your business is to the search query
Reputation – How popular your business is among the rest of the result
The more information you present in your listing, the better your chances of gaining the right customer.
For this, you have to ensure your business has the correct information. However, business listings management could get time-consuming.
It's best to automate this process with Birdeye Listing. 
Pro tip: Boost SEO with AI-generated business descriptions for your Google Business Profile with Listing.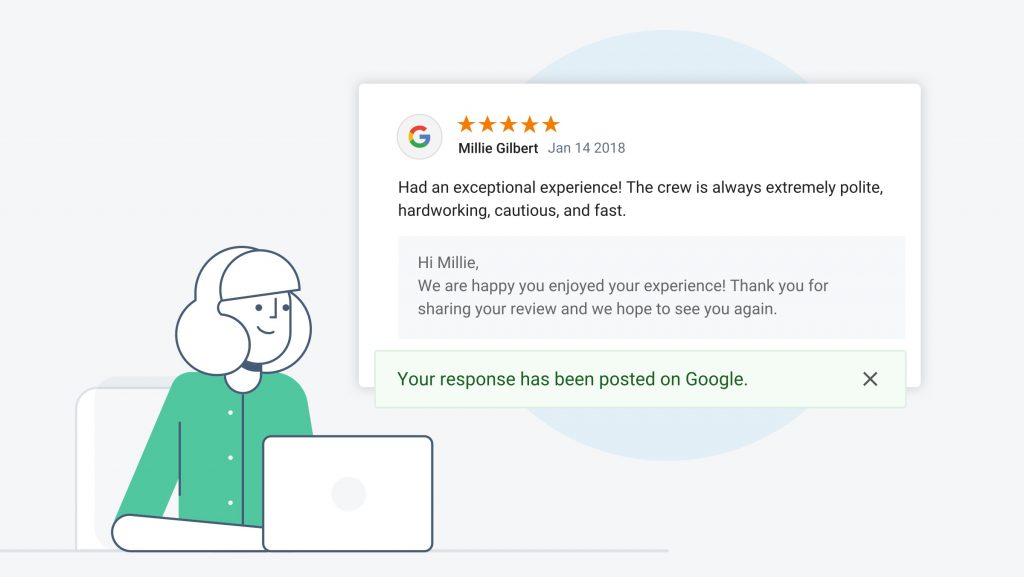 With BirdAI's AI-generated descriptions, you can improve your visibility in search engine results and attract more potential customers by:
Displaying well-crafted business descriptions that increase the CTRs.
Reducing the need for manual content creation.
Ensuring that the messaging of business descriptions aligns with the brand's identity and values.
Note: While using AI's help is advised, make sure there is adequate human oversight. Put yourself in the customer's shoes to think about what they would search to find your business.  

4 – Respond to customer reviews
Ensure you respond to all of your customer reviews, both negative and positive.
Pro tip: Remember, the trick to increasing your ranking is to appear trustworthy in the eyes of both the ranking algorithm and consumers.
With Birdeye's BirdAI feature, you can respond personally to every review that shows you sincerely value each of your customers.
With the help of BirdAI, you can:
Use AI-assisted review responses. 
Auto-translate reviews to respond in your customer's language.
Generate an AI summary to understand the pulse of the reviews.
Note: Remember to tailor your responses to each situation. Be sure to thank every customer who leaves a positive review. For negative reviews, apologize and make a genuine effort to combat the problem that the customer encountered.
5 – Ask all of your customers for reviews
Getting more reviews might seem like a daunting task. After all, don't customers leave reviews when they feel like it?
Luckily, you aren't as powerless as you think. Businesses just need to be proactive in asking customers for feedback.
Research shows that 70% of customers will leave a review if asked. Usually, the only customers motivated to leave a review are those with strong negative experiences. By actively soliciting reviews, you are fighting this negative skew while increasing your overall review quantity.
To get the best results, make the process of leaving a review as easy as possible for customers.
Don't ask them to find you on Google. Even if they are happy with your services, you're asking them to do a lot of work. The more work customers have to do, the less likely they are to complete the process.
So, one of the best practices is to send a direct review link to your customers.
With Birdeye Reviews, you can get a shortened URL that links directly to your Google review page's "Write a Review" button.
When customers click the link, they'll go directly to the review form. You can text or email it to customers. This will make the process of leaving a review quick and easy.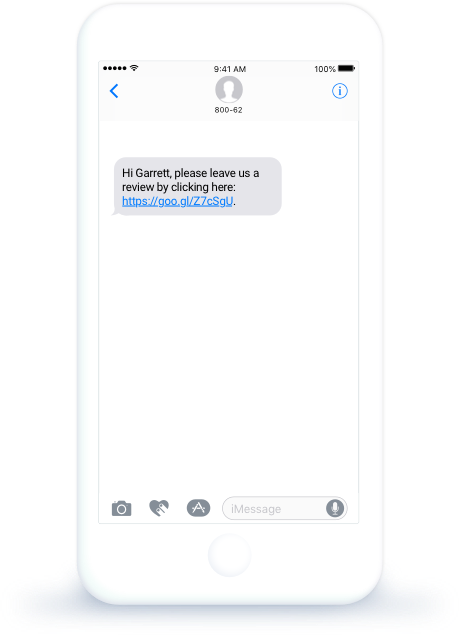 Note: When you're sending these links, keep timing in mind. You should be sending them on the same day of the sale. The chances of customers leaving a review decline as time goes on.

How can Birdeye help you rank in Google's Local Pack?
Remember, there is no guarantee that making these changes will automatically land you in the top 3 results of Google's Local Pack. Still, following these tips will increase your chances of ranking, making your business look more trustworthy to potential customers.
These tips might be simple, but that doesn't mean they're easy. Sending constant review requests is hard. Updating listings across hundreds of websites is hard. Business owners have a lot of other things to worry about.
Luckily, you don't have to do it all by yourself. With Birdeye, you can get new reviews, fix your listings across hundreds of websites, and attract new customers. 

Originally published