A new customer has just committed to a purchase and is ready to pay.
"You accept mobile payments right?", they ask rhetorically.
Your response can impact whether or not you get repeat business and even new business.
According to data presented by Trading Platforms, digital or mobile wallet payments were the most popular POS payment method globally in 2020, making up a staggering 21.5% of all transactions in 2020. It's clear that mobile payments are becoming the go-to method for consumers. Adapting to changing consumer behavior is crucial for any business's success. Therefore, it's important to equip your business with the right credit card machine that meets customer expectations.
During the decision-making process, you'll find that you need to pick one or two credit card machines from what seems like a dizzying array of machines described as "readers", "payment terminals", "credit card processing terminals", "POS systems", "smart terminals", etc. What's more, their prices vary widely. The important questions to answer are what functionalities are must-haves and which machine do you truly need?
In this article, we'll tackle essential features, how to provide a seamless experience, how you can also offer pay by text, and more. First, given the diverse range of terminology around credit card machines let's define our terms.
Why is it important to have a credit card POS machine?
1. Legitimizes your business
Accepting credit card and mobile payments will establish your business in the industry as legitimate. Displaying the logos of the credit cards and mobile wallets you accept on your website or storefront will help build trust for your business.
If you're trying to position yourself as a top provider in your field, accepting credit cards and mobile payments impacts how customers perceive your business. Providing customers and prospects with more modern options to pay improves the customer experience, increases your business' level of legitimacy, and instills rapport and trust with your customers.
2. Increase sales and repeat business
It's simple, offering customers more ways to pay with the right credit card machine massively expands your potential customer base. Consider this, according to a mobile payment study by eMarketer:
43.9 million consumers use Apple Pay in the US
25 million consumers use Google Pay in the US
16.3 million consumers use Samsung Pay in the US
That means 85.2 million consumers use mobile wallets. If your business doesn't have a credit card machine that accepts any of these payment methods you're alienating a large segment of customers. By expanding your payment methods you'll attract more customers, increase sales, and repeat business.
3. Improve cash flow
Money sent through a mobile payment goes directly into the bank account you've linked to it. Mobile payments are instant, so the money a customer pays through their e-wallet will be deposited into your account within a few hours, if not sooner.
What to look for in a credit card processing machine?
While needs differ for every business there are a few things you should keep in mind when picking the right hardware: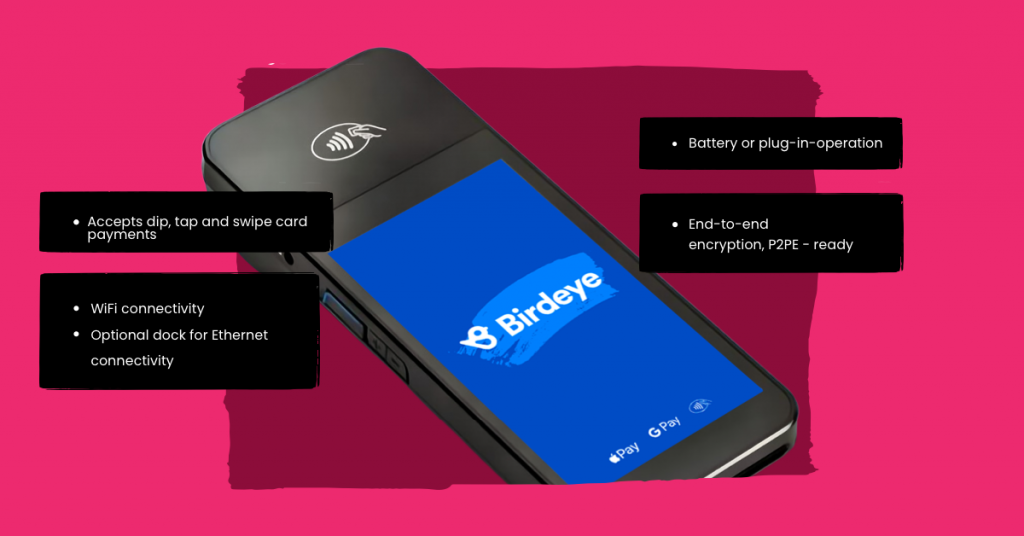 Capability: The card reader should be capable of reading EMV (chip) cards and tap and pay cards. These payment methods reduce your fraud liability. They prevent fraud by reducing the risk of theft by surrounding parties since these types of cards don't need to leave the owner's hand when purchasing. Additionally, given the increased usage of mobile wallets, NFC reading capability for electronic wallets such as Apple Pay or Google Pay is also an important capability to look for.
Easy to implement: Your payment device should be pre-configured so you simply have to connect to wifi to start collecting payments.
Competitive transaction fee: It goes without saying that every modern company needs to accept credit card payments. That said, accepting credit cards does come with certain fees, and it's important to be aware of the fees that you're paying, so you can assess your profitability and performance. The average costs for credit card processing differ by card, and the range can vary wildly. Ideally, you should seek a solution that provides a competitive rate for all card types.
Portable: These days, customers are always on the go and your credit card machine should be too. Consider if you run a restaurant, bar, or similar business. Traditionally, customers would have to pay at the designated cash register location. With a portable battery-powered credit card machine, you can accept payments where your customers are. These small touches contribute to delighting customers and boosting repeat business.
Integration: This comes down to convenience which is something every business owner can do with more of. Syncing the card machine with an all-in-one customer experience platform like Birdeye can help you to stay on top of your payments through an intuitive dashboard.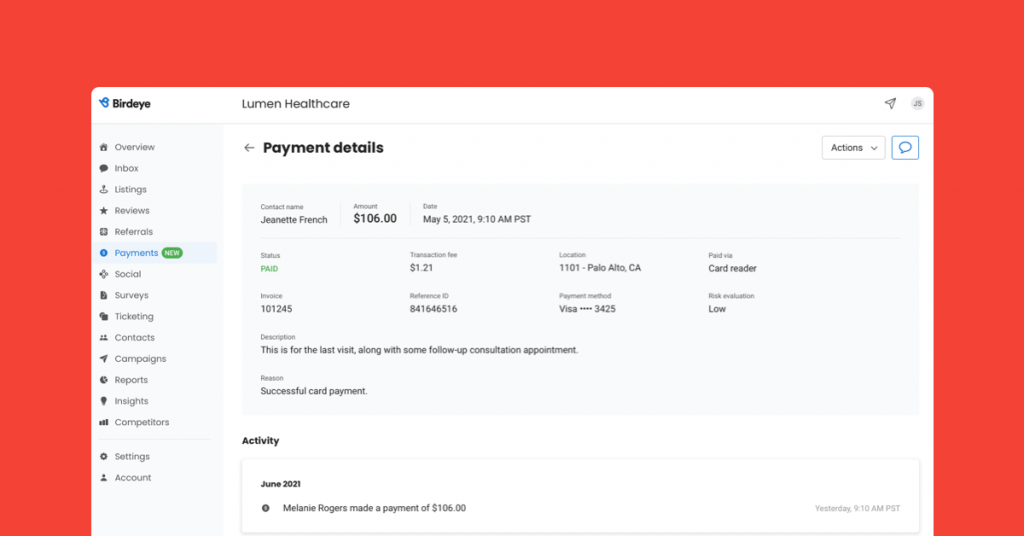 You'll also be equipped to send payment requests by SMS and social media messaging (even Instagram messaging). This provides you with even more convenience by allowing you to manage the entire customer experience through messaging – which is how customers prefer to interact with businesses. From a single inbox, you can send payment requests via text and accept payments in-store. Send payment requests while messaging your customer, or swipe their card in person all from one inbox.
Quick payments for your business
With Birdeye Payments, you give customer's the freedom to pay for purchases over text, social, webchat, or card reader. It's convenient for them and gets you paid faster.
FAQ about credit card machines
What is a credit card machine?
A credit card machine, also known as a point of sale (POS) terminal, credit card terminal, or credit card reader, is a device that interfaces with payment cards to make electronic funds transfers.

The best credit card machine for small businesses
With Birdeye Payments Card Reader your business will be fully equipped with a modern, top-of-the-line device that works through your Wifi and accepts all major payment types. You'll expand your customer base, increase revenue, and efficiently manage and streamline payment transactions in one platform. Birdeye Payments Card Reader is just one of the many reasons why more than 100,000 businesses use Birdeye to grow their business through happy customers.
Also, don't forget to check out our digital payments guide. Just click on the banner below to get your free copy.

Originally published