In the digital finance age, your online reputation is as valuable as your investment portfolio. Financial services companies, like investment firms, banks, and insurance agencies, operate in a landscape where trust and credibility are paramount.
One wrong move, or even a false allegation, can significantly impact your business. That's why online reputation management (ORM) is not just an optional strategy; it's a necessity.
Here are five tips to help you master online reputation management in the financial services sector.
What does online reputation management for financial service firms mean?
Online reputation management for financial service firms involves the strategic monitoring, improvement, and maintenance of the public perception of these organizations on digital platforms.
Given that financial services are highly regulated and deal with sensitive personal and financial information, consumer trust is paramount.
Reputation management manages the online reviews, addresses negative comments promptly, promotes positive content and ensures that the firm's online presence aligns with its brand values and compliance requirements.
Effective online reputation management enables financial service firms to attract new customers, retain existing ones, and mitigate the impact of negative publicity.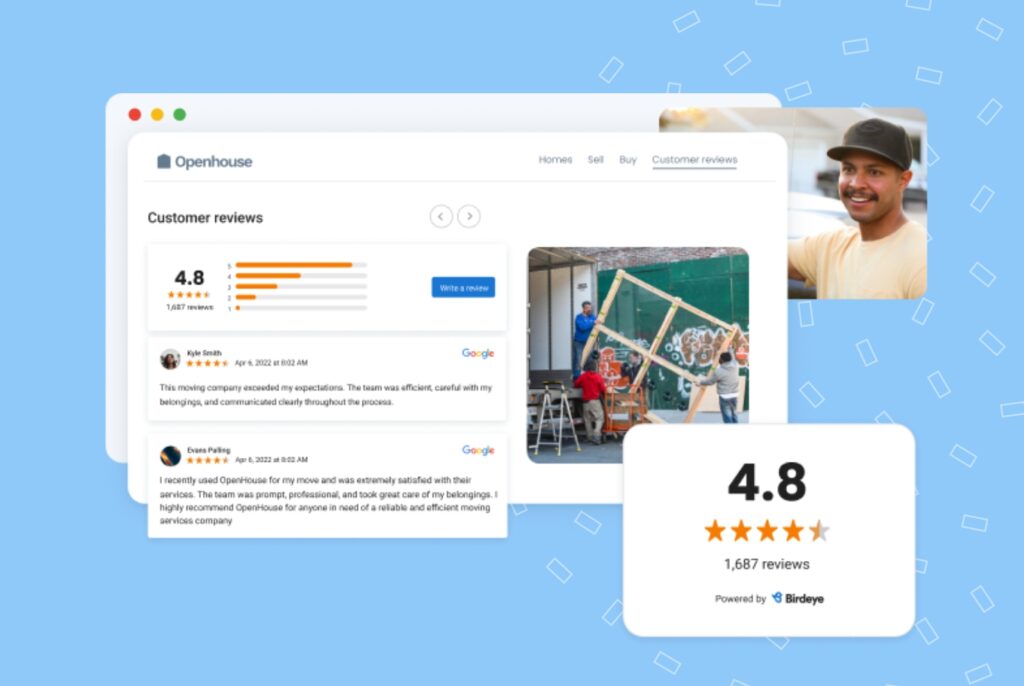 Here is an example of how Madden Partners – an accounting and financial planning firm, managed and improved their online reputation.
Ever since they started using Birdeye's all-in-one platform, it boosted its online presence and increased its customer base. One of the most proactive steps they took to improve their reputation was building a positive brand perception.
To ensure they maintain a strong online reputation, they tested various ORM strategies like:
Encouraging satisfied customers to leave positive reviews
Optimizing their business listing management with relevant keywords 
Engaging with customers promptly
Doing which they saw:
76 new reviews generated
46% increase in direction requests
32% increase in discovery searches
14% increase in Google profile views
Reputation management: Why is it important for financial services?
Apart from maximum returns, trust is the foundation for financial service businesses. Consumers need to feel confident in their choice of financial institutions.
Here are some key reasons why reputation matters:
Trust and credibility
A positive reputation helps build trust among customers, investors, and the general public. They are less likely to invest, open accounts, or seek financial advice from an institution that does not inspire credibility.
Customer retention
Retaining customers is as important as acquiring new ones. When working on reputation management for a finance service firm, a business should focus more on building proof of previously satisfied customers.
Customers who leave positive reviews are more likely to stay with a brand they trust and are likely to buy again.
Risk and crisis management
A strong reputation can act as a buffer during times of crisis or economic uncertainty. Finance services institutions with solid reputations are more resilient and better equipped to weather market volatility challenges.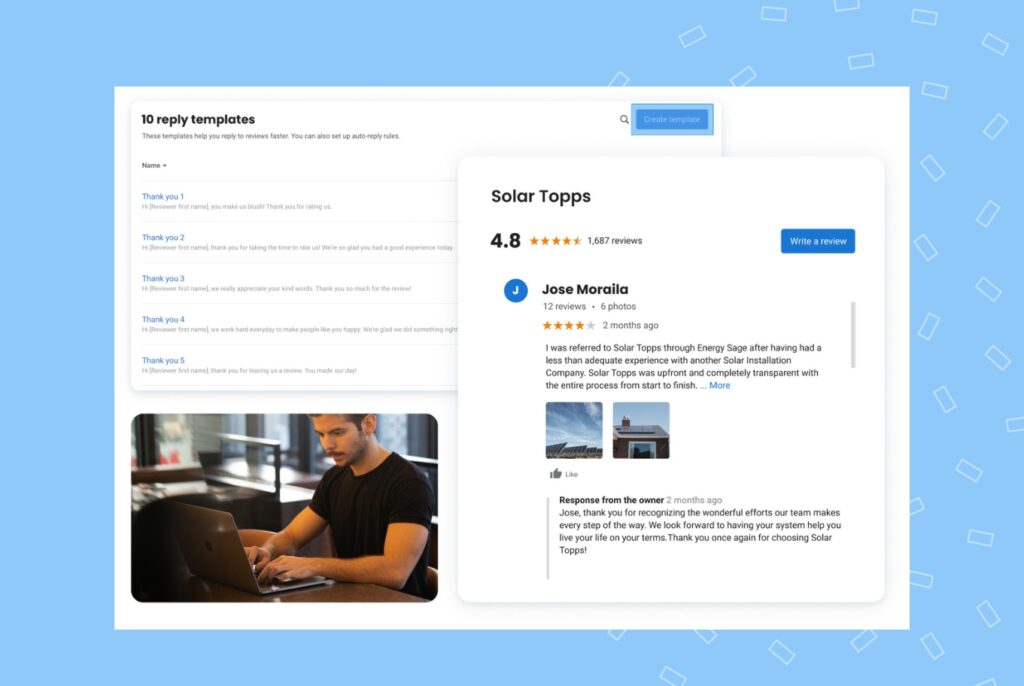 Competitive advantage
A positive reputation management can set a financial services business apart from competitors. Customers are likelier to choose a company with a strong reputation over one with a questionable track record.
Financial performance
A solid reputation can increase revenue, improve shareholder value, and reduce borrowing costs. Maintaining a good reputation can help a finance firm demonstrate its commitment to ethical conduct and regulatory compliance, reducing the likelihood of regulatory scrutiny or penalties.
How should financial service firms manage their online reputation?
Just as a city's image is shaped by the perceptions of its residents and travelers, a financial institution's reputation is formed by the opinions and experiences shared by its customers.
So, how can these institutions skillfully navigate this digital landscape to safeguard their credibility and trustworthiness? Here are some ways:
1 – Monitor online conversations on social media, review sites, and forums to stay aware of what customers and the public say about your firm.
Leverage Birdeye's AI-driven Insights to understand customer sentiments, enhance the experience, and outperform the competition.
2 – Respond to positive and negative reviews. Oftentimes, businesses forget or do not think it is important enough to respond to reviews but get defensive when responding to a negative one. But to truly humanize your brand, you should reply to both equally.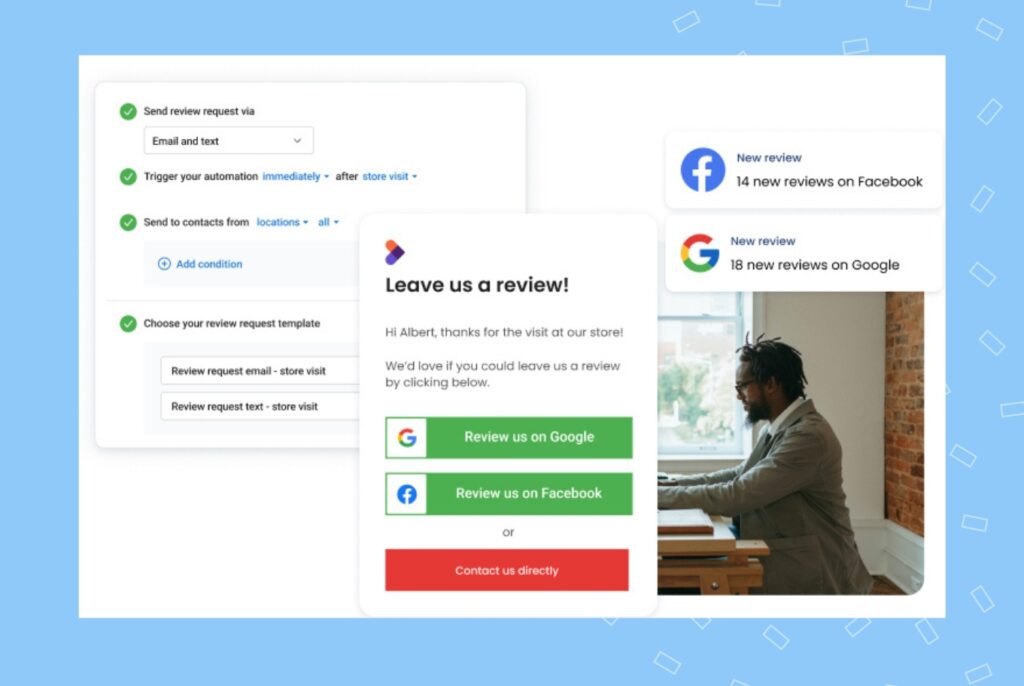 With Birdeye's AI-powered Review, you can automatically generate personalized responses for every review.
3 – Update your business information across all platforms like Google Business Profile and review sites. This displays that you are consistent
You can use Birdeye's Listing, which helps you with AI-generated business descriptions that you can use across all the sites your business is on.
Be Found Where Your Customers Search You
Want to see the impact of Birdeye on your business? Watch the Free Demo Now.
Sargeants Conveyancing made the best use of reputation management for their property transactions and financial services.
Since they mainly serve customers in the Hawthorn area of Melbourne, they wanted to make the transactions smooth and stress-free.
A few key improvements they saw when they implemented Birdeye's online reputation management platforms like Reviews, Listing, and Inbox into their businesses were:
121% increase in Google profile views
325 new reviews generated
71% increase in website visitors
87% increase in discovery searches
Why does online reputation management matter to mortgage lenders?
As per our recent study report the state of online reviews, 72% of customers won't take action until they read reviews.
Whether a finance firm or a mortgage company, online reputation management is undebatable.
The mortgage industry is heavily regulated, and compliance is non-negotiable. So, a positive online reputation, built on ethical and compliant practices, helps you navigate regulatory challenges more smoothly.
Borrowers are entrusting mortgage lenders with one of their most significant financial decisions – buying a home. And Waterstone Mortgage, a pioneer in the residential mortgage lender space, knew this.
Before using Birdeye, they faced challenges in generating and managing reviews, collecting feedback, getting referrals, and implementing actionable insights received from customers.
They knew a positive online reputation goes beyond making profits; it means better customer experience. That is when they turned to Birdeye and clocked:
380% increase in reviews
39% response rate for their surveys
338% increase in reviews and ratings
They made the best use of Birdeye's 3000+ software solutions integrations, especially Encompass, that helped them automatically drive reviews from Google, Facebook, and Zillow.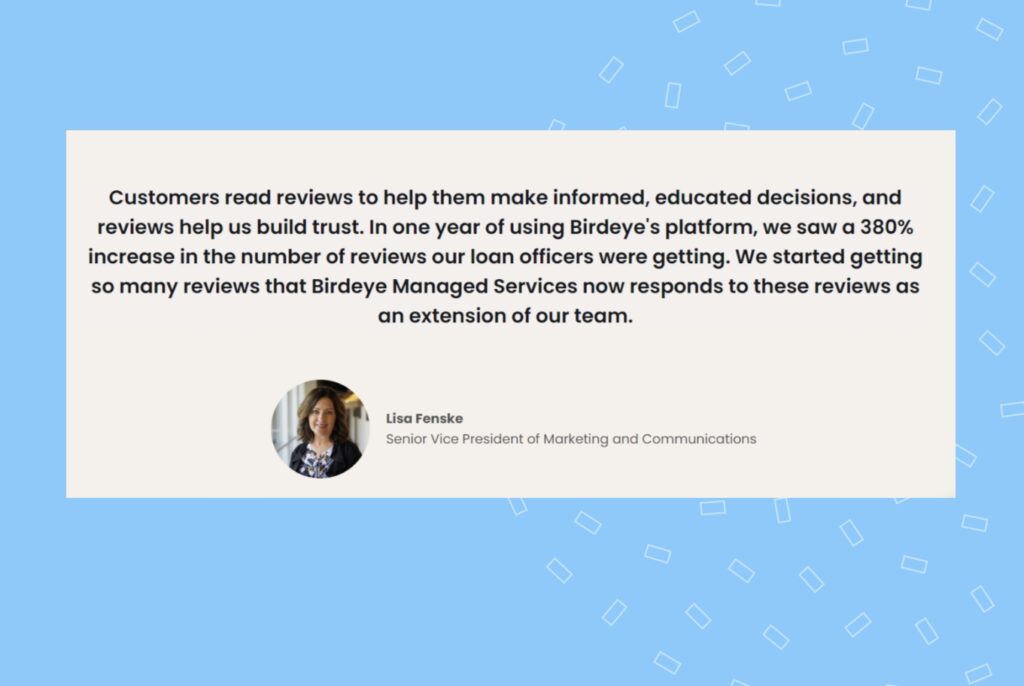 5 Tips for the finance industry to improve online reputation management strategy
Online reputation is becoming a bigger driver of business performance than margin. 

It does not mean we're moving to a socialistic economy, where maximum financial returns will be overlooked. But more where socially reputable and likable finance services businesses will have equal importance, irrespective of their size and profitability.
Here are 5 tips for the finance industry to improve online reputation management strategy:
1 – Use AI-assisted review response reviews to showcase your commitment to customer satisfaction.
Automate your review generation requests
Engage on autopilot with automated replies
Turn reviews into marketing assets
Respond to reviews in your customers' language
With Birdeye, you can monitor reviews on 200+ consumer sites. 
2 – Stay active on social media
Respond promptly to comments, messages, and inquiries
Share valuable financial insights to build authority
Automate the content creation process and post more topical information
3 – Multiply your customers with trackable referrals
Referrals are golden opportunities for finance firms. Gain customers with satisfied customer's word-of-mouth marketing by sending referral requests. To drive more revenue, you can also:
Add rewards to your referral requests
4 – Act diligently on the customer's feedback
Collect insights from surveys
Understand your business's strengths and weaknesses
Analyze data to spot emerging trends and areas of opportunity
5 – Convert web visitors into leads
Be available 24*7 for your customers via web live chats
Scale your customer support without adding more resources by using auto-response templates
Drive more conversions with auto-responses to customer FAQs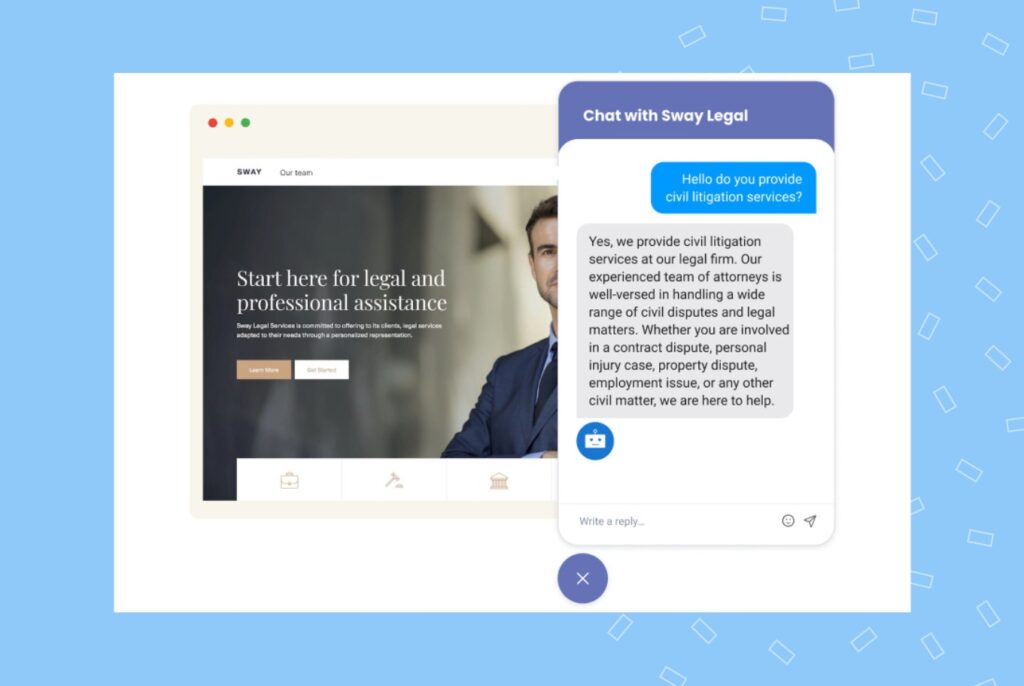 FAQs on financial services online reputation management
Do online reputation management services work for finance services?
Yes, online reputation management works very well for businesses offering finance services. It improves their credibility and gives them a competitive edge. This is the best form of efficient marketing.
What are online reputation management examples?
Park Community Credit Union is an example of using online reputation management to its advantage. Earlier, they lacked a systemized way to generate and manage reviews. 

Since using Birdeye, they have upped their market credibility by getting 300 monthly reviews.
Birdeye's reputation management solution for financial services
Whether your finance service includes mortgage, banking, working in the credit union, or debt relief services, one thing is clear – happy customers become brand advocates. A well-managed online reputation management is a win-win on all spectrums.
Implementing these five tips for improving the financial services online reputation management is simpler with Birdeye. More than 100,000 businesses trust us to delight their customer experience.
You might be the next.

Originally published