Most business owners don't enjoy reading one-star reviews. Unfortunately, negative reviews are part of doing business – and they need to be addressed early if you want to protect your company's online reputation. When left unchecked, one-star ratings can damage your business and impact how customers perceive your brand. In this blog post, we'll show you how to manage one-star reviews and protect your business's online reputation.
What are one-star reviews?
Before we discuss managing one-star reviews, let's define what they are. One-star reviews are a rating out of five stars, with one being the lowest and five being the highest.
Customers give a product or service a low rating when they are not satisfied with their experience. These negative reviews typically provide insight into what went wrong and can provide valuable feedback for businesses to improve customer satisfaction in the future.
One-star reviews are critical because they can damage a business's reputation. For example, there's the good-to-bad review ratio, where it's estimated it will take 40 positive reviews to negate the impact of one negative review. Not only does a one-star rating impact the company's overall star rating, but it also damages the brand and lowers ranking in online search results.
For more in-depth information on star ratings, check out our article on unlocking the meaning of stars in reviews.
One-star reviews are inevitable, and even the best businesses get them
Of course, businesses want good reviews, and it can be disheartening and discouraging to get a negative online review. However, companies need to understand that one-star reviews are inevitable. No matter how excellent your services or products are, every business will receive some negative feedback from time to time. 
In these moments, it's important to remember that by taking the negative feedback in stride and learning from them, you can use one-star reviews to improve the overall customer experience and make your business even better than before.
Respond to all reviews, both positive and negative
Responding to customer reviews, both positive and negative, is essential for companies that want to grow their online presence. Building and maintaining a positive reputation is key for collecting feedback on products and services and allowing customers to have their voices heard.
By acknowledging any criticisms or customer issues and working on solutions, businesses can further showcase their commitment to quality customer service. Businesses can use one-star reviews to track their success and learn how to better serve their customers.
How to manage one-star reviews: 7 best practices
1. Be prompt
When handling one-star reviews, time is of the essence. The faster you respond, the better your chance of turning a potentially disastrous situation into an opportunity. Make sure you respond within 24 hours to acknowledge the customer's opinion and resolve their issue as soon as possible.
2. Be professional in your response
Being professional when responding to negative reviews can be challenging. Professionally addressing one-star reviews will show customers that you value their feedback and take it seriously. Keeping the language in your response polite, honest, and not defensive is crucial in delivering your message effectively and maintaining a positive online presence. When responding to one-star reviews, showcase the steps you are taking to address customer issues and stop them from happening again.
3. Apologize and take responsibility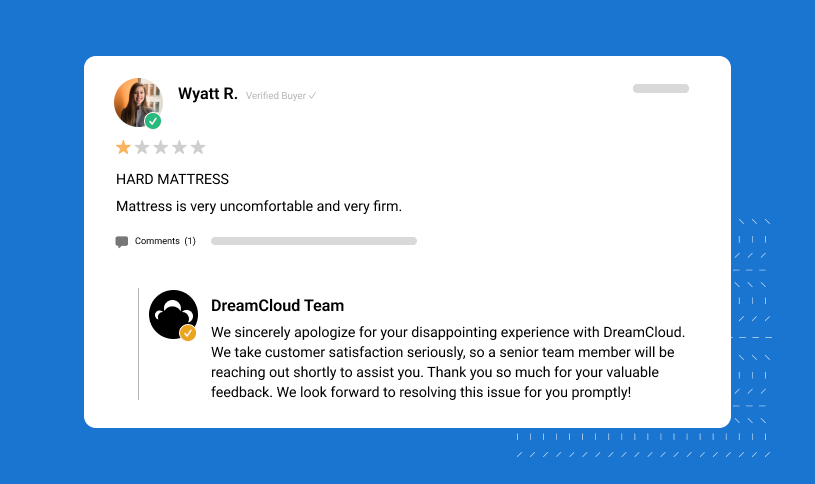 It doesn't matter whether you think the customer is wrong. Offering an apology is essential when it comes to responding to one-star reviews. Taking ownership of mistakes, regardless of how small or large they might be, will show potential customers that you take accountability seriously. Apologize sincerely and take responsibility for mistakes made by your staff or products to improve customer trust.
4. Ask for feedback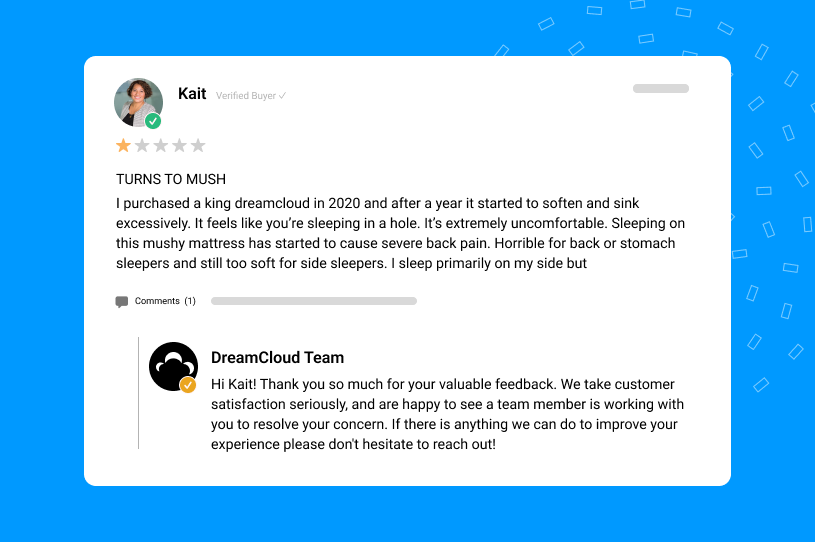 Sometimes, a negative review can provide invaluable insight into what may be going wrong with certain products or services, so use it as an opportunity to gather more information. Ask follow-up questions like "What could we do differently next time?" These types of probing questions can give you valuable feedback that can prevent similar things from happening again.
5. Offer solutions
Part of solving any problem involves offering solutions. Gather feedback, then propose solutions like a free return, discount, or incentive to address customer worries. Offering solutions demonstrates you can fix the issue swiftly and efficiently.
6. Offer the option to take it offline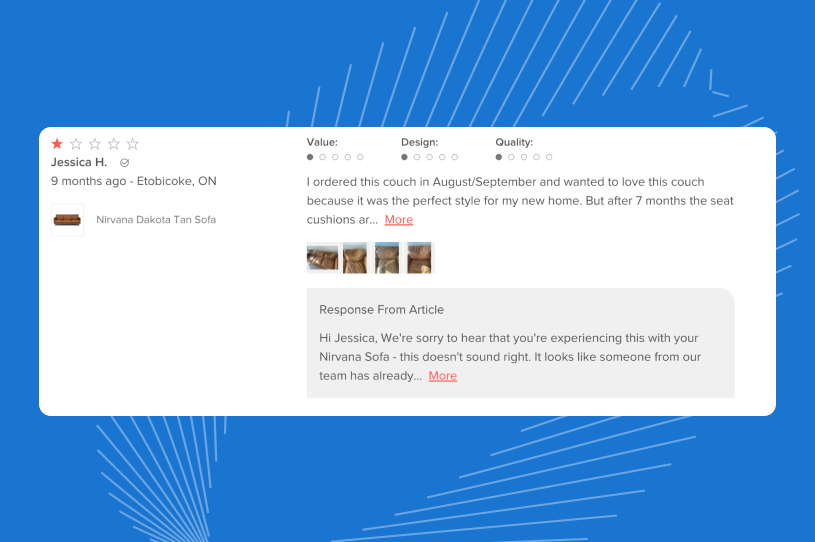 Whatever you do, don't dispute the issue online. The back and forth is not a good look for your brand. Take the conversation offline. Leave a phone number or email address where the customer can contact you directly to resolve the issue.
If you have the customer's phone number and email address on file, reach out first to show them how important finding a resolution is to your company.
7. Show your appreciation
Valuing customer feedback is essential to understand any areas of improvement, which is why you should always thank them for their time and effort in sharing their opinions – even if it's negative. Showing appreciation for constructive criticism will often leave customers feeling valued and respected, which may encourage them to give your company another chance.
Use low-rating reviews as an opportunity to improve your business
Negative reviews can impact even the most successful brands, and it's important to use them as an opportunity to learn and grow. Instead of taking negative feedback as criticism, use it to understand any gaps in customer service or products.
Companies should also respond quickly and politely, addressing the customer complaint while empathizing with the customer's bad experience. This can help businesses turn people who were once unhappy with their experience into loyal customers.
Managing one-star reviews with the best practices mentioned above can help improve customer satisfaction and your online reputation. If you follow these tips, you'll definitely see your business thrive.
Frequently asked questions about one-star reviews
Do one-star reviews matter?
Yes, one-star reviews matter because they have an adverse impact on your brand's overall online star rating and search ranking.
Why do people give one-star reviews?
People give one-star reviews when dissatisfied with a product or service and want others to be aware of the issue.
How do I respond to a one-star review with no comment on Google?
Acknowledge the one-star Google review and thank them for their feedback. Assure them that their voice has been heard and ask them to contact you directly to resolve the issue privately. Offer a discount if appropriate.
Can a business turn off Google reviews? 
No, a business cannot turn off Google reviews. Anyone with a Gmail account can leave a review on any Google Business Profile.
Can you get sued for leaving a one-star review? 
Yes, a lawsuit may be possible if the review contains defamatory remarks or false statements about the business or its employees.
Manage your customer reviews with Birdeye
Birdeye Reviews can help your business generate, manage, and amplify your online reviews across the internet and 200+ review sites. Consistently getting fresh reviews helps you rank higher on local searches, boosts your online reputation, and attracts more customers to your business. Click on the banner below to get started.

Originally published