Social media is a daily part of our lives, but many companies still have questions about it. How do you use it effectively? What are the rules for posting content? How can you protect your data and privacy online?
These are just a few of the social media questions that businesses are asking. In this blog post, we'll answer 25 of the most important social media questions. We'll cover topics such as best practices for using social media marketing, content ideas, staying safe on social networks, and more.
[Free Guide] The ultimate social media marketing guide for local businesses
Download Now
Social media questions: The what?
What's the most popular social media platform?
Facebook is the clear front-runner. With nearly 3 billion monthly active users worldwide, no other social media site comes close. Its simple interface makes it incredibly user-friendly, and features like Facebook Business Manager help businesses optimize the platform for advertising and marketing.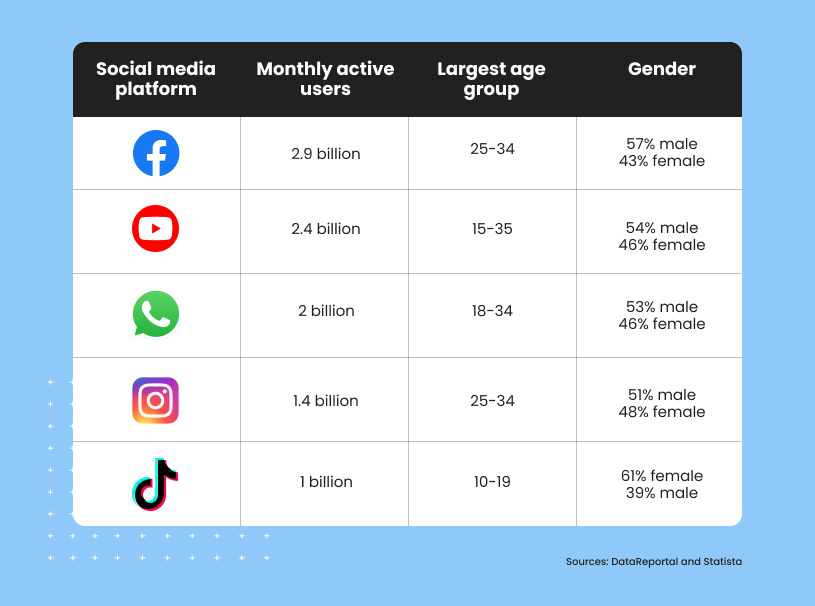 What content works best for social media?
The best content for social media is fresh, relevant, and attention-grabbing. By creating this kind of content, you'll generate interest in your products or services and get people to engage with your posts. This can be in the form of an article or video, contests, and giveaways, or updates about your company.
When it comes to successful social media content, it isn't just what you post, it's how you post it. Using visuals like short-form videos or high-resolution images can boost engagement. If you need some inspiration, check out our blog post for some social media content ideas.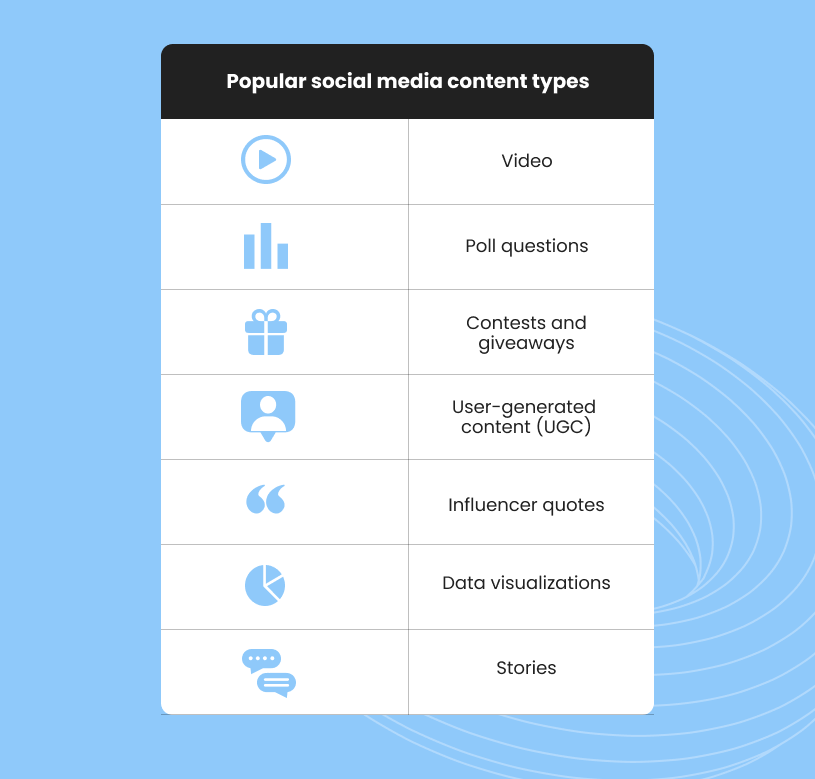 What tools are available for social media?
There are a handful of tools available to help streamline your social media campaigns. Many of these tools offer automated posting and scheduling, content calendars, and social media analytics. These tools can help you create content ahead of time, identify what topics are trending with followers, and measure your success on each platform. Using social media tools can maximize your reach and increase engagement without having to invest too much time or energy into the process.
What does social media marketing mean?
Social media marketing is the process of creating, managing, and amplifying content related to your business or product on social networks. The main goal is to find ways to engage with your target audience by creating meaningful relationships that drive brand awareness and ultimately lead to conversions. To use social media for marketing effectively, you need to know which platform your audience frequents, in-depth knowledge of how those platforms work, what content resonates with followers, and how your audience behaves on these platforms.
What are the image sizes for the top social media platforms?
The image sizes for some of the top social media platforms are as follows: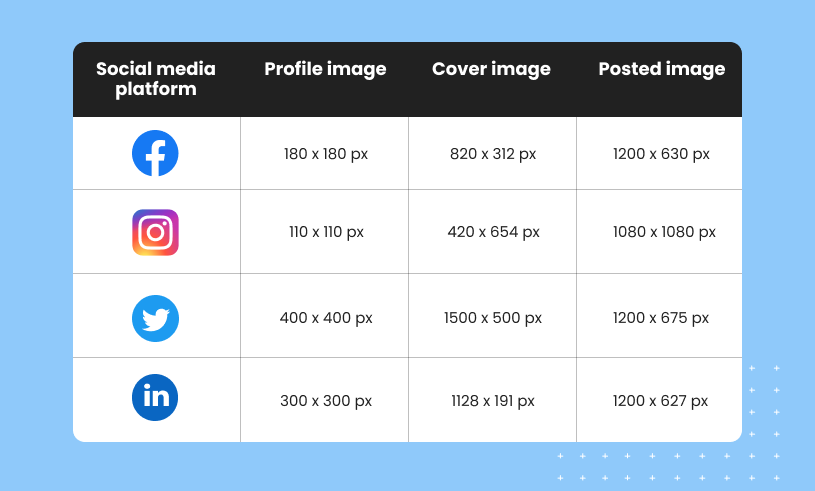 This is one of the more popular questions about social media. For your convenience, check out our social media specs cheat sheet for more image and video sizes from your favorite social media platforms.
What's the best way to convert social media followers into customers?
An effective way to convert social media followers into customers is to create valuable content and engaging experiences that convince followers to purchase your product or service. Relevant content like case studies will raise awareness and establish credibility, while interactive features such as polls or contests can help create a more immersive experience.
Take note of what resonates with followers to craft content that caters specifically to their interests and needs. This gives your brand a personal touch and encourages followers to engage deeper, making them more likely to make the jump from follower to customer.
What are the benefits of social media for multi-location businesses?
Social media can be an invaluable tool for businesses that have multiple locations. It allows you to target your content so that you can interact and develop relationships with customers in each of your locations. This will lead to more meaningful connections between the business and the customer. Also, since social media activities can be tracked and measured on most platforms, multi-location businesses can gain valuable insights into how effective their campaigns are, as well as which locations are driving the most engagement and/or sales.
Social media questions: The how?
How many people use social media?
The number of active social media users has grown to about 4.5 billion and is expected to increase significantly in the coming years. It's incredible to think that over half of all humans on the planet regularly use a form of social networking every day. But what makes this figure even more impressive is that usage is spread out across all ages and genders, meaning it no longer belongs exclusively to a particular demographic like it once did.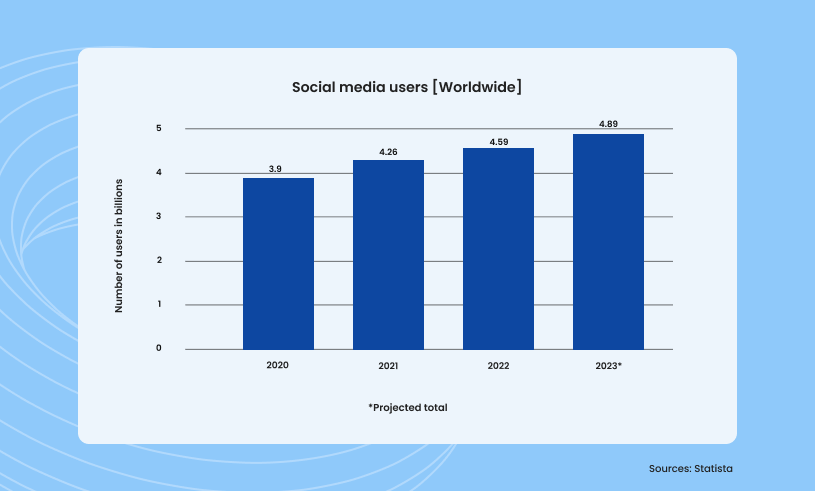 How do I know if my social media campaign is working?
Social media campaigns must be measurable to determine if they're working. There are a variety of social media metrics you can track, including impressions, engagement rate, cost-per-click (CPC), and reach. Which metrics are important to your efforts will be determined when you set your social media goals.
Once you've determined your goals, start measuring each post's success rate against others in the same campaign. Analyzing these metrics will give you an idea of how effective your content is. Having this data lets you tweak your content for better performance. Also, get in the habit of monitoring your social media performance daily, weekly, and monthly. By keeping an eye on this regularly, you avoid missing out on any valuable insights.
How much does social media marketing cost a company?
The cost of social media marketing varies depending on the size of your business, goals, and types of campaigns. If you're taking a do-it-yourself approach, the costs can range anywhere between $20 – $100 per month. If you're working with a small budget and can afford to outsource your social media marketing, you can expect a cost of about $500 – $1,000 monthly. Multi-location businesses that outsource their social media marketing can expect costs to reach $1,500 – $5,000+ per month.
How do you respond to negative comments?
It can be difficult to respond to negative comments on social media, but the best approach is to remain professional and respectful. Before typing, take a deep breath and remind yourself of your brand values and principles. Craft an appropriate response that seeks to de-escalate the situation. It's possible that this reply will involve an apology, or it could be an explanation of how you plan to rectify the issue. Under no circumstances should you become defensive or critical, as this could only further antagonize whoever has left the negative review. Through understanding and engaging in dialogue, it becomes more likely that any negative comment can eventually be turned into positive ones.
How often should I post to my social media accounts?
It's important to stay consistent when it comes to the frequency of your social media posts. You don't want to overwhelm your followers, but you also don't want them wondering why you've gone quiet all of a sudden. Depending on the size and activity of your brand, 2-5 times per week could be a good starting point. Companies should also analyze the effectiveness of their content by keeping an eye on metrics such as likes, shares, and comments to determine an optimal posting schedule. For a more detailed breakdown, check out our blog post on the best times to post per social media platform.
How can I choose the best social network for my business?
When selecting potential networks for your business, you might start by researching which types of content your target audience prefers. For example, if your followers prefer images or carousels, Instagram might be a good fit. But if they prefer videos, maybe investing in YouTube or TikTok is best.
You want to go with platforms that offer unique opportunities to build your brand's visibility and drive engagement. Look into what differentiates each platform and explore which ones offer the greatest level of access to users. Finally, do some competitor analysis and see which platforms similar businesses are using. If you see that competitors are having success on a particular platform, there is a good chance you will too.
How does social media differ from other marketing strategies?
With social media marketing, businesses are able to engage directly with their target audience in real time through posts, comments, and direct messaging. This allows for a more personalized approach than traditional forms of marketing like print advertising or television commercials. Most social networks also provide instant data and analytics, which make it easy to measure and adjust campaigns to enhance their performance.
Social media questions: The when?
When is the best time to post?
In general, the best days to post on social media are Monday, Wednesday, and Friday. The best times are 8:41 AM, 3:15 PM, and 7:00 PM in your target time zone. With that said, feel free to experiment with different times, days, and content types to determine when your followers are most active if you are able to, try asking your followers via a poll, just like we did.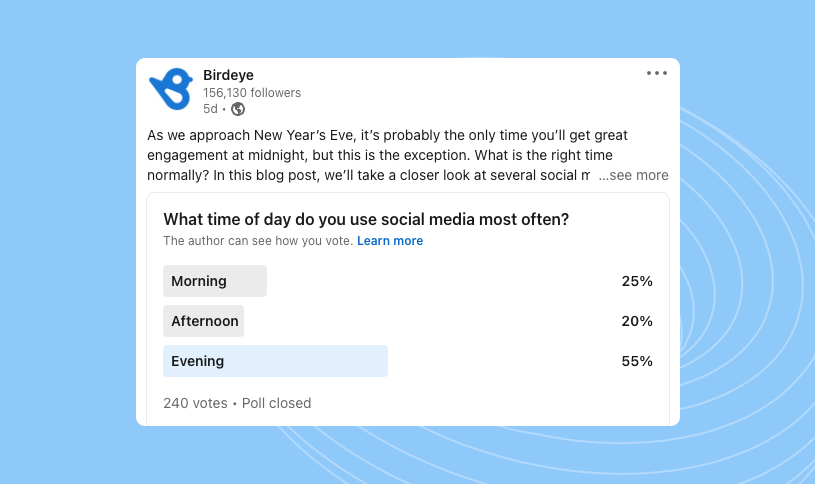 When should you reply to comments and reviews?
It's important to reply promptly to comments and reviews on social media as it shows customers you are attentive and engaged with their feedback. While there is no single standard for how quickly to respond, research suggests that companies should strive for an average response time of under 30 minutes for customer service inquiries. Depending on the platform, you may want to respond even faster than this, as many people expect near-instant replies.
When did social media start?
Social media first emerged in the late 1990s with the launch of SixDegrees.com, a website dedicated to helping people connect and communicate online. This was followed by Friendster in 2002, Myspace in 2003, and then the launch of Facebook in 2004. Over the years, social media has continued to evolve, and new platforms such as YouTube, Twitter, Instagram, Snapchat, and TikTok have become some of today's most popular networks.

When should I buy social media followers?
Buying social media followers is not recommended. Not only does this raise ethical concerns, but the results may be less effective than legitimate methods for building a follower base. Strategies like providing valuable content, engaging with followers in groups and forums, and running targeted ads are usually more successful in gaining genuine followers.
When is a good time to start promoting my business on social media?
The best time to start promoting your business on social media is as soon as you're ready. But before you start posting, create a strategic plan that outlines your goals and objectives. This will help keep your social media activities on track so that you can maximize success. Other times you could start promoting are when you are launching a new product or when you have important updates about your business or product.
Social media questions: The why?
Why is social media important for businesses?
Social media is important for businesses because it helps them create relationships with customers in order to build trust. It also provides a platform for companies to communicate with their target audiences directly, distribute content, promote products and services, increase reach and visibility, drive traffic to their websites, stay top-of-mind with potential customers, increase brand loyalty, and measure the effectiveness of their campaigns. Social media is also cost-effective when compared to traditional marketing and advertising strategies.
Why aren't I getting more social media followers?
There could be a few reasons for this. It could be that the content you're posting isn't resonating with your followers, you aren't posting as frequently as your competitors, or you haven't promoted your page and profile effectively. You may want to evaluate your strategy to determine what's working and what's not, and make changes accordingly. You might also want to consider refining the type of content you post, boosting posts through paid advertising, and collaborating with influencers in order to better reach your target audience.
Why do companies need a social media strategy?
A social media strategy is essential because it helps you stay organized and focused on your digital marketing goals. A good strategy should outline objectives, target audiences, key messaging, content plans, and post frequency. It should also take into account how to measure success and what channels might be best used to reach your desired results. Having a strategy in place makes sure that you are making the most of your social media presence.
Social media questions: The who?
Who uses social media?
Virtually everyone uses social media in some capacity, whether it's for personal use or for business purposes. Individuals use social media to stay connected with friends and family, share content, and consume news. Businesses use it to reach potential customers, engage with their followers, promote their products and services, and even manage their customer service questions.
Who manages a business's social media marketing?
A business's social media marketing is typically managed by either an in-house team or an external digital marketing agency. Depending on the size and scope of the business, there may be one person dedicated to managing all of the company's social media accounts or a team of people spread out across different departments. The individual or team responsible for managing a business's social media accounts must be knowledgeable about best practices and trends as well as have experience in content creation and analytics.
For more information on this topic, check out our ultimate guide to social media management.
Who regulates social media?
In general, most social media platforms have specific terms and conditions that users must comply with in order to maintain an account. Governments around the world also have laws and regulations to govern how social media companies use consumer data collected from these platforms. Industry associations often set standards for advertising on social media, such as the Digital Advertising Alliance in the United States.
No questions unanswered with Birdeye Social
There are a lot of questions when it comes to social media and how best to use it for your multi-location business. With Birdeye Social, you can scale your social media marketing with helpful features for publishing, reputation monitoring, and reporting because it was built specifically for multi-location businesses. Watch our free demo today.


        

This blog post is part of our Social Media Management Guide 


      

           



Originally published