Beauty industry entrepreneur, Elizabeth Arden, once said, "Reputation makes customers." Ms. Arden could not have imagined the challenges of managing a business's online reputation.
In fact, your business's local search engine optimization (SEO) reputation signals search engines about your brand. The better the optimization, the higher you're likely to be found in Google's local pack results.
81% of consumers search online before physically going into a store. Yet only 25% of internet users ever go to the second page of Google.
SEO reputation management is equal to your business having a positive online presence, especially on the first page of SERPs. After all, a dynamite SEO reputation management plan is how businesses make customers in the digital age.
In this blog, we've shared the 3 *not-so-secret* strategies you can use to boost your SEO reputation management. 
What is SEO reputation management?
SEO reputation management is actively controlling and influencing your online image and brand perception. It is when people search for your brand or business online and they find positive and accurate information. This is a proactive approach to managing your online presence.
SEO for reputation management shapes your brand's online image by working to influence the results for keywords associated with your brand and attract customers.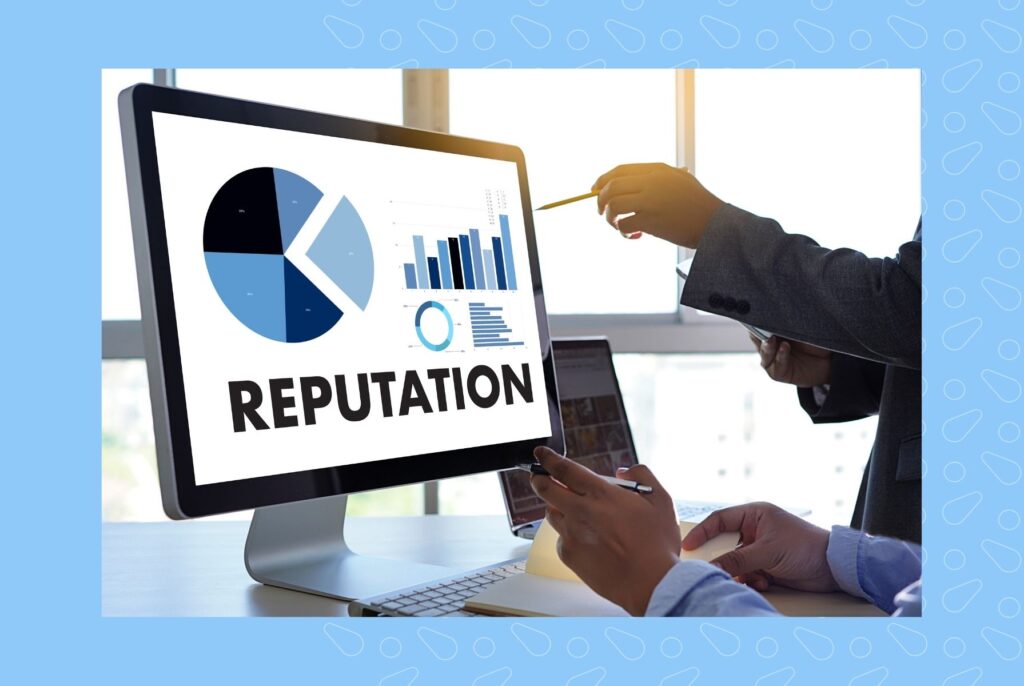 How do you do SEO reputation management?
Taking charge of your online presence with reputation management SEO strategies is easier than it sounds. You start out by optimizing your website and creating content. Then, you optimize third-party pages and listings you have control over. From there, you start proactively managing your online reviews.
Before you know it, consumers researching your brand and industry repeatedly see content that reflects your company positively. Viola, you've successfully put reputation management SEO into practice.
Below, we break down three SEO reputation management strategies: 
Secret 1 – Perfect your Google Business Profile listings
Start at the source when you're looking to rank high on Google's SERPs. Your Google Business Profile is the best way to get your company at the top of results when users search for services in your area.
In fact, many people go straight to your Google Business Profile for important information like hours, addresses, and more. Take charge of your first impression by making sure your profile is complete and accurate.
Add photos and other information, such as your menu or online ordering form. Your Google Business Profile is also a great place to showcase awards and other positive information.
Once you make your Google Business Profile part of your SEO reputation management strategy, you can access data such as effective keywords or calls.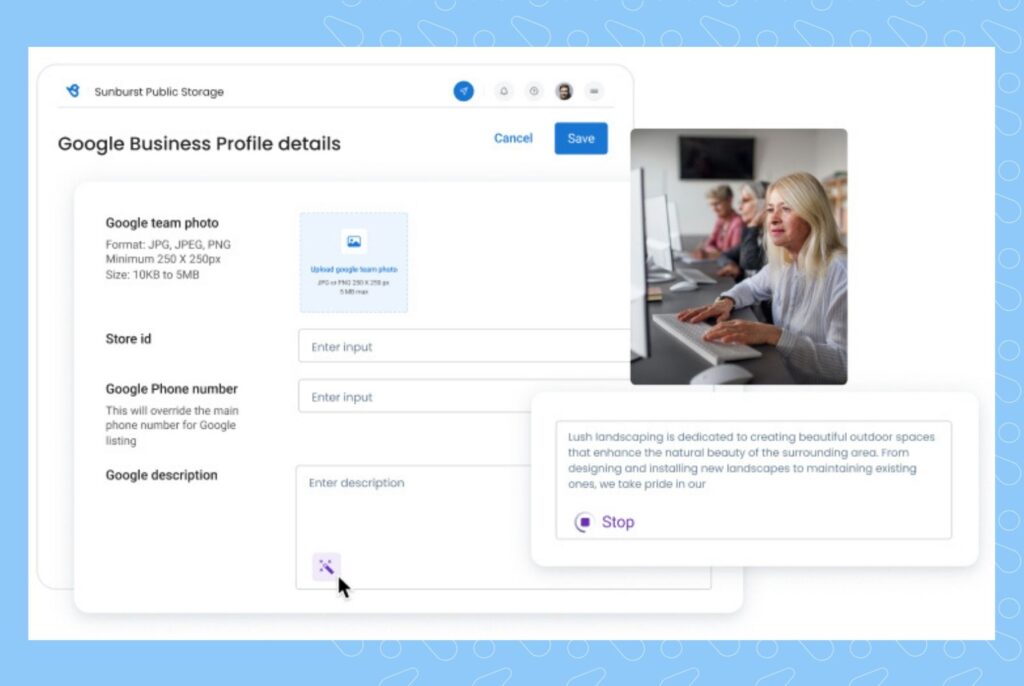 Secret 2 – Execute on-page & off-page SEO techniques
Go all-in when it comes to SEO for your website. Maybe you've been putting off diving deep into the nuts and bolts of local business SEO. But your website is ground zero for your online reputation management SEO strategies.
An SEO professional can turbo-charge your optimization efforts. But there are some basics you start now to raise your website's standing in the SERPs:
Create quality content with primary and secondary keywords.
Create videos and other visual content for your site.
Use internal links within content to help Google map your site.
Include your contact information and address on your About Us page.
Use keywords in your image and video tags.
Make your site easy to navigate with a clear page title and useful links.
Get backlinks from high-quality, authoritative websites.
Make sure your website is mobile-friendly.
Analyze your competition to figure out how they're handling SEO reputation management.
Secret 3 – Manage your reviews on all consumer review sites
We can't overstate the impact that online reviews have on your SEO reputation management strategy. More than 60% of most customers go to Google reviews to check out your rating. 
Your business benefits from positive Google reviews in many ways:
Increase Google search rankings.
Increase sales.
Know what you're doing right and also what you're doing wrong.
Boost your brand's reputation.
Great reviews don't happen magically, even if you make your customers happy. People are simply more likely to share bad experiences over good. And that's why you need to make it easy for happy customers to leave glowing reviews.
Asking for reviews is a surefire way to increase your ratings. Sending text reminders at the right times can make your SEO reputation management strategy even more successful.
SEO local search checklist to improve your reputation
Increasing local, organic traffic is the holy grail of SEO reputation management. After all, if you're a roofing company, a website visitor who lives on the other side of the country doesn't do you much good.
You want website traffic that will convert. SEO reputation management with an emphasis on local search results can help.
Update business name, address, and phone number for each location
Confirm hours of operation for each location
Ensure that the email addresses, toll-free numbers, and any secondary numbers for each location are accurate
Include a complete list of services offered for each location
Include a brief description of each location
Add high-quality images
Add links to the appropriate pages on your website
Read our comprehensive guide about SEO local search and get additional tips to fuel your SEO strategy. 
Maximize Credibility with Proven SEO Reputation Management Strategies
Want to see the impact of Birdeye on your business? Watch the Free Demo Now.
Why does SEO reputation management matter?
It's true that reputation makes customers — as long as your reputation is good. A poor reputation will drive customers away. And what's even truer is that search engines are the gatekeepers to your online reputation.
Take online reviews, for example. Back in the day, people would ask their neighbors for recommendations on everything from plumbers to restaurants. But now they don't need to, thanks to the impact of online reviews.
1. Builds trust and signals Google you're credible
According to one survey, almost half of respondents trust online reviews as much as they trust a good word from family and friends.
So it goes without saying that online review sites are the first place potential customers check out your reputation.
2. Positive reviews raise your brand in search results
Your domain's authority will be hit if your online reviews reflect too many unhappy customers. Maintaining positive reviews is part and parcel of SEO reputation management.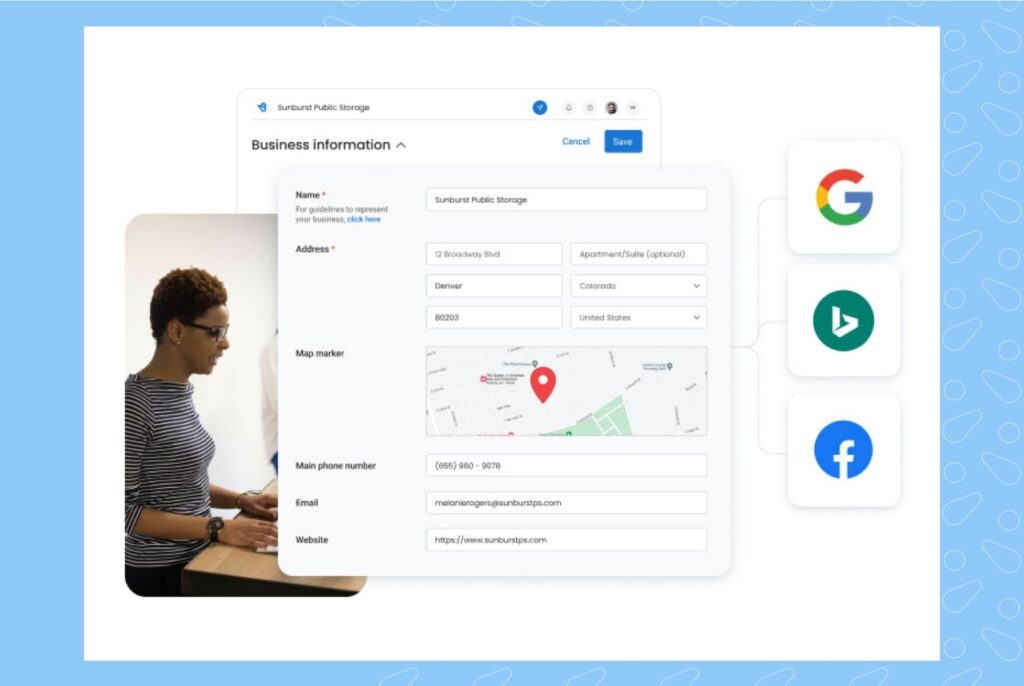 How does AI help in SEO reputation management?
Using Birdeye's AI in SEO reputation management, you can make the most of your business, especially those operating from multiple locations. To maintain that, you must provide accurate and engaging descriptions so customers can discover them sooner.
Birdeye's AI-powered Listing makes it possible to:
Generate SEO-friendly descriptions for Google Business Profiles to attract customers
Optimize content to rank when customers search for your business
Suggest highly relevant local keywords that businesses to rank higher in search results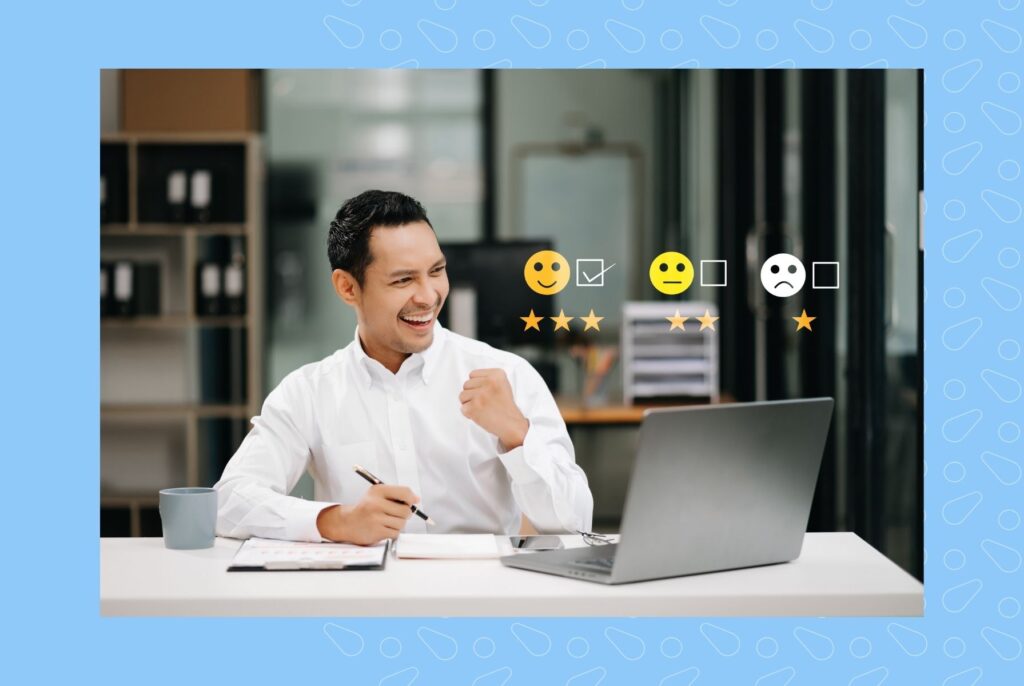 Examples of brands who improved search rankings with Birdeye
#1. 7 Pearls Dental generates hundreds of 5-star reviews that shine as bright as their patients' teeth
About the brand: 7 Pearls Dental is a dental practice located in Wickham that provides a range of services, including general dentistry, cosmetic dentistry, and orthodontics.
Challenges they faced before using Birdeye:
Wanted to integrate a seamless customer communication system
An efficient review generation process to reply to patients faster
Results they achieved after using Birdeye:
124 new reviews generated
193% increase in calls to the business
534% increase in discovery searches
383% increase in Google profile views
#2. Marriott Lane skyrocketed their online reputation and gained a competitive edge
About the brand: Marriott Lane Real Estate is a real estate agency based in North Sydney, Australia. They specialize in the sale and management of residential and commercial properties.
Challenges they faced before using Birdeye:
Building a strong reputation as a go-to choice for providing personalized and professional services
Having a platform that helps them understand their client's unique needs and goals
Results they achieved after using Birdeye:
872% increase in discovery searches
365% increase in calls to the business
295% increase in website visitors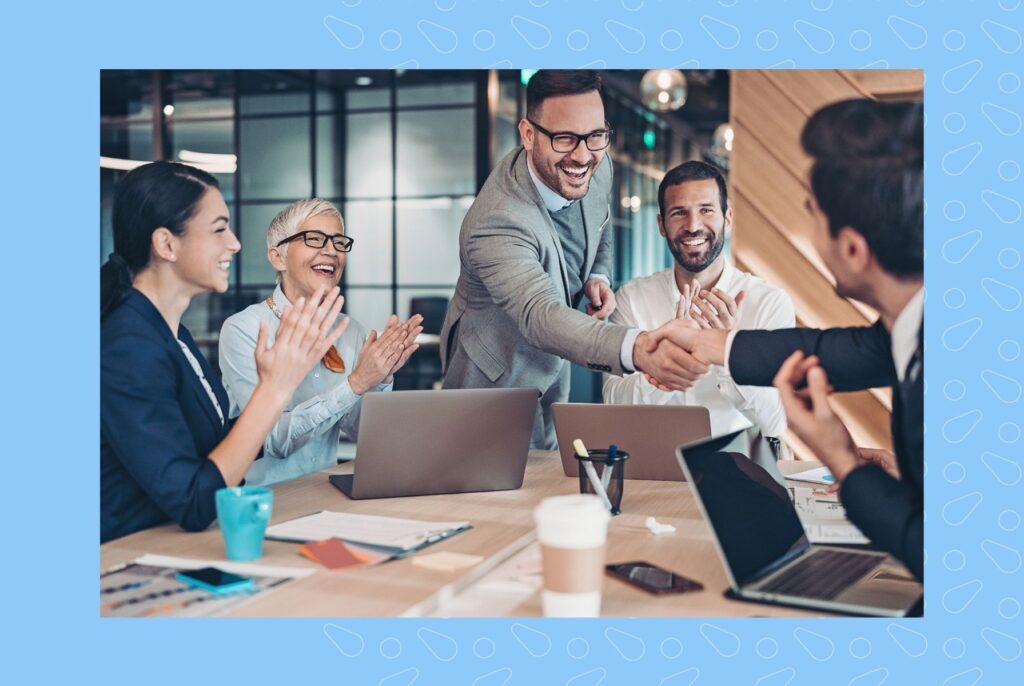 FAQs on SEO reputation management
Can negative online reviews be removed through SEO?
You can't remove negative reviews with SEO or any other method. You can make negative reviews less relevant by increasing positive reviews. An SEO reputation management strategy can help.
What are the best practices for SEO content techniques in reputation management?"
The best practices for SEO content in reputation management increase the profile of positive content. It also seeks to bury negative content. Ways to do this include optimizing your site and pages you have control over.
How long does it take to see results from SEO reputation management?
Any new SEO strategy will take three months to a year to work. That's why you must work on your SEO reputation management strategy now. Don't wait until negative content or news damages your reputation.
Supercharge your SEO reputation management with Birdeye
Your reputation has a direct impact on your sales. And nowadays, much of your reputation exists online.
Use an SEO reputation management strategy to take control of your online presence. The strategies we've shared will lift up positive content while burying the bad in search results.
Do things like completing your online profiles, optimizing your site, and asking happy customers for online reviews. And don't forget to optimize for local search results.
Pulling off a successful SEO reputation management strategy is one of the most effective ways businesses can make customers. 

Originally published