A Google My Business profile is an indispensable channel for lead generation. Google's impact on how consumers search, select and buy is genuinely overwhelming.
Consumers now plan about when and where to shop, and this trend isn't going away anytime soon. That stands in marked contrast with past offline "browsing" behavior, where people typically went out and visited numerous stores on a spree, checking out options, comparing prices, and making a day out of their shopping experience. Due to this shift in behavior, local "near me" Google searches grew globally by more than 100% in 2022.
Related: Check out this audio guide for a comprehensive list of tips on generating more leads with Google My Business. It covers everything you need to know in less than 20 minutes.
In our latest episode of the Break Room – we outline some essential tips for optimizing your Google My Business listing for success. You can learn these tips by listening to the episode via the audio player below, or if you prefer the written word, scroll on.
You must optimize your listing to leverage Google My Business to generate leads. This article will share the tools you need to fuel lead generation with Google My Business. There's a lot to cover, so let's dive right in.
What is Google My Business?
Google My Business is an accessible business listing that local businesses can use to manage their presence on both Google Search and Google Maps. It's similar to other listings on online business directories, such as The Better Business Bureau. Still, it's present directly on Google and Google Maps search results and removes the need for users to visit a third-party site.
How to optimize Google My Business for lead generation
A Google My Business listing isn't enough to effectively generate more leads due to the increase in competition with local SEO. It's essential to leverage the full suite of tools your Google Business Profile offers.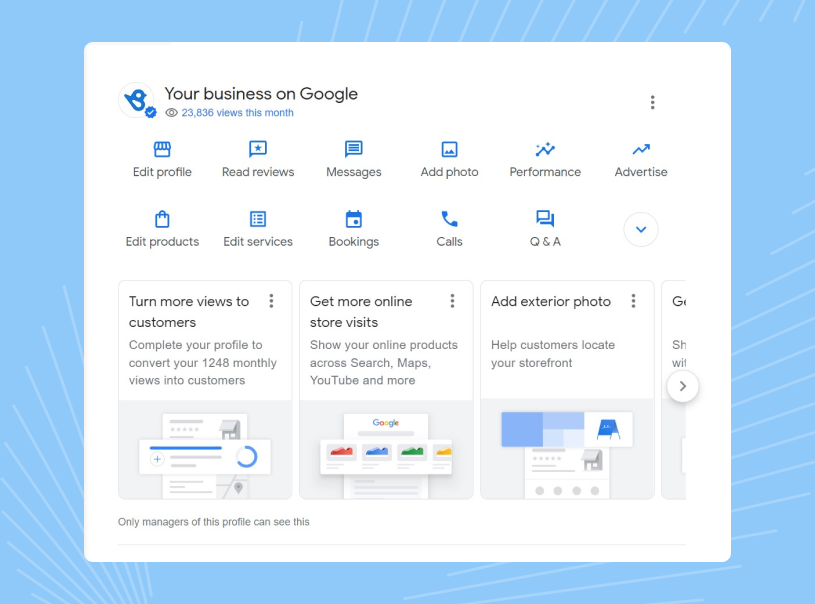 The significant increase in local Google business searches makes the benefits of optimizing your GMB (Google My Business) profile very apparent. Yet despite this, 56% of local retailers still need to claim their Google My Business listing. That creates an opportunity for them to get on par with, or even to leap ahead of, their competitors.
If you want to grow your business, setting up your Google My Business profile for lead generation is essential. Pay attention to these factors and tactics to get the most out of your Profile:
1. Consistent and accurate NAP (name, address, and phone number)
Let's start with the basics. Google values accuracy and consistency above all. This is one of the primary factors in Google's algorithm to identify relevant local businesses for a search query. For your Profile to rank in the top results, NAP (name, address, and phone number) must be accurate.
If your company's contact information needs to be updated, isn't consistent, or is incorrect, the consumer will likely be inconvenienced. In fact, 71% of consumers reported having a negative experience because of incorrect local business information found online.
You can edit/update these elements of your business listing from your Google My Business dashboard:
Log on to your dashboard by signing in to your Google Business email address.
Click on the "Edit Profile" option.
The Edit business information screen opens with five sections: About, Contact, Location, Hours, and More.
To update your business name, move to the "About" section and enter the correct name consistent with your website and all branding materials.
Update your address and phone number in the "Contact" tab. Make sure that the location is accurate as well.
For addresses, it's important to indicate suite number, floor number, or block number for easy accessibility, but on the second line. Click on the "Add second line" button to enter these details.
Click on "Confirm" to save the changes.
2. Choose the right business category 
Did you know the primary GMB category is the number one "local pack" ranking factor? It tells Google whether your business is relevant to that local search. Choosing the most relevant primary category and secondary GMB categories significantly affects how a business appears in local searches.
Google My Business categories show both Google and prospective customers the kinds of services you provide. For example, a realtor who does appraisals can choose categories like "real estate agency" and" real estate appraiser."
By choosing the correct Google My Business categories, it will increase the likelihood of your business ranking higher for relevant searches. If you're an urgent care facility, you're much more likely to show up in searches for "urgent care near me" if you have "urgent care" as your primary category.
Here's how you can make edits to your Google My Business categories.
Sign in to your Google My Business dashboard.
If you have multiple locations, choose the right location from the group whose category you want to change.
Click on the "Edit Profile" option. The five-tab popup will then come on the screen.
To update the business category, choose the "About" section and scroll down to see the "Business category" field.
Click the pencil icon next to the "Business category" field to reveal the "Primary category" field. Enter the relevant category. This will show up under your business's name on your GMB profile.
If you wish to add more categories, click "Add another category ." The additional category field opens up now.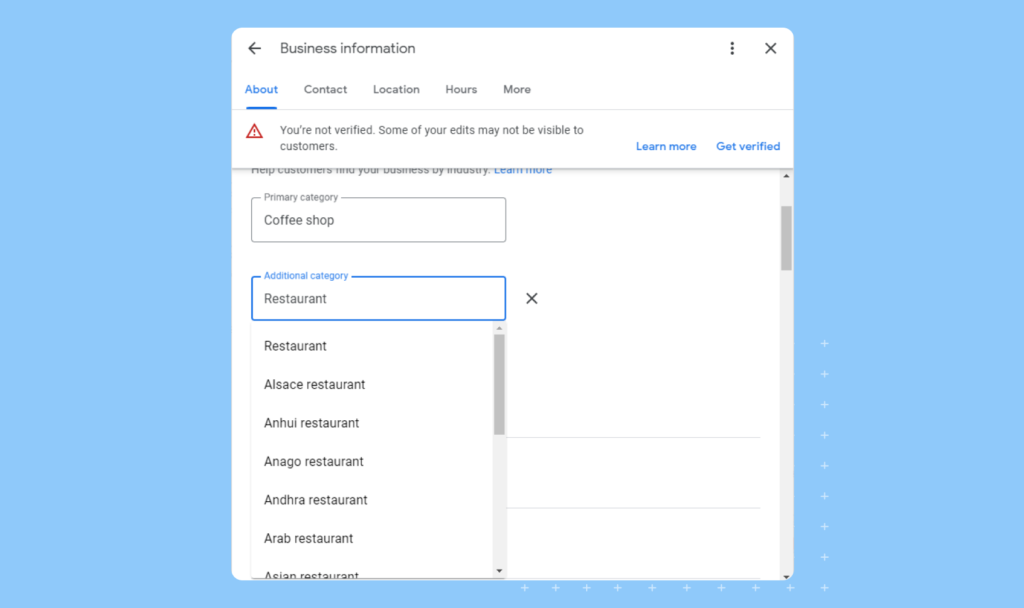 3. Get comprehensive with listings
The online experience is a significant part of consumer shopping behavior, even in the post-COVID-19 vaccinated world. Customers have become use to the convenience and ease of looking up businesses online.
As the economy continues to reopen, many of the population will only choose businesses that make them feel safe. 62% of consumers say they will only choose businesses that continue to enforce safety guidelines, even if most Americans receive a vaccine.
To attract these consumers, you'll need to provide accurate information about your social distancing protocols to get them to convert.
Make sure to list relevant details in your GMB profile, such as masks required, no-contact delivery available, safety dividers at check out, etc. Be sure to fill out as much information as possible to establish trust with customers and, of course, with Google. These can stay on even after the restrictions relax to show customers your preparedness.
You can also connect delivery partners to your Google My Business listing so that customers can place orders directly from your Profile.
This information is displayed right below your business name in Google Search and Maps, making it easy for customers to choose you.
It is also important to leverage attributes on your Google Business Profile. Google allows businesses to show their unique offerings and features with customers via attributes.
Services and Attributes
You can add factual attributes to your profile such as wheelchair-friendly, free Wi-Fi, and so on, and users can add subjective attributes such as friendly service, cozy, or popular with kids.
Attributes help you in qualified searches like "restaurants with Wi-Fi" or "accessible library near me", so make sure you make most of them.
You can update this information on your listing by:
Logging into your Google My Business dashboard.
Clicking on "Edit profile" and selecting the "More" tab.
You'll then see the relevant service options. Change and save to update.
To add attributes, scroll down to the specific sections that make sense for your business (i.e. "From the Business") and start adding the relevant attributes.
Click on save as you go.
If you have a Google My Business listing, keeping tabs on updates to Google Maps is crucial. For example, businesses that offer curbside pickup and delivery should add these features. This will give them an edge over competitors. In general, whenever there's a new feature, it's worth seeing if it's relevant and how it can benefit your business.
Keywords in Business Description
Most businesses develop a Google Business Profile to boost their search engine rankings and to make it easy for their customers  to discover them. Having a Profile can certainly do that and help you in lead generation if you know how to optimize it for that. 
Once you know what keywords you wish to rank for in local search results, you can leverage your Google Business Profile by adding those relevant keywords in your business description. Make sure that you list all target services, keywords, and information in the description.
Your business description is the first impression you'll make on your customers, convincing them to stay or move on.
Best practices for a business description include:
Keep it short, simple, and professional.
Make sure that you use the accurate business name.
Update it regularly to edit, add, or remove outdated information.
Use relevant keywords but without it seeming over the top.
4. Link your website
Your Google My Business account can help you generate leads that you can capture and nurture through the funnel by driving web traffic for your business. Yes, adding your website to your Google Business Profile is critical and can be a game-changer for your business.
While this seems like a straightforward process, there are layers to it:
If you are a single location business and are managing the Profile, link to the homepage of your business website. Make sure that the homepage information is consistent with your GMB profile and has all the relevant details.
If you are a multi-location business, it's important that you link location-specific pages to each location's Google Business Profile instead of the same generic homepage. If you don't have location-based pages, create one to capture leads more efficiently.
If your business has fluctuating demands based on seasons, make sure that you link to the "in-demand product/service" in each appropriate season to help customers find your solutions easily.
To add your website to your Profile:
Sign in to your Google My Business dashboard.
Click on "Edit Profile" and move to the "Contact" tab.
Move the cursor to the website field and edit the URL.
Click on "Confirm" to save changes.
5. Upload photos, videos, and posts to your GMB profile
Photos and Videos
Google reported that businesses with photos receive 42% more requests for driving directions and 35% more click-throughs to their websites. Photos about your products, offices/stores, etc., offer clarity to customers and encourage them to work with you.
This is what the photo tab on your Google My Business page looks like:
The more people visit your website, call you, or click the "place order" button, the higher your chances are of ranking in the top local search results.
To upload photos to your Google Business Profile:
Log onto your Google Business Profile dashboard.
Click on the "Add photo" option.
A popup allowing you to upload different categories of photos opens on the screen.
You can choose between "Photo," "Logo," or "Cover photo." The photo option is for standard photos, while the logo and cover photo are for branding materials.
Upload the photos and click "Confirm" to save the changes.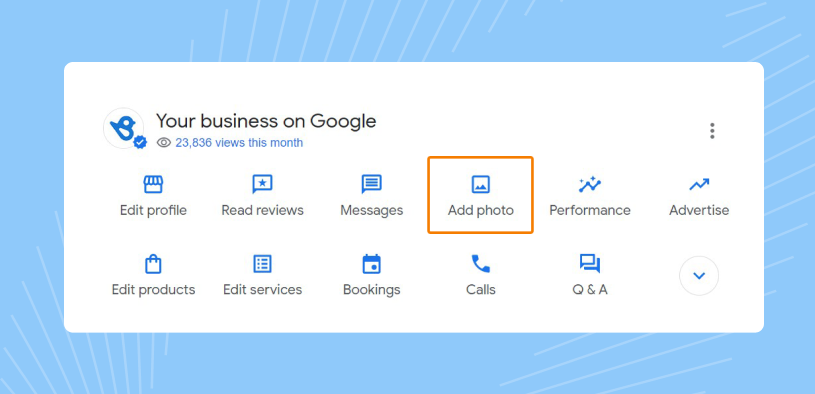 To increase your chances of converting searchers, Google recommends the following:
At least three exterior photos, taken at different times of the day and showing the approach to the business from common angles.
A minimum of three interior photos of your store/office.
Product photos for the most popular products and services you offer. You can also tag your products to appear on Google shopping.
One image of your business's common areas, such as the reception desk or lobby.
A minimum of three management and team photos.
For bars, restaurants, and cafes, images of the most popular food and drinks.
For hotels, images of guest rooms.
Google Posts and Q&A
Active Google Business Profiles stay on Google's radar and have a higher chance of being featured often for relevant search results. Staying active also means that you are constantly feeding Google and your audience a wealth of information about your business, which ultimately helps in lead generation.
There are quite a few ways to stay active on Google My Business:
Use Google Posts to share updates, latest offers, events, engaging content, and more to your Google Business Profile.
Q & A lets you answer questions from customers and provide clarity on your business operation, products, and services.
Monitoring your business profile can help you keep tabs on what your customers are doing, asking, and how they interact with your information. Also, leverage Google Business listing insights to keep track and improve your Profile.
6. Generate, respond, and manage Google reviews
While a complete GMB may be the number one local ranking factor, reviews are second. Robust reviews management on your GMB profile tremendously impacts your local search ranking.
It's essential to regularly generate new Google reviews and manage them as they scale. 89% of consumers read reviews before purchasing, which is precisely why Google prioritizes them as a local SEO ranking factor. Additionally, 69% of consumers today believe online reviews older than three months are irrelevant.
Google updated GMB with a 'new' label for recent reviews. This further emphasizes how important Google sees GMB reviews and their recency. This update means that searchers are alerted to new reviews, which are given more prominence.
To reap the benefits of this update, it's more important than ever to regularly ask for reviews and make sure you have reviews left within the past two weeks. Review management software can help you to automate review requests and manage your reviews as they scale.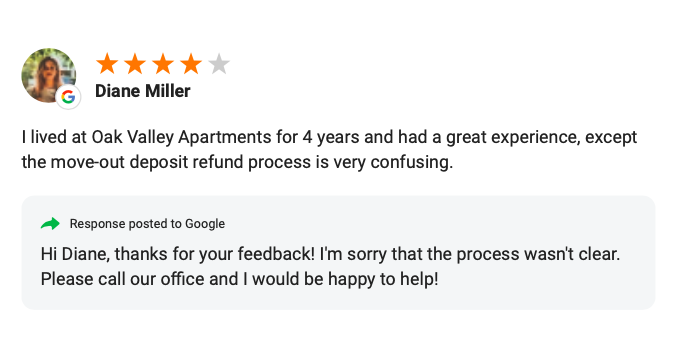 Regularly requesting reviews means you can show positive, recent reviews on your GMB profile, proving to consumers that your business delivers a superior experience.
This is a crucial element of optimizing Google My Business for lead generation, so invest in streamlining reviews management to boost conversions.
7. Turn on Messaging for your GMB profile
One emerging trend from the pandemic was that more consumers checked to see if a specific product or service was available before visiting a business. 67% of consumers plan to confirm online that a desired item or service is available before visiting a business, even after most Americans are vaccinated.
Even though your GMB profile shares your company's phone number, 75% of consumers prefer messaging a business instead of calling. That's where making it easy for prospects to message a business comes in – and now, Google has even done that, with the introduction of Google click-to-messaging, right from a business's Google My Business search result.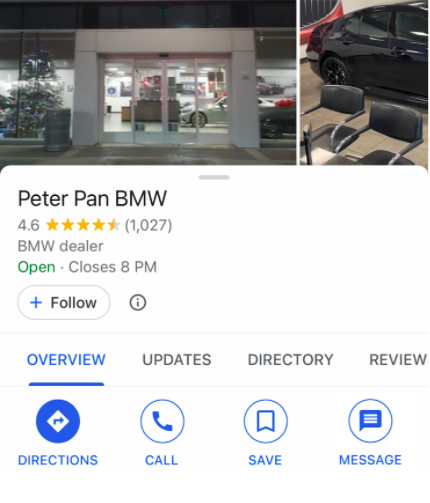 Google's click-to-message makes it easy for customers to get in touch with your business, literally at their fingertips, from mobile entry points like Google Maps and Search.
What does that mean for your business? You can now answer questions quickly and therefore attract more customers.
To turn on messaging for your Google Business Profile,
Sign on to your Google Business Profile account.
Click on the "Messages" option on the dashboard.
If you have verified your business, you can enable messages for your Profile from here.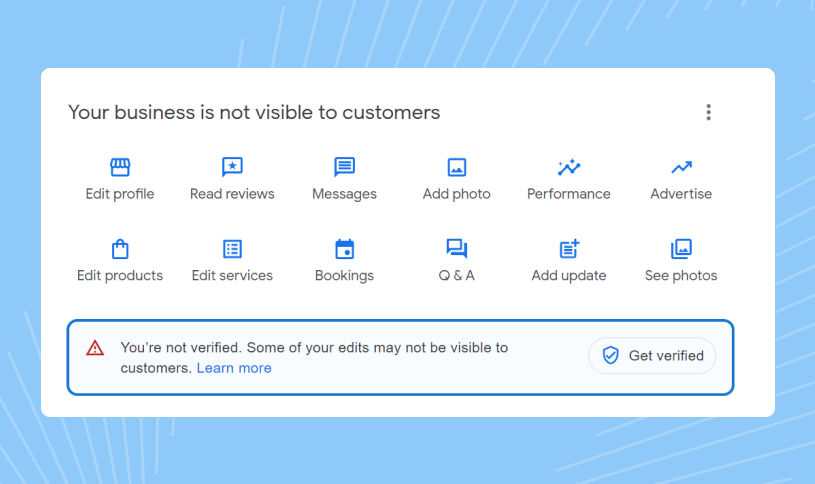 You can even turn on "Request a quote," which displays a button with that CTA on your Business Profile in a customer's search results. Customers can then use this button to request a quote from their mobile device directly on your GMB profile. When a customer requests a quote, you'll get a message in the Google My Business app, the web messaging portal for eligible users, and an email with a response form.
You can also use a unified messaging solution to monitor and respond to messages from a single dashboard.
As more businesses compete online, this powerful tool will help businesses stand out from the pack by providing a new layer of convenience for consumers – and it will directly impact your lead generation goals.
Tying it all together – Experience Marketing Software 
Fueling lead generation with your Google My Business profile entails managing your listings for SEO, generating and managing reviews, and quickly responding to customer messages. While this may seem overwhelming, leveraging Experience Marketing software allows you to tie all the pieces into one centralized solution seamlessly.
For example, a consumer seeking to purchase a new BMW X3 starts their customer journey by searching for "BMW near me" on Google.
The average consumer chooses a business from Google's top 3 search results with the most reviews and highest star rating – in this case, Peter Pan BMW.
From there, the consumer can message Peter Pan to check if they have the X3 without leaving Google. The relevant team member is alerted and can now chat with prospects while they're still on Google.
It's that easy.
This is what the modern customer journey looks like, and Experience Marketing software provides you with all the tools you need to drive growth in one intuitive platform.
FAQs about Google My Business lead generation
How do I get leads from Google My Business?
To generate leads from Google My Business (GMB), you must ensure that the listing is updated, upload photos to your GMB profile, generate reviews, and enable messaging on your profile.
How do I get my small business to show up on Google?
To show up on Google, businesses must build a high review volume, include keywords in the profile description, and ensure NAP (Name-Address-Phone number) is accurate.
Does Google have lead forms?
Yes, Google has lead forms. Creating lead forms in Google Ads and adding them to your campaign in Search, Video, Discovery, and Display categories is possible.
How can I promote my business on Google?
To promote your business on Google, start by updating your Google My Business profile, generating reviews, responding to reviews, and uploading the latest news and photos.
Are Google leads worth it?
Definitely, Google leads are worth it for your business because purchase intent is highest for customers looking for businesses on Google. Running Google Ads or setting up a Google My Business profile can immensely boost your leads.
Does Google My Business increase SEO?
Yes, an active and updated Google My Business profile definitely impacts your SEO efforts. Optimize your profile for best SEO results.
How often should I post on Google My Business?
Ideally Google posts timing are twice a week maximum or once a week minimum to keep the Profile active and to avoid cluttering with a lot of information.
Should you use hashtags on Google My Business?
There is no evidence to suggest that hashtags have any impact on Google My Business.
What is the best time to post on Google My Business?
The best time to post on Google My Business would depend on your audience insights, except for events or offers which should ideally be posted from the time they are live.
How long do Google My Business posts stay up?
Google My Business posts stay up for six months, after which Google will not highlight them to users.
Get the complete Google marketing package with Birdeye
Birdeye offers business listing management tools, powerful reviews management, and a unified Messaging inbox to manage Google Business Messages directly from our platform, all thanks to direct integration with Google.
Birdeye provides multi-location businesses with a complete Google marketing package, one of the many reasons why more than 100,000 businesses use Birdeye to help boost their local SEO and win new business.
Sign up for a free demo to know more about Birdeye's Google experience today!


        

This blog post is part of our Complete Google My Business Guide:


        

Google Business Profile


        

Google My Business Related Training


        
Originally published