Engagement is the measurement of success on every social media platform. It's why you want to see plenty of likes, comments, and shares on your content. Yet, it can be frustrating to post content you think will work only to see followers have passed it by without so much as a single like. The truth is that some posts get more engagement than others. If you want to increase your engagement rate, you need to know what social media engagement posts are and how to use them.
In this blog article, we'll cover 15 social media engagement posts your company may not have used before that can boost engagement rates. We'll also give you some best posting practices to keep your brand's engagement rates high on any social media platform.
What is social media engagement?
Social media engagement refers to the way your followers interact with your content. It most often comes in the form of likes, shares, and comments on most major social media platforms, but it can also include backlinking, adding to favorites, and more.
Engagement shows how well your content is received by your followers. A higher engagement rate means your followers thought your post was relevant and exciting. Less engagement means your followers saw your post and just scrolled past.
[Free Guide] The ultimate social media marketing guide for local businesses
Download here
Why social media engagement is important for your company
Not only does engagement show you how your posts are doing, but it also shows your followers and social media algorithms how well your content is performing. When your followers see your content has high engagement, they'll be more likely to engage with it too, by liking, commenting and sharing. And when a social media platform sees a higher engagement rate, its algorithm will prioritize your content and rank it higher in your followers' feeds. For both reasons, you need to make relevant and engaging posts if you want your company to succeed on social media.
Best social media engagement posts
1. Ask questions via polls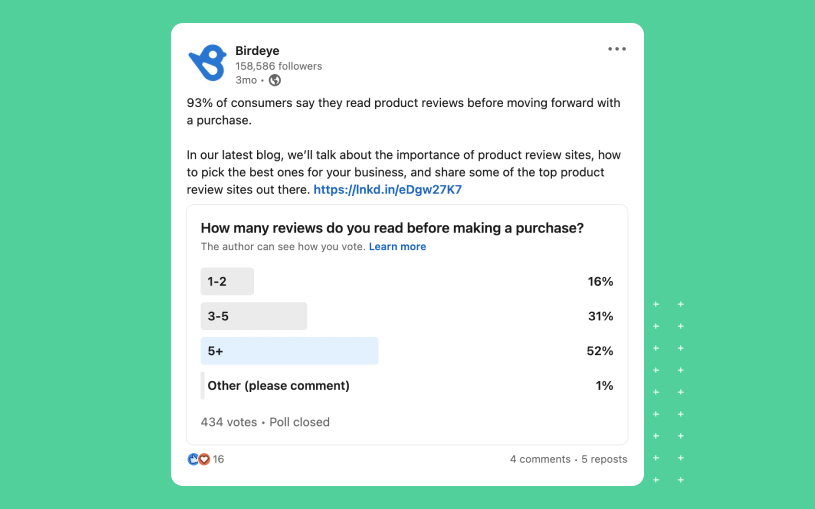 People love to share their likes and dislikes on social media. Polls allow them to do that while giving you valuable follower insights at the same time. Polls are fun, entertaining, and proven to boost engagement – especially on platforms like LinkedIn.
Fun polls, like asking what your followers plan to do for the holidays, tend to get more engagement – but you can also ask insightful questions to help you figure out what content your followers want to see.
For example, your company can post a poll asking when your followers most often scroll their feeds during the day. The results from that poll can help you determine the best times to post on your social media channel(s) to reach your followers when they're most likely to engage with your brand's content.
2. Ask your followers for feedback
Your followers can be a valuable source of feedback when needed. Whether you're developing a new product or making a change to your organization, asking your followers for their thoughts and opinions can be incredibly useful and drive more engagement to your post.
For example, your company might be focused on developing a new product or service with a specific demographic in mind. You can ask your followers if they'd be interested and leave their reactions and comments in the post. A feedback post gives you valuable information that can give insights into your product development process and generate lots of engagement.
3. Host a live stream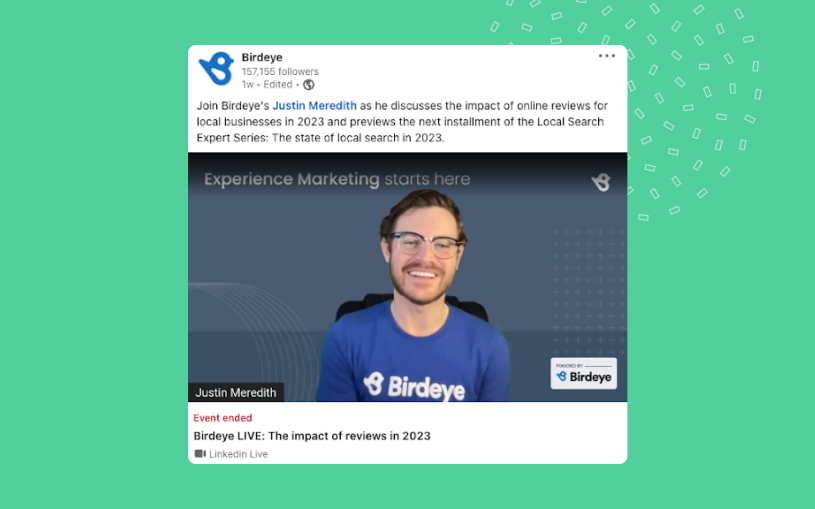 Live stream videos are a fast, easy way to invite your followers to join a conversation, ask questions, and get the inside scoop on the latest happenings in the industry. Live streaming is a broad category that gives flexibility to create content that will resonate with your followers and make them want to interact.
For example, you can give your followers a chance to "join" an event they couldn't attend in person, provide a product walkthrough, share a how-to video, and more. Live streams invite your followers to join in and allow you to encourage them to like and share your content. And the engagement doesn't stop when the stream ends. Most social media platforms keep your live stream available after it's ended as a video that your followers can watch, re-watch, like, comment, and share at any time.
4. Launch contests and giveaways
The word "free" appeals to nearly everyone. That's why social media contests or giveaways are fun social media engagement posts that are likely to drive high engagement. Your followers will want to participate in the contest in the hopes they'll become the lucky winner.
The best part is that you call the shots as to how they enter. You can tell your followers to like, share, or comment on your company's posts during a certain timeframe as their entry into the giveaway, which will automatically increase your engagement rate.
5. Interview an industry expert
Interviews with an expert in your industry are highly informative for your followers and give your company some thought leadership clout at the same time. If your followers are familiar with the expert you're interviewing, there's a good chance they'll join the conversation to see what they have to say. Simply set up a time and date, record the conversation, make some edits, and post it on your social channels.
You can also take the interview a step further by doing it live. You can open up the conversation to a real-time chat where your followers can join in and ask their questions. The more questions you get, the more engagement you generate. Then, you can use the interview just like you would a traditional video post when the stream has ended.
6. Create personal posts about your company
It's easy to forget that a company is more than just a product or service and has real people behind it. More than ever, followers are interested in the human experience behind a company, so creating posts that show the people working for your organization will often resonate with them in a way that other posts can't.
For example, a fun picture of some of your employees dressed up for a party can be a great way to show the human side of your company. Personal posts are even becoming more prevalent on the typically business-centric LinkedIn, with posts about the joys of parenting or the struggles of mental illness ranking higher than ever. Followers care about more than just your products. By showing them the people behind your brand, you'll see your engagement increase.
7. Utilize pop culture references
Keeping up with the latest trends in pop culture allows your company to create posts that connect your brand with what's happening in the world in fun and creative ways. The best idea is to connect your brand to a popular trend and add some humor to it. Posts like that have a good chance of going viral, making it likely to get more engagement from your followers and other social media users simultaneously.
You can create a meme about a pop culture topic, use trending audio on platforms like TikTok, or just share your thoughts on an exciting event in your industry. Posts that connect your company to popular culture keep you relevant and make your brand more approachable, therefore making your content worth engaging with.
8. Offer exclusive deals and discounts
Discounts and exclusive offers appeal to nearly every industry. You can create a post that offers a limited-time deal they can't get anywhere else. If you're a business-to-business (B2B) company, you might offer a discounted price on your products or services exclusively on your social post. If you're a business-to-consumer (B2C) company, you could give your customers a buy one, get one free item from your store.
Followers will want to engage with your posts about special offers, but they may also be inclined to share them with others who might be interested in getting in on the deal. Both are beneficial to you as they increase your sales and engagement simultaneously.
9. Collaborate with influencers
Influencers have changed how we consume content on social media, and brands have taken notice. Influencer marketing has grown from $1.7 billion in 2016 to $16.4 billion in 2022, making it one of the fastest-growing methods of raising brand awareness you can use to your advantage.
Find influencers in your industry with a respectable following and reach out to them for a collaboration. You can send influencers your products for review, offer them their own discount code to share with their followers, invite them to a live stream, add a link to your company within their descriptions, or find another way to get them talking about your brand on their social channels. This collaboration automatically increases your brand awareness with their followers, who will want to engage with your content after learning about your company from their favorite influencers.
10. Share user-generated content
Increase your company's engagement rate by leveraging user-generated content (UGC) – the content other social media users create about your brand or products. UGC is a genuine testimonial from others that you can share with your audience. Because of that third-party input, your followers will see the content without any bias coming from you. Sharing user-generated content shows followers that your company values the content they create, which encourages participation in increasing awareness about the brand.
Use hashtags to find posts related to your brand, and choose the ones that portray your company in a positive light. Don't forget to acknowledge the person who created it with a reaction and a comment. Then, share the post with a link to the original content creator.
11. Promote relevant content from other publishers
Sharing content from other publishers is a quick way to build credibility with your followers. When positive, curated content is shared about your company, it's worth showing your followers because it demonstrates some popularity around your brand. You also know the published content you're re-sharing is reliable and professional when it's originally published by reputable organizations.
Use hashtags to keep up with mentions of your brand on social media and find posts that are both relevant and created by a credible source. Then post them with your thoughts and give a shout-out to the original publisher. This will show your followers that you are grateful for the positive press while showing off some positive attention to your brand.
12. Post customers reviews, and success stories
Customer reviews
Social media is a great place to display online reviews and testimonials. Not only are they great content to promote engagement, but research also shows that reviews shared on social media increase social commerce. The story of a happy customer invites followers to like and share their testimonials – all while boosting your credibility as a company, which leads to more sales.
Customer success stories
You can also take the time to highlight customer success stories. Customer highlights not only show your followers that you value your customers, but it also is a magnet for engagement. Sharing a success story from a happy customer is a fast track to humanizing your company, which social media followers value more than ever in the companies they trust.
13. Post an employee highlight
An employee highlight post is a great way to make your brand more personal to your followers and increase engagement by showing them of the wonderful people that make your company what it is today.
Post a high-quality video or a picture with accompanying text that showcases appreciation for a stellar employee at your company. Your followers and other employees will see the appreciation and want to share the love by liking and commenting on your post to congratulate them. You can make employee highlight posts for major milestones like years of service, surpassing quotas, or a new position in the company.
14. Connect your posts with trending topics
Aligning your posts with emerging trends, or events can be another great way to boost your engagement. Keeping up with the latest trends is the foundation social media was built on, so it's no surprise that many social media followers use it to keep up with what's happening. Social media platforms like Twitter even have dedicated hashtags like #whatshappening for current events and trends that you can keep a close eye on to add your voice to the conversation.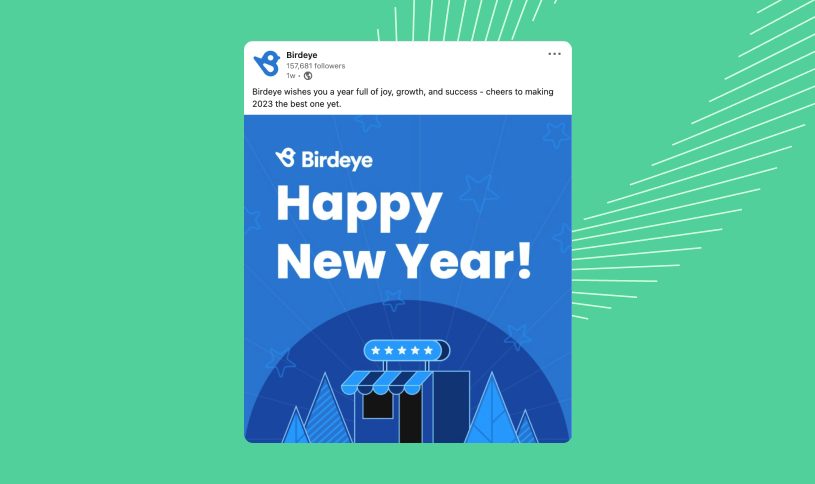 Holidays are an easy example of predictable trends with which you can align your content to increase your engagement rate. A fun post wishing your followers a happy holiday can generate engagement, making them feel valued and bolstering their spirit. Just make sure to use hashtags effectively when you're creating posts based on current events to further your reach and get even more engagement.
15. Create and share micro-content
Social media is usually not the place to read long for content like an article or 60-minute video. Most of the time, your followers will scroll through social media during quick breaks in their day to pass the time. That means you need to create quick and easily consumable micro-content if you want to see higher engagement rates from your followers. You can create micro-content by breaking down your long-form content into smaller snippets in your social media posts.
For example, suppose you have a blog article that covers 10 important facts in detail. In that case, you can create a social media post that briefly covers them in a 30-second video or fit the main points of the article into a few bullets roughly 150 characters. This bite-sized content gives your followers the information they need while taking as little of their precious time as possible. Then, link to the original article for those that want to take the time to read it later at their leisure.
5 Best practices to keep engagement rates high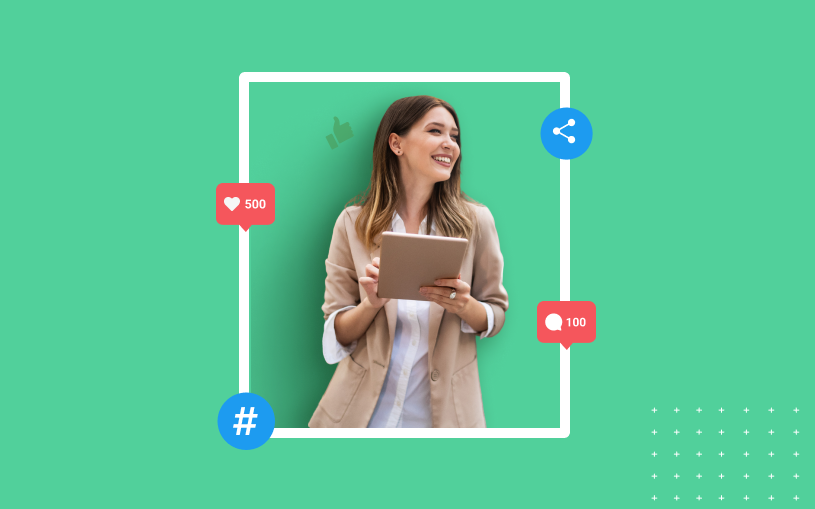 Now that we've covered 15 social media engagement posts, let's review the best practices to keep your engagement rates up. Use these top tips as guidelines whenever you're posting content on your company's social channels.
1. Know your audience
Defining your company's target audience is key to knowing what types of social media content will get the most engagement from your followers. Create a buyer's persona(s) for your company to help you decide what content will resonate most with your followers. If you're a B2C company, consider the age, location, gender, and interests of your typical follower. If you're a B2B company, factor in your ideal follower's industry, company size, revenue, customer base, and location to determine your target audience.
2. Know when to post
Knowing when to post on social media is key to getting a higher engagement rate from your followers. After all, if you post while your target audience is asleep or busy, you can't expect to see much engagement. By the time they scroll their feeds, it's buried by other relevant content and gets forgotten.
You'll want to do your research, but the best times to post on social media are generally in the afternoons, evenings, and nights on Mondays, Wednesdays, and Fridays. These times tend to catch your followers during a mid-day break, once they're home from work, and just before bedtime when scrolling through social media is most common.
3. Be consistent
If you want to make sure your followers stay interested in your brand, you need to post consistently. A single post out of the blue doesn't hold the same weight with your followers or the social algorithms. The algorithms on social platforms will probably consider you irrelevant, and your followers might do the same.
Instead, make sure your company is frequently posting content to stay relevant. There are some general posting frequencies for most major social media platforms, but the best thing you can do is post regularly to see what resonates best with your followers. Whatever you do, don't stop posting if you want to keep your company's engagement rates up.
4. Use high-quality imagery
Whenever you create a post, make sure it includes appealing imagery to increase your engagement rates. Whether a picture or a video, posts with imagery always generate more engagement than posts without them. In fact, posts with images produce 650% more engagement on average compared to posts with just text.
Even if the text is the post's main focus, adding an image can mean the difference between a few likes and dozens. Just make sure the images you use are on-brand, on-topic, and uplift the post. You want to include visually appealing imagery that makes sense with the content you're posting.
5. Ask your followers to engage with your company's content
Social media influencers ask their viewers and followers to "like, comment, and subscribe" to the content they create – and that's because it works. More often than not, your followers aren't intentionally ignoring the like, comment, or share button. They probably didn't think about it before scrolling to the next post.
Besides encouraging people to follow your company's page, encourage your followers to give your company's posts a like, share, or comment. You can remind them in fun ways, like asking for their opinions in the comments section or adding an incentive if a post reaches a certain number of likes. It never hurts to ask, so you might as well do it to increase your company's engagement.
FAQs about social media engagement posts
What type of social media posts gets the most engagement?
Social media posts that get the most engagement are videos, images, polls, live streams.
What content gets the most engagement?
Videos, guides, memes, opinion posts, and personal posts are the content that gets the most engagement on social media.
What is a good Facebook engagement post?
Questions, quotes, and fill-in-the-blanks are all good Facebook engagement posts.
What are some examples of social engagement?
Social engagement is most commonly measured in the form of likes, reactions, shares, mentions, saves, and follower count, among other metrics.
How do I increase engagement on social media?
Some of the best practices to increase your social media engagement are to know your audience, know when to post on social media,  create shareable content, and post consistently.

How do you write engaging social media posts?
To write engaging social media posts, make sure to write for your target audience, be short and instructive, use appealing imagery, and add a call to action.
Amplify your social media engagement with Birdeye Social
In order to keep followers engaged with your business on social media, you need to be consistent and remain active. This requires a lot of time and effort. Birdeye Social can help by letting you listen to what your audience has to say so that you stay on top of new trends and monitor your online mentions so that you can keep the conversation going. Watch our demo today and learn how we can help you engage with followers more.


        

This blog post is part of our Social Media Management Guide 


      

           



Originally published