The review ecosystem is booming and businesses need to pay attention. 92% of customers consult review sites before making purchase decisions. To make these customers choose your business over your competitors, you need to solicit reviews on Google and Facebook.
Though every review platform is important, businesses need to pay particularly close attention to the big players in the space. Today, the two dominant platforms in the review ecosystem are two companies you most likely know very well: Google and Facebook.
Both Google and Facebook encourage review solicitation. That means that businesses can ask their customers to leave reviews. So let's talk about what you can to collect more authentic reviews on these two platforms.
More reviews
More revenue
Want to see the impact of Birdeye on your business? Watch the Free Demo Now.
To get reviews effectively, businesses need to take into account the differences between the two platforms. Here's what you'll find in this article.
Before we get started, want to discover how your business can climb the ranks and get more visibility on Google? In this 20-minute audio guide, learn everything you need to know about reviews, SEO, review collection strategies, and ways for encouraging customers who had a negative experience with an edit. In this free audio guide, you'll have a clearer understanding of 5 easy tips that will help ensure customer satisfaction as well as increase the likelihood of collecting positive feedback from clients so they're incentivized enough to leave good reviews when prompted by businesses like yourself. Let's dive right in!
What You Need to Know About Google Reviews
Before we talk about how you can solicit reviews on Google, let's talk a little bit about why Google reviews are so important in the first place. When the average person has a question, they turn to Google. As of 2019, it is estimated that there are over 63,000 Google searches per second. Google is the first place customers go for any question they have or problems they need help solving. That means businesses need to be ready to deliver when a customer is in need of their services.
That's not the only one of Google's features that businesses should be paying attention to. Google is not just the king of search. It's the king of reviews. Our reviews report, The 2021 state of online reviews, found that 67% of all online customer reviews are written on Google.
According to Google, there's been over 500% growth in searches for "near me" and "can I buy" in recent years. This is a huge opportunity for local businesses to capitalize on.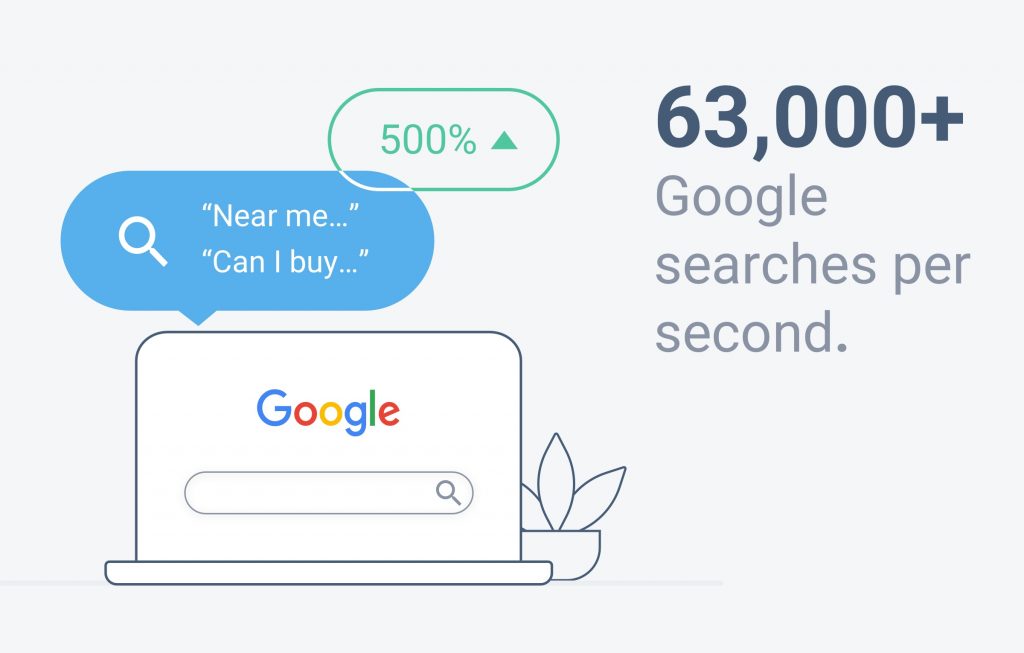 When customers search for your business on Google, the first thing they will see is your business's knowledge graph on the right side of their screen. Information about your business such as hours of operation and phone number is displayed clearly, along with your business's overall review rating.
Your business's Google review rating will also be displayed clearly, along with ratings from other review sites such as Facebook, and Birdeye.
Google reviews allow customers to rate businesses out of 5 stars. The business's overall star rating will be the cumulative average of these star ratings.
What You Need to Know About Facebook Reviews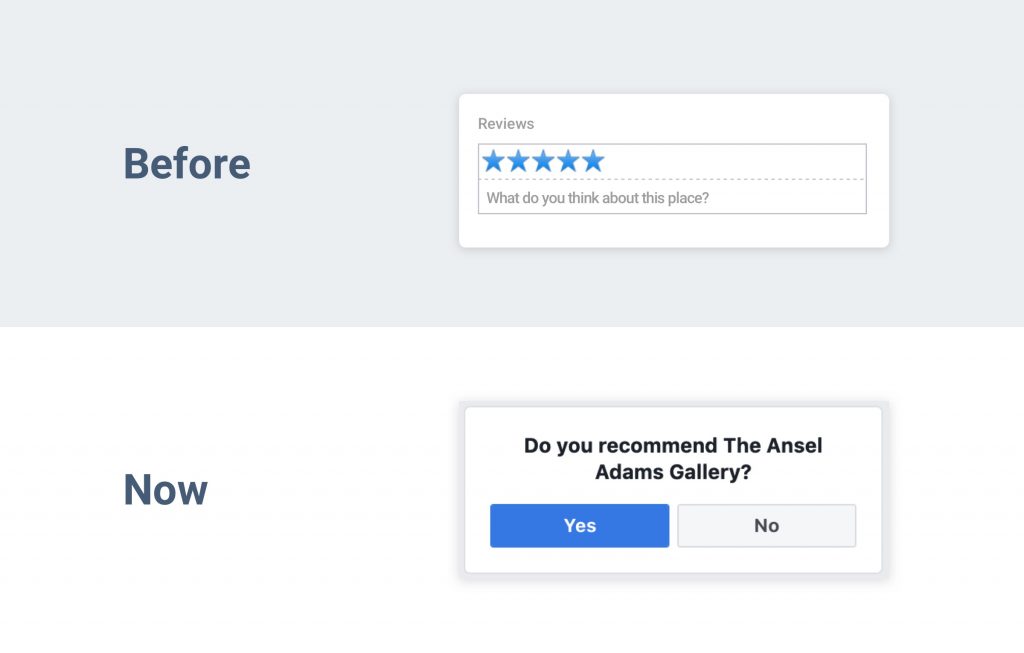 As you no doubt know by now, Facebook is the biggest social network in the world. It's estimated that Facebook has over 2 billion monthly active users. That means a review posted there
While Google dominates search, people constantly check Facebook to see how their friends are doing. But that's not all. Facebook users can "like" business pages. Businesses can get discovered by new customers by getting into News Feeds.
Facebook Recommendations
Facebook is no longer using the 5-star review rating system typical of most review sites. Last year, Facebook reviews went through a shift. Previously, Facebook had a 5-star rating system similar to Google. However, last year Facebook decided to change its format and shift to a binary review system. Instead of rating a business out of 5 stars, customers now only have two options: Recommend or Not Recommend.
This change is being rolled out slowly. It's possible that some businesses can still be rated out of five stars. However, all businesses will eventually shift to the new binary system.
Here's where things get a little bit complicated. Even though Facebook has shifted away from the 5 stars system, businesses' overall rating is still out of five stars. Facebook has stated that this overall rating is based on past star ratings as well as current Recommend/ Not Recommend ratings. It's still not clear exactly how the binary ratings contribute to overall star ratings.
Just as Google has a search algorithm, Facebook has an algorithm to determine what appears on the News Feed. Again there are a few signals that Facebook's algorithm uses in determining your brand's credibility. Though nobody knows exactly what the Facebook algorithm is, we do know that businesses can show up more on the news feed when Facebook deems them credible and sees that customers are spending a lot of time engaging with the page.
It seems that this shift has a slight effect on the effectiveness of Facebook review solicitation. Before the change from star rating to Recommend/ Not Recommend, about 12% of business review requests turned into actual reviews. After the change, review request conversions dropped to around 10%.
You can also check out our article on how to use customer reviews to create effective Facebook ads.
Tips for Getting Started
Claim and update your Google My Business Profile
The first thing you should do is claim and update your Google My Business Profile. Though this might sound obvious, it's estimated that around 44% of businesses have not claimed their Google My Business profile. Remember, Google's algorithm is meant to favor businesses that look trustworthy. Part of this is your business having accurate information available online.
Once your profile is claimed, you can make changes to make it easier for customers to discover your business. Add high-resolution images, correct contact information, accurate hours of operation, and news and offers. This will help your business look more trustworthy both to customers and Google's search algorithm.
Claim Your Facebook Page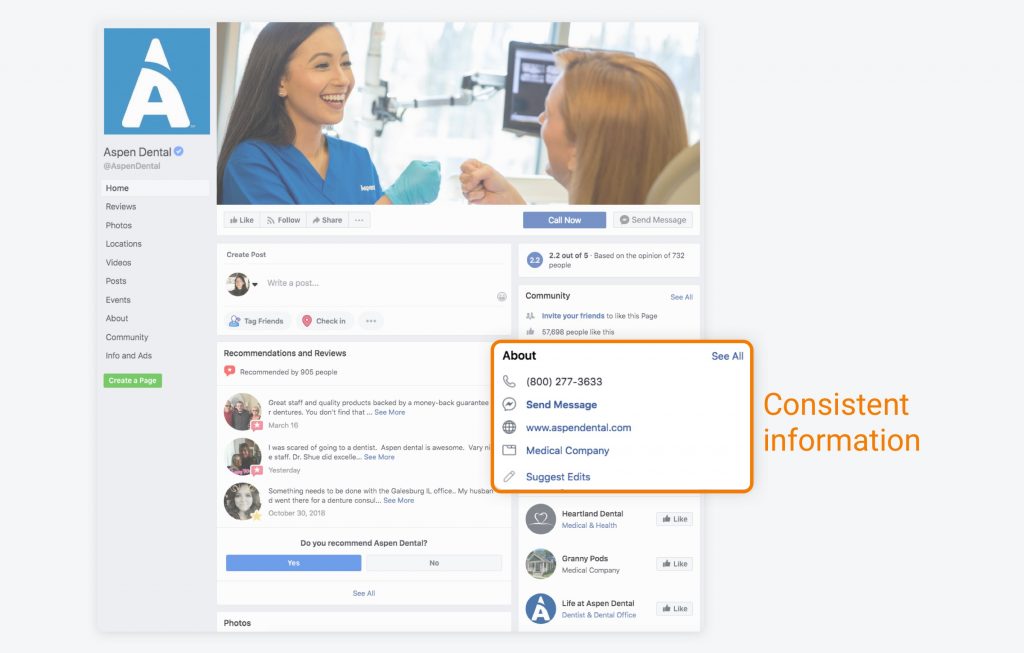 Just as updating your Google My Business page helps your business's visibility when it comes to search engines, updating your business's Facebook page will help you get discovered on News Feeds. Remember that Facebook's algorithm is partially based on your page's credibility.
Lots of existing businesses have unclaimed Facebook pages. Claim your business's Facebook page and once again, add high-resolution images, correct information, accurate hours of operation, and news and offers.
Remember to make sure that your business's listings are consistent across both profiles, as well as throughout all your other business profiles on the Internet. Consistent listing information will help your business rank higher on Google. Even a difference in street abbreviations can hurt your Google in terms of online visibility.
For a free scan of your business's listings through the Internet, click here.

Solicit Customer Reviews
The more reviews you have, the more trustworthy your business looks. The more trustworthy your business looks, the more likely you're business will show up on search queries and News Feeds.
That's not the only benefit. Most of the time, the customers who are motivated to leave reviews are those who had extremely negative experiences. By soliciting reviews on Google and Facebook, businesses can fight the inherent negative skew that can hurt their review profiles. Instead of a few angry customers leaving reviews, you'll get well-balanced feedback more representative of your entire customer base.
Both Facebook and Google allow businesses to solicit reviews from customers. There are a few ways you can do this. You can ask for reviews in-person or give customers a mobile kiosk where they can leave reviews themselves.
At Birdeye, we've found that sending customers review requests via text and email works effectively. But it's not as simple as just sending a few texts and suddenly getting a massive influx of reviews. Here are a few tips to ensure that your review solicitation efforts on both sites are effective.
How to Solicit Reviews on Google and Facebook
Now let's talk about what you can do to send high-converting review requests on both Google and Facebook.
Timing is key.
When it comes to review solicitation, timing is everything. The optimal time to ask your customers for a review is the same day the sale is made and the purchase is still fresh in their minds. If you ask them for a review a couple of weeks later, they probably won't be nearly as motivated.
Ask all of your customers for reviews.
Don't just send review requests to a cherry-picked group who you're certain will give you positive reviews. This kind of "review gating" has been prohibited by Google because review pages are meant to provide an authentic picture of how customers feel about your business. If you're caught review gating, it can lead to a penalty in search rankings.
Send a direct link to your Google and Facebook profiles.
The easier the process of leaving a review is for the customer, the more likely they are to complete it. Telling a customer to find you online and leave a review requires quite a lot of work on their part. Instead, email or text a direct link to your customers so that all they have to do is click the link and fill out the review form.
How Birdeye Can Help
You don't have to solicit reviews on Google and Facebook manually. Take charge of your business's online reputation with Birdeye. Birdeye's all-in-one dashboard allows you to get more reviews, respond to customer feedback, track your competitors' reviews, and be the obvious choice in your area.
Originally published