Tempted to buy Google reviews? When a business owner needs more Google reviews or if you have bad Google reviews, it might be tempting to do whatever it takes to get them. However, while buying reviews might seem like a quick, easy solution, it actually leads to several unwanted consequences.
Why are online reviews important?
There's no denying the impact of online reviews. 95% of customers read reviews before making a purchase decision. Bad Google reviews can prevent consumers from selecting your business. 49% trust reviews as much as recommendations from friends and family. Clearly, having good reviews gives you a huge advantage over competitors. But here's the catch: reviews are only effective if they're authentic. Both customers and review sites have a knack for spotting phonies.
The best method for getting more Google reviews:
Ask for feedback immediately
Meet them on mobile
Make it super easy
Automate the whole process
More reviews
More revenue
Want to see the impact of Birdeye on your business? Watch the Free Demo Now.
For your convenience, we put together a quick 6-minute video covering why buying Google reviews is a no-no. We'll address the risks if you're discovered with purchased reviews and provide authentic methods to generate more positive reviews from satisfied customers. Additionally, we'll share the benefits of working with a review management software like Birdeye, which automates the review process, simplifying the management of your online reputation with ease and efficiency.
Why do businesses buy fake Google reviews?
Businesses buy fake reviews because they want immediate results. Fake reviews give off the illusion that their business is popular and successful, even when it's not. It's easy to see why some businesses are tempted by this approach, but it's important to remember that any short-term gains are outweighed by long-term losses.
What does it mean to buy Google reviews?
"Buying" reviews means offering incentives to customers in exchange for positive reviews or even paying a company to remove bad Google reviews. There are also sites that allow you to pay for phony reviews in an attempt to boost the number of reviews your business has.
Is it legal to buy reviews?
Absolutely not. According to the Federal Trade Commission (FTC), paid Google reviews are considered misleading endorsements that are illegal to promote as a genuine account of your customer's experience.
According to a recent notice provided to more than 700 companies, the FTC could fine a business as much as $43,792 per violation like false reviews – which paid Google reviews inevitably are. So, if you find a site to buy reviews from non-existent customers, you would violate the law.
How can buying Google reviews hurt my business?
In addition to legal action, when you buy Google Reviews, it can backfire in several ways:
Clear violations of Google guidelines. In their restricted content guidelines, Google clearly states that the reviews customers leave have to be authentic. When you pay for Google reviews, you are generating inauthentic and disingenuous reviews that misrepresent your business and promote fake engagement. This could result in Google suspending or removing your Google My Business profile (now known as Google Business Profile) and drastically hurting your online reputation.
Heavy fines from regulators. As mentioned before, the FTC can fine businesses over $40,000 per violation of their guidelines, so if you get caught buying reviews, you could be facing steep financial penalties.
Damaged reputation with customers. Customers are savvy and they know when a business is trying to pull one over on them. If customers feel like your reviews aren't genuine, they will lose trust in your brand and seek out competitors.
Customers might mention the incentive in their reviews. Let's say a customer writes, "This place was awesome, they gave me $5 credit just for leaving a review! Great pizza". Anyone who reads that review won't be convinced the pizza was great. In fact, they might even assume the opposite because the reviewer was incentivized to write it – erasing its authenticity completely.
Low-quality reviews. When you buy Google reviews, you don't have control over the quality of their content. Oftentimes, businesses receive reviews that are vague or generic – something like "This place is great!" – which won't help your online reputation in any way.
Review sites can detect fake reviews. Similar to Google, other review sites also have sophisticated algorithms specifically designed to identify fake reviews. When they see a business buy business reviews, some sites generate pop-ups on that business' profile, so every time someone visits that profile, they're confronted with a flashy warning not to trust that business. They have flagged the review and the site.
You won't know what's working and what's not. You can't improve your business without honest feedback. A customer might have been disappointed with some aspect of your business but leave a falsely good review because they're receiving a reward. Their problem will go undetected and could occur again, deterring customers from returning and possibly resulting in a bad review.
So how do you get new Google reviews from your customers?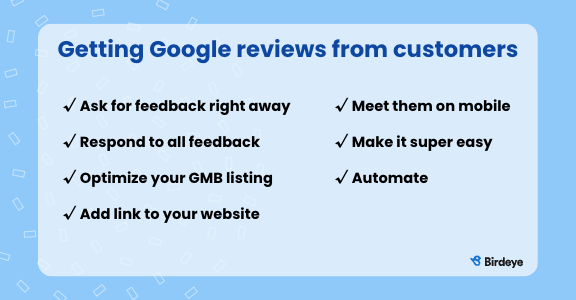 Ask for feedback immediately. Request your customers' feedback while the experience is still fresh in their minds. Sending an email with a review request days after the customer has interacted with your business may come across as annoying or be ignored completely. You don't have to sacrifice your ethics and buy Google 5-star reviews to promote your business online. The only surefire way to get positive reviews is to consistently provide great experiences. Then you can accelerate the process and maximize the power of positive reviews with automated software like Birdeye.
Here are some key tips to help you collect more reviews and boost your ratings quickly and, most importantly, authentically:
Ask for feedback immediately.

Request your customers for their feedback while the experience is still fresh in their minds. Sending an email with a review request days after the customer had an interaction with your business may come across as annoying or be ignored completely.

Respond to all feedback. Whether good or bad, responding to feedback will show customers that you care. This can also improve your overall listing rating by letting Google know that you are active on your account and engaging with your customers. For negative reviews, it is a good idea to reach out to customers privately to address their concerns.
Optimize your Google My Business (GMB) listing. Make sure your GMB listing is up-to-date and accurate with your business information. This will make it easier for customers to find your business and leave a review. Add photos, hours of operation, and other relevant details to make your listing more appealing.
Add a Google review link on your website and social media. Make it easy for customers to leave a review by adding a direct link to your Google review page on your website, social media profiles, and email signature. The easier it is for customers to find your review page, the more likely they are to leave a review.
Meet them on mobile. Talk to customers the way they talk to each other – through text messages. An SMS review request fits seamlessly into the digitally connected lifestyle of today's customers: over 90% of text messages are opened, compared to only 20% of emails. There's a good chance your customers will at least read your review request text–so then what?
Make it super easy. Transitioning from a text message to a review site should involve minimal effort, so the customer doesn't have to think twice about continuing. Birdeye uses deep-linking to route your customers directly from your text message to a number of third-party review site. There is no need to close one app, open another, log in, and search for a business. Just click and start posting.
Automate the whole process. Managing this manually would be tedious and often impossible. That's where automated software like Birdeye comes in. Birdeye lets you automatically request feedback from every customer immediately after an interaction. The platform also lets you promote your reviews on your website and social channels to reach a wider audience.
Frequently asked questions about buying Google reviews
Can Google detect fake reviews? 
Yes, Google can detect fake reviews. Google has automatic spam detection filters to flag fake reviews and other illegitimate content.
Where is the best place to buy Google reviews?
The best place to buy Google reviews is nowhere. It's not recommended to buy Google reviews as it may lead to the suspension or termination of your Google Business Profile. Rather than buying reviews, ask customers to leave honest and genuine feedback based on their experiences with your business.
Can you pay for 5-star reviews?
No, paying for 5-star reviews is unethical and can have serious consequences for your business.
Is paying for Google reviews worth it?
No. Not only would Google delete any paid-for reviews, but their search engine will also severely punish your business's SEO as well. Paying for Google reviews can even result in legal action.
Is buying Google reviews illegal?
Yes, buying Google reviews is illegal according to rules set by the Federal Trade Commission (FTC). Google also has a strict policy against purchasing reviews, and any fraudulent reviews will be removed immediately. Additionally, businesses may suffer from penalties such as being blacklisted by Google.
Genuine reviews are far superior to bought reviews
As tempting as it is to buy reviews so that your business will be perceived as successful, getting genuine reviews is the best way to actually improve your online reputation. We've highlighted some of the best practices to generate more genuine customer reviews, but we couldn't fit everything here. If you want to learn more about getting more reviews for your business, click the banner below and check out our no-nonsense guide to getting more Google reviews.

Originally published