What could you accomplish if someone waved a magic wand and granted you an extra 56 hours to devote to your business? Sign up new customers, get more revenue or take that vacation to Hawaii you have been dreaming of. Studies have shown that it takes 56 hours, on average, for businesses to chase past-due bills from customers every month. With the average small businesses in the United States waiting on 81% of payments that are over a month past due, the hours that teams spend on chasing past due bills can quickly add up.

What if there was an easier way for your business to get paid faster? SMS payments are a fast, convenient, and safe solution to collecting payments on time. We'll dive into the three most common reasons why customers have past-due bills and some solutions later, but first, here are some compelling statistics about SMS payments and why they work.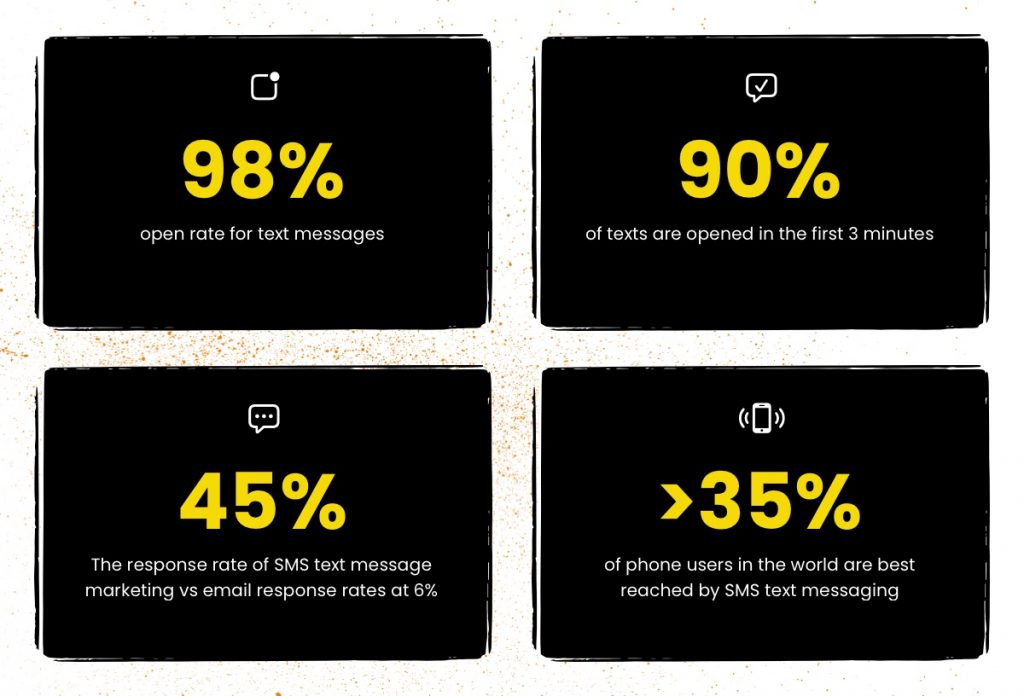 How overdue bills can harm your business
Disrupts the cash flow of your business
Unable to take on new projects
Hinders hiring new staff or offering incentives to current employees
Disrupts payroll
Takes time away from your business
Unable to pay/or late payments to your suppliers
3 common reasons why customers have past-due bills
When a small business doesn't get paid the money it is owed, it becomes more vulnerable to disruption than larger companies with substantial cash reserves. Many of your customers fall into one or more of the following categories when it comes to past-due bills. You can develop strategies to get paid faster by understanding how they're categorized. Here are the most common reasons for overdue bills and solutions.
1. Lack of urgency
Being lenient with customers in the past might make them less likely to pay on time. With little consequence, people will choose other debts over yours and delay payment even further, which could severely affect your company's cash flow. Customers also might think they have more than enough time and thus put off paying, oftentimes, customers forget altogether until it becomes a past-due payment.
The solution: You will be able to create a sense of urgency and get paid faster if you allow customers to pay by text. 35% of customers want to pay by text message, so meeting them where they already are – on their smartphone – just makes sense. You can also bridge the gap by accepting customer payments on the channels they regularly use to engage with your business.- SMS, Instagram Messaging, Facebook Messenger, Google Messaging, and more. Texting is not only convenient for your customers, but unlike emails or traditional paper invoices, text messages have a higher open rate and less of a chance of getting lost. If that still doesn't work, consider adding late fees to deter customers from taking a casual approach to paying your business on time. This can prevent overdue bills and create a sense of urgency.
2. Tough times
Sometimes a customer's inability to pay is due to unforeseen financial circumstances. While it can be frustrating, the payment remains their responsibility, and oftentimes, even smaller payments are better than nothing.
The solution: Setting due date expectations, reminders, and smaller recurring payments so your customers can make reasonable payments will not only show your customer you are willing to work with them, but you'll be more likely to get your payment. Requesting and receiving payments via text is not only fast but convenient. If the customer is unable to make a payment for the entire amount, break it down into smaller installments and set up a recurring payment collection process. As you can see from the example below, you can describe the product or service your customer received and the exact amount due to avoid past-due payments. Furthermore, your customers will know upfront what they owe – which means you can avoid repeated calls from people who are forgetful about paying their bills.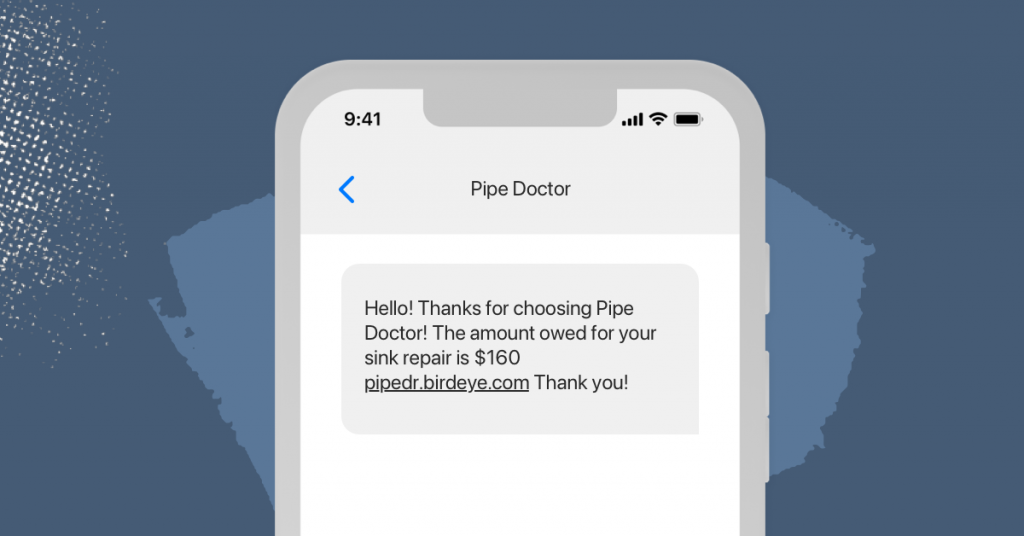 3. Low priority
Sometimes waiting around for payment feels like playing a game of chicken with your customer. There are some customers who simply don't prioritize paying you what they owe. Your customer feels that other bills need to be paid before finalizing payment to your business. For example, your customer will choose their car payment or mortgage and leave lower priority bills last or, even worse, not at all.
The solution: Offer your customers to opt-in to SMS alerts when their bills are due and more ways to pay, such as credit, debit, ACH, Apple, and Google pay. You can then easily send out automated payment reminders on their due date and provide instructions for how to pay by text. You should also consider SMS payment reminder sequences which often resolve when your customer forgets to pay on time or misses a payment altogether.
The benefits of payment reminders are increasing conversion rates and creating a positive customer journey when they feel valued enough for you to send them helpful reminders to avoid overdue bills.
FAQs about getting paid faster from customers
How do you deal with late payments from customers?
There are a variety of reasons why customers have late payments, but offering a convenient way to pay, such as SMS payments, can help you get paid faster, and invoices are less likely to get lost in the mail or email.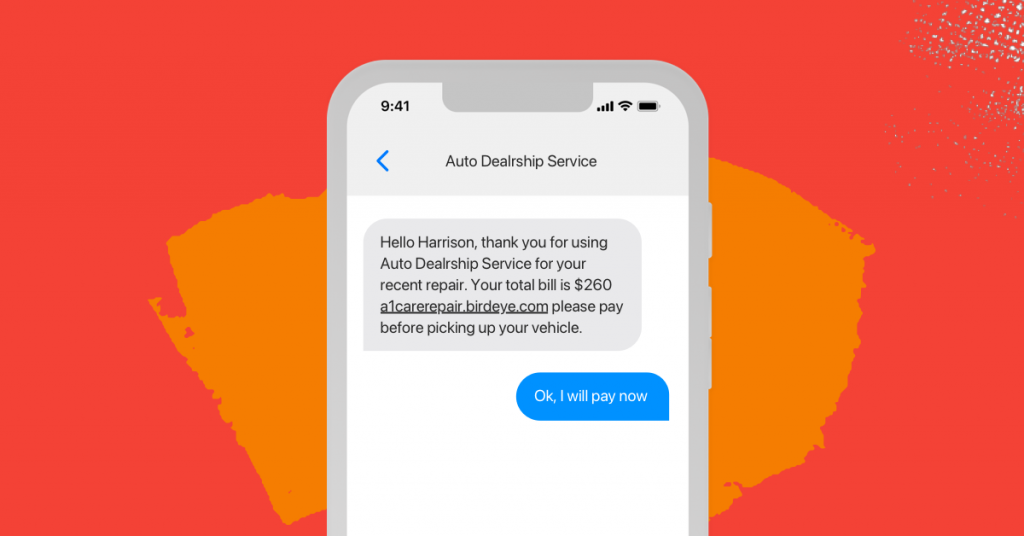 Convenient payment method
Having a quick and safe payment method will improve the customer experience. With Birdeye Payments, customers can pay for their purchases with the click of a button.
Make everyday payday with Birdeye
With Birdeye payments, you can request payments in an ongoing conversation for higher, faster, and more consistent response rates, making it easier for your customers to pay, all while backed with full PCI compliance. Accept more ways to pay from your customer, including credit, debit, ACH, Apple, and Google pay. No matter how they pay, Birdeye Payments ensures the transaction is convenient for both you and your customer.
For more information on the various digital payment methods out there, click on the banner below to get a copy of our complete guide to digital payments for local businesses.

Originally published