Twitter has more than 310 million active users, tweeting over 600 million times each day, and Twitter marketing for doctors is a practice that has grown exponentially in the last few years. Today, Twitter is an integral part of major marketing plans in the healthcare industry.
Twitter can help you stay in touch with existing patients and attract new patients to your practice. It can also enhance your online reputation. Building a strong Twitter following takes time and a lot of work posting engaging content. However, if you make an effort, you don't just gain new patients, you can boost your Twitter marketing and build active brand advocates who share their happy experiences with others online. These brand ambassadors become the voice of your healthcare practice. 
Here are 5 easy tips for incorporating Twitter marketing for doctors into your business and seeing how it can improve your healthcare practice's online reputation:
Twitter Marketing for doctors – Create a strong following strategy
Research shows that the number of Twitter followers you have starts increasing when you begin to follow people more frequently. Twitter fans are more likely to follow you — if you follow them. The best strategy for following people on Twitter is:
Actively follow communities and patients who follow you

These are your target audiences. They already know about your practice and have gone out of their way to show support by following you. You'll want to follow them back so that Twitter puts your tweets at the top of their feed.
Follow groups, individuals, and organizations that are relevant to your practice

Examples of this are the American Medical Association, local pharmacies, and pathology labs. You can also follow peers in the healthcare industry, as well as top brands selling the medical supplies that you regularly prescribe to your patients. Following users is a great Twitter marketing for doctors' strategy. 
Follow your professional contacts
This helps you use Twitter for networking as well as marketing. Doctor referrals have always been important and Twitter is a powerful way to increase the number of referrals you receive.
Keep it real
During your quest to increase your Twitter followers, you may come across people and companies offering to massively increase your Twitter followers for a small amount of money. Don't give in to the urge of buying Twitter followers. If Twitter suspects that you are buying followers, they will most likely penalize you. This could include suspending your account. Additionally, the followers offered by these companies are not usually real individuals. So there is no value in spending time marketing to them.
Fake followers only have display value. It's better to have a smaller number of genuine Twitter followers. These high-quality followers are more likely to engage with your practice and schedule an appointment with you.
Build a solid Twitter bio
Another important aspect of Twitter marketing for doctors is having an impactful Twitter bio. Your Twitter bio should not just focus on basic information and your qualifications. It should build interest in your healthcare practice. This will encourage patients to schedule an appointment with you, visit your website, or post further queries. Twitter marketing for doctors is all about connecting with existing and prospective patients and educating them about your services. A professional Twitter bio can also help you get new patients. Here are some basic things to remember while writing your Twitter bio:
Include URLs
Your Twitter followers can become your new patients if they have a link sending them directly to a page where they can book their appointment.
Add a high-resolution image
It's best to have a photo of yourself and other doctors who are a part of your healthcare practice. Giving your healthcare practice a human face will help people feel a connection.
Include your location
Adding your location helps patients decide if your practice is close enough for them to visit.
Include interesting hashtags
Using pertinent hashtags gives your practice a higher chance of appearing in Twitter search results. For instance, some relevant hashtags you could use are #doctors and #healthcare.
Highlight your qualifications
Use the Twitter bio space to showcase your expertise, and highlight what makes you stand out from your competitors.
Post on a regular schedule
To make Twitter marketing for doctors work, it is important to stay on your toes and post on a regular basis. To make the most of Twitter marketing, the aim is to ensure that your Twitter posts are engaging, consistent, and relevant to your audience. Here are some helpful tips to create compelling Twitter posts: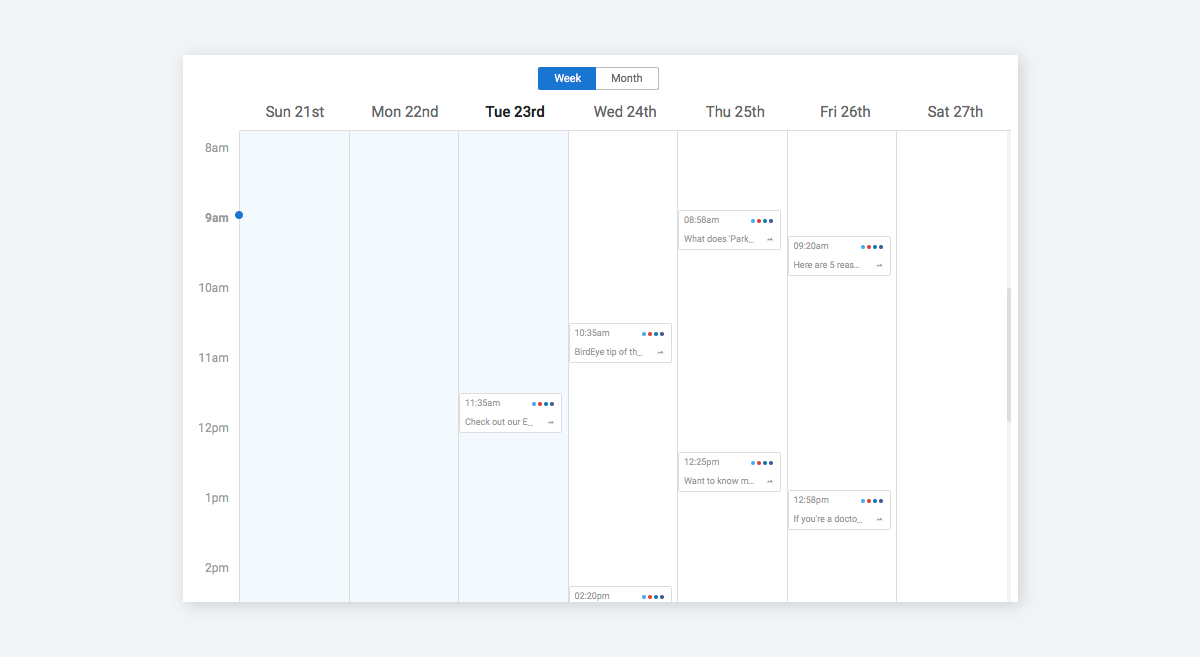 Post relevant content
Make sure that you share posts related to general wellness and health, as well as your area of specialization.
Post consistently
Share content at least 3 times every week, increasing it to 1-2 times per day as your healthcare practice's following increases.
Add images
Posts with interactive elements like images attract more potential patients and get more retweets compared to posts without any images.
Link to different sources
It's a good idea to constantly look for other blogs or articles that you can link your content to, as this will give it more exposure on Twitter.
Leverage trending hashtags
Adding popular hashtags to your posts make them easily discoverable and relatable to what your patients are looking for.
Avoid self-promotion
Try not to post content that is purely promotional in nature. If patients feel that you are only describing your services, they will be more likely to unfollow you.
Use the tips above, and you can create compelling content that is valuable (and shareable) for your audience. Post during different times of the day, to help hone in on the timing that works the best for your practice.
Promote your Twitter profile online and offline
Once you have a Twitter profile with a decent number of followers, it's time to promote it using both your online and offline channels. Add this tip to your Twitter marketing for doctors strategy to make is more compelling and effective.
Here's a list of a few places where you can promote your practice's Twitter page:
Add a link to your Twitter profile in your email signature, and website contact page.

Add your Twitter handle to your offline marketing collateral like brochures, posters, event banners, invoices and payment receipts.

If you have a dedicated Facebook page, encourage your followers to also follow you on Twitter.
Respond to your audience
Last and the most important part of Twitter marketing for doctors strategy, respond to your followers. Your Twitter followers can now use the new 280-character limit to share their feedback about your practice in even more detail. If you come across any negative reviews about your services, respond to them immediately. A great patient experience goes a long way in creating a good online reputation. If you feel that your response is not helping an angry patient, offer to take the conversation offline. You can also use Twitter's direct message feature to talk to your patients privately on the social media site.
Twitter marketing for doctors has the power to enhance your online presence, and get new patients for your healthcare practice. Using the strategies outlined in this article can help you bring your healthcare practice to a new audience.
Before you go, check out our article on the complete guide to using social media in healthcare marketing.
Birdeye is a powerful online reputation management solution. It comes with powerful social tools, like social listening, social engagement and social publishing. Using Birdeye, you can monitor your Twitter profile, and schedule the posting of content on your Twitter page. You can also set up auto-posting, which automatically responds to your tweets, as soon as they go live.
Want to see how Birdeye can help you manage your Twitter page, and get more high-quality followers? Get started with a demo today.
Originally published