If you're like most business owners, you're always looking for new ways to bring in more customers. However, when most people think of the Yellow Pages, they think of a phone book. Now, the Yellow Pages is a valuable online resource for businesses of all sizes. With millions of visitors each month, it's a great place to list your business and start generating more quality leads.
In this blog, we'll walk you through how to claim your Yellow Pages free listing, tell you about some benefits you can expect, and explain some of the paid services available to help boost your business's visibility on the website. But first, a brief history lesson.
The Yellow Pages legacy
Back in the day, if you wanted to find a business, you would open up the Yellow Pages book and look under the relevant category. The listings would be in alphabetical order, making it easy to find what you were looking for. Of course, today have the internet to help us find things. But believe it or not, the Yellow Pages was an essential part of everyday life with a history that spans nearly 140 years.
The first Yellow Pages directory was published in 1886 by Reuben H. Donnelly in Wheeling, West Virginia. It was just a small pamphlet that listed businesses in the area alphabetically. But it was an instant hit, and within a few years, Yellow Pages directories were being published all across the U.S.
The Yellow Pages really came into their own in the 1960s and 1970s, when they became known for their large size and comprehensive listings. In many cases, businesses would pay extra to have their business stand out on the page. Today, the Yellow Pages website continues that legacy.
Benefits of a Yellow Pages free listing
In today's digital world, it's easy to forget the Yellow Pages still exist. But the Yellow Pages is still an important resource for businesses that want to reach a local audience. Here are a few reasons why.
Free of charge – Listing your business on the Yellow Pages website is free, which means that you can reach a large number of potential customers without spending a dime of your budget.
Sought-after destination – The Yellow Pages isn't just a relic from years past – it's actually one of the top online business listing directories available. Not having your business listed on the Yellow Pages means you could be missing out on a lot of potential revenue.
Customer reviews – Once your listing is active, you can start collecting customer reviews. Reviews are important to local businesses because they act as the initial touchpoint between consumers and the business. They provide information to determine if the business is relevant to the customer's needs and the experience they can expect.
Brand awareness – The Yellow Pages is a great way to build brand awareness in your community. When people see your Yellow Pages free listing, they'll be more likely to remember it when they need your products or services.
Trusted brand – By listing your business on the Yellow Pages website, you are associating your company with a brand that customers have grown to trust. Trust is a key component for building long-term relationships.
Creating your free Yellow Pages listing
Creating a Yellow Pages free listing is easy. First, visit the Yellow Pages website and create an account. You'll need to provide some basic information, including your name and email address.
Make sure to use an email address you check frequently. As a Yellow Pages member, you'll receive emails to verify account and business information along with alerts when reviews are posted. After you've created an account, you can start to build or claim your listing.
You can use Yellow Pages' Claim Your Listing tool to find out if your business is already listed. Just add your business details, verify you're not a robot, and click the 'Claim Now' button.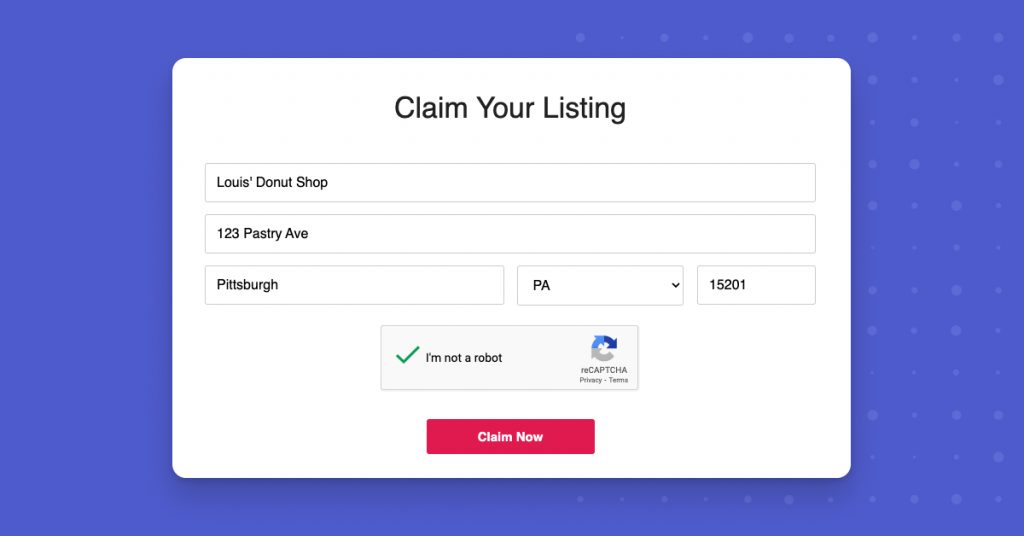 If your business isn't showing up, double-check that your information is correct. If that still doesn't work, you'll need to call one of their representatives to help you verify your business. The phone number is clearly listed at the top of the website. Once complete, you'll then be granted access to start building your business listing.
If your business does show up, continue creating your listing. Make sure to include all the important details about your business, including your business name, address, phone number, and website.
Include a description of your products and services along with your service area. You can also upload photos and videos to help showcase your business. Once you're finished, click 'Publish,' and your listing will be live. It's that easy to claim your Yellow Pages listing.
How to remove duplicate Yellow Pages listings
If you've ever looked up a local business in the Yellow Pages, you know there are often multiple listings for the same company. While this might not seem like a big deal, it can be detrimental to a business because potential customers may have difficulty finding the right one. Having multiple listings can also hurt your local SEO efforts because search engines like Google and Bing penalize websites for inaccurate citations and duplicate content.
Since Yellow Pages doesn't allow you to manually remove duplicate listings, you'll have to contact them directly. There are several ways to reach out:
Live chat
The quickest way is to connect with a live chat representative via the Yellow Pages Contact Us page. After explaining what you would like done, the representative will ask you questions to verify your account information before moving forward with the deletion.
Phone call
Another option would be to call their support team. After following the automated instructions, you'll be connected to a representative. Similar to the live chat experience, the representative will ask you questions to verify your information and then proceed with removing the unwanted listing.
Email
On the Contact Us page, scroll down to the message section. Fill in your contact information and add a brief description explaining that you need a duplicate listing deleted. This will trigger an email conversation with a representative who will help you with this issue.
Keep in mind that the process will take about 24-48 hours to complete. However, by consolidating listings into one, you make it easier for customers to find your business. Plus, having just one listing for your business makes it easier to track your marketing efforts and gauge their effectiveness.
Yellow Pages paid services
Many people are surprised to learn that in addition to Yellow Pages' free business listing, they also offer search engine marketing (SEM) capabilities through paid services. For a fee, businesses can choose to have their listing highlighted in yellow, which makes it more likely to be seen by potential customers. They can also choose to have their listing appear at the top of the alphabetical list.
The SEM offering also lets businesses purchase ad space that appears on the Yellow Pages home page. While the Yellow Pages may not be as popular as they once were, they still offer a valuable marketing tool for all types of businesses.
FAQs about Yellow Pages listings
Is Yellow Pages listing free for businesses?
Yes, listings on Yellow Pages are free for businesses. You can create a listing by visiting their website and following the steps to create a profile for your company. Make sure to include accurate information about your business so potential customers can find you easily.
Does my business still need a Yellow Pages online business directory?
Yes, a Yellow Pages online business directory should still be a part of your marketing mix. Yellow Pages still gets millions of visitors each month. That's a lot of opportunity for your business to be discovered. Make sure your business details are accurate so potential customers can easily find you.
Birdeye Listings
Chances are your business is already listed on a number of online directories – and managing multiple listings can be challenging. With Birdeye Listings, you can take comfort in knowing all of your business details are accurate across all websites because you can manage all your listings from one easy-to-use dashboard. Watch our free demo to learn more.

Originally published