You might be nervous about adopting artificial intelligence (AI) within your business model. Rapid development in AI technology gives small businesses all kinds of solutions that can improve operations in a big way.
AI for small businesses enhances customer experiences, reduces operational costs, and increases production.
See how AI is already helping small businesses like yours bring significant cost savings, more effective advertising, and more efficient processes.
Below, we've curated the 7 strategies and 14 tools AI for small businesses need to scale.
What is AI for small businesses?
AI is the technology that creates algorithms that adapt to humans' way of working. Small businesses adopt AI for automating tedious work, analyzing consumer data, improving customer experiences, optimizing marketing efforts, and more.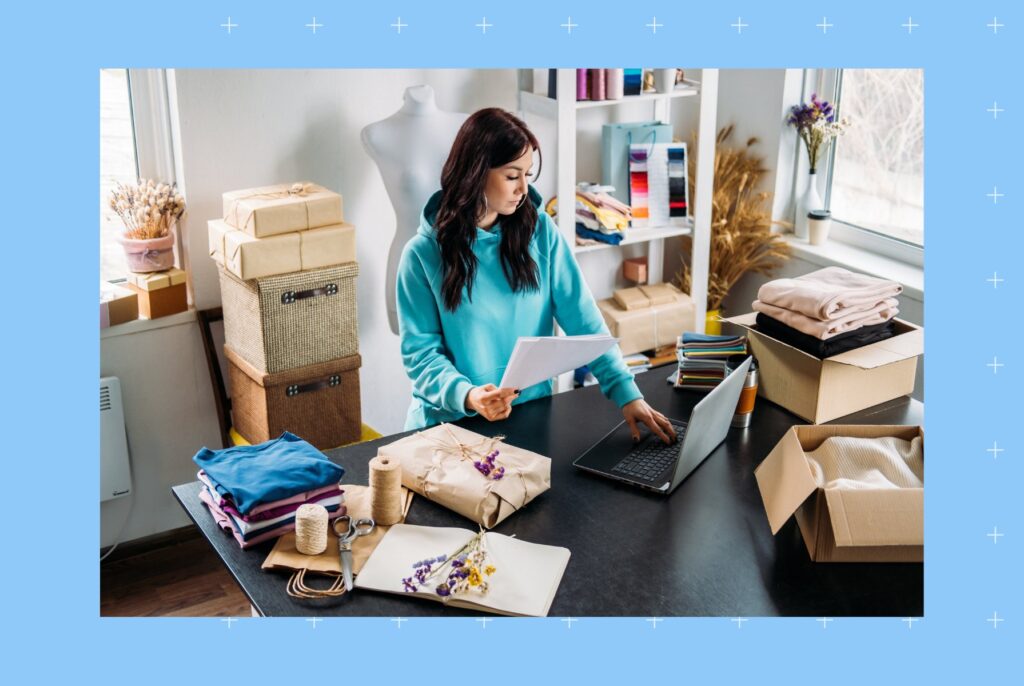 For local businesses, what matters is to be aligned with what the world searchers. They should focus on asking important questions like: 

- What does it mean for my business?
- What are my potential customers demanding?
- What do I understand after engaging with my customers?
- How do I use data to align with the north star of my business?

AI has a huge opportunity to adapt to these and accelerate the path for your customers.  
 - Uday Ghatikar, Field CTO, Google Cloud, Keynote Speaker at Birdeye View. 
Benefits of AI for small businesses
AI for small businesses can improve your bottom line. AI can improve customer service response times and client troubleshooting outcomes. Or it can assemble marketing data and reporting.
The benefits of AI for small businesses include:
Enhanced customer insights
Efficient inventory management
Create personalized marketing campaigns
Detect and prevent fraudulent transactions
Strengthen cybersecurity measures
Handle routine tasks of customer service agents
Gain a competitive edge
Forecast trends and market conditions
All this automation through AI can reduce labor costs, boost productivity, and streamline operations.
14 AI tools to scale up your small business
There's a place for AI tools in just about every part of your small business. Here are 14 examples of artificial intelligence tools you can use:
AI chatbots: Provide 24/7 availability to customers.
Data analytics platforms: Facilitate the collection of customer information and the discovery of actionable insights.
Predictive analytics tools: Anticipate changes in customer behaviors and trends.
CRM solutions: Relationship and interaction management of customers.
Marketing automation software: Boost the effectiveness of your marketing efforts by automating time-consuming steps in the marketing process.
AI-powered virtual assistants: Help with administrative duties and planning.
Inventory management systems: Streamline processes and ensure adequate stock levels.
Fraud detection software: Recognize fraudulent acts and prevent them.
Language translation tools: Reduce linguistic obstacles to ease international trade.
Supply chain optimization software: Streamlining the supply chain will help businesses run more smoothly.
Financial analysis platforms: Improve your decision-making by analyzing financial data.
AI-powered customer feedback tools: Collecting and analyzing consumer comments may lead to better products and services.
Social media management software: Promote your business more effectively using social media.
AI-based email marketing tools: Create highly targeted and automated email marketing campaigns.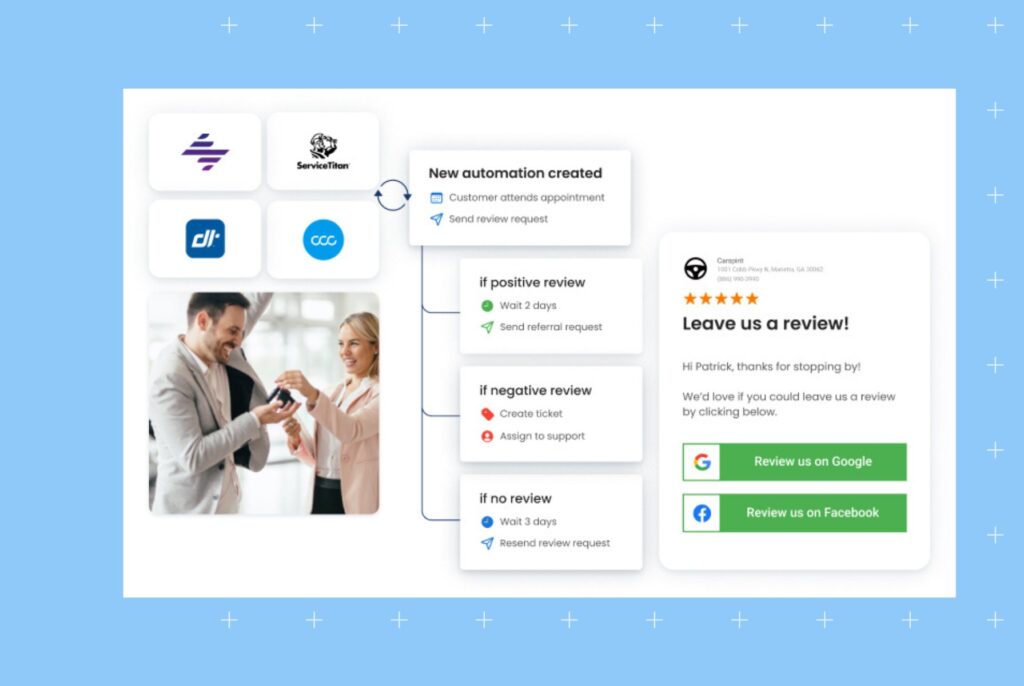 7 Strategies to boost your small business with AI
1. Understand your business needs
Determine which parts of your business will benefit most from AI implementation.
2. Start small
You should start implementing AI technologies gradually, beginning with those that solve your most urgent problems.
3. Collect and analyze customer data
Use AI software to sift through consumer data and draw conclusions.
4. Personalize customer interactions
Tailor your marketing strategy and create individualized experiences for your customers with the help of AI-powered technologies.
5. Automate routine tasks
Integrate artificial intelligence solutions that streamline mundane processes so you may focus on what matters most.
6. Improve customer support
Introduce AI-driven chatbots for round-the-clock service and instantaneous help.
7. Stay updated with AI trends
Keep an eye on the development of AI to spot market shifts and capitalize on them.
Challenges small businesses face that only artificial intelligence can solve
Working with a smaller staff as a small business owner is normal. You can use AI to fill the gaps when faced with challenges related to:
Customer support
Data analysis and insights
Inventory management
Language translation
Sales and marketing
Fraud detection and security
Supply chain optimization
Financial analysis
Small business owners like you face unique challenges. And artificial intelligence is up to the task of helping you overcome these.
One example is AI-powered chatbots and other virtual assistance tools to respond to consumer inquiries. These helpful AI tools save you time and money when responding to common questions.
AI algorithms are also unmatched in providing consumer data and analytics. You'll be privy to valuable insights like call resolution stats or customer sentiment.
Customer support
Sometimes, short-staffed small businesses struggle to provide reliable customer service. Artificially intelligent chatbots just might be the answer. AI-powered chatbots are always ready to share product information or answer typical questions, even after hours.
Data analysis and insights
Data drives business. Small business owners need reliable intel to make decisions about products, services, or new markets.
AI revolutionizes how enterprises find, collect, and analyze data. Insights that used to take hours to collect can be assembled in seconds with the right artificial intelligence tools.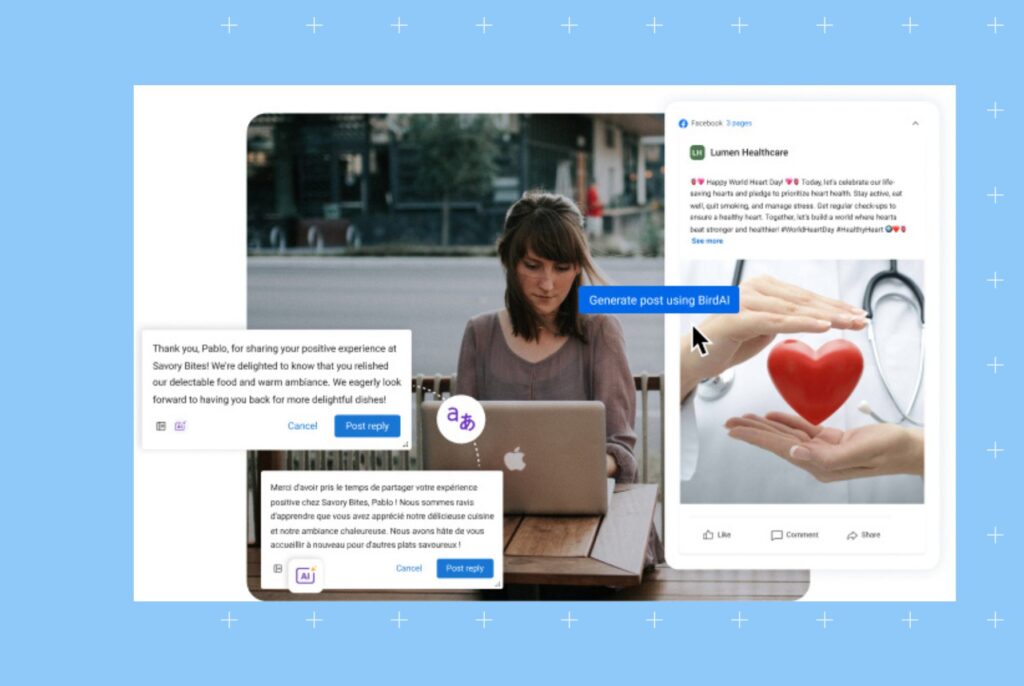 Inventory management
Stock management is another tricky area. AI for small businesses can manage inventory levels, alert you to potential shortages, and even reorder supplies. Better inventory management means reduced oversights and improved forecasting, too.
The right AI tools can be downright game-changing in time and cost savings for retailers, warehousing facilities, or anyone else managing inventory.
Language translation
You need a translator if you're a small business that sells to foreign markets. Or maybe the language barrier has been holding you back from jumping into the global market. If so, then you'll love that AI capabilities include language translation.
Birdeye's AI-powered Review platform is a boon for small businesses like yours to manage reputation. It allows you to translate customer's reviews to answer them in their language.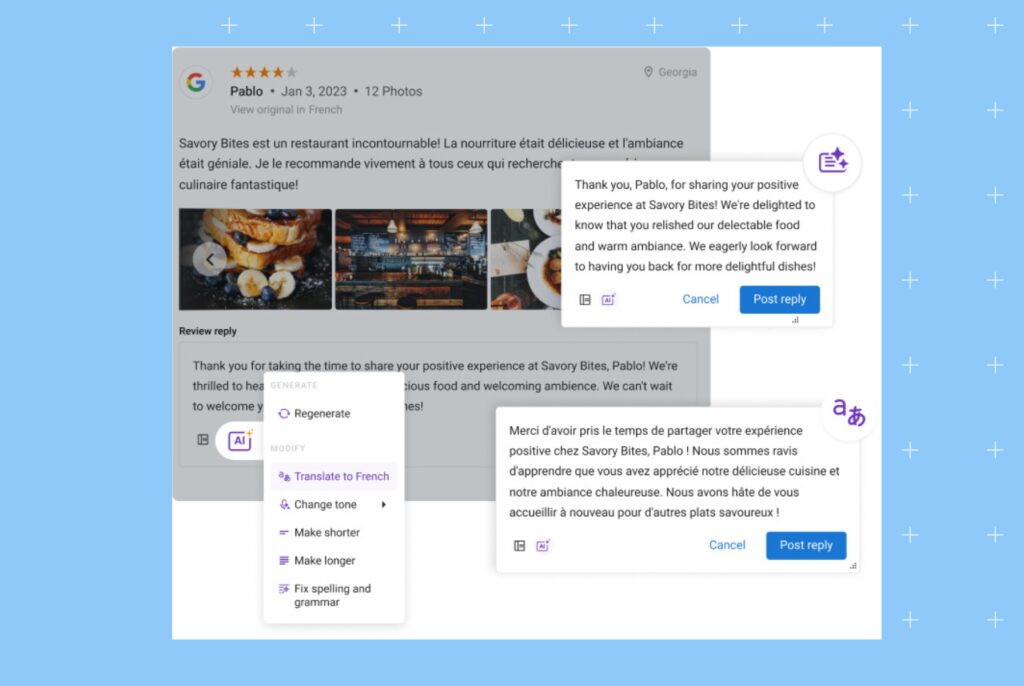 Sales and marketing
AI can make your small business marketing more effective. Artificial intelligence can sift through customer information, searching for patterns to help you market more effectively.
AI can provide market insights, customer behavioral trends, and purchasing preferences. All of these data points are mission-critical to the success of any marketing strategy.
Fraud detection and security
Scammers often prey on locally owned and operated businesses. They assume smaller companies aren't as secure as some of the larger companies.
You can leverage AI technology to avoid cyber-attacks. Artificial intelligence-powered detection uncovers frauds before they significantly damage your small business.
Supply chain optimization
AI tools help with virtually every area of supply chain management. AI software automates inventory oversight and reduces warehousing inefficiencies. Artificial intelligence streamlines shipping, receiving, and scheduling tasks.
These intelligent solutions can even make predictions and avoid future shortages, too. AI reduces friction throughout the supply chain with one-click processes that used to take hours to accomplish.
Financial analysis
Take control of your small business finances with AI by:
Reduce errors in accounting billing and automate calculations.
Helps onboard documents and processes for exchanges.
Mastering online reputation for financial services is a no-brainer solution for small businesses that can't afford robust accounting or finance departments.

Birdeye helps small businesses grow big with AI
AI capabilities are integrated into every part of the Birdeye platform, delivering value across the customer lifecycle.
BirdAI is the AI and NLP engine that offers local businesses all the AI tools to optimize customer feedback management, enhance customer interactions, increase productivity, and drive better business outcomes.  

With Birdeye's AI to improve customer experience advantages, you can:
Auto-generate contextualized and personalized review responses or rephrase when replying to customer reviews.
Create reputation-defining experiences by automatically translating and responding to reviews in your language of choice.
Do all these without adding extra resources so that you can focus on scaling your revenue.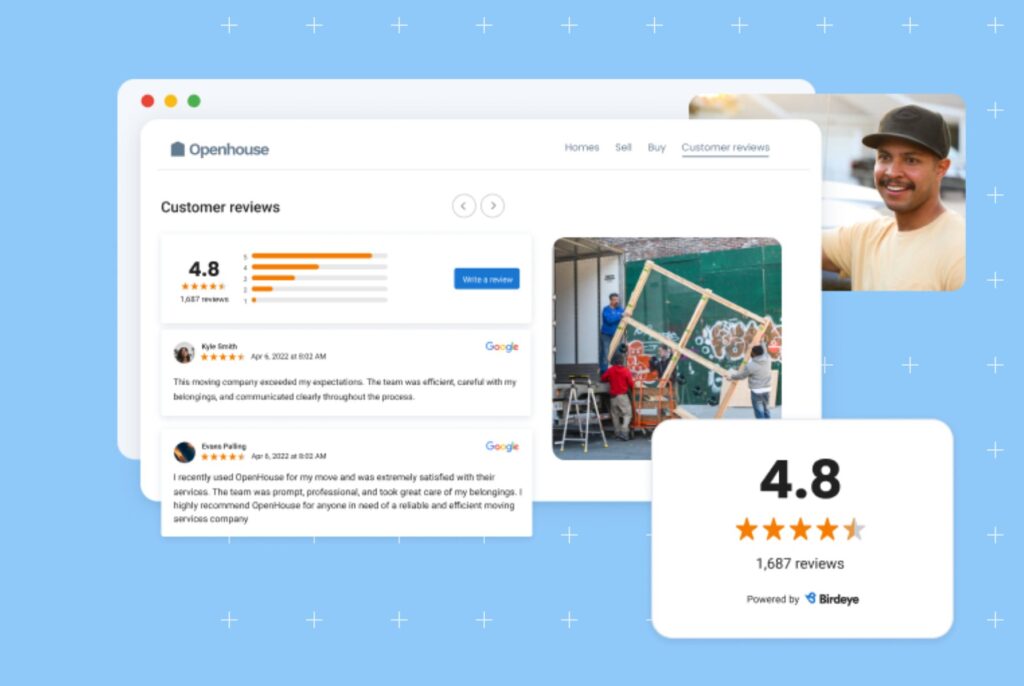 FAQs on AI for small businesses
How can AI benefit small businesses?
AI benefits small businesses with better customer service, automated routines, and data analysis for insights. AI tools also improve marketing and streamline processes.
Tips that help small businesses use AI
Start small. Use only AI solutions that help you save time or money by efficiently reducing time-wasting tasks or mistakes. Always check your data, even when AI solutions are in place.
What is an example of AI in a small business?
One of the best examples of AI applications in small businesses today is the chatbot. This AI-driven application provides 24/7 availability to customers, answering customer inquiries and providing resolutions.
How do I use AI in my business?
Use AI to augment existing tools and processes, saving time and money. And tap into AI to help you better collect and analyze business data. 
Harness the power of AI to scale your small business
Artificial intelligence helps small business owners grow and be more efficient. These tools can improve customer experiences, streamline operations, and accelerate growth.
Recognizing the potential of artificial intelligence is crucial if you want your small company to succeed in today's digital environment.
Are you prepared to use AI to grow your company? Learn more about how BirdAI can propel your company into the future by contacting us now.

Originally published