A Google Business listing offers an easy way for prospects and existing customers to find your business and leave reviews. Studies reveal 86% of customers turn to Google Maps to locate a local business. But there are going to be scenarios when it's necessary to delete a Google Business Account. Removing your business from Google is a simple process. In this blog post, we'll cover how to delete a Google Business account with step-by-step instructions.
Why do businesses deactivate their Google Business accounts?
A business may want to delete a Google Business account for various reasons. Some of these reasons include:
The business has closed: A fairly common reason businesses opt to delete a listing on Google is when the business is permanently closed. Deactivating a listing can help spread the word.
Acquisitions: Transferring a business to a new owner through a sale can be another reason to delete a Google Business account. If you cannot negotiate an account transfer ownership to the new owners, your only option may be to delete the profile. Deleting the Google Business account helps maintain your privacy.
Duplicate profiles: Google typically penalizes businesses with duplicate business account profiles. It can also get quite confusing for your customers to use multiple listings for the same business. If you own duplicate business profiles, you can merge or delete one of them.
Unfavorable reviews: Although Google My Business can help us establish a positive online reputation, having several negative reviews could impact business credibility. There are times when deleting an adversely affected profile may make more sense.
How to delete a business profile on Google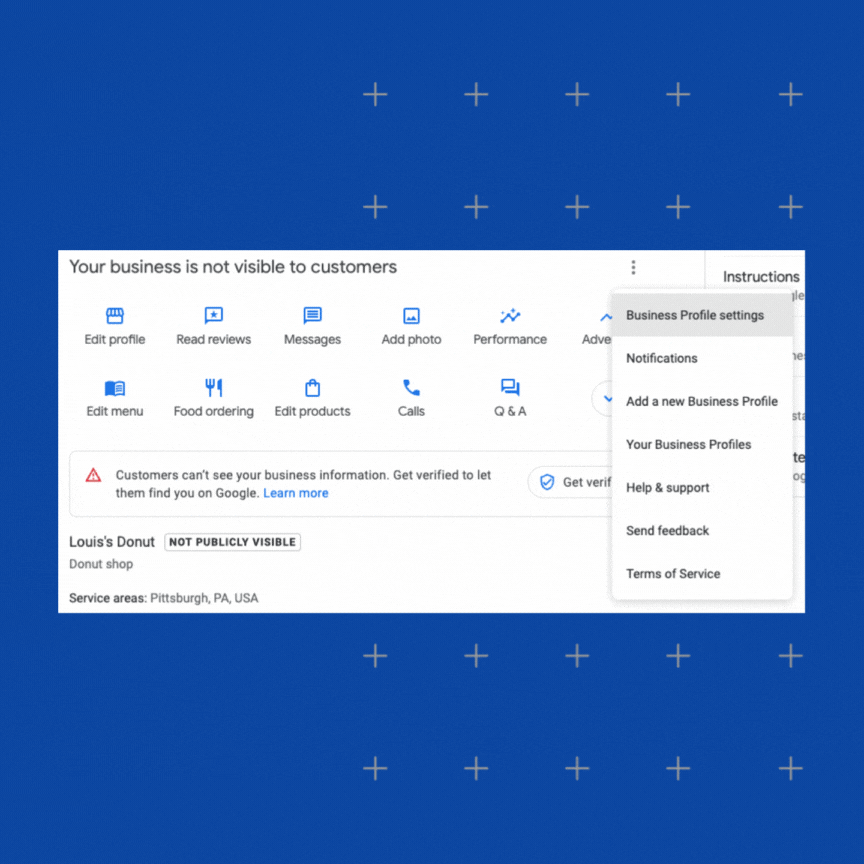 Here are a few simple steps to help delete a Google business account:
Log into your Google My Business profile.
Select More by clicking the 3 dots in the upper right corner.
Click the Business Profile setting option.
Then click, Remove Business Profile → Remove profile content and managers.
Next, select Continue → Remove → Done.
Once you've followed all the steps on how to close a Google Business account, you won't be able to recover the profile details in the account. If you want to use the service again, you must sign up for a new account.
How do you mark a business as permanently closed on Google?
A good alternative to delete a Google Business account is marking the business as "permanently closed." Although they have reduced visibility, permanently closed businesses still appear on Google. This allows you to reopen the business in the future should the need arise.
These steps will help mark your business as "permanently closed:"
Navigate to your company's profile.
Choose Edit profile → Business information.

If on a desktop, utilize Google Search and opt for Edit profile.

Close to the top, click on the Hours tab.
Beside Hours, choose the Edit option indicated with a pencil icon.
Select the Permanently closed option.
Click on Save.
How do you remove content and managers from your Google Business account?
If you decide to delete your Google Business account or mark it as "permanently closed," it's a good idea to also remove the profile content and managers from the account, too. However, remember that this is a permanent action, and it will affect all profile owners and managers. Should you change your mind about managing the profile again, you must first undergo a Google verification process.
To remove content and managers from your Google listing:
Go to your official Business Profile account.
Next, select More and then Business Profile settings.
Go ahead and click on Remove Business Profile and select Remove profile content and managers.
Choose Continue, and then click on Remove and Done.
How do you remove multiple business profiles?
Owning and managing duplicate business profiles can cause pretty big issues like Google suspending your profile for violating its rules and guidelines. Additionally, multiple profiles will be confusing to your customers, leading to possible loss of sales and revenue. These steps will help with how to remove multiple business profiles on Google:
Sign in to your Business Profile Manager.
On the homepage, choose which profile(s) you want to remove.
Then, head to the right side and click Actions.
Finally, choose the Remove businesses option and follow the prompts to officially remove the business profile.
If you encounter error messages during the process, go ahead and remove the content and managers for each profile individually using the steps listed above.
How do you remove a business from Google Maps?
Adding a business to Google Maps is essential for potential customers to find your offerings with ease. But there are good reasons to remove a business listing from the platform. For example, when the business is not eligible to show on Google or has the wrong address, it makes sense to remove it. If you've wondered, how do I remove my business from Google Maps follow these steps:
Go to Google Maps and sign in with the same account as your Google Business profile.
From the map, choose the business you want to remove.
On the left side of the screen, click Suggest an edit.
From that list, select Close or remove. Expect a set of prompts to complete the Google Maps deletion.
After submitting the request, it will still need to go through a review process. Look for a status update email from Google with follow-up questions regarding your reasons for deleting the profile.
How do you reopen a Google Business account?
If you followed the steps to mark your business as "permanently closed" but the circumstances have changed, you still have the option to reactivate the account. Here's how to remove "permanently closed" on Google:
First, head over to your Business Profile.
To begin editing your business information using Google Search select Edit profile.
With Google Maps, select Edit profile → Business information.
Toward the top, select the Hours tab.
Next to Hours, select the pencil icon to edit.
Choose the Open with main hours option.
Set your business hours.
After that, click Save.
If you can't reopen or reactivate your Google Business profile listing this way, you will need to contact Google Support.
Options to consider before deleting a Google Business account
Removing a Google Business account deserves careful consideration and should be a last-resort option. Depending on your online reputation and business listing goals, consider these other options before taking that final step:
Updating your business details so they are accurate and consistent.
Responding to negative reviews timely and in a professional manner.
Using a reputation management service, like Birdeye, to get help managing your online presence.
FAQs about deleting a Google Business account
What happens if you remove a Google My Business account?
After removing a Google My Business account, you'll lose control of managing the account. However, all photos and reviews (both positive and negative) of the business will remain visible on Google.
How do I delete a Google Business service?
To delete a Google Business service, sign in to your Google Business account and choose which service you want to delete from the dashboard. It may take a few weeks for the service to be deleted from Google.
How do I delete a Google account?
To delete a Google account, visit the Google account deletion page and sign in to the account you want to delete. Click on Delete your account. Remember, too, back up any essential data before deleting.
Manage your business listing with Birdeye
Listing your business on Google can be an excellent marketing strategy, especially to drive traffic and growth. Birdeye Listings is a world-class business listing management tool that is proven to improve your online reputation and search engine ranking. Click the banner below and learn how to curate your business listing across all platforms.

Originally published