Fake reviews can seriously damage your dental practice's online reputation. A high star rating and large number of positive online reviews can do wonders for your dental practice. Reviews build trust in your prospective patients, and help you rank higher in search results. Search engines give online reviews a weight of 9.8% of the total ranking factors. Dentists can mark fake reviews as inappropriate and ask the review websites to consider removing them. Spotting fake reviews isn't as easy as it sounds. Here are a few dental marketing tips that'll help you spot fake reviews:
How to identify fake dental reviews?
Learn to spot marketing language
Genuine reviews mostly have a natural and informal tone. On the other hand, fake reviews tend to use more extreme language to get their message across. Fake reviewers tend not to talk about the physical details of your practice. Therefore, they usually write in marketing or technical jargon.
Read the review thoroughly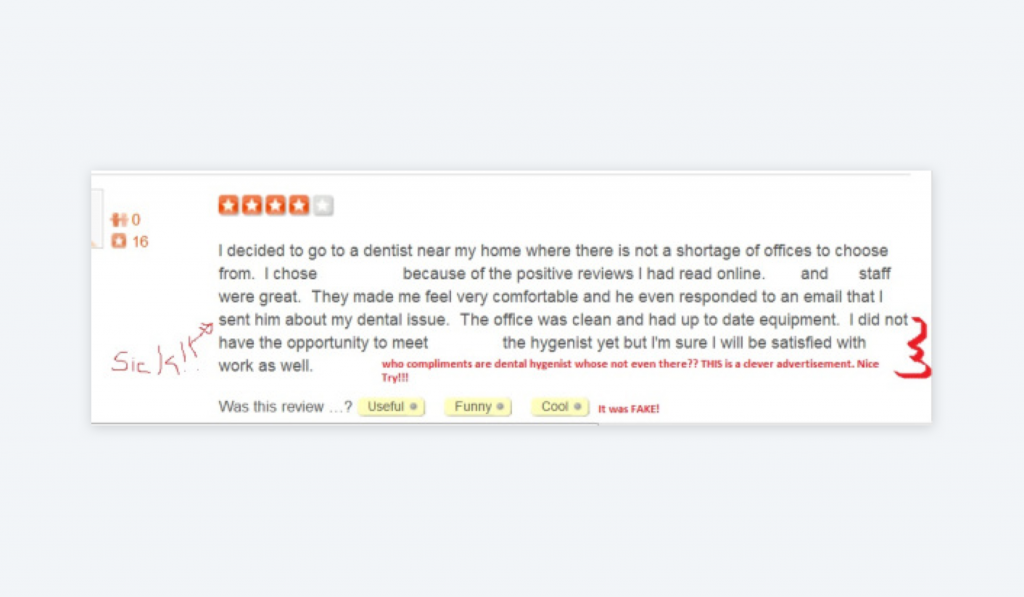 Fake reviews are often written by a person who doesn't actually know you and has never visited your practice. If the reviewer is trying to defame you, they may complain about staff, offices or services that don't match in reality. If you find discrepancies in the review, report the case to the review listing website. Cite details of the services you offer and why you believe the reviewer is false.
Check the reviewer's profile
Most review websites allow you to check the profile of the reviewer. In most cases, a person posting fake reviews won't create a full profile. If you spot a review that you think is fake, first look at the reviewer's profile description. Look for an incomplete profile, lack of profile picture, no social connections and having a small number of reviews.
Check your database
Dentists and other medical professionals usually maintain a list of patients and appointment. This database can come in handy to spot an impersonator. They may mention procedures or treatments that you don't provide. You can't openly respond to a review that you believe is fake by posting this information on a public platform (doing so would be violate HIPAA guidelines). But you can flag the review on the review listing website and be ready to present your case.
Keep an eye on the frequency of reviews
If somebody is trying to defame your practice, they often won't stop at one review. The imposter may create multiple profiles and post a number of negative reviews within a short span of time. If you find that your practice has suddenly received a lot of negative reviews, then they may be fake.
Short and poorly written

A genuine review, both positive and negative, is written by a patient who believes they are adding some value for prospective customers. In most cases, a genuine review provides some detail about your practice, your staff and the treatment options that you offer. A fake review often doesn't have any firsthand information about you and your practice. This is one reason why fake reviews are generally short, vague, and in many cases have grammatical and spelling mistakes. Such reviews should immediately raise an alarm and hence, be marked for further investigation.
Spotting fake online reviews and requesting the review listing website to examine them is one way you can ensure that your prospective patients get genuine information about your dental services and practice. Therefore, consistently encourage your patients to leave reviews online.
Birdeye can help you not only generate more reviews for your practice, but also easily manage and share these reviews to make the most out of them. Watch a free demo to get help your dental marketing, get more patients to your practice and see how reviews can work for you.
You can also discover the top 6 dentist review sites that your dental practice should give priority to.
Originally published