Online reviews play a crucial role in shaping the reputation of businesses. You might have read our detailed guide to how to ask for a review and respond to a review, so it's natural to ask if you can leave an anonymous Google review.
As of May 28, 2018, leaving an anonymous Google review is no longer possible. Google has even deleted all previously posted anonymous reviews.

This change represents Google's policies to prevent the rise of fake reviews that may wrongfully harm your business.
If you are still interested in knowing if there are any ways to write an anonymous Google review legitimately, read on.
Why did Google change its policy regarding anonymous reviews?
Anonymous online reviews are feedback or evaluations posted on the internet about a product, service, or experience without disclosing the reviewer's identity. These reviews can lack accountability, making it easier for individuals to post false or malicious comments without facing repercussions. This can lead to misinformation and unfair damage to the reputations of businesses or individuals being reviewed.
To post anonymous reviews, customers were required to use Google+. Anonymous reviews appeared posted as "A Google User" on Google Business Profiles.
Since the primary account was connected to Google, there was somewhat more accountability than in the previous system. Still, business owners would often have no idea if the person who left the review was a real customer.
In 2018, Google decided to make the process of leaving anonymous reviews subject to more regulation. This was partially in response to complaints by business owners but more because Google wanted to maintain the trust economy of online reviews on its platform.
Why leave an anonymous Google review?
Online reviews serve as digital word-of-mouth, allowing individuals to share their experiences with businesses. However, some prefer to maintain their anonymity while expressing their opinions.
After speaking to many reviewers who chose to leave reviews anonymous, we've curated a few reasons behind their intent to do so:
#1 Candid feedback without identity exposure
One of the primary reasons to leave an anonymous Google review is the ability to provide candid feedback without revealing your identity. Whether it's a critical evaluation or a praise-worthy experience, maintaining anonymity ensures that your details remain confidential while your opinion is still heard.
#2 Focusing on the experience
When your identity is anonymous, the spotlight shifts from who you are to the experience you had. This can lead to more focused, detailed, and honest reviews. Readers are more likely to trust the authenticity of a review that seems to be driven by the experience rather than personal biases.
#3 Addressing sensitive topics
There are situations where the review topic might be sensitive or very personal. Anonymity allows you to discuss these topics openly without attaching them to your identity. This can be particularly helpful when reviewing healthcare services, counseling, or any services where privacy is paramount.
#4 Shielding from retaliation
Sometimes, individuals hesitate to provide negative feedback out of fear of retaliation or consequences. An anonymous review can shield against such concerns, encouraging people to express their genuine opinions without worrying about negative repercussions.
#5 Empowering consumers
Anonymity empowers consumers to share their honest thoughts, which can influence the purchasing decisions of others. Businesses and service providers also benefit from anonymous reviews as they gain insights into areas for improvement, enhancing their overall quality.
#6 Encouraging open dialogue
By offering a platform for anonymous reviews, businesses, and service providers encourage an open dialogue. Customers are more likely to voice their concerns, allowing companies to address issues and make necessary changes.
#7 Objective evaluation
Anonymity helps remove biases associated with a reviewer's identity, promoting more objective evaluations. Readers are more likely to focus on the content of the review rather than forming opinions based on the reviewer's background.
Though Google doesn't allow you to leave a review anonymously, you may leave a review without actively revealing your real identity. You can leave an anonymous review on Google while maintaining your privacy and sharing valuable insights.

The easiest way to post Google reviews anonymously without revealing your identity – Change your name on Google
The most legitimate way to leave anonymous Google reviews is to change your name on Google
Or create a new/alternate Google account that you'd use for unofficial purposes/personal use.
You can use a pseudonym, a nickname, or simply "Anonymous."
Here's how to leave a review without a Google account:
Step 1 – Go to Google Maps
Search for the business you want to review.
Step 2 – Click "Write a Review" under the "Reviews" section.
A pop-up will appear for you to sign in to your Google account.
Step 3 – Click "Sign in."
Now, you have to create a new account that you'll use for this purpose.
Please note that this will be a real account you can name. You may also name it "anonymous" if you want not to reveal your real name.
Step 4 – Click "Create account" in the next window and select "For my personal use" from the list.
Step 5 – Click "Create a new Gmail address."
A new popup will appear where you have to fill in your details
Step 6 – Add a recovery address as your backup.
A new popup detailing Google's policies and code of conduct will appear. Read and then "Accept" it.
Congrats, your anonymous Google account is live.
Once you've created your account, you can leave a review by selecting the number of stars and typing your feedback in the text box.
Click on the "Post" button to publish your review.
Please note: Though you may write a review, a business can flag a review if it seems dubious.
And if it's true, Google may take your review down if it violates Google's review politics and terms.
Note: Even if you alter your Google profile name, Google can still track your IP address. So, realistically speaking, you won't be entirely anonymous.

How to leave an anonymous Google review on a desktop?
Wondering how to leave a Google review on your desktop anonymously? Here's a step-by-step to do it:
Step 1: Go to Google
Step 2: Search the business you want to review.
Step 3: The business's name will appear on the right-hand side of the results.
Click on the business listing.
Step 4: Scroll down to the "Reviews" Section. And click on "Write a review".
Remember the alternate email ID we created in the step above?
Log into that.
But if you want to create another ID, you can follow the same steps and make another anonymous Google ID.
Fill in the required details and login with that anonymous Gmail account.
Step 5 – Login and write the review.
Step 6 – Select the number of ratings and then click 'Submit/Post."
Here's a GIF guiding you to do it: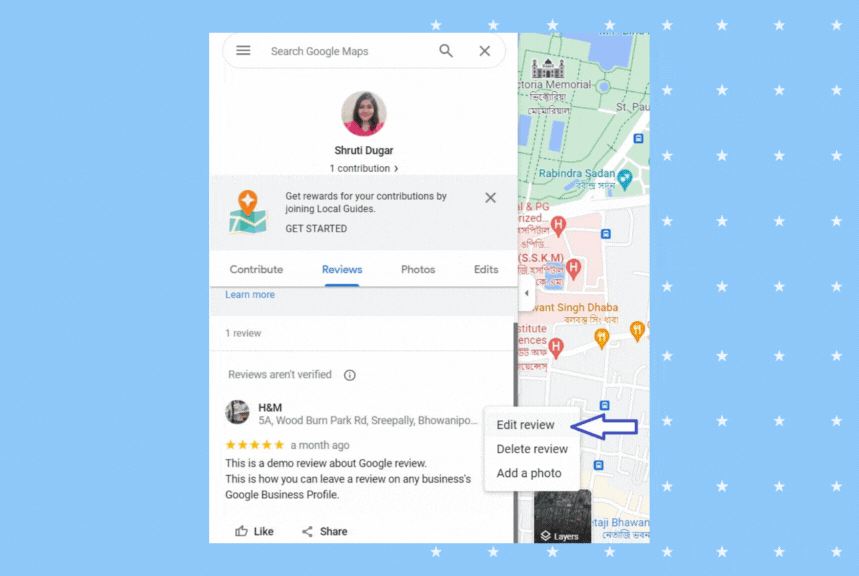 Done! You've successfully posted an anonymous Google review from the desktop.
How to leave an anonymous Google review on mobile?
Leaving an anonymous Google review on mobile is not very different from a desktop.
Customers prefer doing it on mobile because this saves time and ensures the customer's review is more accurate and relevant to their recent experience.
Step 1: Log in to the anonymous Google account
The one that you created with an alternate email address, as mentioned in the steps above.
Step 2: Search for the business you want to review.
Enter the business name and location for accurate results.
Step 3: Tap on the business listing from the search results to access its details.
Step 4: Scroll down to the "Reviews" section.
Scroll down the business details page until you find the "Review" section.
Step 5: Rate and write the review you want to publish anonymously.
Tap on it to start writing your review.
Step 6: Publish your review.
Occasionally, Google may ask you to complete a CAPTCHA test to confirm that you're not a robot. Follow the instructions to complete the CAPTCHA and proceed with submitting your review.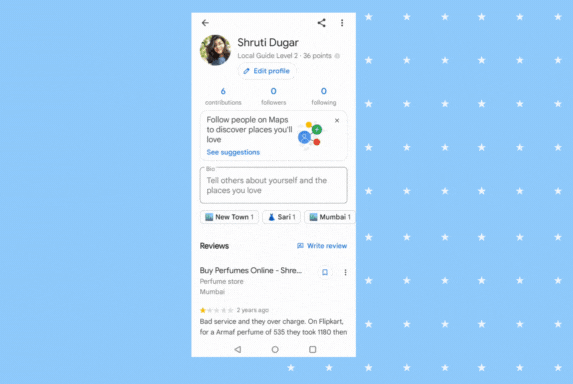 Alternate way to leave an anonymous review
If you do not want to create a Google account just to leave anonymous reviews, there is another easier way to get around the anonymity issue – change your name on Google.
To change how your name appears in reviews,
1 – Go to your Google account.
Look for the "Manage your Google Account" section.
2 – Click on it and then select "Personal Info."
A page should come up showing your given name and surname.
At this point, you can either take off your last name to maintain review credibility or pick an alias, or simply use "Anonymous" as your identifier.
Note: While this is an easier way, remember that by doing this, you are changing your name on Google, and your name will appear as the altered name wherever you use your Google account. 

Also, if you revert to your original name on Google at any time, the review you posted anonymously will start showing your real name.
Anonymous Google reviews and the rise of the trust economy
Earlier, it was easy for anybody to leave a review. Review platforms wanted to make leaving a review easy for anybody, but that came at a cost: the system's integrity.
Anonymous reviews made the whole review ecosystem harder to trust. Customers didn't know if the reviews they were reading reflected real experiences. Businesses didn't know if the reviews they were reading were from real customers.
So, the question wasn't whether can you leave anonymous Google reviews but whether the anonymous reviews were fake reviews or a vent out.
Google doesn't allow review gating, but it all changed when the discussion came about whether relying on customer reviews should be taken at face value.
For the trust economy to function properly, customers need to be able to trust reviews:
Customers will only trust online reviews if it's clear the reviews are authentic and represent an unbiased view of the business.
Trustworthy reviews benefit businesses and customers, so preserving an authentic review ecosystem is important.
What are Google's policies and best practices for leaving anonymous Google reviews?
To deal with all these, Google created a set of rules and guidelines known as Google Store review guidelines to prevent fake anonymous reviews:
Spam and fake content
Misleading or biased opinions
Off-topic reviews
Illegal content
Sexually explicit content
Dangerous, offensive, and derogatory content
Terrorist content
Read about Google's list of prohibited content to prevent reviews from misleading customers and harming the business's reputation.
Tips to follow when writing reviews anonymously that align with Google's review policies
Craft your review thoughtfully – Be honest, respectful, and constructive in your feedback. Avoid using offensive language or making false claims.
Maintaining ethical review practices – Even though anonymous, it has a huge impact. Include relevant details about your experience to give readers valuable insights.
Be objective and unbiased – Focus on the facts and your personal experience rather than preconceived notions or affiliations. State the bad experience objectively.
Proofread and edit it -. Clear and well-structured reviews enhance your credibility and make your feedback more impactful.
FAQs on anonymous Google review
Can I edit or delete my anonymous review later?
Yes, if you have the review link or are signed in, you can edit or delete your anonymous review.
How can businesses make the most of anonymous feedback?
Businesses can use anonymous feedback to identify areas for improvement and enhance their overall customer experience.
Is it ethical to leave an anonymous Google review?
To leave an anonymous Google review is subjective and depends largely on the intentions of the reviewer. There are many reasons and advantages of leaving reviews anonymously, like protecting your privacy and addressing sensitive topics. 

So, as long as your reviews comply with Google's policies, and you're sharing an honest review, you can leave anonymous reviews ethically.
How to edit your Google review from mobile or desktop?
Step 1 – Launch the Google Maps app
Step 2 – Search for the business you reviewed using the search bar.
Step 3 – Scroll down to the reviews section and find your review.
Step 4 – Edit your review. 
Step 5 – Save the changes by tapping the "Save" or "Submit" button.
How to edit your Google review using a desktop?
Step 1 – Go to https://www.google.com/maps/contrib/ 
Step 2 – Locate the review you want to edit. 
Step 3 – Click on that review. Your earlier review will pop up. 
Step 4 – Start editing your review and then "post" it. 
How to delete Google reviews from mobile or desktop?
Here's a quick guide to doing so from mobile (Andriod or Apple) or desktop: 
Step 1 – Open Google Maps. 
Step 2 – Find your review on the business listing you've left. 
Step 3 – Scroll down to the reviews section and locate your review.
Step 4 – Tap on the three dots on the right side. Delete your review.
Birdeye's take on anonymous Google reviews and the trust economy
At Birdeye, we strongly support the trust economy. We are dedicated to preserving an authentic review ecosystem. If you have to leave an anonymous review for the reasons specified in the blog, please do so while maintaining objectivity while writing the review.
Use Birdeye to get authentic customer reviews and use this feedback to improve customer experience. Win-win for everybody!

Originally published