Selling insurance is synonymous with selling trust and safety. But that is only successful when you can find the right customers and build trust. The right insurance marketing strategies can help you connect with your target audience, gain their trust, and significantly improve your conversion rate.
With the strategies outlined in the blog post, you can improve your customer acquisition, retention, and satisfaction rates to grow your business.
Birdeye – all-in-one platform
Automate Reviews, Ratings, Listings & Reputation Management with Birdeye.
7 best ways to market insurance
The best way to market insurance is one that reaches your audience and accelerates their purchase journey. But you can find customers for your business from different channels, requiring businesses to adopt a multi-channel approach.
In this section, we talk about the 7 best ways for you to grow your insurance business, namely:
Review generation and marketing
Social media marketing
Referral programs
Content marketing
Paid advertising
Virtual events and webinars
Loyalty programs
Review generation and marketing 
Online reviews provide social proof, establish your expertise, and help build trust. They can also help boost your online presence. 92% of respondents in a recent survey by Birdeye mentioned that they read at least two reviews, while 50% of the respondents agreed to reading five or more reviews before forming an opinion. 

On the flip side, negative reviews can discourage prospects from purchasing. Actively monitor and respond to reviews in a timely and professional manner. You can also collect and manage reviews from Google My Business or industry-specific business listing sites if you work in a niche like homeowners insurance, renters insurance, or auto insurance, to name a few.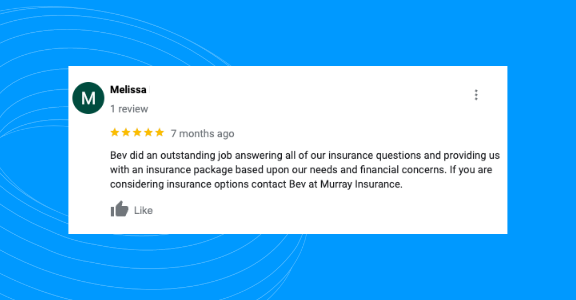 One of the best ways to market insurance via reviews is to consistently generate reviews from customers, respond to them, and use them to market your business by sharing them on social media, newsletters, and other campaigns.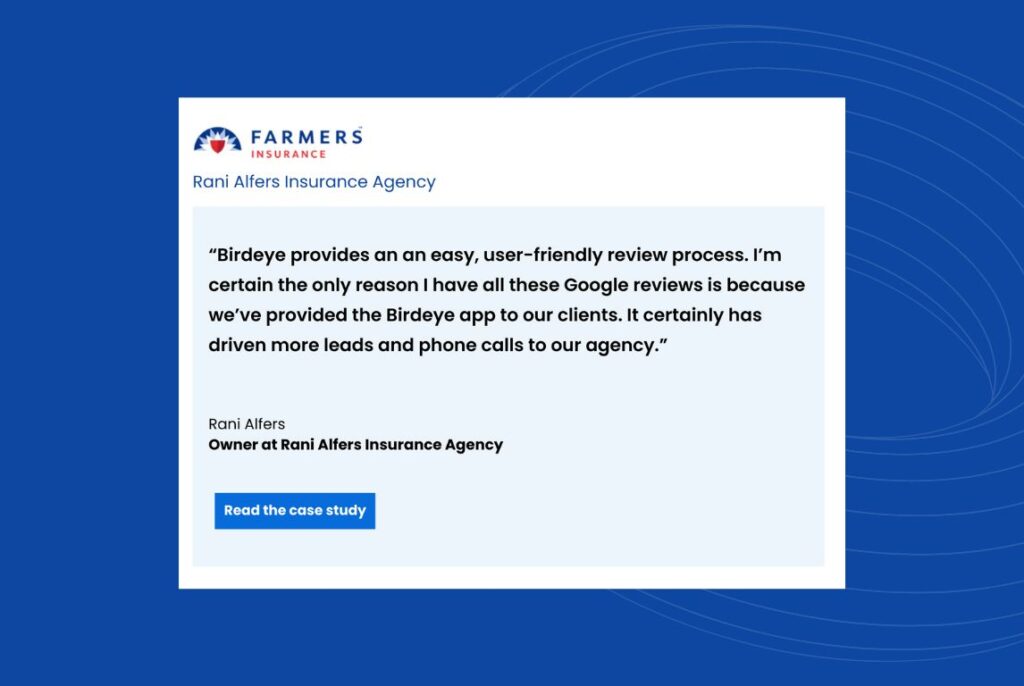 Social media marketing
Consumers generally prefer to choose brands they trust and can obtain reliable information about online. And they are increasingly using social media to get that information. In fact, 75% of online users take to social media to research a brand or product.
Social media marketing for your insurance company must effectively reach clients through this preferred channel. Use platforms such as Twitter, Instagram, Facebook, and TikTok to create posts and bite-sized videos to educate and engage with followers. You can also create ads to drive brand awareness and generate leads. Keep it conversational and relevant to your social media followers.
It is essential to understand which platform would work best for your business. For example, if you work in health insurance or long-term care insurance, your target audience would be around 30-40 years old, and Facebook is the right platform. But Twitter can be helpful if you are looking for customers for your auto insurance product.

Referral program
In the insurance industry, your loyal clients can be the most valuable assets you can have to promote your business. Consumers trust recommendations from like-minded individuals, and existing clients are four times more likely to refer their friends if they are satisfied with the service they've received. Therefore, using a referral program to help spread the word about your business can help you acquire new clients and increase client loyalty.
Create a referral network that incentivizes and rewards your clients whenever they bring someone new to your company. Offer them discounts or a gift card to encourage them to recommend you.
You can also expand your referral program through affiliate marketing. Let brokers, influencers, and other insurance agents earn rewards by bringing traffic to your business.
Referral programs work great for almost all insurance products, such as home insurance, renters insurance, auto insurance, life insurance, and health insurance. If a customer had a good experience, they would refer to their peers in similar life phases.
With Birdeye Referrals, you can create automated referral campaigns for your existing clients in just a few clicks.
Content marketing
A lot of consumers prefer to conduct their own research before buying an insurance policy. If your blog or guides aren't generating consistent leads, it's likely your content isn't compelling enough to attract and retain visitors. If this is the case, you're likely missing out on valuable engagement via this popular insurance marketing tool.
Some of the best ways to market insurance via content marketing are listed below:
Research what is relevant to your target audience, including your competitor's sites, to see the type of content they publish. Identify client pain points and popular questions, then develop content to position yourself as the best solution. Aim to provide real value to your clients across every stage of their journey.
You can also use this medium to highlight success stories of past clients who have used your product or service.
Create posts comparing your rates to other insurance carriers, do interviews, or dispel common insurance myths.
Integrating SEO tactics, like including relevant keywords in your content, is essential to help with your search engine ranking. In addition, implement a link-building strategy and constantly update your content to increase visibility and inspire more traffic to your site.
Paid advertising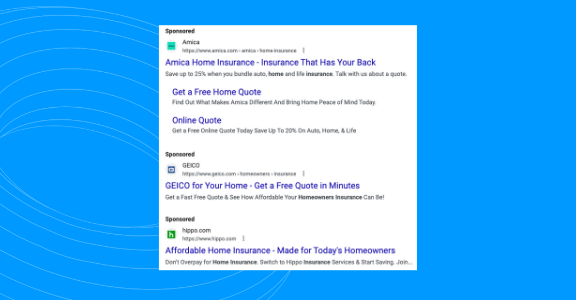 Another effective tool is paid advertisements. You can use Google Ads to target specific clients and push your insurance brand to the top of search engine results pages (SERPs.) Paid ads also let you target specific keywords and search intent. So, if somebody is searching for a specific policy or looking for an insurance agency nearby, you can target them and capture those potential leads too.
Remember that, as its name suggests, paid advertising requires a budget. In order to see a return on your investment, use relevant long-tail, intent-focused keywords that align with your target audience as well as attention-grabbing messaging and landing pages to increase conversion.
Virtual events and webinars
Content also comes in the form of virtual events, podcasts, and webinars. Webinars offer a cost-effective way to promote your insurance business by sharing helpful information with viewers. They are interactive, engaging, and educational virtual events.
YouTube and TikTok also present a valuable opportunity to educate your audience about insurance, thanks to the increased popularity of 'how to' videos. Repurpose your webinars or podcasts as YouTube clips or Reels to expand your reach.
Conducting events in partnership with corporate companies, healthcare organizations, and local government bodies can help you boost your growth. This especially comes in handy for health insurance, disability insurance, and life insurance products. 
Loyalty program
Client churn is an ongoing issue for the insurance industry. To combat this, today's insurance marketing trends focus on building client loyalty programs to help increase retention rates.
Loyalty programs can help you create stickier clients that keep renewing their policy. Apart from giving them delightful experiences, you can offer incentives like milestone discounts or supply steps they can take to help lower their premiums.
Benefits of insurance marketing strategies
Using the right marketing strategies helps businesses ensure they are accessible to their target market. And it is valid for the insurance industry too. 
Specifically, insurance marketing strategies help businesses:
Boost brand awareness: Your marketing campaigns can make you a household name and generate high brand visibility. Everyone who thinks of insurance will think of you because of the campaigns. This means that even without actively targeting someone, you can convert them into a customer.
Generate more leads: An effective strategy increases traffic to your website, allowing you to generate insurance leads that you can convert into paying clients.
Increase revenue: Sales in any industry start with awareness. Putting your business in front of potential clients can help attract new clients and boost sales.
Retain more clients: Providing continuous value to your clients and potential prospects with suitable campaigns can create familiarity, boost loyalty, and increase retention.
Frequently asked questions about insurance marketing
What does insurance marketing include?
Insurance marketing includes the different strategies and tactics used to promote and sell insurance products. These strategies may include creating brand awareness, leveraging social media, providing client incentives and rewards, running online and offline campaigns, utilizing direct mail, and engaging in search engine optimization.
How do you market insurance to people?
1. Create buyer personas to reach your target audience effectively.
2. Analyze your competitors to understand what strategies they use.
3. Offer your clients exceptional service, better support, and enhanced convenience.
4. Have clear marketing goals in mind to help track the key metrics and measure the success of your efforts.
How can you be successful in insurance marketing?
To be successful in insurance marketing, you need to showcase your expertise and work to establish relationships with your clients to keep them coming back.
How does insurance marketing get you more leads?
Insurance marketing can get you more leads by creating effective marketing campaigns around SEO, email marketing, and social media management that drive more leads. However, you can accelerate lead generation by using paid advertising tools like Google Ads and Facebook Ads.
Final thoughts about insurance marketing
There's no one-size-fits-all marketing strategy for insurance agencies. You need to understand your target audience, establish diverse marketing channels, and experiment with different tactics to find the best solution for your business. Be sure to keep these insurance marketing ideas in mind for inspiration and to help grow your business.

Originally published