Your online reputation defines your business, but you don't build your online reputation — your customers do. And what they say about you online determines how the rest of the world perceives you. Businesses have plenty of online reputation management tools available for their usage.
Define online reputation management – Online reputation management (ORM) is the practice of making strategies that shape or influence the public perception of an organization, individual or other entity on the Internet. It helps drive public opinion about a business and its products and services.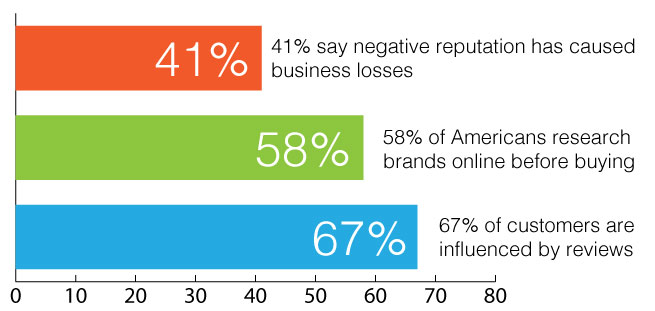 Reputation is what persuades them to buy from you or from a competitor.
While you have limited control over what is said about your business, you can develop a strategy for responses that improve your online reputation management. One of the most valuable factors of a strong strategy is a well-trained team. Here's what we'll cover in the article :
Understand the value of reputation management
Define clear links between reputation management and everyone's duties
Online reputation management tools
Build a foolproof response process
Implement an effective escalation process
Motivate employees with positive customer reviews
6 steps to getting your entire team managing your business reputation:
1.
Understand the value of reputation management
No improvements can be made unless everyone's on board and driven towards a cause they care about. That's why it's important to make sure your whole team really understands why it's critical to build your online reputation. Share with your team costs involving business operations. This could include customer acquisition, cost of losing customers, and the role of online reviews and their effect on your business. Some good stats to cite:
88% of customers read online reviews before purchasing a product or service (Forbes)

On average, a one-star increase in online ratings equals a 5-9% increase in revenue (Harvard Business Review)

92% of people will use a business if it has at least a 4-star rating (Cornell University)
2. Define clear links between reputation management and everyone's duties
Once your team recognizes why it's important to build your online reputation, elaborate on how each role contributes to creating an excellent online reputation. For instance, in a retail company, the marketing team should make sure customers can easily find the store online, and that there's enough helpful information available to convince them to pay a visit or place an order.
Next, the sales associates are responsible for making every shopper's experience pleasant, whether this means helping to find something on the floor, making suggestions, ordering inventory from another branch — or simply being friendly and patient. The customer support team needs to make sure every customer call, email, and tweet is not only responded to, but solved in such a way that keeps shoppers coming back. Support needs to go above-and-beyond to retain at-risk customers.
Lastly, it's corporate's responsibility to listen to all customer feedback and incorporate it into every decision on a consistent basis. This means monitoring feedback from competitors' customers as well. Every role has an impact on a different customer journey touchpoint, and all these touchpoints make up the overall customer experience. The overall customer experience is reflected in star ratings. And higher star ratings — you know where this is going — mean higher revenue.
Help every employee understand how their role contributes to build your online reputation and draw out a detailed plan on how each team member can contribute.
3. Online reputation management tools – use them
Motivation and grit are great qualities, but you don't have to rely solely on those to manage your online reputation. There are resources available to help streamline and process; choose an online reputation management solution that is a good fit for your business. Pick a system that is easy to use, monitors reviews from different review platforms and provides interactive reporting features that give you insight on your performance in comparison to your competitors. Ideally, you'll want a reputation management solution that lets you monitor feedback, respond to it, get more reviews, fix your online presence, share positive reviews across the web as marketing content, and listen to what patients are saying about you on various review and social media channels.
Timely responses to reviews, both positive and negative, are also very important. Make the most of the technology by investing time and money in training your team to use the reputation management solution you choose.
4. Build a foolproof response process
Think of every review as the start of a conversation. You need to participate! Keep happy customers happy and help unhappy customers before they turn to a competitor. , develop a system for your employees to respond to reviews, negative or positive.
Identify specific types of reviews and create standard response templates for them.
A good standard response is something like this:
"[Customer name]
We're so sorry that you had a bad experience. Kindly get in touch with [support representative] at [support rep phone number and/or email] so we can address this problem immediately.
-[Employee name]"
Even the most loved businesses receive negative reviews from time to time. Rather than letting them bring you down, turn them into an opportunity to learn and improve. Sometimes the solution is more than a quick fix; it might be an entire operational revamp — but it's worth the effort if it means your customers stick around.
Read also: Turn negative reviews into business opportunities
Positive customers deserve some love too. To show happy customers you appreciate them, you might say:
"[Customer name],
Thank you for your great feedback! Glad you were happy with [your experience/service/ if possible, refer to specific detail from review]. We hope to see you again soon!
-[Employee name]"
When responding to reviews, you want to sound professional to give yourself credibility, but at the same time, personal enough so the customer feels they're being taken care of by a human being and not just triggering an automated response from a bot.
Read also: How to respond to negative reviews
5. Implement an effective escalation process
In case the initial response by your team doesn't help, it's crucial to have an escalation process that team members can follow. Think of it as crisis control. Even if you never have to use it, it's a good idea to be one step ahead of potential problems.
6. Motivate employees with positive customer reviews
When a customer shares a great review about a specific employee, let the whole team know. Maybe even have rewards for the employees that receive the most positive reviews each month. Birdeye online reputation management tools gives each business an employee leaderboard to track your employees' reviews and ratings in real-time. This inspires both a sense of community and healthy competition within your team, and in the race to be the best, they'll be making customers happier and happier.
Business reputation management tools – Your brand's reputation affects the business directly. People won't buy your products if they don't feel they can trust you. Or worse, if they feel that others don't trust you. Let's not let that happen.
Online reputation management statistics – Nowadays, businesses have to have two personas to keep up in today's' world. The two personas they have to keep up with are their online and real life identities. While a real life identity is easy to control, the identity which most practices struggle with is an online identity.
Best online reputation management tools – Keeping up with your online reputation is crucial to being a successful business, but with all of the online channels that exist today, there's a lot to keep track of. You can rely on Birdeye reputation management tools to keep your business reputation safe.
Online reputation management tools – A stellar online reputation is important for every business, and when your whole team helps manage it, it can withstand just about anything. To see how your team can easily start to manage and build your online reputation in no time at all. Get started with Birdeye.

This blog post is part of our Online Reputation Management Guide:




        


Online Reputation Management






Reputation management companies



Originally published