Your happy customers and loyal fans are a great source of new leads. Offering them perks for sending their friends over is an effective technique to boost sales. Consider using a customer referral program template to boost your company's  word-of-mouth advertising and make the most of every positive customer experience. In this blog, we'll explore referral template strategies and share examples.
How a referral program helps your business
But first, if you're wondering how a client referral program template helps your business, consider the findings from a study that set out to determine the value of referred customers.
Researchers looked at 10,000 bank customers. They found that referred customers were more profitable and more loyal. In fact, referred customers increase profits by 25% in some cases.
Using a customer referral program template can help you get this program off the ground sooner. This is important because your happy customers have the power to connect you to their network. If they think your company is a good match for a friend, they're probably right. Also, people can develop a stronger bond with a business if they know their friends are customers too.
All in all, referral programs can net you ideal leads with a high potential for becoming long-term customers. This all comes at a much lower cost than traditional advertising.

What is a referral program template?
You can only reap the benefits of referred customers if your customer referral program template convinces your existing customers to recommend you. For that, you have to follow a few best practices.
A referral program template is a checklist of all the essential elements of a winning referral program. With the right template in hand, you can be sure that your program has everything you need to get the most from this strategy.
Elements of a referral program template
The best programs contain elements that increase the chances customers will participate. Below are tips and details to help get you started.
1. Headline
Keep your referral program headline simple and straightforward.
Your headline should deliver what customers are really interested in. So use your headline to tell them what they'll get when they refer a friend.
Use tried-and-true copywriting techniques to write a persuasive headline. For example, instead of "We'll give you $10 off your next purchase," use the more persuasive "Get $10 off your next purchase."
2. Visuals
Images and other visuals add depth to any advertisement. So, the images you choose for your referral marketing campaign should mirror the emotions you're conveying in your copy, such as joy and excitement.
Ideally, your image should show people doing fun things related to your product. For instance, an advertisement for a home equity line of credit could show a couple renovating their home.
3. Program overview
Provide the basic information your customers need to make a decision. Also, get to the point quickly and be clear. You'll harm your relationship with your existing customers if they are unpleasantly surprised because they didn't understand the terms of the referral bonus. Provide an easily recognizable link to the full terms and conditions of your program.
4. Referral link or code
Customers should be able to quickly identify the next step to participate in the referral program. Make it easy by providing a referral link or code that they can easily distribute.
Above all, your referral program should not be labor-intensive. Instead of sending customers to a landing page asking for information, simply provide an easy way for your customer to send their friends the referral digitally. When friends take advantage of the referral offer, make it easy for them to give your customer credit.
5. Call to action
Finish your referral program outreach with a call to action (CTA). A strong CTA doesn't ask, it tells customers what to do next. Start your CTA with a verb.
Instill a fear of missing out on your program. Customers are more likely to follow through on the referral if your offer is "for a limited time."
Appeal to your customer's emotions. Everybody wants to help out their friends. "Click here today to help your friends take advantage of this amazing deal" appeals to your customer's desire to be a good friend.
Referral program channels and examples
Your landing page, social media channels, and email are common ways to let customers know about your referral program.
1. Landing page
Placing your referral program on your landing page will allow more room for the program details. You'll also have more space to remind customers of all the benefits of your products. Take advantage of that extra space to showcase the referral reward and make your follow-through buttons large and inviting.
See Tesla's example of a referral program landing page, where the guidelines and terms are available for more in-depth information.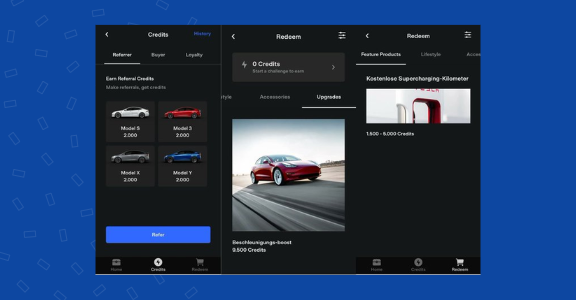 2. Social media
Social media is the place for eye-catching images. Your visuals, more than text, will attract your customers and entice them to take the next step. Modern Lash UK uses Instagram and Facebook to promote the company's "Refer a Friend" program. The company does a great job here of using imagery to create an inviting pull while connecting the image to the brand.
3. Email
Using email to advertise your program is a great way to get your referral message in front of your customers. A referral program email template also allows you to use more vertical space than social media. The email example below, from Daily Carnage, doesn't make customers scroll all the way down. The follow-through button is right below the program's title.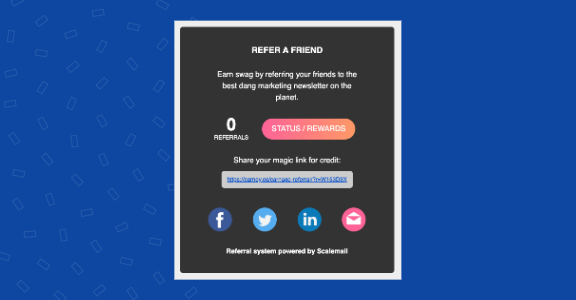 See how Capital One also does referral programs by email.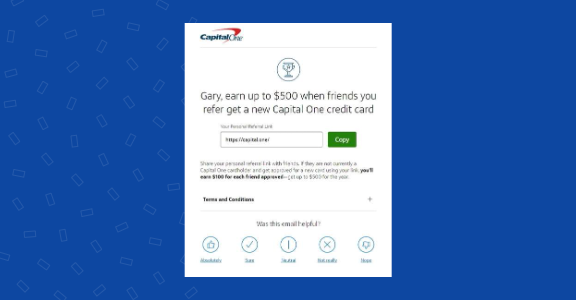 FAQs about referral program templates
What are 4 types of referrals?
Four types of referrals are organic word-of-mouth, text and email referrals, as well as influencer referrals.
How do I write a referral bonus program?
To write a referral bonus program be sure to include a title, program overview, images, and a call to action. Use a customer referral program template to streamline your process.
What is an example of a type of referral program?
An incentive-based referral program is one type of referral program that uses perks and benefits to reward those who refer or purchase from you because of a referral.
Earn more loyal customers with Birdeye Referrals
Happy and loyal customers make for great brand advocates. However, creating a referral program can be challenging. With Birdeye Referrals, you can create, send, and track your referral campaigns. Let Birdeye help you grow your customer base with just a few clicks. Watch our free demo by clicking the banner below.

Originally published