If you want your business to be successful, you need to have an active presence on social media. However, managing all your social media profiles takes time and effort. You have to keep up with the latest changes to each platform, constantly generate new content ideas and post content regularly without missing a beat. That's where a social media calendar can help.
An essential tool for social media success is a calendar for all your social media campaigns across channels. In this article, we'll explain what a social media calendar is, the benefits of using one, and how to get started with your own. Plus, we've included a free template so you can hit the ground running. Read on.
What is a social media calendar (and why do you need one)?
A calendar for social media helps businesses plan, organize, and execute their social media content strategy. The calendar template for social media should include all planned content for each platform (e.g., Facebook, Instagram, YouTube), including blog posts, graphics, videos, and guides. The calendar should also include information about who will create and publish the social media posts, when content will be published, and any related hashtags or campaigns.
Benefits of using a social media marketing calendar
An effective, easily-customizable calendar template can be an invaluable asset for any business or organization. Why? Because by mapping out your social content in advance, you can make sure you're sharing a mix of engaging, timely, and relevant posts. Plus, you can avoid the last-minute scramble to come up with something to share.
Simply put, a calendar for your social media campaigns can help track and measure your social media performance over time.
[Free Guide] The ultimate social media marketing guide for businesses
Download Now
Features to look for in a calendar template
There are a number of different ways to create a calendar. You can use a spreadsheet, a dedicated social media management tool, or a website. Keep in mind that the right calendar template should have features that make it easy for you and your team to effectively plan, organize, and execute content creation.
Here are some top things to be on the lookout for:
Flexibility: The calendar should be flexible enough to allow for changes and updates as needed while also having the ability to track progress.
Searchable: It should also include a searchable database of hashtags and campaigns related to each post, along with automated reminders of when content needs to be published.
Detailed overview: The calendar should provide a detailed overview of all planned content across each social media platform your business is on and allow users to link external resources such as graphics or videos from other sites.
Analytics: Ideally, your calendar should also include an analytics tool built in so you and your team can gain valuable insights into social campaign performance. Or, at least link out to an external analytics tool.
In short, an effective calendar template will help you manage your social media strategy with confidence.
Social media calendar ideas – how to create one that works for you
There are many ways to create a calendar for your social media efforts, but the most important thing is to find a system that works for you. One way to do this is to create a spreadsheet with all the platforms you use and then fill in each day with what you plan to post. Another option is to use an online calendar app, which can be synced across your devices.
Whichever method you choose, include a column for notes and reminders so you can keep track of any changes or new ideas. With a little planning, the calendar for social media campaigns can help you stay on top of your social media goals.
If you are still unsure how to get started, here are four top tips for creating a calendar template for social media:
Tip 1: Decide which social platforms to focus on
There's no need to be everywhere. Instead, pick one or two social platforms that make the most sense for your business.
If you're still deciding on which platforms to start with, here are the top five most popular social media platforms based on monthly active users (at the time this article was written):
Facebook (2.9+ Billion)
YouTube (2.5+ Billion)
Instagram (2 Billion)
TikTok (1 Billion)
Snapchat (576 Million)
Tip 2: Identify key dates or events that you want to promote
This could be anything from a holiday sale to a new product launch. Make a note of these dates in your calendar for social.
Tip 3: Start brainstorming content ideas that support your marketing goals
For each piece of content, make sure to note the target audience, platform, headline, call-to-action, and other important details.
Tip 4: Schedule content in advance
There are social media marketing tools that let you pre-schedule content. This will help you save time and stay on track with your posting schedule.
Your calendar for social media should include these important elements:
The date and time the content will be posted
The social media platform it will be posted on
The copy and creative included in the post
Plus, the links and tags.
Pro Tip: Use UTM/tracking codes (snippets of code attached to the end of a URL) to track website traffic and gauge the effectiveness of each post and social media platform. For example, http://yourwebsite.com/post-title/?utm_source=facebook
By following these tips, you'll be well on your way to creating a calendar that will help you better connect with your audience on social media and achieve your business goals.
How to use a social media marketing calendar effectively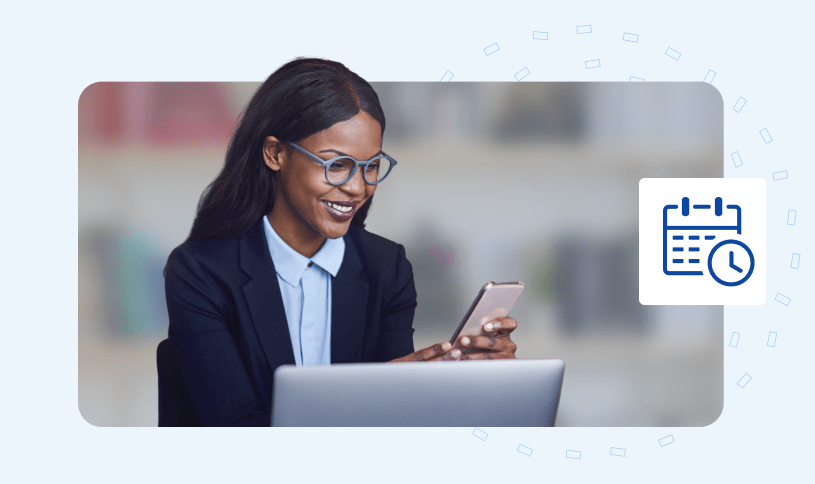 When creating content for your social media calendar, it's important to consider both the quality and quantity of your posts. In terms of quality, you should focus on creating posts that are informative, engaging, and visually appealing.
In terms of quantity, you should aim to post regularly but not so often that you overwhelm your followers. The exact frequency will vary depending on the platform and audience
Having a dedicated calendar for social media is essential for any business that wants to grow its presence on social media. But just having a calendar isn't enough – you need to use it effectively in order to reap the benefits. Here are three things to help you get it right.
1. Know your goals and objectives for your social media presence
First, make sure you have a clear idea of your goals and objectives for social media. What do you want to achieve? More brand awareness? More website traffic? More sales?
Once you know your goals, you can align your content strategy with these goals. For example, if you want to increase brand awareness, you might want to consider creating more high-quality content that can be shared across social channels.
2. Start filling in your calendar with content
Next, start filling in your social media calendar with content. Make sure to mix up the content types, so you're not just posting one type of content all the time. For example, you might want to mix up posts about your products or services with blog articles, infographics, images, and videos. Don't forget to include calls-to-action (CTAs) in your posts to help increase engagement and drive results.
3. Monitor and analyze your social media data regularly
Finally, make sure you're monitoring your social media activity and analyzing the data on a regular basis. This will help you fine-tune your strategy and make sure you're meeting your goals.
Try setting up Google Analytics goals so you can track how social media is impacting your website traffic. You can also use social media analytics tools to get more detailed insights into your social media performance. By taking the time to monitor and analyze your social media activity, you can make sure that your calendar is working effectively and adjust accordingly.
A free social media calendar template to inspire you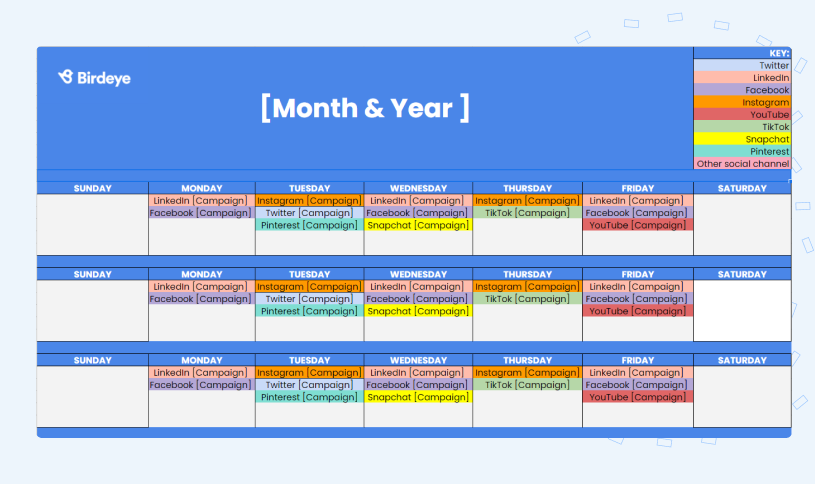 There are a number of different calendar templates specifically for social media, available online, so you can easily find one that meets your specific needs. To make things even easier, we've created this free social media calendar template just for you.
You can make a copy of this template to make it your own. It is also a printable calendar template you can pin up for quick reference.
As we've discussed, having a social media calendar is an essential part of any business's online marketing strategy. Calendars can help you plan and organize your content, ensure that your posts are timely and relevant, and track your progress and results. By creating a calendar for your business, you'll be able to make the most of your social media presence and see improved ROI from your efforts.
Frequently asked questions about creating a social media calendar
How do I create a social media calendar?
There are a variety of ways to create a social media content calendar. You can use a spreadsheet, a program, or a website.
Why is a social media calendar important?
It's important because it helps plan, organize, and execute your company's social media strategy.
Why use a social media calendar?
A social media calendar makes sure that your posts are timely and relevant, and it also allows you to track what you've already posted.
How do I organize my social media content calendar?
A good way to organize a social media content calendar is to find the method that works best for your situation. Once you've found what works, stick with it so that your posts are timely.
Simplify and scale your social scheduling with Birdeye
When it comes to growing a social audience, consistency is key. Birdeye Social lets you schedule multiple posts across accounts and networks simultaneously and track them through an intuitive visual calendar — filtering by date, status, channel, location, and region. Watch a free demo to learn more.
Our 2023 Social Media Toolkit comes with everything you need to fire up your social channels this year, including several plug-and-play templates that are both easy and intuitive. Click on the banner below to get your free copy.


        

This blog post is part of our Social Media Management Guide 


      

           



Originally published