Over 90% of marketers use social media as part of their marketing strategy because they know it's a powerful tool. However, coming up with social media post ideas can be challenging and time-consuming. To help you get started, here are 20 simple social media post ideas you can use today.
1. Share your company's content
A quick and easy place to start with social media is to post original content that your business produces. This can include articles, infographics, reports, guides, blog posts, or videos. Not only will this help to promote your brand, but it can also help you become a thought leader among your followers and industry.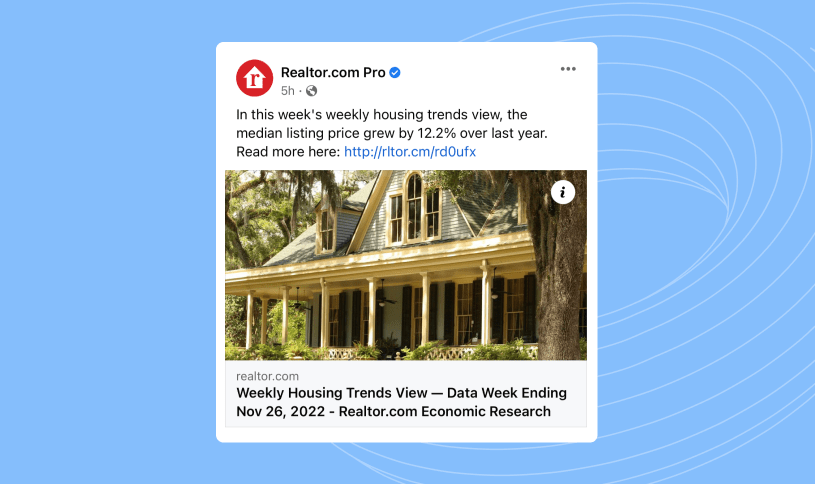 2. Highlight relevant industry news
Another social media post idea is to share important industry news from credible sources. This will keep your followers updated on the latest trends, news, and research related to your industry. Also, instead of just reposting news items and calling it a day, consider elevating its presentation. You can do this by accompanying the industry news with your original content like a blog or podcast that could provide more insight into the topic.
3. Host an Ask Me Anything (AMA) session
Hosting an AMA session is a great way to educate your audience because it lets you show off your expertise on a particular topic. You can also invite influencers or industry experts for topics that might be outside of your realm so that you can continue to provide value to your followers.
Make sure to answer all questions thoroughly and in a timely manner. You can also use this opportunity to promote your business or any new products or services. For example, if you own a pet store, you could host an AMA about pet care tips. This would be a great way to build relationships with potential customers and showcase your knowledge about the pet industry.
Here's an example of an AMA post from a B2B organization:
4. Showcase products and services
High-quality photos that showcase your products or services can be an effective way to promote your business. In order for this type of post to be successful, you need to think about how you want to design the post, what social media post size would work best, and how you can creatively display your products or services. Take advantage of visual storytelling and don't be afraid to think outside the box for creative content ideas. For instance, if you're a clothing store you may want to showcase a full outfit in one image instead of individual pieces. This could create an eye-catching post that will get your follower's attention.
5. Post about company culture
A company's culture is one of the most important aspects of any organization, and it's something that can be celebrated with a social media post. A great way to do this is to post about what makes your company culture unique. For example, you could share company milestones, spotlight staff members that have gone above and beyond, introduce new teammates, or share things that make the workplace fun and enjoyable. By sharing this side of your company with your followers, you'll give them a better sense of what it's like to work there and the values that guide your company.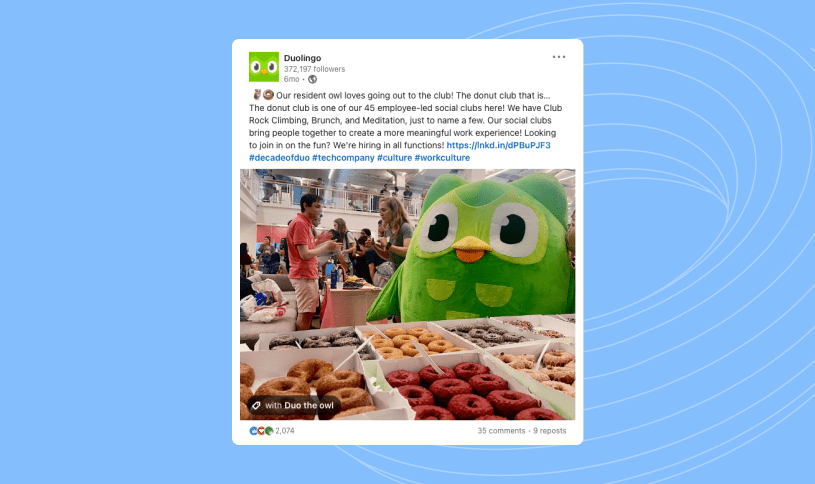 6. Share customer reviews and testimonials
When it comes to social media, user-generated content can be game-changing. . Showcasing customer reviews and testimonials is a great way to build social proof and show potential customers that your product or service is worth their time and money. Reviews and testimonials add an element of authenticity to your social media presence and can help influence purchase decisions. Not only can this help boost your sales, but you'll also get your customers involved in promoting your business.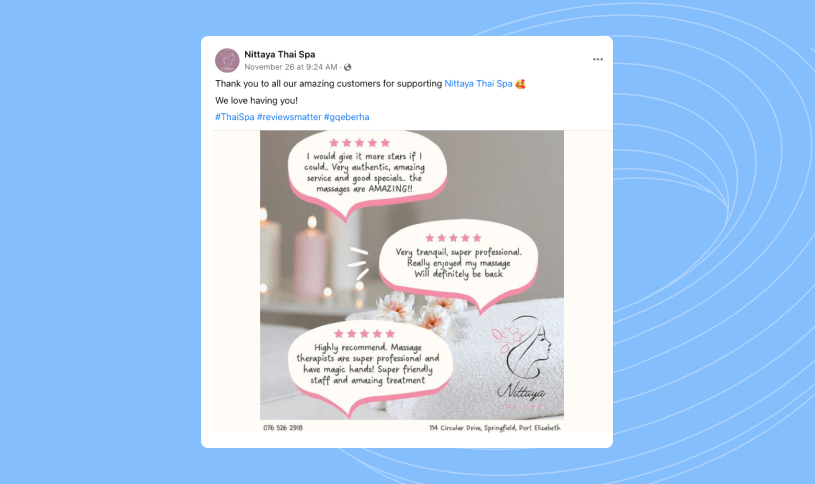 7. Company causes
Sharing information about your company's efforts to support social causes can show your followers that you care about more than just making a profit. This can help create goodwill for your brand while also building customer loyalty. Plus, a social media post about your company's causes can also help to attract new customers and followers who share your commitment to making a difference. So if you're looking for a way to make your social media presence more meaningful, consider sharing some information about the causes your company supports.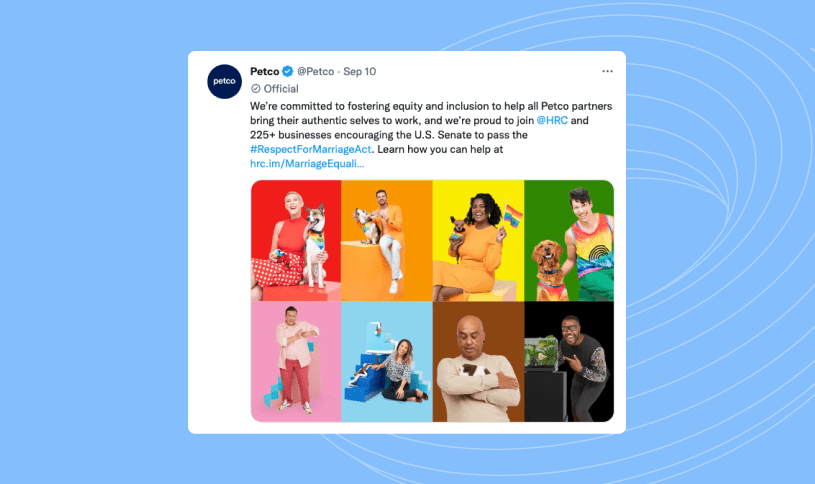 8. Create how-tos and tutorials
How-tos and tutorials are great social media content for a number of reasons. For one, they're generally evergreen, meaning they'll be relevant for a long time. They can also be repurposed easily. For example, if you have a tutorial on how to tie the perfect Windsor knot, you can turn that into a social media post, an Instagram story, a TikTok, or even a carousel ad. And because how-to content is usually step-by-step, they're easy to follow and digest – even for people who are just scrolling through their feeds.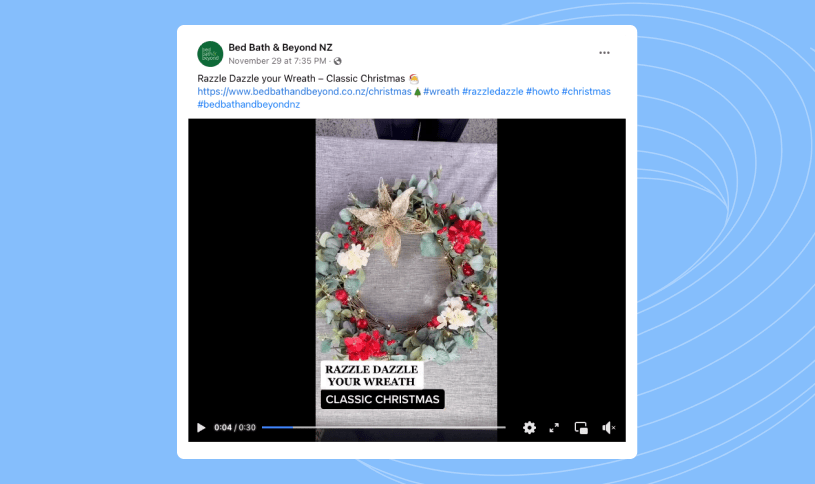 9. Start a contest or giveaway
Looking for a fun and interactive way to connect with your followers on social media? If so, try running a contest or giveaway. Everyone loves the chance to win a prize, and a contest is a great way to get people excited about your brand. You could ask followers to come up with and submit photos of creative ways to use your product in their everyday lives. Or, you could post a question rewarding the first 5 correct answers posted in the comments. Just remember to choose a prize that's related to your brand, set clear rules and guidelines, and set a timeline for when the contest will end.
10. Behind-the-scenes glimpse
Giving a behind-the-scenes glimpse of your company is a good way to connect with customers on social media. It can humanize your brand and give customers a feel for how your company operates and the people who work there. You could post something simple, like a photo of your team hard at work or a video of the research and development process that goes into creating new products. Be sure to include a call to action so that customers can visit your website to learn more about your products and services.
11. Promote an event
Social media lets you reach a larger number of people with just the click of a button. This makes promoting an event an ideal fit. By creating a post or an event page on your social media platforms, you can generate interest faster and connect with people who might not otherwise know about your event. Include all the details of your event, a link to where people can sign up, and any necessary supporting documents.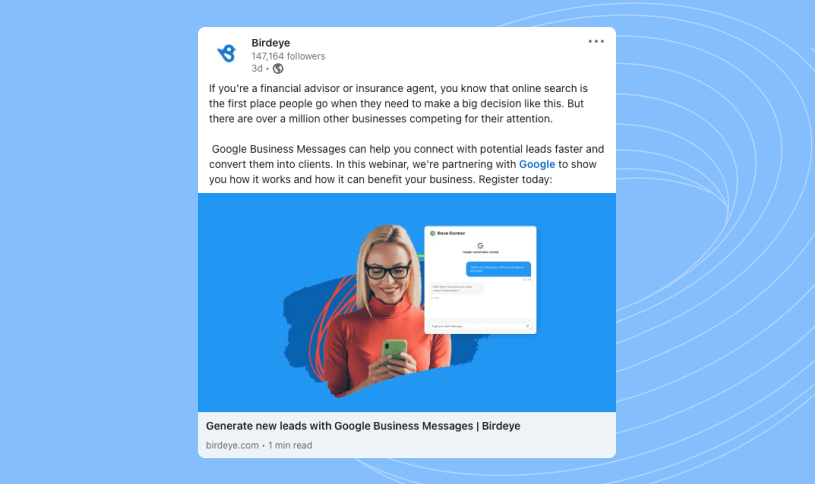 12. Stream live videos
Streaming live on platforms like Facebook, Twitter, and LinkedIn can connect you with your audience in real-time. You can use live streaming to give your followers a behind-the-scenes look at your business, show off a new product, or answer some of your follower's questions. It's also a way to showcase your brand personality and have a little bit of fun. When you do stream live, make sure you have a good internet connection – buffering during a live stream can be frustrating and turn followers away. Also, be sure to promote your live stream ahead of time, so your followers know to tune in.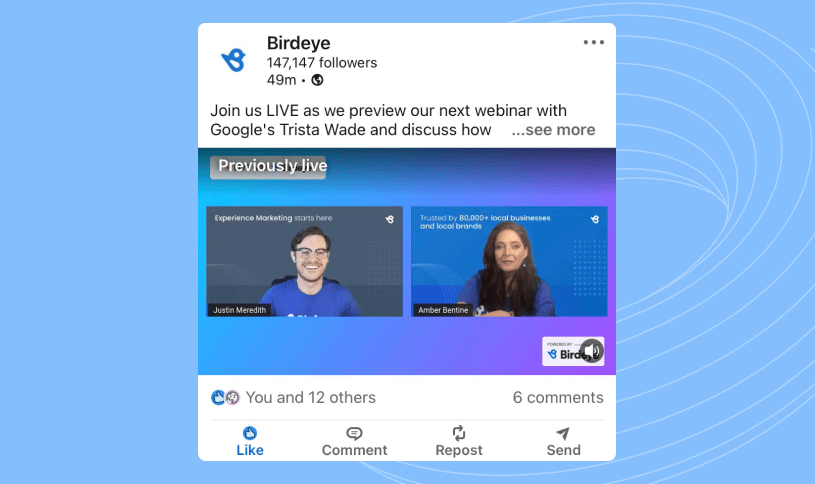 13. Post inspirational quotes
Sharing inspirational quotes can help motivate your followers and are an easy social media post to put together. There are endless sources of quotes to choose from, so find one that you think will resonate with your followers. If you're stuck for ideas, you can always turn to popular films, books, or songs for inspiration. Just make sure to credit the source when you post it. Posting inspirational quotes can brighten up your feed and help others at the same time.
14. Create short-form videos to share
Short-form videos are easy to produce and can drive engagement with your followers. They are a great way to show off your product or service in a creative way. In fact, over 90% of brands that use videos on social media have seen an uptick in new customers. When creating a video, the important thing to remember is to keep it short and sweet. Most social media platforms have specific guidelines on the length and size of the video so keep the social media post design in mind when creating this type of content.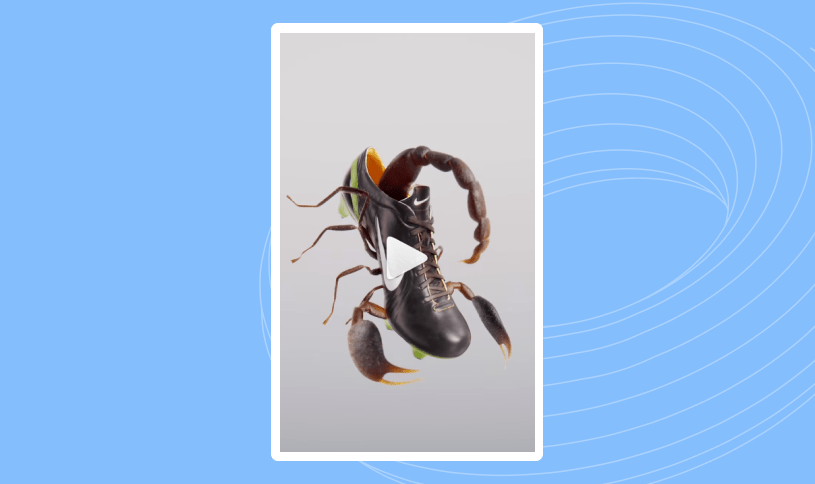 15. Share case studies
Another way to attract new customers and grow your followers is to share case studies. Case studies are real-world situations that showcase how your business was able to resolve an issue or improve a process. When people see the kinds of results you've been able to achieve, they'll be more likely to reach out and inquire about how you can help them. When sharing case studies on social media, make sure to include key takeaways and success metrics that drive the point home. This lets people see the types of results you've been able to achieve for other customers, and it helps to build trust and generate leads.
16. Poll your audience
Asking your audience for their opinion is a great way to learn more about what your followers are most interested in. You can poll your followers about all kinds of things, from which product they prefer to what their favorite TV show is. Not only does this give you valuable insights into your audience's preferences, but it also helps to create a sense of community around your brand. When people feel like they are being listened to and their opinions matter, they are more likely to continue engaging with your content.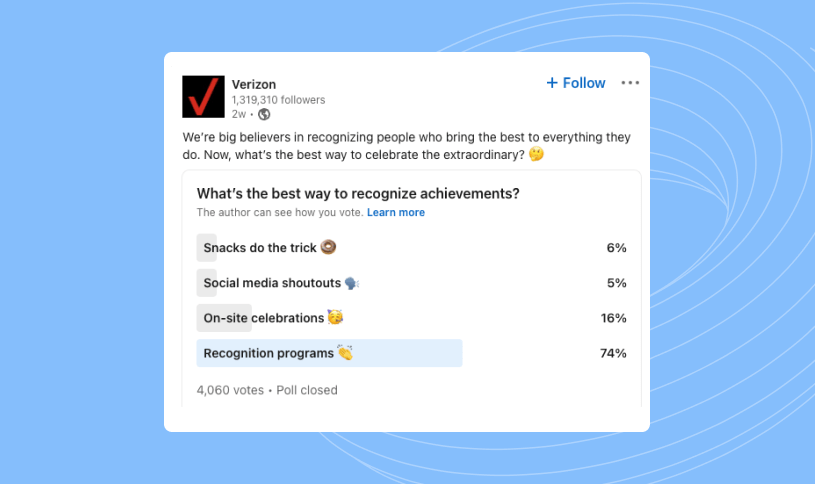 17. Reshare top-performing content
Have you ever noticed that some social media posts get a lot more engagement than others? Often, it's because they're just really well-crafted or they hit on a timely topic. When something is popular, it tends to keep getting shared and liked, and that social proof can be really powerful. That's why one idea for a social media post is to reshare something that's already proven to be popular. Find a post that's gotten a lot of engagement in the past and share it with your followers again.
18. Highlight your community
Spotlighting the community where your business resides shows your followers that you're invested in your area. You could create a series of posts that shows teammates participating in local community events, supporting other local businesses, or using popular landmarks to display your products. This will show your audience that you are proud of your community and are doing what you can to make it better. Don't forget to use hashtags related to the area when posting to help increase the visibility of these types of posts.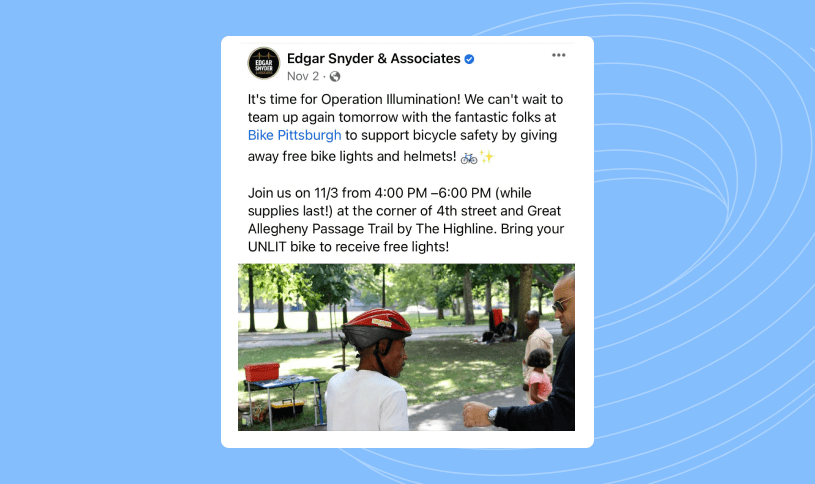 19. Post statistics about your industry
People love data. So show off your thought leadership by posting important statistics about your industry. To get started choose relevant statistics and write a short paragraph explaining what it means and how it impacts the industry. Be sure to include a link to where you found the data so that people can check it out for themselves. And if you want to add a personal touch, try adding your own thoughts or experiences related to the data. For example, if you're in the healthcare industry, you could share a stat about the number of people who don't have health insurance and then talk about what that means for patients and providers. Whatever you do, make sure you keep it interesting and relevant to your audience.
20. Promote email and text sign-ups
To help increase your contact lists for your email and text messaging campaigns, consider promoting them on your social media channels. It's likely that if someone is following you on social media, they'll also be interested in your emails and texts. You can promote your sign-up forms by using eye-catching images and calls to action. Make sure to include a strong offer that will entice people to sign up.
Frequently asked questions about social media posts
How often should a business post on social media?
This will depend on the specific social media platform and your industry. However, a general rule of thumb is to post somewhere between 2-5 times per week.
Is there a way to post to all my social media accounts simultaneously?
Yes, a social media management tool lets you manage all your social accounts in one place and post across multiple platforms, simultaneously with a click of a button.
How do you write a great social media post?
Make sure your message is clear and concise, keep your post visual using images or videos whenever possible, utilize hashtags to help reach a wider audience, and use a strong call to action.
What is illegal to post on social media?
Avoid posting sensitive information like a home address or social security number, copyrighted material, and anything that could be considered obscene or offensive.
When is the best time to post on social media?
A good rule is to post when your followers are most likely online. For example, Facebook users are more active on weekdays between 9 am – 3 pm, while Twitter users are more active during the evening.
Why do people post on social media?
People post on social media to share news and events, build relationships, and promote their businesses or products. Ultimately, people post on social media because they want to connect with others.
Post like a pro with Birdeye Social
Frequently posting to social media can help keep your brand top of mind when customers are in need of a product or service. With Birdeye Social, our visual editor makes it easy to create engaging posts complete with emojis, hashtags, and links. Or if you're strapped for time, our template library has you covered with professional images and layouts optimized for every platform. Watch a free demo today or speak to one of our experts to learn more.
Our 2023 Social Media Toolkit comes with everything you need, including several easy-to-use plug-and-go templates. Click on the banner below to get your free copy.


        

This blog post is part of our Social Media Management Guide 


      

           



Originally published