When it comes to business and service reviews, there is no one better than Google. To manage Google reviews, this user guide will surely come in handy. It focuses on the following topics:
Importance of Google reviews

Monitoring Google reviews

Managing negative Google reviews

Bad reviews affect business

Deleting a fake Google review

Deleting a negative review

Seeking more Google reviews
1) Importance of Google reviews
The number of review sites that are available to the customers to voice their opinion about any business or service is growing every day. For business owners, the struggle is to keep the basics right. There is no doubt that Google is still the king of search engines.
While many businesses are focusing on Facebook, smart marketers know that Google reviews, i.e. ratings, reviews and customer feedback appearing on Google Maps and search results are also very important. As a business owner, one of the best ways to climb up the Google ratings is to encourage customers to write a review on the company's Google Maps page.
Fact: 92% of consumers read online reviews before making a purchasing decision.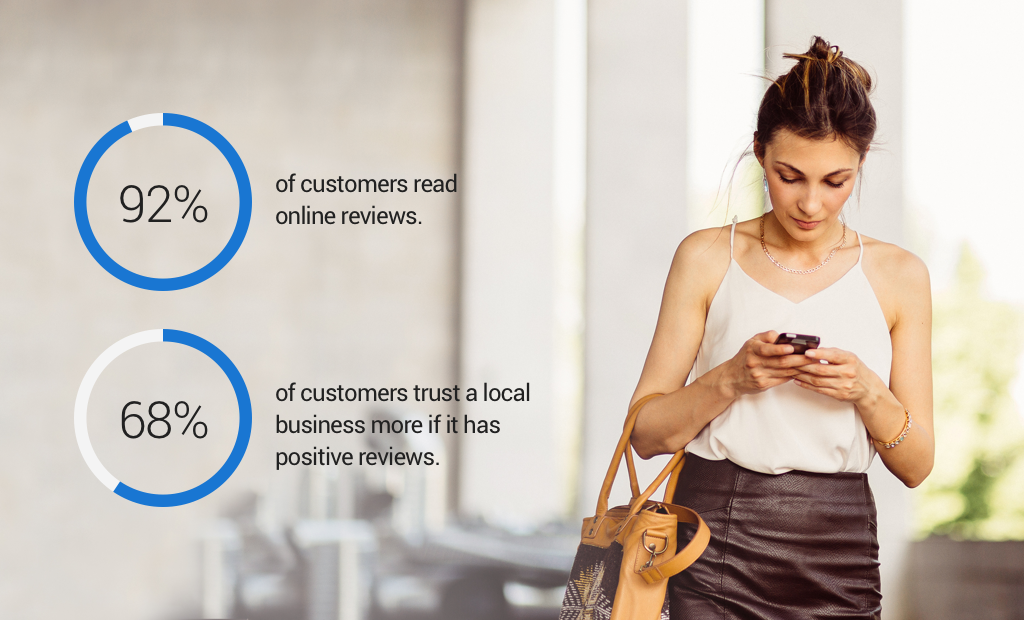 The general sentiment of customers about your business is a deciding factor in the success and failure of the business. Through positive Google reviews, potential customers can easily know about the good about your business. Businesses should manage to get Google reviews consistently, as it also helps in enhancing online reputation.
Check out why Google reviews hold so much importance:
a) Google priorities
The Google algorithm allows the search engine to scrape the internet and offer faster search results in a fraction of a second. The algorithm of Google is one of the best-guarded secrets, but there are some prerequisites that assist Google in categorizing the ranking system. Here are some of the factors that influence Google in the ranking system:
Keyword usage

Site structure

Site speed

Time spent on the site

Number of inbound links

Quality of inbound links
The reviews collected for your website make the content fresh. It also improves two areas such as:
Keyword usage

Times spent on the website
b)
The connection between reviews and keyword usage
Supposedly, when a user is posting a positive review of your business, and they are using words you want to be associated with. Example: You're a plumbing company and you encounter a positive review such as "I had a good experience with Carl's Plumbing. They fixed the tap and wash-basin connection to perfection. I highly recommend Carl's Plumbing to anyone looking for repairs in the Sunnyvale area".
In this review, the strong keywords and phrases that can help to build Carl's Plumbing business can be easily ascertained. In the future, those keywords will be targeted to build a good online reputation in Google's eyes. You can also track the sentiments of the customers by monitoring certain keywords through Birdeye's social media listening feature. As a business owner, you can monitor the customer comments the second they are posted on popular social media channels such as Facebook, Twitter, Youtube, Instagram, Google, etc.
c)
Limits the negative reviews
Customer reviews indeed have the power to make or break a brand's online reputation and credibility. Too many negative reviews will turn prospective clients away. For limiting negative reviews, check out the actionable ways through which you can boost your online reputation and build your brand's name.
Quickly making changes as per feedback

Claiming of your business on the review sites

Ask the loyal set of customers for reviews

Provide easy solution for users to leave reviews
2) Monitoring Google reviews
Understanding and tracking Google reviews
With the ever-changing names, brands, and dashboards, Google's products for local business listings can be confusing at times. In the past, we have seen names like Google Places, Google+ Local, Google business photos, Google Maps, Google+ for business dashboard etc.
For monitoring Google reviews, Google My Business is the best bet as it assists in streamlining the local business information across its various products and services such as Google Search and Google Maps. The new dashboard allows the business owners to:
Add pictures

Tracking Google reviews

Connecting with customers

View the data regarding how people interact with the brand and business.
Apart from Google My Business, businesses should also take the help of Birdeye's Review monitoring tool. Through this, they can engage with every customer's conversation in real-time, from one place.
To maximize the usage of the dashboard as a tool for managing Google reviews and business reputation, you'll encounter Frequently Asked Questions (FAQs) such as:
Q-1: Where do Google reviews appear?
A: The online reviews that are posted on Google are posted by Google users. At the time of writing a review, the user needs to be signed in when they are rating and writing a review. With Google My Business, these reviews can easily be managed. The user reviews appear in various places on the web such as:
Google search results

Google Maps
Q-2: Upon receiving a single review, will it show up immediately in search results?
A: Your business will need at least 4 to 5 reviews and ratings to appear in Google search result pages.
Q-3: Can I respond to the online reviews on Google?
A: Yes. For that, you just have to claim your business on Google and make sure you are signed in when responding to the review. Always follow ethical practices when writing a response from a management point of view.
3) Managing negative Google reviews
Today online reviews hold more power than ever! The power of reviews is such that it can impact any business to a great extent. A steady flow of positive reviews can drive a beeline of customers to your business, on the other hand, negative reviews can dent your reputation and drive customers away. If negative reviews are not managed efficiently, it can prove disastrous for your business. Negative reviews, in short, can put a break to the growth of your business. Check out the 3 essential steps for dealing with bad Google reviews:
a) Be on top of the review
The first and foremost step in responding to a negative review is to make sure you are in the loop when this happens. Usually, some Small Medium Business (SMB) owners make the mistake of not monitoring their business reviews because they think they aren't listed on any review website. But, nowadays, any user can add a business listing for which customers can leave reviews. Stay at the top of the game by claiming your business listings for managing the reviews. Make an alert on your calendar to check reviews on a consistent basis. However, you can also check the customer experience through Birdeye's social listening tool.
b) Don't ignore negative reviews
You should never ignore a negative review. During a negative review, it's better to take the conversation offline by privately messaging the customer. Use this opportunity to apologize to the customer and explain how the situation has been resolved. Don't try to make excuses and give lengthy explanations. Just focus on eliminating the concern of the customer. If required compensate the customer for the inconvenience. In a majority of situations, if the customer is satisfied with your effort, they may remove their negative review or add a positive follow up. By responding to negative reviews publicly, you show your existing and prospective customers that you value their feedback.
c) Act professionally and don't take it personally
Act professionally when a negative review is published about your business. Try to connect with the unhappy customer and check what the real problem is. After identifying the root cause of the problem try to eliminate it on priority. As a business owner, you should not take the negative review personally.
d) Make people aware of where to review you and stay honest
It is very important to make your customers aware of where they can review your business. This will help your business in getting a consistent flow of reviews. If this practice is not followed, then your business might end up with substandard and outdated customer experience dominating your review timeline. With review sites trying hard to do away with fake reviews, as a business owner, you should also refrain from putting together any fake reviews for your business with the help of your friends.
4) Bad reviews affect business
As a business owner, you certainly don't want to see negative reviews about your business. The fact is, no business is spared by the wrath of bad or negative reviews. Every business has got negative or bad reviews written against them at some point. If these bad reviews are not addressed in time, there is a chance that they may spread like wildfire. Moreover, these bad reviews will also start to gain traction on major search engines and social media channels. Sooner, these bad reviews will start affecting your business and malign your hard-earned online reputation.
What to do in case of bad reviews?
No business owner wants negative or bad reviews. However, if you have received them, here's what you should do:
a) Check for patterns: If you are in a restaurant business and have been receiving a lot of flak over your food, try to find a pattern in it. If the majority of customers are complaining about the substandard experience during dinner time, try to find out the cause of the problem. You should taste your food yourself to get to the root of the problem and solve the issue.
b) Isolated incidents: In case of an isolated incident, as a business owner you should reach out to the customer and apologize for the experience. You can also ask them about the experience on call or email. Try talking with the customer on priority because if you delay, there are good chances of others joining the party at your own expense. Take the conversation offline as soon as possible. While listening to the customer, make a note of the important points which you can address later. Offer the customer a gift card, a free meal or refund.
c) Make your customers aware of how important reviews are for you: You should try suggesting customers to write reviews on popular websites.
5) Deleting a fake Google review
Receiving fake reviews on Google's My Business profile is a not a new thing. Plenty of businesses have been getting hordes of fake reviews. As a business owner, sometimes it does get frustrating to get the fake comment removed. As a business owner, you should try and get in touch with Google and request them to take down the fake review. The more fair and honest you will be in your approach, the more success you will get.
Here are the steps to delete a fake Google review:
Step 1: The first step is to hover over the review, where you will see a flag icon. Click on it
Step 2: When you click the flag icon, it will take you to the Report a policy violation page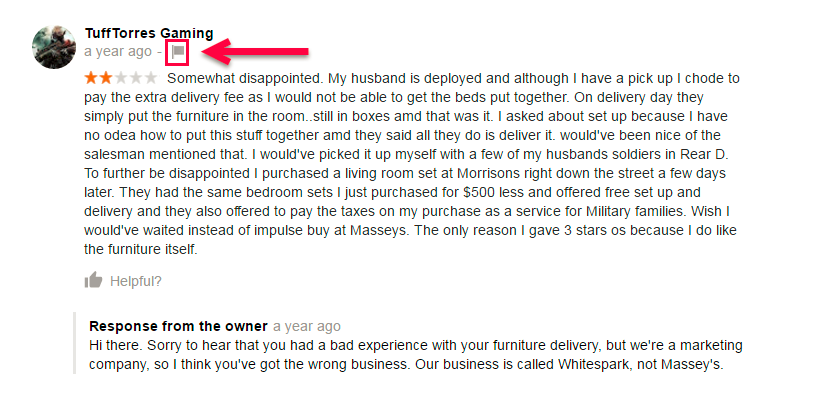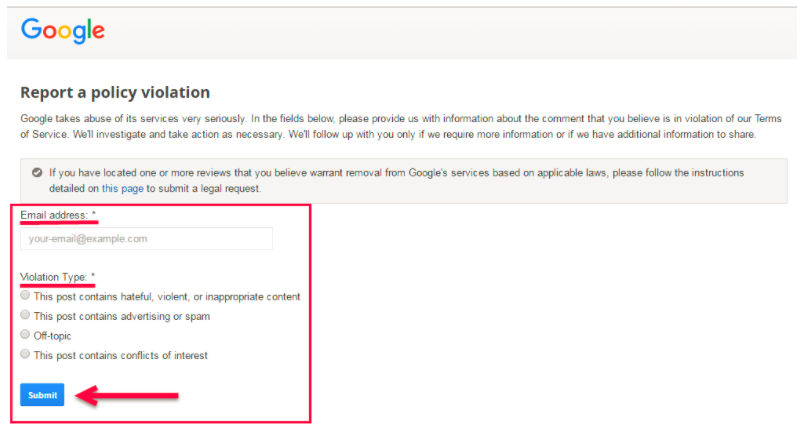 Step 3: Then, you should enter your company email address and select the Violation Type. Once you have reported the incident and if the review is actually fake, Google will automatically remove it.
If you want to get a clear picture of Google review policies, read this blog.
Things to keep in mind when flagging a review:
Once the review is flagged, it doesn't get removed instantly. If the review is laden with hate-speech, highly sensitive content, the best thing would be to escalate it on a priority basis. As a business owner, you should flag and report the review. Also, contact a Google support team member for the same.
Reporting the fake review to Google Small Business Support
If the fake comment about your business has not been removed using the flagging method, try to get in touch with the support associate.
Go to the Google My Business Dashboard

Login the page

Click on the home menu

Select support

Select a method to get in touch – phone or email

Fill in the contact details

Add the fake review screenshot

Wait for 24-48 hours
6) Deleting a bad review
First things first, get this thing straight you can't delete a negative review. Since a legitimate Google business profile displays all reviews by the customers, it is pretty much evident that nothing can be done in case of negative reviews. You can't delete a negative review yourself, but you can lead the customer in deleting that negative review. The trick here is "how you respond" to the negative review.
Supposedly, if you are the owner of a hotel and a customer has written a mouthful of negative reviews about the room, service, and food. To sort things out, you can politely ask the customer about the:
Type of room they booked

Problem faced in the room

Name of the server that served them

Exact fault in the service i.e. behavior, responding late

Problem with the food
These answers will allow you to get closer to the problem and help in eliminating them the right way. Of course, you don't want other customers to face this type of problem again. Meanwhile, you can show concern by proposing customer to:
Refund their money,

Offering a discount on their next stay
After offering a solution, don't forget to ask "if they are comfortable in deleting the negative review which they had written about your business". If they don't agree to it, don't push for it.
7) Seeking more Google reviews
To make customers trust your business, genuine customer reviews single-handedly does the trick. It's hard to deny the fact that Google reviews play a major part in attracting more customers.
You can also use Birdeye review generation feature to generate more reviews. Birdeye sends automated requests in different ways such as email, drip campaigns, Facebook etc. According to a survey conducted by Dimensional Research, 90% of respondents claimed that positive reviews affected their purchasing decisions, with 86% say negative reviews were also an influence.
Follow the steps to get Google reviews easily from your customers:
a) Educating customers
It is very important to educate your customers on how to write the review. You can paste a printout on the front desk or create a blog post on your website by giving instructions on how to write a Google review.
b) Time it right
When you are seeking a Google review, don't get wrong with the timing. By asking your customers for a review weeks after they did business with you, you're ruining your chances of getting a review.
If you are early, chances are your customer might not have fully utilized the benefits of the product or doesn't have an opinion on it yet

If you are late, the early joy of the product or service might have faded away
c)
Integrating with email marketing
If you are running an email marketing campaign, you can make use of it by asking customers/clients for reviews. You can ask customers what they think about your business or service. Ask them to write a review, if they are impressed with their services. Also, you can incorporate a call to action (CTA) on your email auto signature with a link to your review page.
Apart from managing Google reviews, Birdeye takes care of all aspects of review management. Birdeye can help with every step in the process, from managing online business listings to review monitoring, review generation to review management.
Want to learn more about Google reviews? Check out our comprehensive no-nonsense guide on how to get more Google reviews by clicking on the link below.

Originally published