Have you ever asked yourself how to delete a Google review? If you are a reviewer asking this question or a business looking to delete a review from your Google Business Profile, you have come to the right place.
Whether you're a company looking to guide customers or understand the process yourself, here is a detailed blog post on how to delete Google reviews and manage bad reviews for a business.
What is a Google review?
A Google review is created by a customer for a company, product, or service posted on the Google platform. This includes star ratings and written testimonials that showcase a customer's experience. Thus, Google reviews are very important for the success of your company. Customers can find and leave Google reviews on Google Search, Google Maps, and Google Business Profile.

Why delete a Google review?
Today, more consumers (87%) use Google to evaluate local businesses before making a purchase decision. The first thing a potential customer will see is a Google review.
For businesses, deleting a Google review can be essential to maintain a positive online reputation and protect the integrity of their brand. A negative review can unfairly affect a company's rating and damage the business's ability to attract potential customers.
On the other hand, individuals may want to delete a Google review for personal reasons; they may want to protect their privacy or the company they wrote a negative review about solved their issue to their satisfaction.
There are only two ways to remove a Google review from the Google Business Profile. While there is no single button to get rid of unsavory reviews, here's what you can do:
How to delete Google reviews as a customer
When people leave a negative review, they are hoping that the company sees it and does something to help them. Therefore, to improve your online reputation, the first step is to reach out to the person who has left a negative review and try to fix the problem.
If you are successful in changing their opinion and wondering how to get the Google review removed, send them the following steps.
Now, if you're the customer who wrote a negative review and your issue was taken care of by the company, you can delete your review following these steps as well.
Here's how to delete Google reviews a customer wrote: 
The customer must open Google Maps on their desktop browser or mobile device. 
The next step is to click the Menu (hamburger menu in the top left). 
The customer must locate the Google review they wrote under the "Your contributions" tab within the "Reviews" tab. 
They can delete the review by selecting the review, clicking on the three dots in the top right corner, and clicking "Delete review."
The review will no longer appear on your Google Business Profile. So now you know what to say when someone asks you how to delete a Google review I wrote.
How to delete Google reviews as a business
Not every negative or unsavory Google review comes from an actual customer experience. Companies worldwide continue to face the issues of spam reviews, bots, fake reviews, and bad-faith reviews from vested interests.
This means that a company's Google Business Profile is not accurately reflecting customer experience and needs to be corrected.
Here's what you can do in such a scenario:
Understand Google review policies.
Report the Google review.
Respond professionally to negative reviews.
Let's explore each of these measures in detail.
Google review policies
Google's review policies list reasons why reviews may be removed. Here are four of the most common.
Spam and fake content- Content should reflect genuine experiences and not be placed in an attempt to manipulate ratings.
Off-topic- Content should be related to the specific location being reviewed.
Restricted content- No calls-to-action for materials restricted by law, such as alcohol, tobacco, guns, etc.
Conflict of interest- company owners, employees, and employees of competing companies cannot.
How to delete a Google review from your Google Business Profile
If the review in question falls under any of the categories from Google review policies, you can dispute it on Google Search or Google Maps.
Google Maps
​​Find your business listing on Google Maps.
Find the review you'd like to dispute.
Click the three vertical buttons on the right, then flag them as inappropriate.
Google Search
Head to Google's website
Locate your Google Business Profile.
Click on Reviews.
Find the review in question and click the three vertical buttons.
Click Report review.
If the review isn't taken down, you can contact Google to help delete the review.
You can either contact Google by phone to ask about the status of the flagged review or fill out a legal removal request if the review can be considered libel.
Here's how you can get Google to contact you about the status of the claim on your Google review:
Go to your Google Business Profile and report the review as per the steps in the previous section.
Next, Go to Google My Business Help.
Scroll down to see the "Contact Us" option near the bottom of the page. Click on "Contact Us."
You will see a screen that asks you to list your problem. Type "remove review" or "delete review."
The platform will list helpful resources. You can use these or click on "Next step."
You can then choose between "Chat", "Call," or "Email" to contact Google for support.
Flagging a review
If you believe a review might violate Google review policies or Google content policies, you can follow these steps to ensure it is deleted:
Flagging in Google Search or Maps
Flag the review as inappropriate under the right category. If it does not fit any category, click on "Report a legal issue" in the bottom section of the form.
Fill out the form with the appropriate details.
Click on "Create Request" once you have completed the form.
Flagging using the Reviews Management Tool
Visit the Feedback Management Platform.
Ensure that the displayed email address is the one associated with your Business Profile management.
Press Confirm.
Choose your business and proceed to Request removal of a new review.
For every review you wish to flag, click on Report.
In the subsequent tab, designate a category for the review.
Hit the Submit button.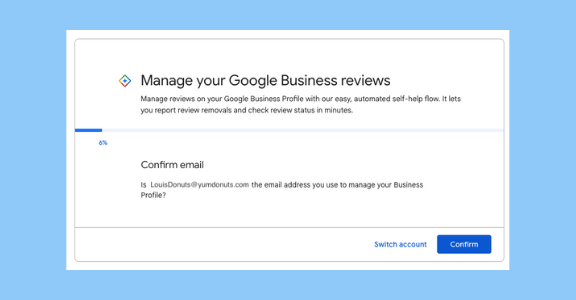 While flagging the Google review and contacting Google is helpful, it's not a long-term strategy. If you are a company looking to improve your online reputation, you can also be proactive and respond to these reviews to show a more accurate picture of the situation.
How to respond to bad reviews you can't delete
Companies should always respond to negative reviews if they want potential customers to know they care about the feedback. This is even more important if the negative review is false, inaccurate, or fake.
Here's a quick guide on how to respond to bad reviews when you can't delete them. You can also respond to them while waiting for Google to take down the review.
Approach it professionally.
In the face of negative reviews, it's important to remain professional and approach the situation from a constructive perspective. Doing otherwise can reflect poorly on your business in the eyes of potential customers. Negative reviews may also provide valuable insights into the areas where your organization can improve, helping you take action and make necessary changes.
Prepare a response.
Companies need to be proactive in controlling and managing customer perception by responding to reviews quickly and sincerely apologizing for any problems customers may have encountered. It's important to show that your organization is serious about providing a superior experience to all customers. A good template for an apology response can be very helpful in these situations.
Thank you for providing your feedback and letting us know about this issue. We set a high standard for our service and are genuinely sorry to hear that standard was not met in your interaction. Please get in touch with us at (company phone number), and we'd be happy to help you out.
Once you feel certain that you understand the customer's complaint, offer options to ease their concerns and show you care. Consider the following:
Offer a discount for the next time they return. This increases the likelihood of the customer giving your company a second chance.
Promise to fix the problem internally. List specifics on how you will address the issue and when you expect the issue to be resolved.
Refund their money. Use your best judgment to determine if the issue warrants a full refund.
Ask the customer to review or edit their review.
Once the issue raised by the customer is successfully handled, companies can approach their customer, requesting them to edit or delete their review. While there can be no coercion involved, a polite message can go a long way in motivating the customer to delete the review.
The request email or message can look like this:
Hello (Customer),

Thank you for helping us to improve our customer experience. We regret that your initial experience with us turned out to be a negative one. Based on your feedback, we have taken steps to make sure that this issue will not happen again for you or any other customer. If there are any additional issues you would like to see resolved, let us know, and we will work to resolve them quickly.

Your review of (Company) on Google was based on your initial experience. We hope that your opinion of our brand has since changed in a more positive direction. If that is the case, we would appreciate it if you edited your review to reflect your current opinion more closely. We take all of our customer reviews seriously, and we want to make sure that every review is as accurate as possible.
If the customer has not responded to your message on editing or deleting the review, you can also respond on the same review stating that you have connected with them and resolved the query. This shows potential customers that your business cares about feedback and is active in resolving issues as well.
Easy-to-use review response templates for any type of review
Download Now
An important step in not letting negative reviews dictate your online reputation is also to ensure your happy customers leave a Google review too. Check our guide on how customers can leave a review on Google for your business. Higher volume of Google reviews ensure that potential customers can see more perspectives when they see your business listing.
Frequently asked questions about how to delete Google reviews
How do I delete Google reviews posted by others?
To delete a review posted by someone else, it has to be removed by Google. Click the three dots on the right of the review and select "Report review" to request it is removed by Google.
How do I delete Google reviews I wrote?
To delete Google review you wrote click "Menu" in Google Maps. Click your contributions, then reviews. Next, go to the review you want to delete, click "More." Then select "Delete review" and follow the steps.
What do I do if I can't delete Google reviews?
If you can't delete a Google review, the best thing to do is contact the person who left the review and ask them directly if they can remove it.
Why can't I delete my own Google review? 
If you can't delete your own Google review, it is possible that it is not live yet or Google has already taken it down as per their review policies. 
How do you remove reviews from your Business Profile on Google?
To have a review removed from your Business Profile, you need to flag it as inappropriate for Google to remove. Find the review you'd like to remove, click "More," and flag it as inappropriate.
How to delete a Google review on iPhone? 
On your iPhone, open the Google Maps app. Tap the contribute section and see the existing  reviews. Choose the review you wish to delete and tap More next to it. Select the Delete review option to complete the process. 
How to see deleted Google reviews?
You cannot see the deleted Google reviews once they are gone from the company's Google Business Profile. Either the user has to re-submit them, or the business has to raise a ticket with Google. 

How Birdeye can help you manage negative reviews
Customers with bad experiences are much more likely to leave reviews than customers with good experiences. That means a couple of angry customers can skew your rating to be much lower than it should be. With Birdeye, we alert you the minute a negative review is posted so you can take swift action before the situation escalates. Speak with a Birdeye Expert today.


        

This blog post is part of our Complete Google Reviews Guide:


        

Google Reviews


        
        

Google Reviews Related Training


        
Originally published